Chukku Malli Kashayam – Dry Ginger and Coriander Herbal Tea | Home Remedy to increase appetite
Chukku in Tamil means dry ginger, Malli (here) means Coriander Seeds. Kashayam refers to Kadha (Hindi) or Homemade Herbal Tea.
Often, after a bout of illness or binge eating especially during the festive season, the appetite seems to turn sluggish. The gut flora is waiting to be revived In that stage. Instead of resorting to OTC medicines, why not try this simple homemade to revive the hunger and rejuvenate the digestive system.
With easily available herbs and spices in any (Indian) kitchen pantry, this is a sure shot medicine to increase appetite as well as revive the digestive system.
Other Home Remedies that might interest you:
Raw Ginger-Honey Tea for a sore throat
Immunity booster and Anti- Inflammatory Raw Turmeric+ Mango chutney
Anti Bacterial Neem flower Rice
Tomato Veg Clear Soup for Cough and Cold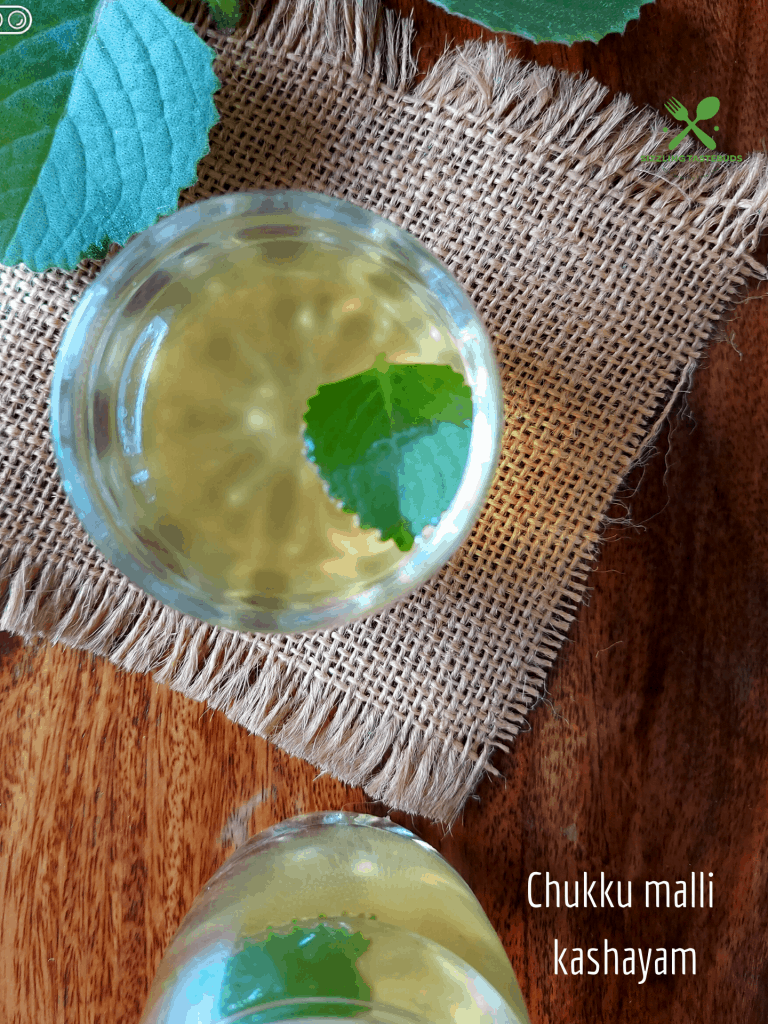 FAQs about Chukku Malli Kashayam:
How often can I consume this in a month? Upto once or twice a week is completely fine?
Can I freeze this for further use? All herbal teas are to be consumed immediately. One can make a largish pot of this to consume within a few hours. Beyond that, it loses its potency, even if re-heated during the day
I don't have access to fresh oregano and dry ginger powder . Can I still make this tea? The nearest alternatives to fresh oregano is dried oregano, also add 3-4 tbsp of fresh mint leaves. In place of dry ginger powder, one can use fresh ginger (crushed), but a limited quantity
Can this be consumed cold? All herbal teas are recommended to be had hot or warm.
Prep time – 5 mins, Cooking time – 20 mins, Steep time – 10 mins, Serves – 3
What you need to make Chukku Malli Kashayam:
50 grams Oregano leaves (Indian Borage)
2 tsp Dry Ginger (Chukku podi / Saunth powder)
2 TBSP Coriander Seeds (Dhaniya / Malli)
1 tsp Cumin Seeds (Jeera)
5 Tulsi Leaves (Indian Basil)
6 PepperCorn
1/8 tsp Asafoetida (skip for GF)
400 ml Water (Use only filtered water)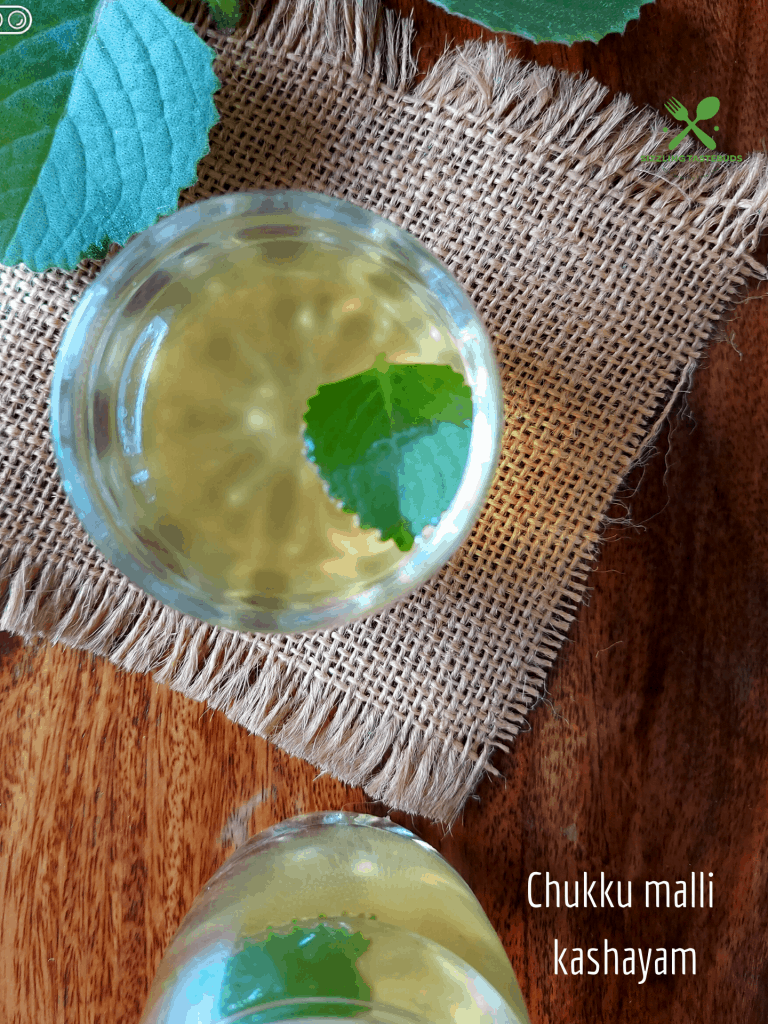 How to make Chukku Malli Kashayam:
Assemble all the ingredients for the recipe from the list given above. 
Follow the video for the detailed instructions along with tips and tricks on how to make this.
Head to the video embedded here for the method.
Refer the Video below for a detailed recipe and step by step instructions. If you are visiting our channel for the first time, please don't forget to hit like 👍 and subscribe to our channel ❤️. We appreciate your love and would eagerly wait to hear from from you on how we can bring your favourite dishes to our channel too ! Thanks a ton 💕💕
In a pot, bring water to a rolling boil.
Add all the components above one by one,
Cover the pot and let it continue to boil for about 10 mins (or till the water reduces to 2/3 of the original volume).
Switch off the heat and let it remain covered.
Strain and serve hot – plain or with a drop of honey (if preferred)
Linking this to Sunday Sunday – a weekly collab where we a group of bloggers choose a theme and blog according to that . This week it is Gorgeous Ginger , and check out the following dished out by my fellow bloggers.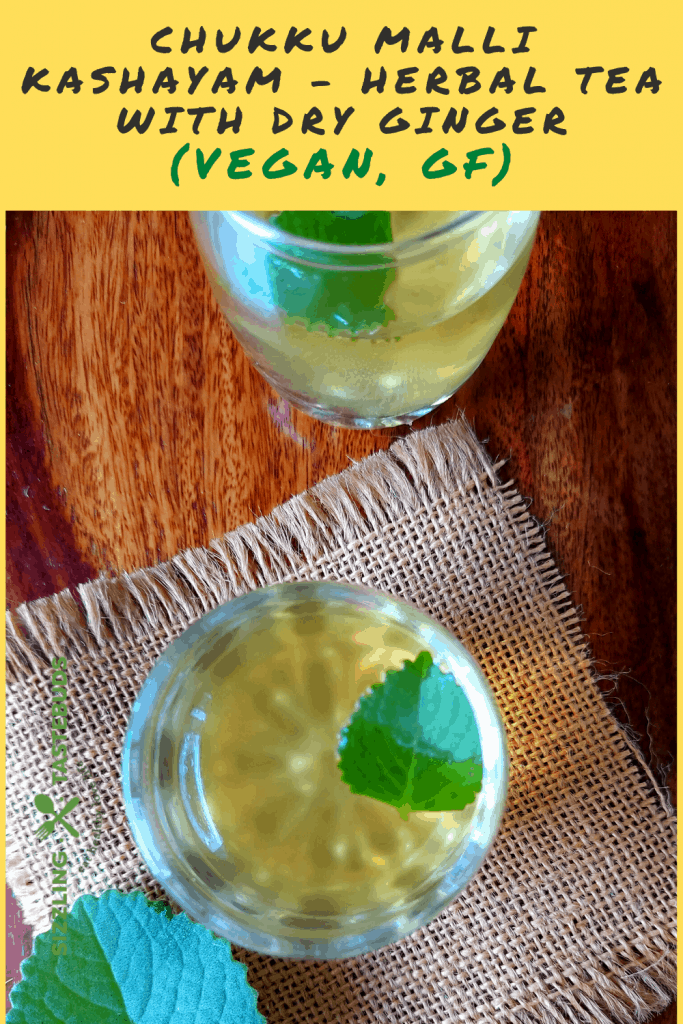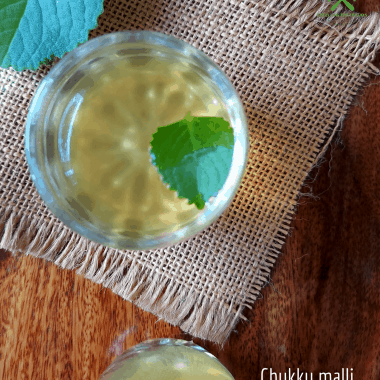 Chukku Malli Kashayam – Dry Ginger and Coriander Herbal Tea
Chukku Malli Kashayam or Dry Ginger and Coriander Herbal Tea is a home Remedy to increase appetite
Ingredients
50

grams

Oregano leaves

Indian Borage

2

tsp

Dry Ginger

Chukku podi / Saunth powder

2

TBSP

Coriander Seeds

Dhaniya / Malli

1

tsp

Cumin Seeds

Jeera

5

Tulsi Leaves

Indian Basil

6

PepperCorn

1/8

tsp

Asafoetida

skip for GF

400

ml

Water

Use only filtered water
Instructions
In a pot, bring water to a rolling boil.

Add all the components above one by one,

Cover the pot and let it continue to boil for about 10 mins (or till the water reduces to 2/3 of the original volume).

Switch off the heat and let it remain covered.

Strain and serve hot – plain or with a drop of honey (if preferred)
Video