One of the amazing plant-based protein sources I read up was Cauliflower. Strange as it seems, 1 cup of cauliflower has 2 grams of protein (or 1 large head upto 16 gms!). While I am no nutrionist to certify or check this, adding proteins into our vegan / vegetarian diet seems much easier with Cauliflower. And with its cousin Broccoli being a favourite, I am sure these two veggies would find more avatars at home in new dishes such as today's yummy and hearty soup !


As a regular reader, you would know by now that my family loves all kinds of soups – and this was no exception. The sharp Cheddar cut through the texture of the soup, making it a filling mini meal with some croutons. And as for the garlic-lovers, I added an extra topping of burnt garlic (thank you, masterchef Australia for teaching me textures of food :))
Check out more than 16+ varieties of Soup here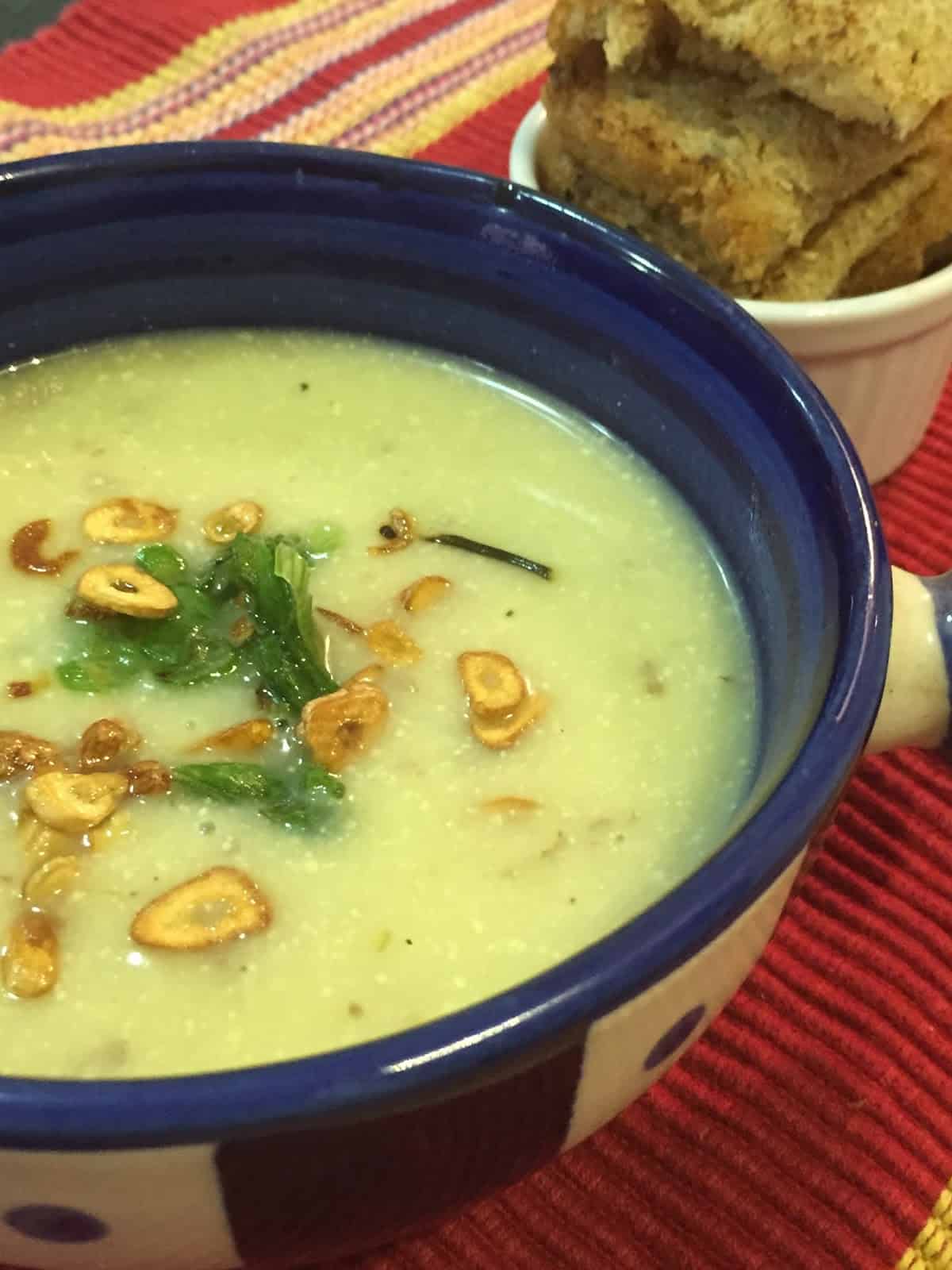 Pin

As we step into the 3rd week of this Proteinicious Mega Blogging Marathon, we continue with more appetisers especially those for kids and party nights. 

So far in the Marathon we have seen: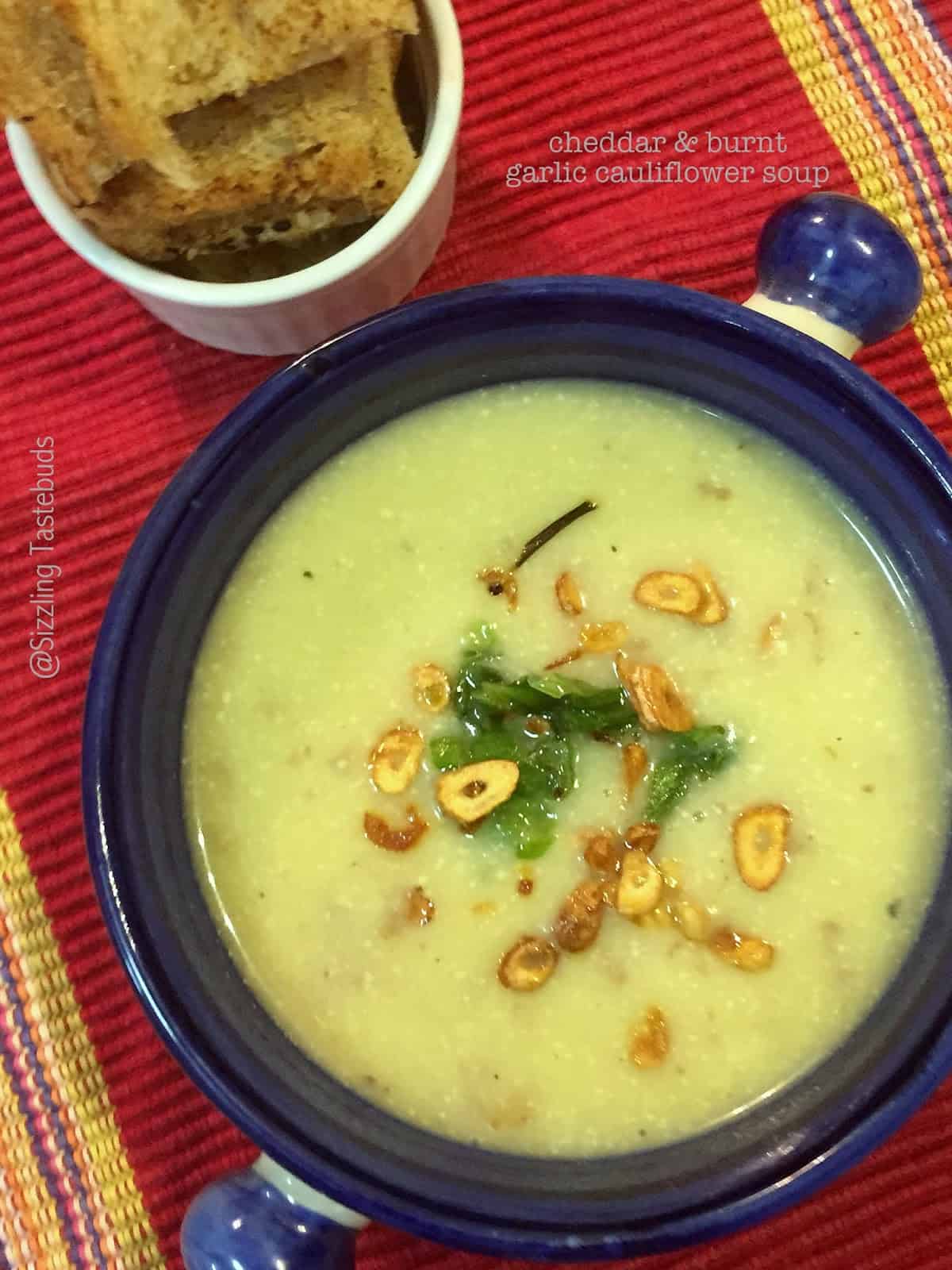 Pin



So, with some very basic pantry supplies, make this on a balmy or wintery night. You are sure to love it 🙂



Some more dishes with Cauliflower (a.k.a Gobhi In Hindi):

Gobhi Matar (Dry)

curried cauliflower-lentil soup

Rasila Gobhi Matar (gravy)

Gobhi Jeera Masala (dry saute)

Vegans – can substitute the cheddar with any vegan cheese like Cheezly or Tofutti or any you can easily make at home (Cashew butter brie or mozarella). 



Cheddar and burnt Garlic Cauliflower soup 

Gluten Free Soup | Course: Appetiser / Mini Meal (for kids)

Prep time : 10 mins, Cook time : 15 mins, Serves : 2



You would need:
Cauliflower – 100 grams (cut into small florets)
Unsalted Veg stock – 250 ml
Cheddar grated – 2 TBSP
Salt and pepper – to taste
Hot water – 1 cup (220 ml)
Onion – 1 medium (opt.)
Olive oil – 1 tsp
Topping:
Crushed black pepper and roasted garlic slices, shredded scallions (opt.)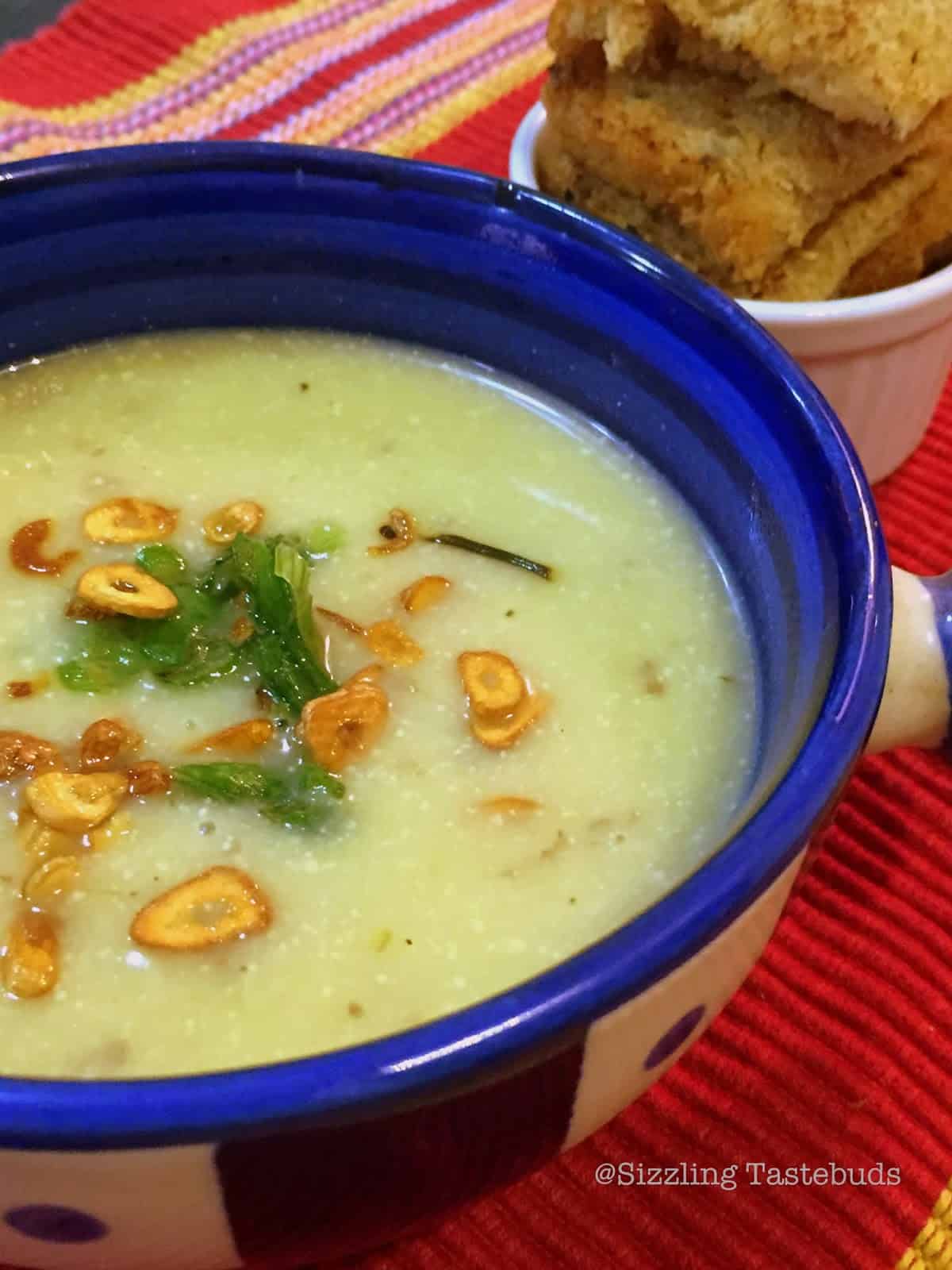 Pin


Method:
In a pressure pan, add oil. Saute onions, cauliflower fr 2 mins, Add the veg stock. Pressure cook for 2 whistles (if you don't have a pressure cooker, boil till the cauliflower turns really tender).
Cool and puree (don't strain).
In a soup pot, add the puree, a little more water, salt and spices and bring to a gentle simmer (about 3-4 mins). Switch off , Add grated cheese and stir in gently till you get a slightly thickish consistency. 
Top with crushed black pepper and roasted garlic sliced
Pin
Check out the Blogging Marathon page for the other Blogging Marathoners doing BM# 80