I had to double check all my posts to
actually believe I hadn't posted Pudina Thogayal (Mint Chutney) at all. We make
this at least once a fortnight, especially on the days you just want to have
plain rice,rasam and this chutney (or thogayal) for lunch or dinner. With the
mercury soaring, I wanted to do just that. And it turned out to be an amazing
idea – flavourful, aromatic thogayal teamed with curd rice was most refreshing,
especially coz I was done with my spring cleaning (that lasted a good half day!)
and gladly dug into the thogayal with gusto 🙂 This recipe for mint chutney is very different from the Green Chutneywe use for Chaats.. I relished today's dish as it came to very close as  mom
makes it at home, and for once I was glad to equal her perfect recipe 🙂
Mint is great for general digestion as
it relieves acidity and cures indigestion. Mint Pearls (or in liquid form) is
recommended for relieving excessive body heat as well. Although commercially
sold, I love this in its fresh form. Make it to a chutney / sandwich or chaat
spread / Raitha, or even sprinkle liberally on fresh salads, its sure to perk
up the dish. Lets get to the recipe now. Sending this to BM # 15, Vardhini's
Vegetarian Side Dishesand my own event – Kitchen Chronicles Heirloom recipes hosted by Saras and also to Srav's CC – Seasonal Food. Also sending this to Jayanthi's event – WTML, event by Gayathri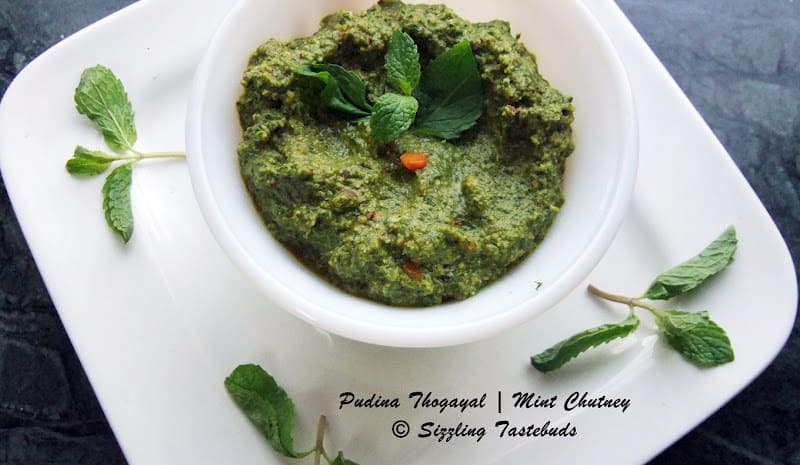 Pin

————————————————————————————-

Prep time – 10 mins 

Cook time –  05 mins 

Serves – 3

Difficulty
level – Easy

Serving
suggestions – Curd
Rice / Steamed Rice

————————————————————————————-

Ingredients:
Pudina
/ Fresh mint leaves – 1 cup (packed tightly)
Fresh
grated coconut – 1/4 cup
Urad
Dal – 2 TBSP
Dry Red
chillies – 2 nos (adjust spice)
Tamarind – a
small gooseberry sized
Salt – to
taste
Jaggery
grated – 1/2 tsp
Oil – 1 TBSP
Tempering
(optional) : Oil – 1/2 tsp, mustard seeds, asafoetida (a small pinch)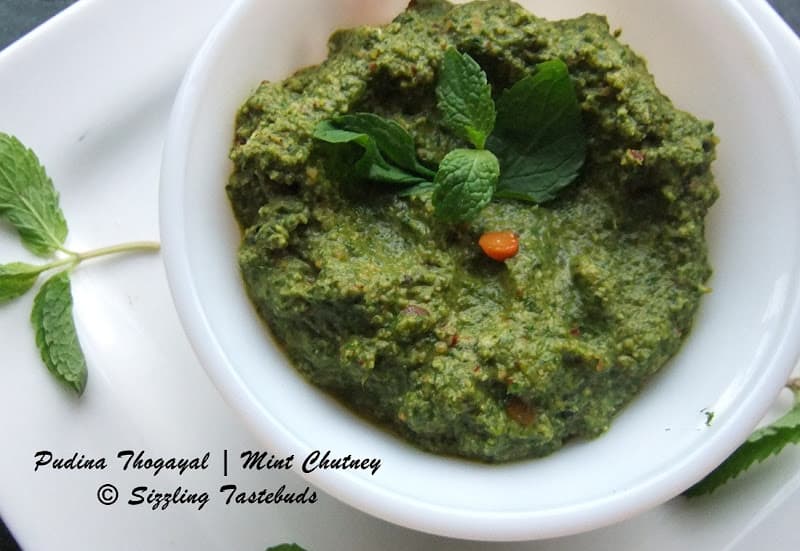 Pin
Method:
1) Heat oil.
Roast the dal & red chillies  on medium heat till the dals turn golden brown. Remove to a plate. Now in the
same oil, saute the washed and drained mint leaves till they wilt a bit (about
3 -4 mins). Remove the leaves, and switch off the flame. In the hot pan, saute
tamarind once for 1/2 min and switch off 
2) Grind the
dal, mint leaves, grated coconut, tamarind with salt and jaggery to a thick
paste adding very little water. Prepare tempering if you wish and add to the
chutney and serve with hot steamed rice.