"To be interested in the changing seasons is a
happier state of mind than to be hopelessly in love with spring" ~George
Santayana
…and so I am in love with the weather upon
us right now. Cold wintery mornings that greet you is a comfort from the
scorching summer and lashing monsoons that hit our city every year. And while
the nice cool nip is here ,thought why not make the most of it… 
With this
carrot almond soup, it's sheer luxury to sip through this warm comfort while you
ponder over the day ahead or how the day went by, depending on whether you
slurp this for lunch or supper. Either way it's full of body, warmth and fresh
goodness that will promise to leave you satiated. 
This soup can be made with adding shallots
too, but I prefer to have certain days off without onions, although garlic is
recommended. Easy to make n delicious too, let's get on to the recipe.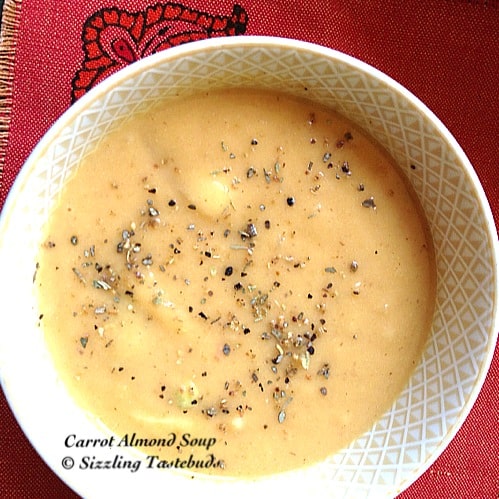 PinPin

  

Prep time -10 min | Cook time – 10 mins | Serves -2

Difficulty level : easy

Serving suggestions: warm breads,baked croutons or a dollop
of butter

Ingredients: 
Carrots (orange variety) – 3 medium- cubed
Almonds – a handful- soaked in warm water for
10 mins
Olive oil – 2 tsp
Garlic – 2 pods
Moong dal / split green gram – 2 tsp
Salt and Italian seasoning – to taste
White pepper powder -1/2 TBSP
Milk (low fat) – 3/4 cup
Method:
In a pressure cooker, heat up some olive oil.
Fry the garlic till slightly brown. Then add the cubed carrots and the soaked
almonds. Fry for two mins
Add the moong dal and fry further for 1-2
mins
Pour 4 cups of boiling water and pressure
cook for 3-4 whistles. Once the pressure is released, cool slightly and purée.
Pour to a soup pot or heavy bottomed vessel.
Let it simmer (not boil) for 2-3 mins. Add salt, pepper  powde, milk
 and seasonings. Let it simmer for further 1 min
Transfer to a soup bowl and serve warm
Enjoy the goodness of a warm hearty soup
🙂 
Linking this to:
My own event Winter Foods 30-min Challenge
Vardhini's New "U" 2013
Sumee's Bon Vivant #11 – Healthy Appetite
Notes:
Moong dal and milk are optional, but they add to
the texture. For a vegan version substitute low fat milk with soya milk
If using shallots, fry them along with the
garlic and pressure cook along with the carrots & almonds
For a different variant, garnish this soup
with caramelized garlic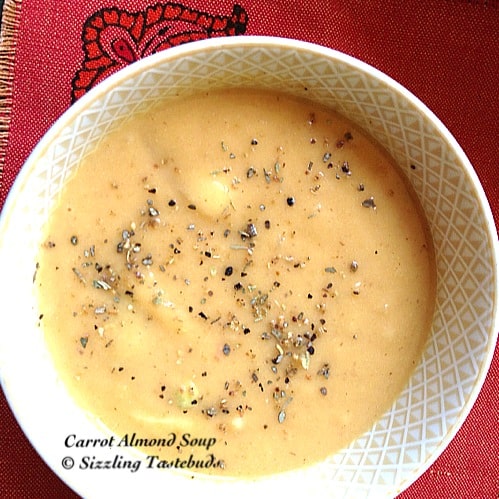 PinPin