Today's post is a quick to make and kid-friendly soup with Toor
Dal and Carrots. Simply earthy , and teamed with garlic bread, it makes for a
yummy supper or evening snack. It requires very few ingredients and can be made
either in the soup pot or the pressure cooker. I prefer the latter method as
its quicker and gives an uniform consistency. Last two days of BM with Toor Dal
saw Sambhar Saadam (One Pot Meal) and Thogari Nuchinunde (Steamed lentil
savoury snack). Linking this to Blogging Marathon and also to PJ who is hosting
Susan'sMLLA # 57. Also to Priya's Healthy Me- Healthy Us event
Prep time – 10 mins | Cook time : 10
to 15 mins | Serves : 2 kids
Spice Level : Low | Difficulty Level : Easy
Serving suggestions : Soup sticks /
Garlic Bread.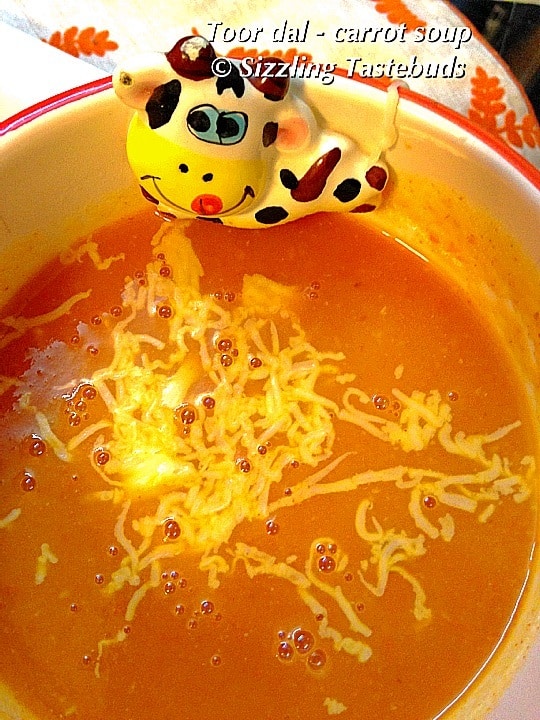 Pin

Ingredients:

Cooked Toor Dal / split pigeon pea –
1/2 cup

Carrots – 1 medium – cubed

Butter – 1/2 TBSP

Chopped Onions / Spring Onion whites –
1/4 cup

Cumin Powder – 1/2 tsp

Salt – to taste

Grated Cheese (optional) – 2 tsp

Italian Seasoning – 1/2 tsp

Method:

In a pressure pan, melt butter. Saute
onions and cubed carrots. Add 2 – 3 cups of water and pressure cook for 4
whistles. Cool.

Puree this mixture with the cooked
Toor Dal.

(If using raw / uncooked toor Dal,
soak in hot water for 20 mins and then pressure cook along with the carrots)

Simmer slightly for 1 -2 mins till
small bubbles appear.

Add salt and seasonings

Transfer to serving bowl and serve
with any bread of your choice after topping this with grated cheese

Linking this to Archana's Soups and Salads Kids Delight event , created by Srivalli.