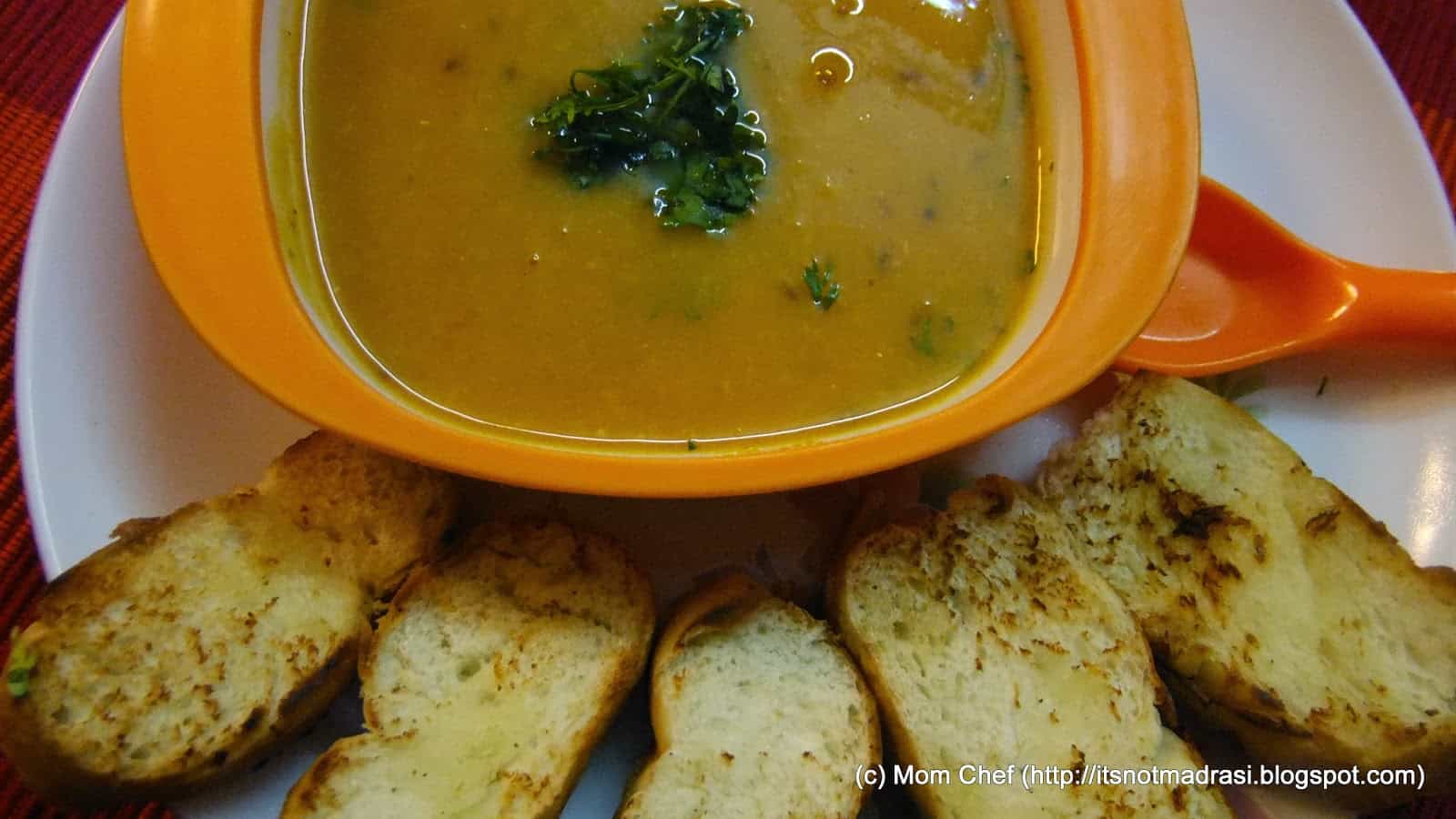 Pin
Summer is already upon us, and feeding kids with nutritious , healthy and oil free alternatives is really a task. Fruits and water-based vegetables are a great option, Squash (not the game) is one such veggie – chutneys, Curry, Raitha, halwa, Soups etc – all can be made with this. Yesterday, the daughter and I had a yummy Squash and Dal Shorba for dinner – light, healthy and tasty too 🙂 Halloween and Pumpkin pie from the west has made this vegetable popular and is known by many names across India – Kaddoo(Hindi), Seegumbalakaai(Kannada),Parangikai (Tamil). This dish can also be used as an appetiser for any party along with finger foods. I am sending this to Day 3 of Srivalli's Blogging Marathon under the "Kids Friendly" recipes category.
Wikipedia tells me that "the word pumpkin originates from the word pepon which is Greek for "large melon". The French adapted this word to pompon, which the British changed to pumpion and later American colonists changed that to the word we use today, "pumpkin"."
Preparation time : 15 mins. Cooking time : 10 mins. Serves: 2
To prepare this Shorba (Shorba means a thick soup or gravy made of vegetables or meat), you need:
Ingredients:
Peeled and cubed Squash – 1 cup
Onions – cubed – 1/2 (opt)
Tomatoes – 2 nos
Cooked Masoor Dal (Red Lentil) – 1/4 cup
Milk – 4 tbsp (Opt)
Salt – to taste
Turmeric Powder – 1/4 tsp
Dhania / Coriander Powder – 1/4 tsp
Jeera / Cumin Powder – 1/2 tsp
Chilli powder – 1/4 tsp (opt)
Freshly ground pepper – 1/2 tsp
Cumin / jeera – 1 tsp
Ghee / Oil – 1 tsp
Fresh Coriander – for garnish
Method:
1) Steam the pumpkin with water into a little more than al dente consistency. Drain the water and keep aside. Preserve the water. You may add a pinch of salt while boiling the veggie.
2) In a pan / Soup pot, heat ghee or oil, fry onions till translucent.
3) Blanch the tomatoes, Peel and chop.
4) Puree the Pumkin / squash, tomatoes, onions with 1 cup water or more till you get a thick mixture.
5) In the same pan, simmer the above puree. Add turmeric, salt, jeera and coriander powder, red chilli powder and stir well. Add dal and using a churn (used to make buttermilk) or egg whisk , whip it finely till the dal incorporates into the shorba mixture. Boil till you get the desired shorba consistency (thicker than a clear soup)
6) Splutter some jeera in a dry skillet and pour onto the shorba.
7) Remove from fire, add milk if using and garnish with coriander and freshly ground pepper
8) serve hot with croutons /soup sticks.
Tips:
a) As this was a dinner menu, I served it with lightly toasted-n-herbed garlic bread.
b) I used milk in place of cream as the dal would have the protein in already.
c) In my experience, Masoor Dal is a great alternative to Moong / Toor Dal as its light for any soup / shorba.
d) Onions are really optional and you could make it without it either. Pepper (red and black) is also optional if your kid is really young.
e) If you are serving adults only, you can also garnish with burnt garlic and some dry herbs.
My fellow bloggers on this marathon:
Diabetes Diet/Management: Srivalli, Champa, Harini, PJ
Kid Friendly Recipes: Me, Shylaja, Veena
Seven Days of Soup: Usha, Sowmya
30 Minutes Meals: Priya Suresh
Seven days of Cakes: Anusha