Balakayi Sasive or Sasam is a no onion no garlic Curry made with raw banana simmered in a mustard-coconut sauce. Enjoyed as a side to hot steamed rice in Udupi cuisine.
Sasive or Sasam is a typical No Onion-No garlic kind Curry made exclusive to GSB, Konkani and Udupi cuisine. Sasive refers both to the name of dish and the pungent mustardy-sauce that is typical to this dish. Udupi special sasive (also known as sasam) is a delicious South Indian dish that features a creamy coconut and mustard seed-based gravy. It's commonly made with vegetables like cucumber, but you can also use other vegetables like ash gourd or pumpkin. Here's a recipe for Udupi special sasive with Raw banana.
This curry is very similar yet different to the Iyengar style Kadag Puli which my grand mom used to make. Perhaps the influence of Udupi cuisine spread across to the Mysore region where this above mentioned Kadag Puli is made extensively.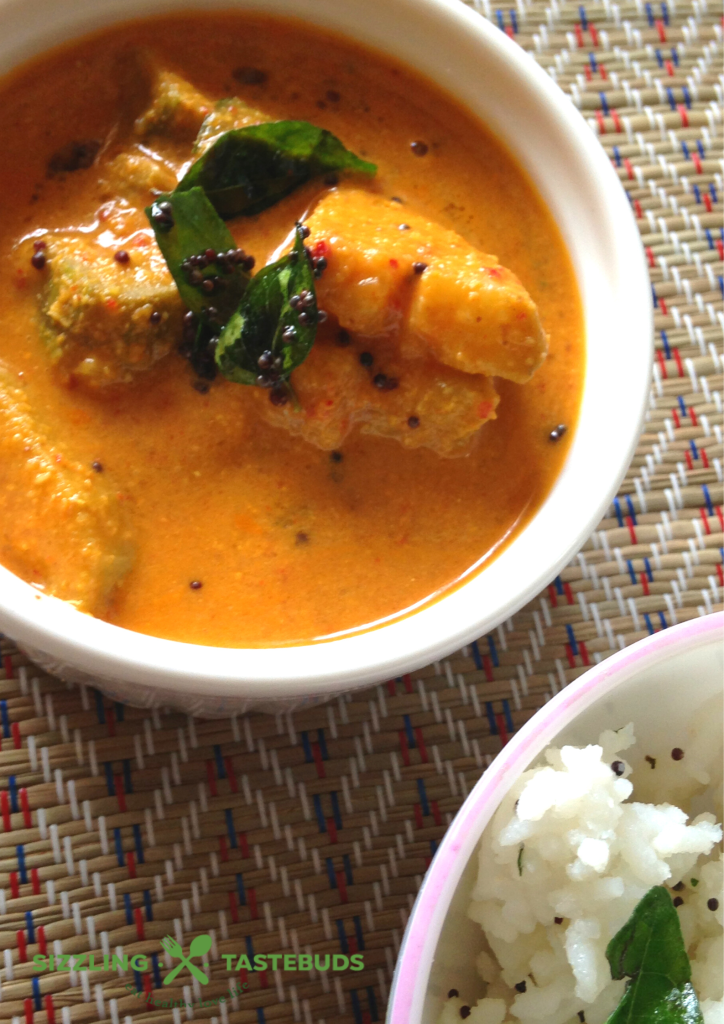 History of how the Sasam / Sasive came to be in the Udupi Cuisine
The cuisine of Udupi is renowned for its vegetarian offerings, and sasam is one of the many delicious dishes that have their origins in this coastal region
Historical Roots: Udupi cuisine has a long history that dates back several centuries. It is closely associated with the Udupi Krishna Temple, a famous Hindu temple located in the town of Udupi. The temple is known for its unique way of preparing food offerings, which has given rise to the Udupi cuisine.
Temple Influence: Udupi cuisine, including sasam, has strong ties to temple traditions. In the Udupi Krishna Temple, food is prepared as an offering to Lord Krishna and is considered sacred. The cuisine is strictly vegetarian and does not include ingredients like garlic and onions.
Sasive Preparation: Sasam is prepared as part of the temple offerings and is a blend of fresh coconut, mustard seeds, green chilies, and other spices. The use of mustard seeds gives it a distinct flavor and aroma. Tamarind or yogurt is often added for a hint of tanginess.
Variations: While sasam is traditionally made with vegetables like cucumber, variations of this dish exist, with different vegetables or fruits being used as the main ingredient. Pineapple sasam, raw banana sasam, ash gourd sasam, and even mango sasam are popular variations.
Cultural Significance: Udupi cuisine, including sasam, has not only religious but also cultural significance in the region. It is an integral part of festivals, rituals, and celebrations in Udupi and the surrounding areas.
Exported Tradition: Over time, Udupi cuisine, including sasam, has spread beyond the temple walls and has become popular in households and restaurants throughout South India and beyond. It is appreciated for its unique blend of flavors, simplicity, and use of local ingredients.
In summary, Udupi sasam is a traditional South Indian dish with its roots deeply embedded in the cultural and religious traditions of the Udupi region. It continues to be a beloved part of South Indian vegetarian cuisine, celebrated for its distinctive flavors and historical significance.
Other Udupi inspired + No onion no garlic dishes you may like on the blog are:
Udupi Style Kayi Sasive Chitranna | ಉಡುಪಿ ಶೈಲಿಯ ಕಾಯಿ ಸಾಸಿವೆ ಚಿತ್ರಾನ್ನ | No Onion, no Garlic Dish
A Traditional Udupi (Karnataka) dish made with Rice and spiced Mustard paste. Served for festivals and special occasions.
Check out this recipe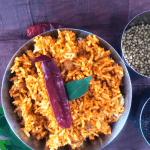 Udupi Sambhar | No Onion No garlic Udupi Style Sambhar |
A No-onion no garlic sambhar / gravy made with lentils, veggies and freshly ground paste. Served with South Indian Breakfast as well as with hot steamed rice.
Check out this recipe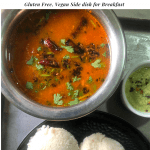 Gabbya Upkari (Konkani style Banana stem stir fry)
Gabbye Upkari or Gabbe Upkari is a Konkani style stir fry made with Banana Stem.Served with steamed rice + curry, it is a vegan + Gluten Free Curry and contains no onion or garlic too!  
Check out this recipe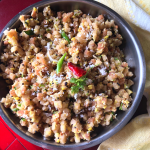 Sakkaravalli Kizhangu Puli Kozhambu | Sweet potato in tangy Gravy | Satvik Side Dishes | No onion no garlic recipe
Sakkarvalli Puli Kuzhambu is a traditional Vegan tangy-spicy curry made with Sweet Potatoes in a Tamarind sauce-served with hot rice
Check out this recipe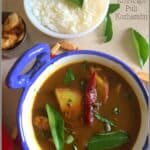 Achinga Payar Thoran | Alasandhe Palya | Long yard beans stir fry
Achinga Payar Thoran refers to a no onion no garlic stir fry with long yard beans, tempered with coconut. Usually served with Rice + Sambhar or Rasam
Check out this recipe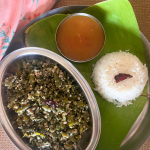 Jain Style Corn Palak
Corn and spinach curry made in a tasty No -onion, no-garlic base (Jain style). Served best with flatbreads or Steamed Rice. 
Check out this recipe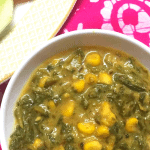 What you need to make Udupi Sasam
Prep time – 15 mins, Cook time – 15 mins , Serves – 4 generously
Cuisine : Udupi (Coastal Karnataka) ; Course : Side Dish / Curry
2 cups Raw banana, peeled and diced into small pieces
1 tablespoon oil
1/2 teaspoon mustard seeds
A pinch of asafoetida (hing), skip for Gluten Free
A few curry leaves
1/4 cup water
1 tsp salt
For the Sasive Paste:
1/2 cup grated coconut
2 tablespoons mustard seeds
1 tsp Cumin seeds
1/2 tsp methi seeds
4-5 red chilies (adjust to your spice preference)
1/2 teaspoon turmeric powder
A small piece of tamarind (about the size of a small marble)
Salt to taste
How to make the Udupi Balekayi Sasam / Sasive
Prepare the Sasive Paste:
In a blender, add grated coconut, roasted methi seeds, mustard seeds, chilies, turmeric powder, cumin seeds, tamarind, and salt.
Grind everything to a smooth paste, adding a little water as needed. The paste should be thick and creamy.
Heat oil in a pan or kadai over medium heat. Add mustard seeds and let them splutter.
Add asafoetida and curry leaves, and sauté for a few seconds.
Add the diced Raw banana and sauté for a couple of minutes.
Reduce the heat to low and add the prepared sasive paste to the pan. Mix well so that the raw banana is coated with the paste.
Add water to achieve your desired gravy consistency. Start with 1/4 cup and adjust as needed. Cover the pan and let it simmer for about 5-7 minutes or until the raw banana is tender. Stir occasionally.
Taste the sasive curry and adjust the salt and spice level if needed. Simmer for a couple of more minutes to blend the flavors.
Once the raw banana is cooked and the flavors have melded, remove the pan from heat. Udupi special sasive is typically served as a side dish with steamed rice
PIN FOR LATER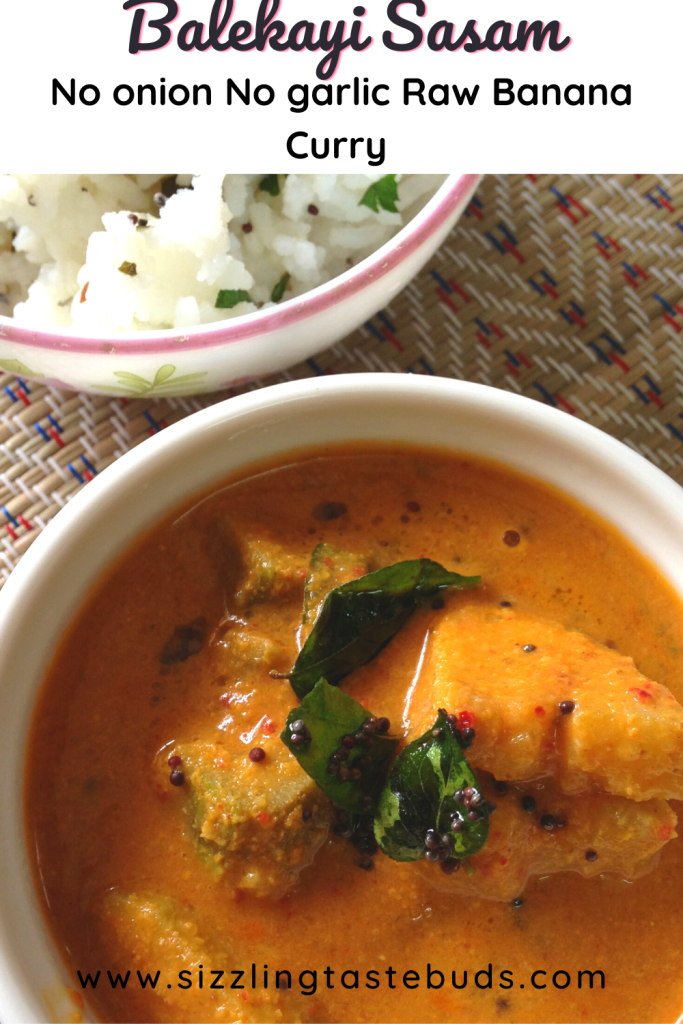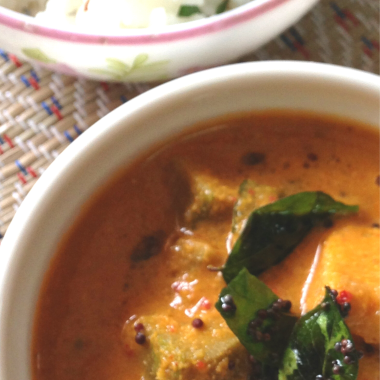 Balekayi Sasam | Sasive | Udupi cuisine special curry
Balekayi Sasive or Sasam is a no onion no garlic Curry made with raw banana simmered in a mustard-coconut sauce. Enjoyed as a side to hot steamed rice in Udupi cuisine. 
Equipment
Thick Bottomed Pan

Spice Grinder

Pots and Pans
Ingredients
2

cups

Raw banana

peeled and diced into medium pieces

1

tablespoon

oil

1/2

teaspoon

mustard seeds

A pinch of asafoetida

hing, skip for Gluten Free

A few curry leaves

1/4

cup

water

1

tsp

salt
For the Sasive Paste:
1/2

cup

grated coconut

2

tablespoons

mustard seeds

1

tsp

Cumin seeds

1/2

tsp

methi seeds

4-5

red chilies

adjust to your spice preference

1/2

teaspoon

turmeric powder

A small piece of tamarind

about the size of a small marble

1/2

tsp

salt
Instructions
In a blender, add grated coconut, roasted methi seeds, mustard seeds, chilies, turmeric powder, cumin seeds, tamarind, and salt.

Grind everything to a smooth paste, adding a little water as needed. The paste should be thick and creamy.

Heat oil in a pan or kadai over medium heat. Add mustard seeds and let them splutter.

Add asafoetida and curry leaves, and sauté for a few seconds.

Add the diced Raw banana and sauté for a couple of minutes.

Reduce the heat to low and add the prepared sasive paste to the pan. Mix well so that the raw banana is coated with the paste.

Add water to achieve your desired gravy consistency. Start with 1/4 cup and adjust as needed. Cover the pan and let it simmer for about 5-7 minutes or until the raw banana is tender. Stir occasionally.

Taste the sasive curry and adjust the salt and spice level if needed. Simmer for a couple of more minutes to blend the flavors.

Once the raw banana is cooked and the flavors have melded, remove the pan from heat.

Udupi special sasive is typically served as a side dish with steamed rice