100 edition of blogging along with the blogging marathon group is truly a landmark achievement. The brainchild of Valli, this group has been growing over the last few years. 
This week as part of BM 100, the theme chosen is stuffed dishes.
The first of this is tofu stuffed peppers in a tangy tomato sauce.i had made a version of Paneer Bharwa Shimla Mirch earlier and a cheese topped baked stuffed pepper earlier, but wanted a vegan dish as a change. 
This is a vegan recipe where I have used tofu sautéed with veggies  to stuff the peppers, but the stuffing is totally upto your choice – grated paneer, veggies , cheese , leftover rice (which I also used) or even shredded meat. Again the sauce is optional but as I was serving it with roti, we need a sauce base.
This is further baked for a few mins to give it a nice compact finish to the dish. Make sure to use firm, fresh peppers with a base. 
Let's see how to make this.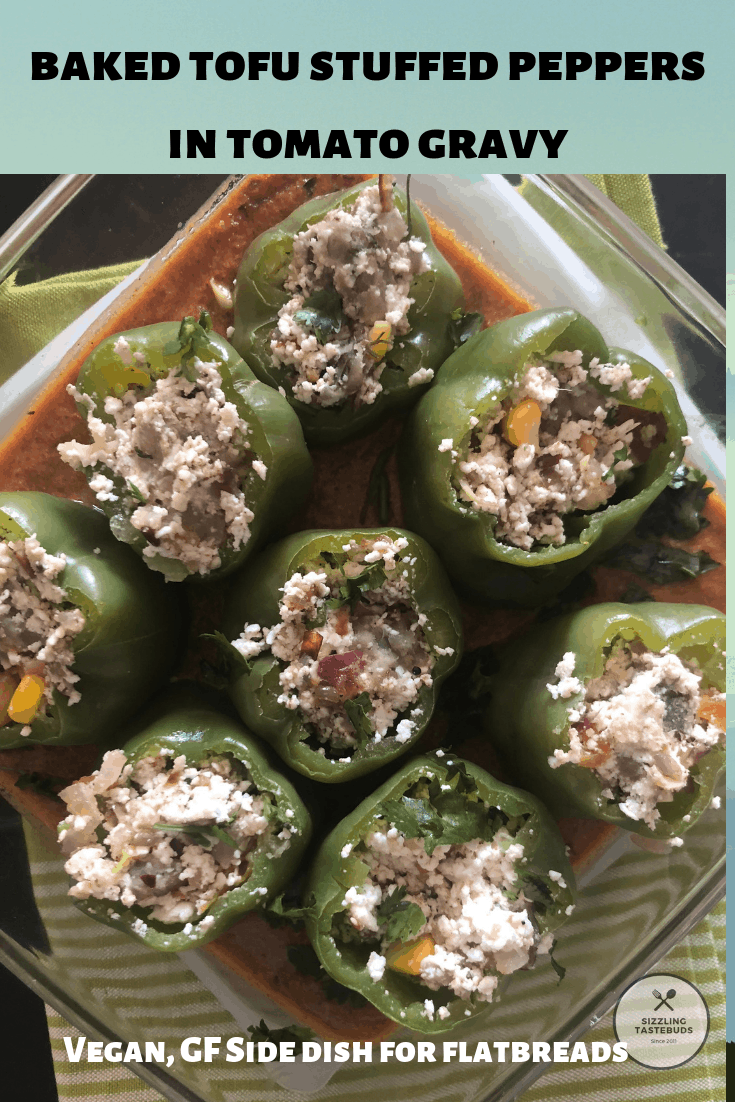 Pin

Prep time – 20 Mins, Cook time – 25 Mins, serves -4 

What you need:

Bell peppers – 6 (medium sized, I used green coloured but you could use multiple coloured peppers)

Oil – 3 TBSP (divided use)

Salt to taste 

Stuffing :

Cooked and cooled rice – 4 TBSP 

Tofu – scrambled (3 TBSP)

Onions – 1 medium 

Salt and pepper to taste 

Boiled veggies – 1/4 cup (opt.)

Tabasco sauce – 1/4 tsp (opt.)

Ginger garlic paste – 1/4 tsp

Crushed cashews- 1 tbsp (omit for any nut allergy) 

For the tomato base:

Tomatoes -4 (Blanched & chopped)

Salt to taste 

Onions – 1 medium

Garam Masala-1 tsp

Kashmiri Red chilli powder – 1/2 tsp 

Kasuri Methi – 1 tsp

Coriander – jeera powder – 1 tsp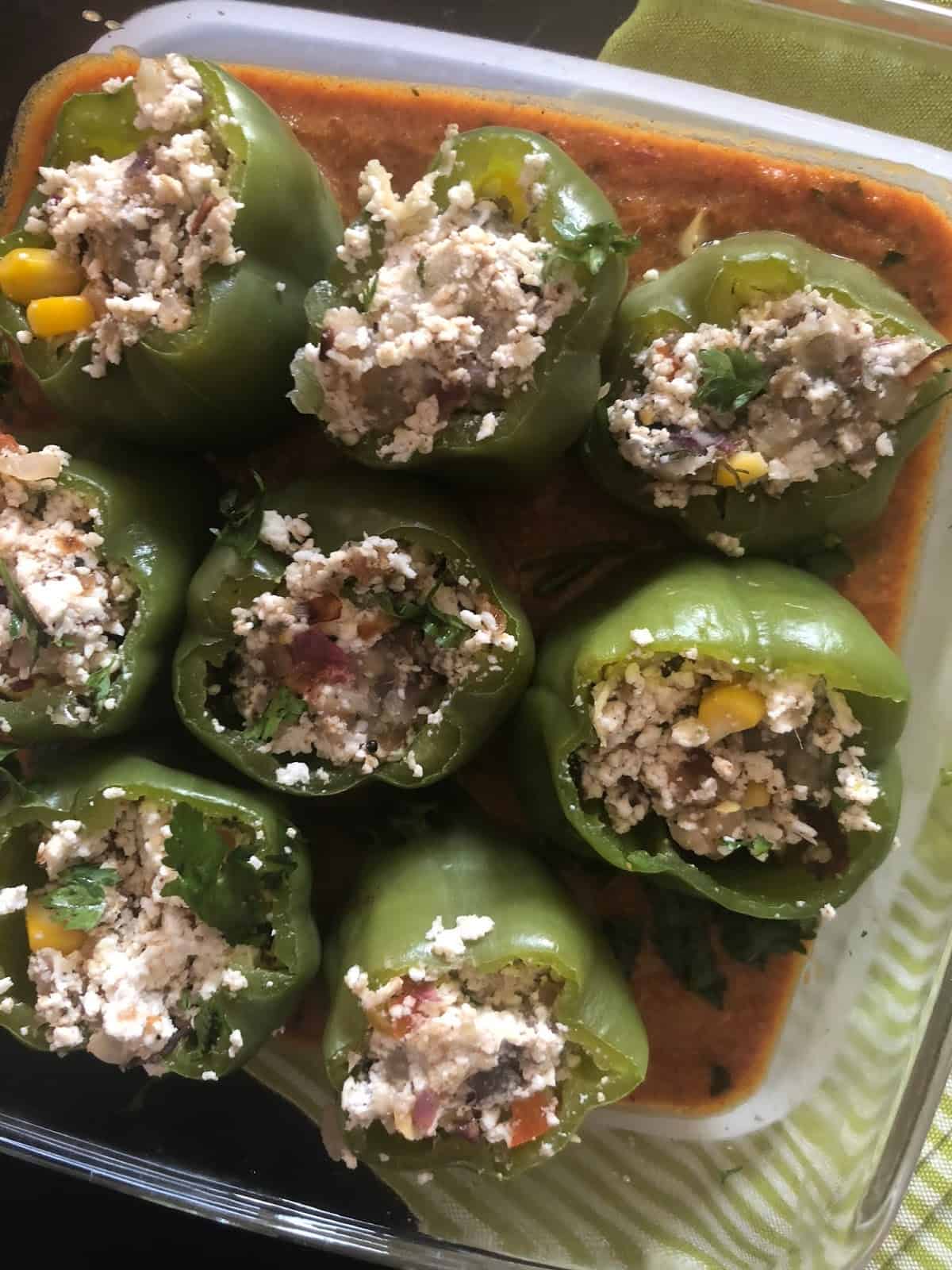 Pin
How to:
Trim the tops of the peppers and preserve the crowns wit the stalk. De-seed the peppers , smear a thin oil film and sprinkle a tiny pinch of salt on the inside. Place these peppers in a medium hot non stick pan, sprinkle a few tsp of water . Cover and let the peppers soften a bit on low heat (cover for just 3 mins and switch off). We need the peppers to soften a bit but not lose the colour or crunch. 
Stuffing:
In another pan, add 1 TBSP oil. Saute the onions, ginger garlic paste. Add the sauce, Boiled veggies , rice and tofu. Quickly toss them without it sticking to the base of the pan. Adjust salt and pepper to taste. add crushed cashews and mix well. Cool to room temperature for further use.
Tomato Gravy:
In a pan, add the rest of the oil. Saute the onions till translucent. Puree the blanched tomatoes into a fine puree. Add the puree to the onions. Add the spice powders, salt and let it simmer till oil separates (about 5-6 mins). Add crushed kasuri methi and mix once again.  
To serve:
Pre heat oven to 170 C (alternately you can heat a flat non- stick pan with a little oil) 
Place 1 TBSP+ filling in the steamed peppers, cover with the preserved crowns. Grease a flat baking tray with a light film of oil. Add the tomato gravy, place the stuffed peppers with the crowns and bake for 7-8 mins till the gravy slightly dries up. (You may also place the peppers in a pan, cook covered for 4-5 mins) 
Serve hot / warm with any flatbread / pilaf 
Sending this to BM#100 under "Stuffed Dishes"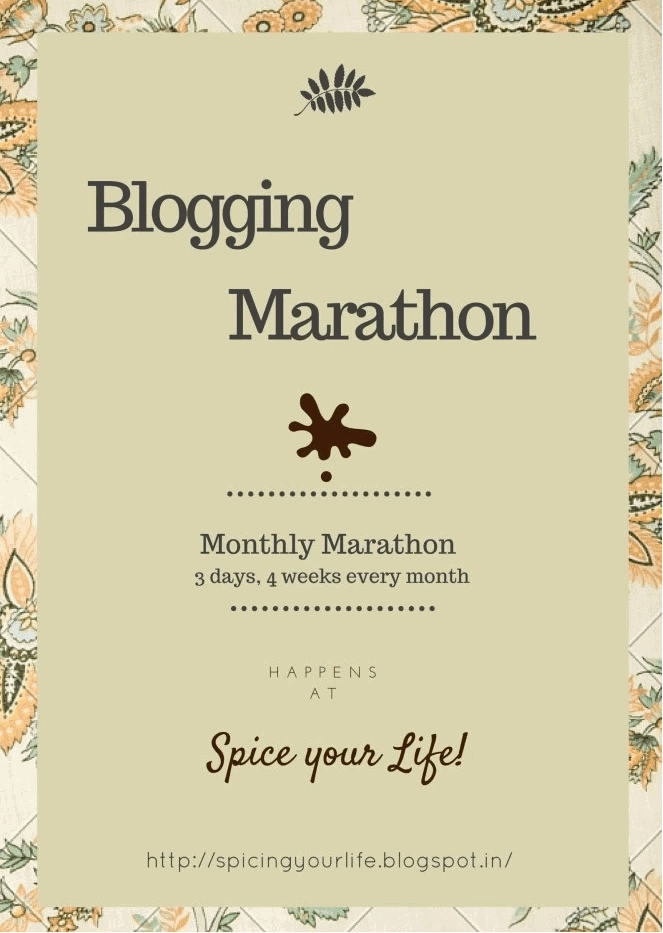 Pin