Whew! That title is a mouthful isn't it ? I was always smitten with the idea of using Sweet potato in breads and was very curious to see how they added to the moisture and texture of the breads, and surely we weren't disappointed.
Taking inspiration from here and Samira Damirova from Masterchef (she's been my newest and greatest role model for baking breads) in that she turns them out so effortlessly and confidently- using both native ingredients and her own culinary influence from Azerbaijaan, where she originally hails from – with a quiet confidence that's rare to see in a reality show like MasterChef Australia.
And for some strange (and wonderful reason) , I infused saffron to these dinner rolls and they were just (as Gary from Masterchef Australia would say,) "Rock and Roll". These were the softest, yummiest and most delicious bread rolls I have ever baked so far, and as a baker I constantly critique my baking so I am personally very happy with the dish.
A big shout to Elena, whose recipe I EXACTLY halved (without using the egg wash though), and I was a very happy baker and it was received very well by the entire family. I have baked 8 rolls with this for lunch (with Matar ka Shorba – Vegan Peas soup), but I still have a half of the dough freezing to be used again.
This could easily be the easiest and yummiest bread roll for your Xmas party or New years' . Do try it and let me know how you liked them.
Sending this to week175 of #FoodieMondayBloghop ("Christmas Special" theme suggested by members) and #Bakeathon2018.
So far on Bakeathon, following 6 bakes were dished out – do take a look if you missed any in this series:
Day 1 – Baked Upma
Day 2 – Baked Veg Cheesy Eggless Casserole
Day 3 – Flourless Choco Chip Mini Brownies (GF and Vegan too)
Day 4 – Tandoori Malai Broccoli
Day 5 – Wholewheat Eggless Almond Chocolate Muffins
Day 6 – Wholewheat Kitkat Gems Chocolate Cake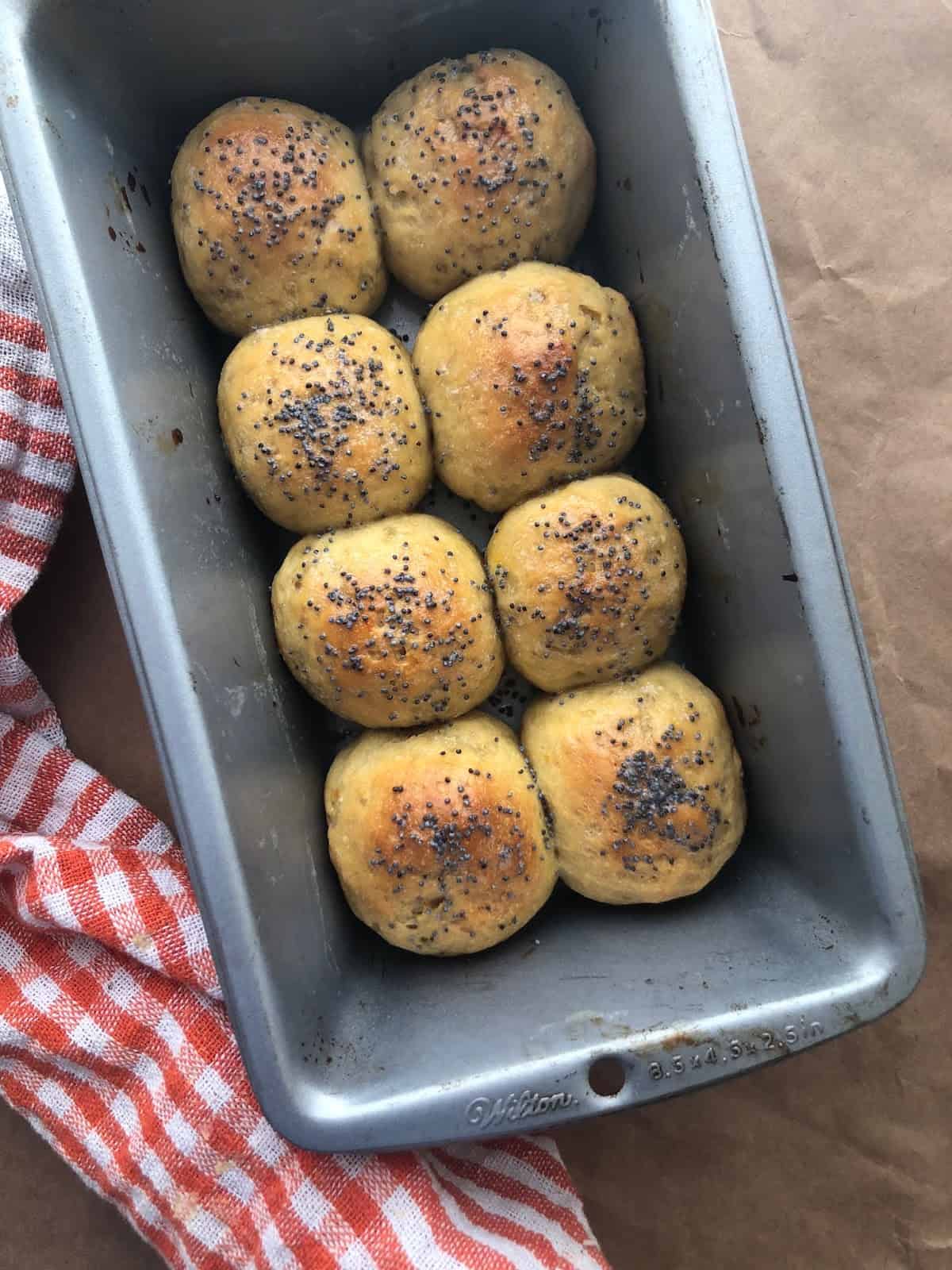 Pin

Let's get to the recipe:

Vegan Saffron-Infused Sweet Potato Dinner Rolls

Cuisine – American / World ,Course : Snack / Dinner / Lunch

Prep time – 20 mins, rise + bake time : 2 hours+, makes : 16 small medium sized rolls

(1 cup = 240 ml)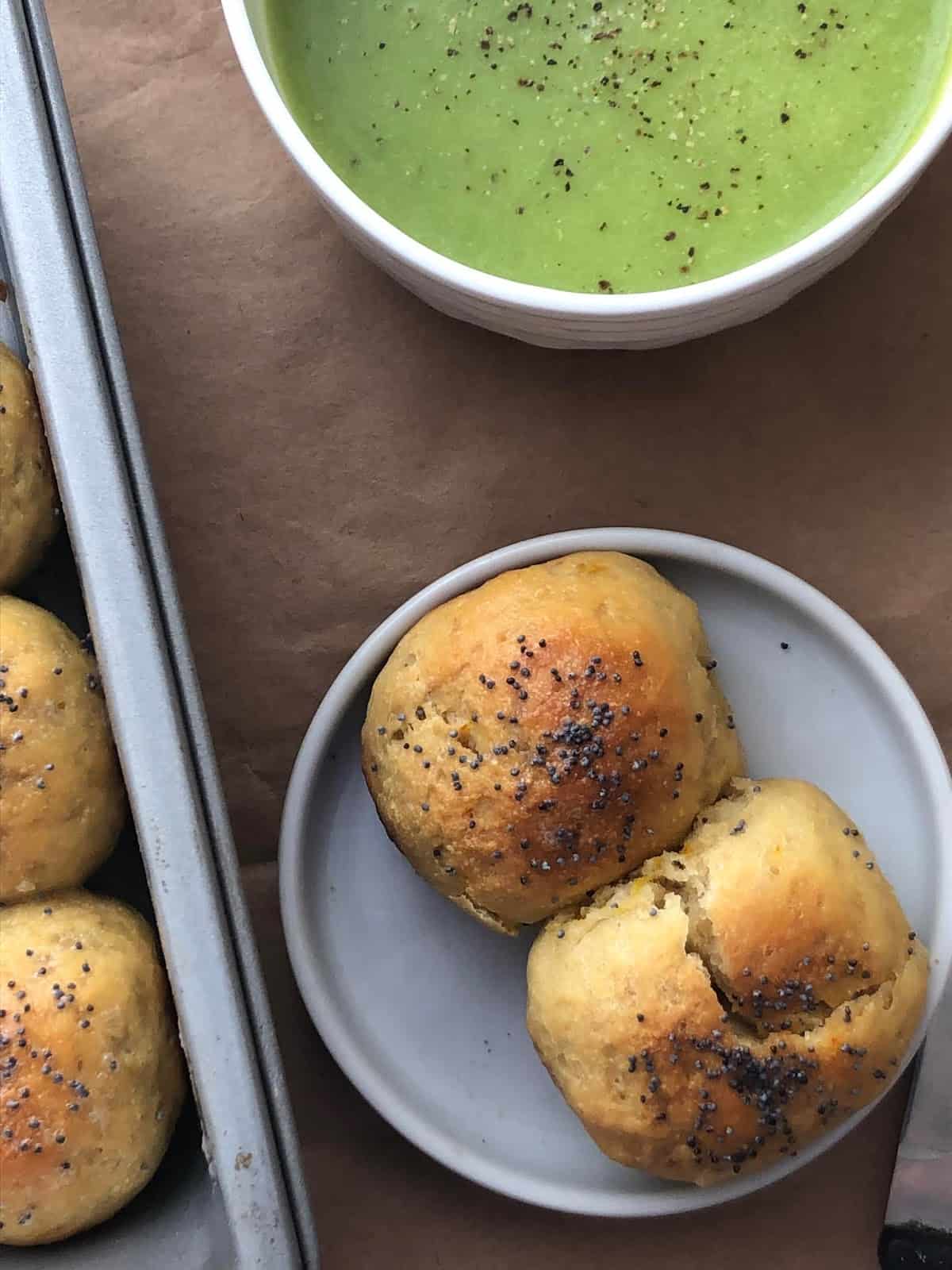 Pin

You would need:
Maida / All Purpose flour – 1 cup
Wholewheat flour (stone ground wheat flour) – 1 3/4 cup + 2 TBSP
Boiled and peeled Sweet potatoes – 1 medium (about 120/130 grams) {{ IMP: these must be lukewarm when adding to the dough, not cold or hot , else it would kill the yeast }}
Warm water – 60 ml + 4 TBSP
Instant Yeast – 3/4 + 1/3 tsp
Maple Syrup – 1 tsp
Oil – 1 T + more for greasing
Salt – 5 grams
Saffron – a generous pinch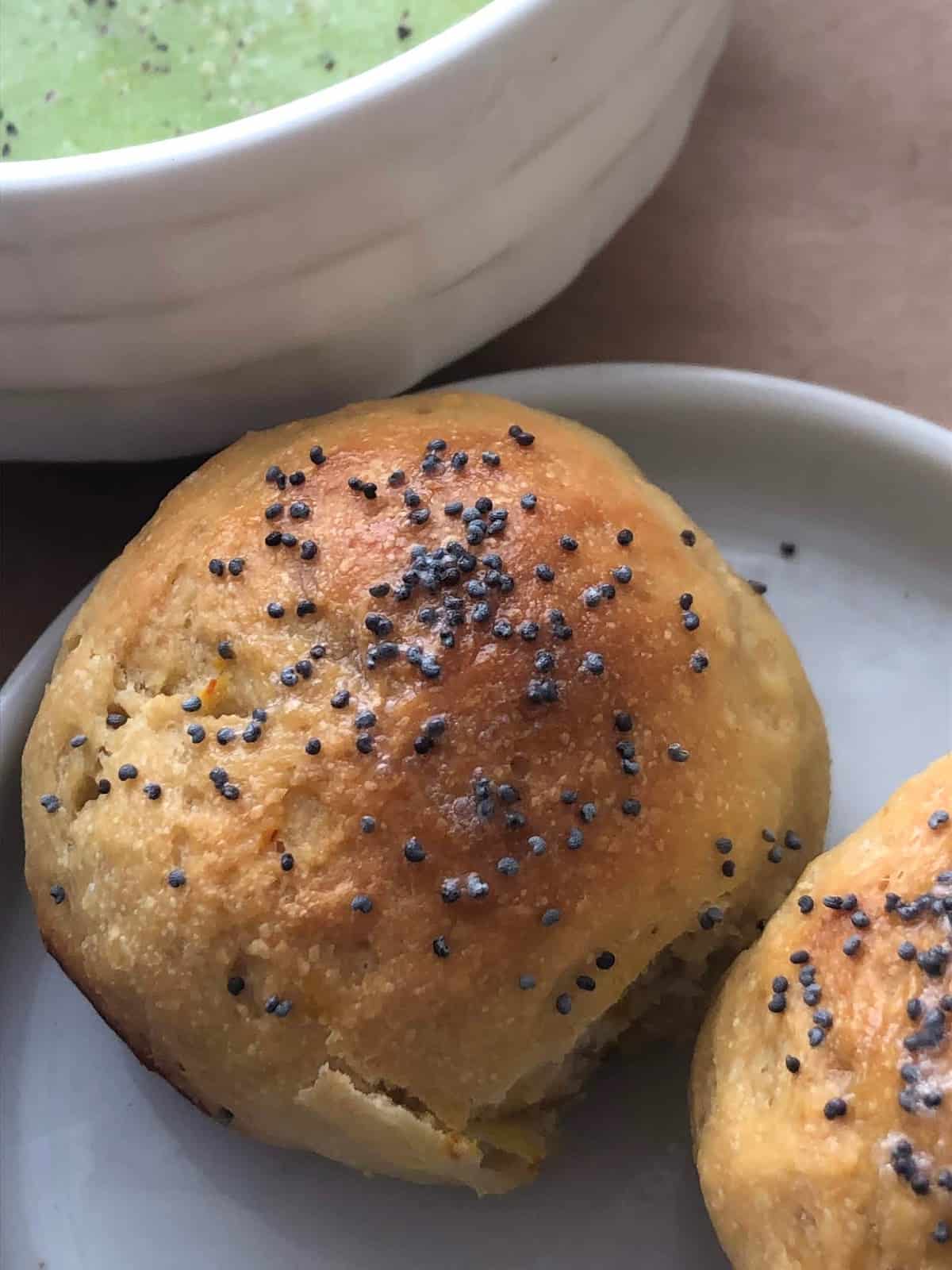 Pin


topping:
Poppy seeds – as needed
Water water + 1/2 tsp maple syrup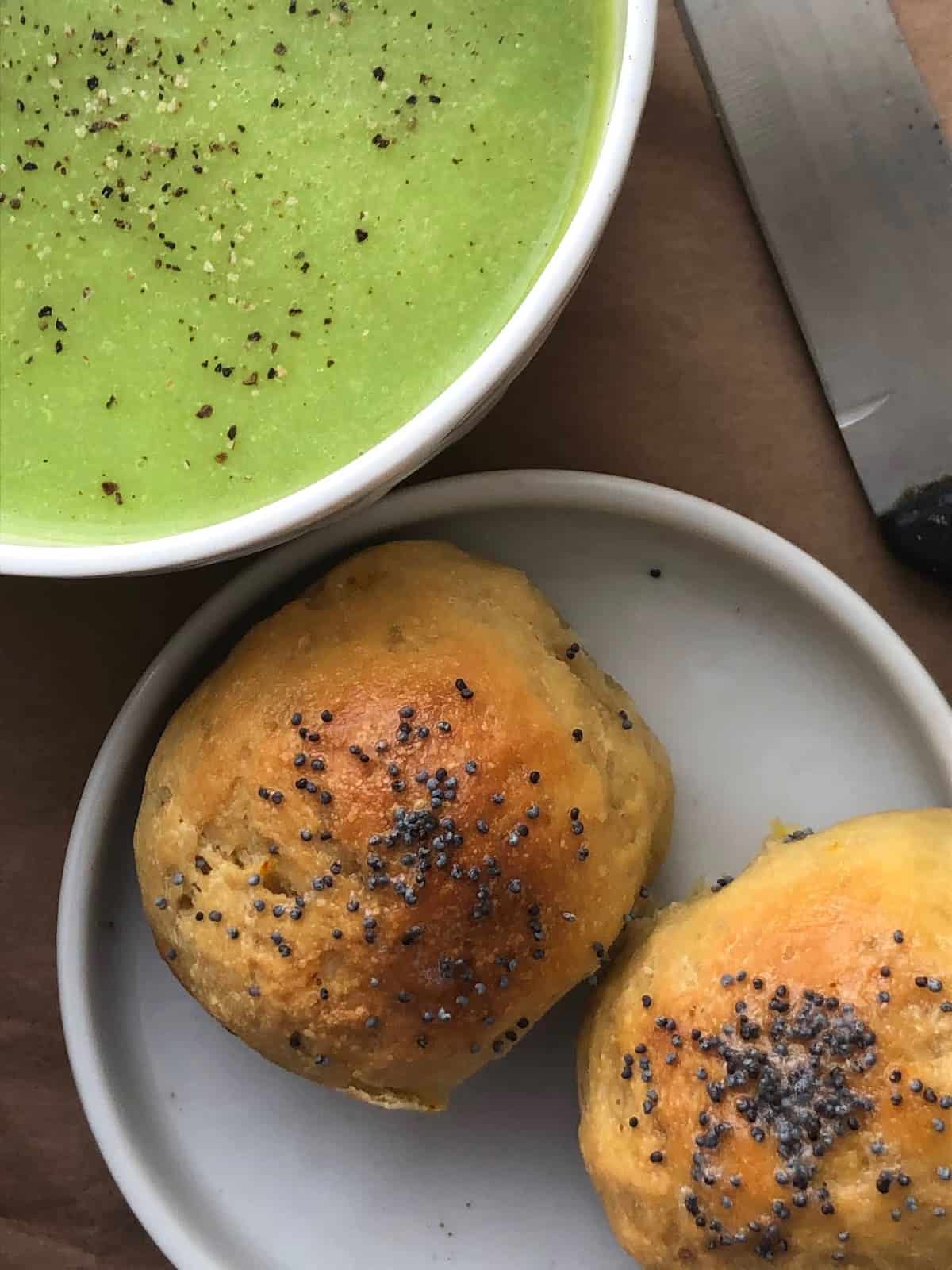 Pin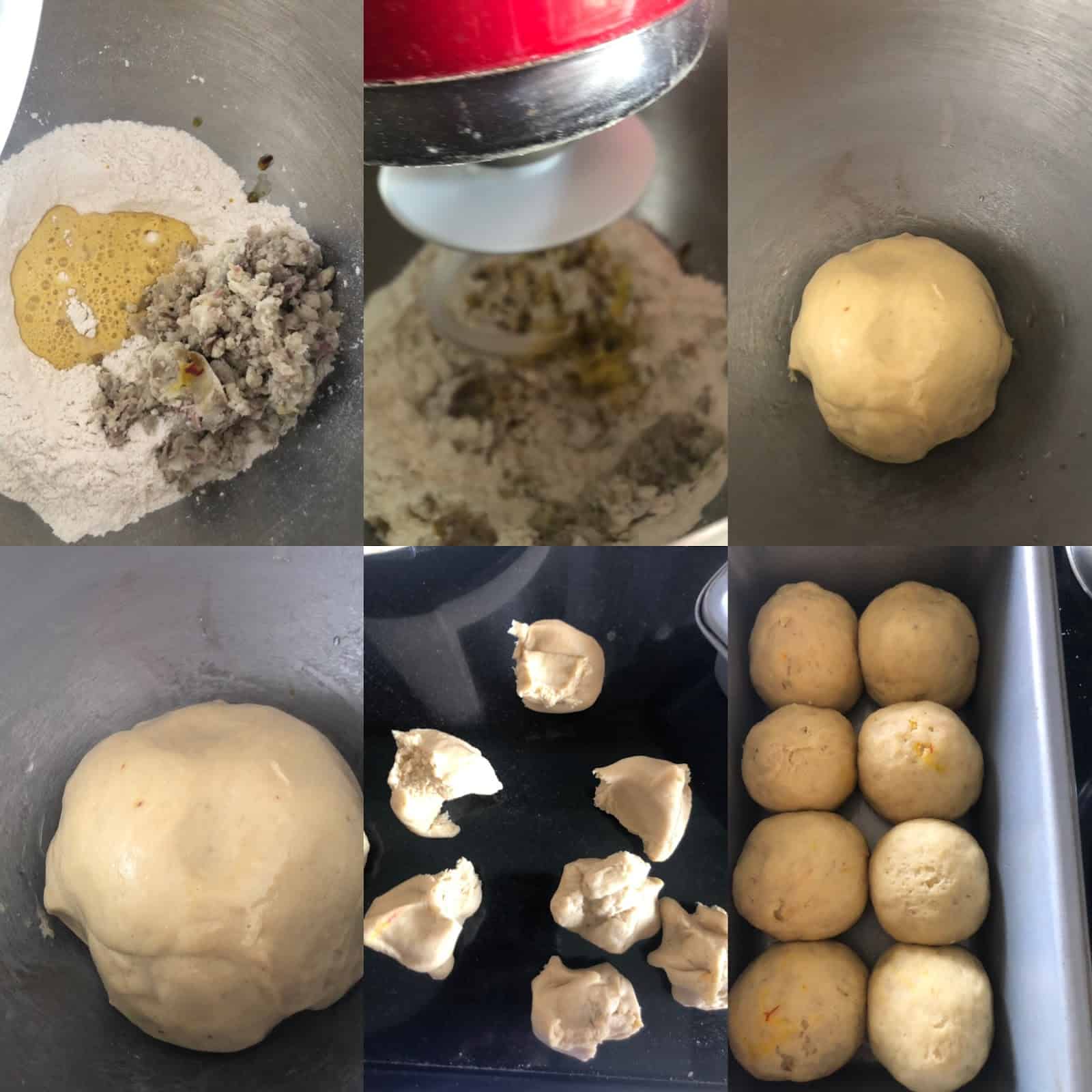 Pin
How to:
In a bowl, add the warm water (60 ml), saffron strands and maple syrup. Whisk well.
Mix in the yeast , cover and let it bloom (takes 5-10 mins).
In the bowl of the stand mixer or large plate / bowl, add the flour and mix well. Once yeast froths, add that mixture and the mashed sweet potato. Mix well
Now add the salt , oil and mix well. Knead till really smooth. You may need to add more water depending on the wholewheat. Keep the kneaded dough in the same bowl of the stand mixer or any other oiled container and let it rise in size.
After 60-90 minutes, punch the dough once and knead for 1-2 mins.
Pinch out 16 equal portions and roll to smooth dinner rolls and place in a greased baking pan (I used a Wilton 9X5 pan and placed only 8 rolls , you could use a flat baking tray and place all 16 rolls at one go , about 1 inch apart from each other.
Cover / cling wrap till it rises again. Towards the end of the second rise, pre heat oven to 175C / 250F. Gently brush the risen rolls with a mixture of sugar / maple syrup and warm water, and top with any seeds (pumpkin / poppy – I used the latter).
Bake for 20-22 mins or till tops are golden brown, I broiled for just 1 minute after they were baked.
Serve warm as is or with any soup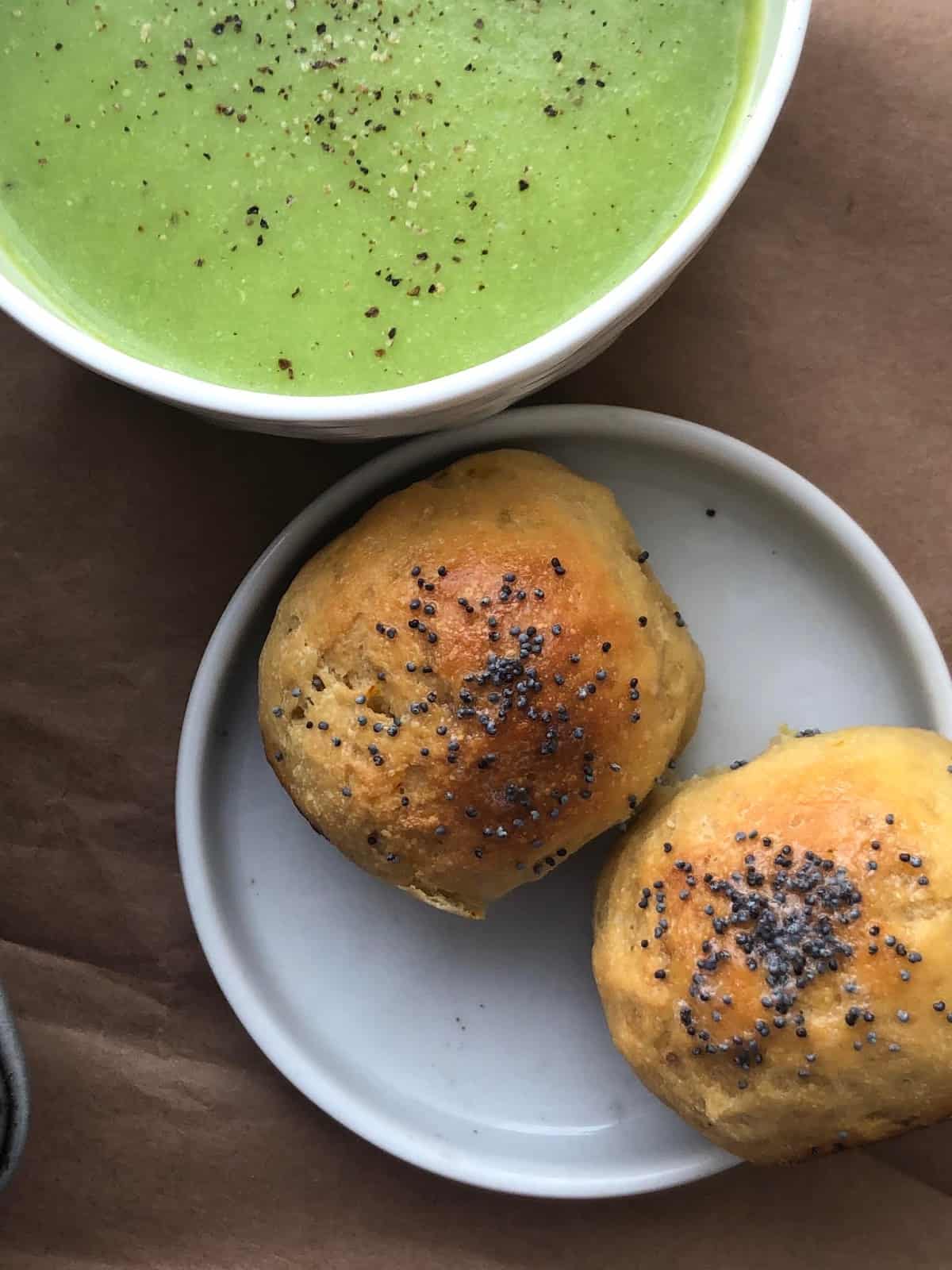 Pin
Pin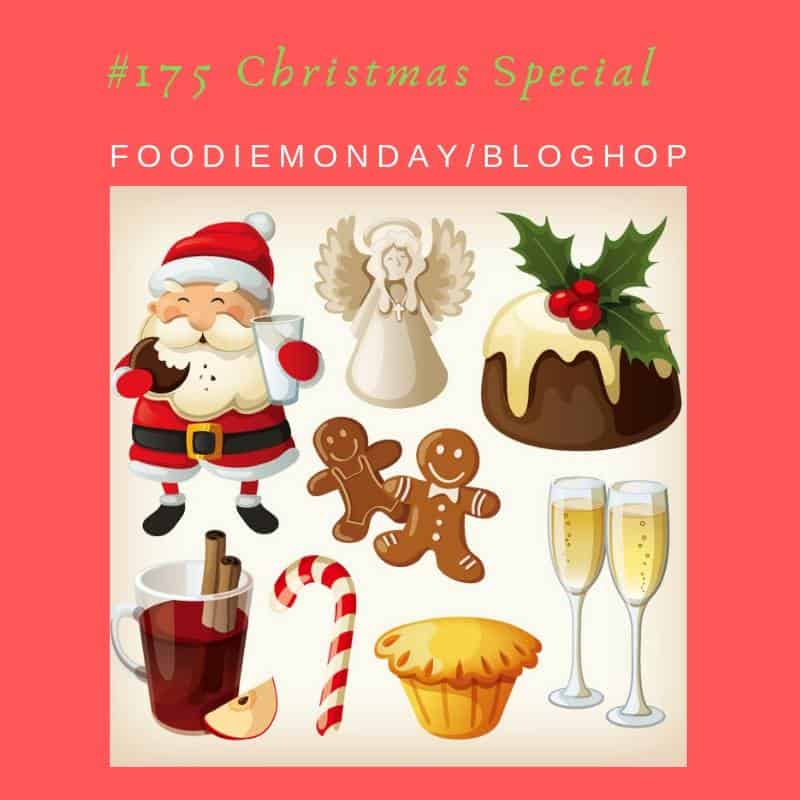 Pin