Before we go to today's post, reminding all my readers on the Strawberry Desserts & Giveaway event that ends 31st October– Do rush in your yummilicious entries (archives also accepted when linked) . Also check out my 100-day Global Food Fest and link in your entries.
Day 5 of Blogging Marathon sees me dishing out one of our family favourites – Schezwan Dill Corn Lollipops. Quick to make and easy to serve, its a great dish to whip out for kiddo parties and potlucks alike ! Yes, agreed it is deep fried, but indulgence is good sometimes, or so my daughter says when she chomped it last evening after what seemed like hours playing outside..Like the Healthy Carrot Bonda, I wanted to use the paniyaram pan to fry this, but gave it a miss and deep fried it instead. You can make the lollipops way ahead of time and refrigerate it, and fry it just before serving. Let's get cracking on this..
Sending this to Blogging Marathon Day 5 along with Manjula's Appetiser event and my event – 100 day Global Food festival. Check out my fellow marathoners.
Check out more appetisersand fried delights from my blog.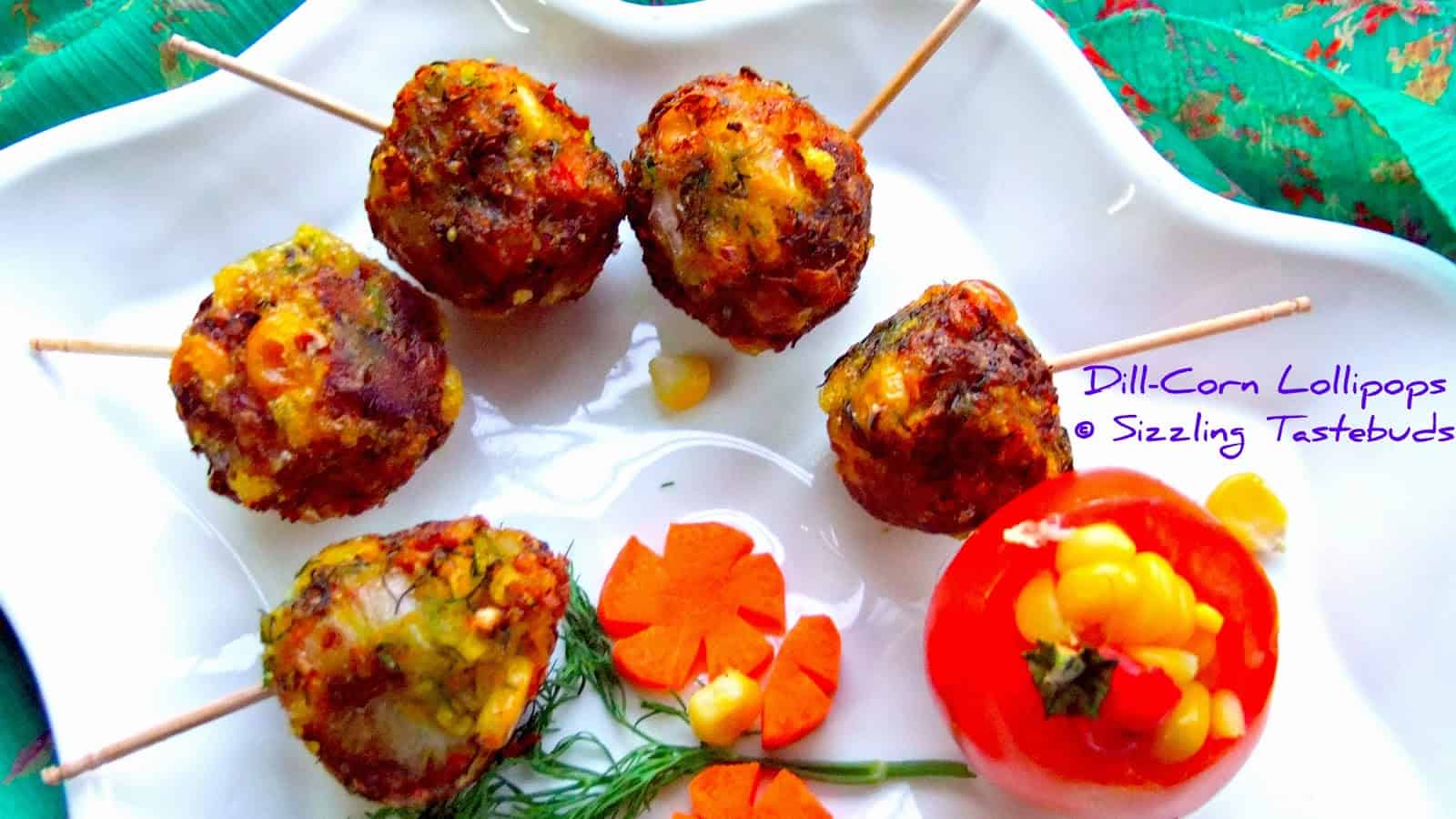 Pin
Prep time : 15 minutes, Cooking time : 10 minutes, Serves : 3
Ingredients:
Potato – 1 large
Dill leaves – 1 cup (cleaned and sorted)
Boiled sweet american corn – 1 cup
Chaat Masala – 1 tsp
Amchur / Dry mango powder – 1 tsp
Garam Masala – 1 tsp
Red chilli powder – 1 tsp
Schezwan Sauce – 1 tsp
Tomato ketchup – 1 TBSP
Salt – to taste
Onions chopped – 1 medium
Cornmeal – 1/4 cup
Oil – to fry
Maida / APF + water – for outer covering
Method: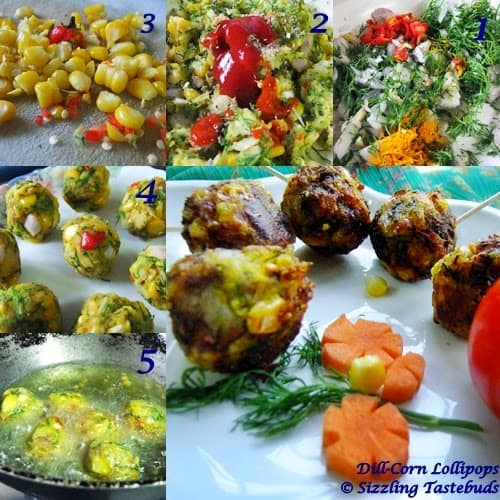 Pin
1) Grate boiled potato. Mix chopped onion, boiled corn, chopped dill and all the dry masalas including salt , schezwan and tomato ketchup. Now add cornmealand mix well to a semi dry consistency.
2) Make into equal roundels and refrigerate for minimum 10 minutes.
3) In a small bowl, mix APF and water to a smooth slurry kind of mixture.
4) Heat the oil in a kadai (deep pan) and check if its hot enough by placing a drop of the maida covering into the hot oil.
5) Dip the roundels in the maida slurry and gently slide into the hot oil – 5 to 6 at time. Fry on medium heat till golden brown. Drain on paper towels
6) Serve with green chutney or ketchup as required.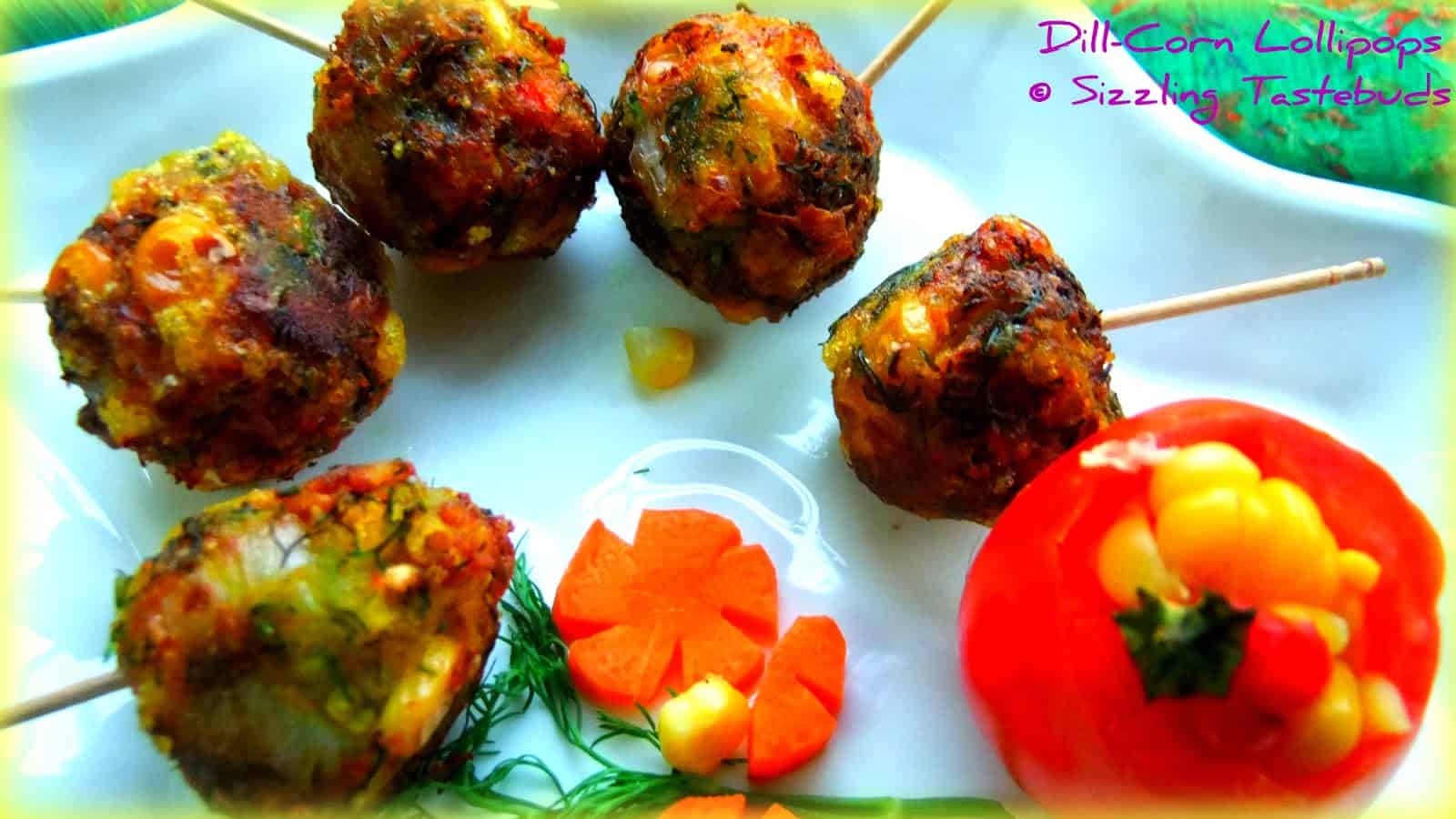 Pin