Time has just flown by and its time for another edition of Blog Hop Wednesdays. It is a wonderful concept where you are paired with a new blogger every week and I had made Bharwa Bhindi (Jain Style), Sugarfree Fruit Ginger Mocktail &Aama Vadai (Paruppu Vadai) for the last 3 editions adapted from the paired blogger friends.
This week, I was paired with Suchitra ofSimple Indian Food. Suchitra's blog is truly exhaustive, and I like her menu card a lot – neatly categorised layout and easy to look up : something I want to bring up on my space soon !! Coming to today's post, I adapted her post onSamosa and made it yesterday for an afternoon snack with a predeominantly Sweet potato filling. I am not really fond of deep fried food, so I baked it and was pleasantly pleased with myself. It may not taste the same as deep fried ones because of the absence of zillions of fat laden calories, but the verdict at home was that Baked Samosa was welcome anytime. You can make these prior to any party too, and just toss it in the OTG to bake before serving. As I was running behind schedule last evening, I used readymade samosa pattis for the covering, but go ahead and make the covering at home too. Off to the recipe, shall we ?
Update: Sending this to Archana's event – Fast food but not fried food, started by Priya and also Susan's BWW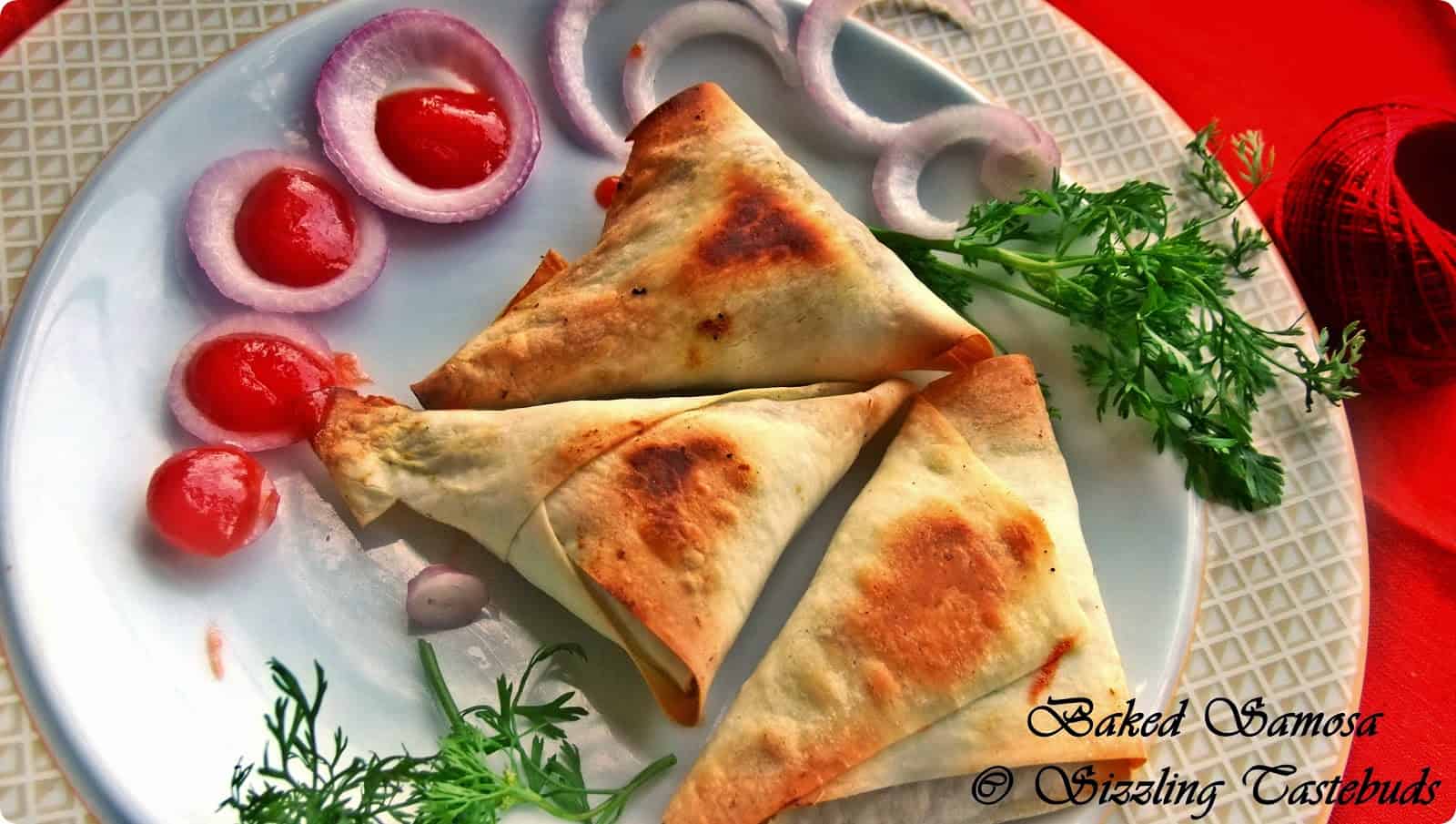 Pin
Prep time : 30 mins. Baking time : 15 mins. Makes : 10 samosas.
Ingredients:
Filling:
Sweet potato – 1/4 kg
Potato – 1 large
Onions – 1 large
Peas – a handful
Carrots diced – a handful
Green chillies – 1 or 2 (adjust)
Oil – 2 TBSP (split use)
Salt – to taste
Ghee / clarified Butter – 1 tsp (optional – for basting)
Dry Masala Powders :
Amchur / Dry Mango powder – 1/2 tsp
Garam Masala – 1 tsp
Red chilli powder – 1 tsp
Turmeric – a dash
Kitchen King Masala – 1/2 tsp
Outer Covering:
Samosa patti – 10 sheets
Maida/ APF – 1 TBSP + water – mixed to a slurry for sealing
Method:
1) De-freeze the samosa pattis (if using frozen)
2) Pressure cook all the veggies except for 2 whistles. Drain any water and mash well.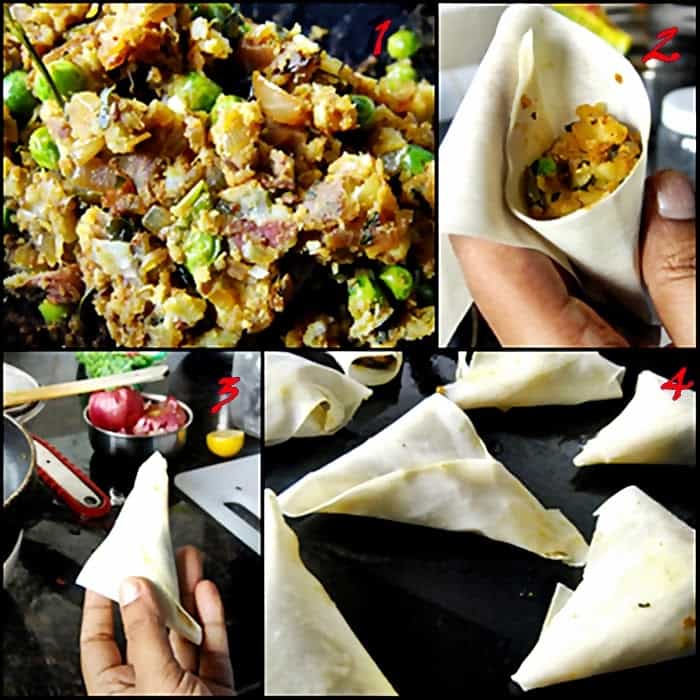 Pin
3) In a skillet, heat 1 TBSP of oil and add onions, Fry well till translucent. Add the boiled and mashed veggies, and all dry masala powders and fry well till the mixture turns dry. Add salt and mix once more. Let cool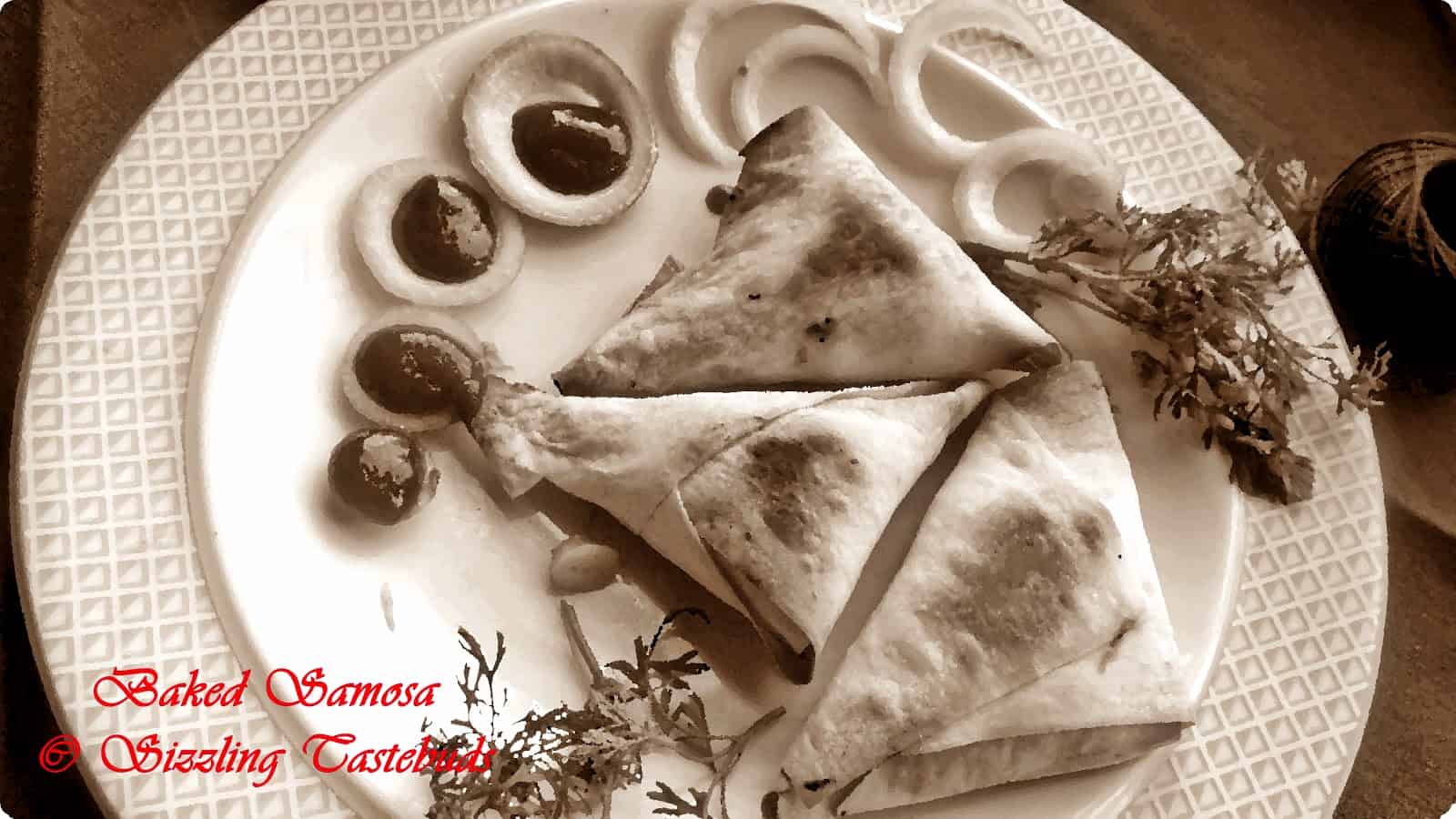 Pin
4) Take the samosa patti and make it to a cone. Spoon in a tbsp of the filling and press it into the patti. Now seal the samosa with the maida sealant and close so that the masala mix is packed but not too fragile.
5) Repeat with all the pattis. Meanwhile heat the oven to 180 deg C.
6) Grease an oven proof baking tray and place the samosas with 1 inch gap in between, slightly basting them with ghee / butter (I didnt do this, but am sure it would help increase the glaze and the taste)
7) Bake for 10- 12 mins, flip them over, bast with ghee / butter again and bake for 3 – 4 mins till they turn golden brown.
8) Serve baked samosa with high tea !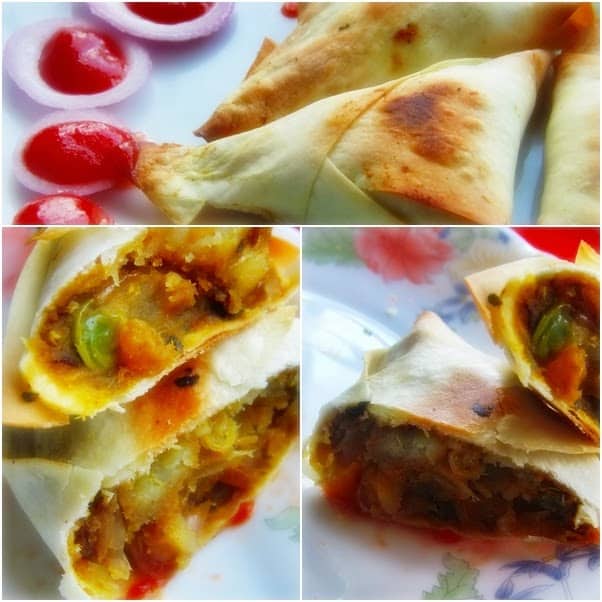 Pin