Certain things in life are worth an addiction, and worth having them. Like Blogging Marathon, for instance. After what seemed like endless thoughts (and emails to Valli), I finally decided to give in to the addiction. With a hectic schedule looming at my end,Valli was kind enough to let me do 4 -5 posts for week 2 under "Dals". I am hoping that I can finish the week with 7 posts , and the first of these posts is an Iyengar dry curry – Agathi Keerai Kariamudhu (poriyal). 
Made for Dwadasi Paranai (or the meal had on Dwadashi – the 12th day of the fortnight) after the fasting on Ekadashi, these leaves are also known as Sesbania Grandiflora (botanical name). More details of this green can be read here.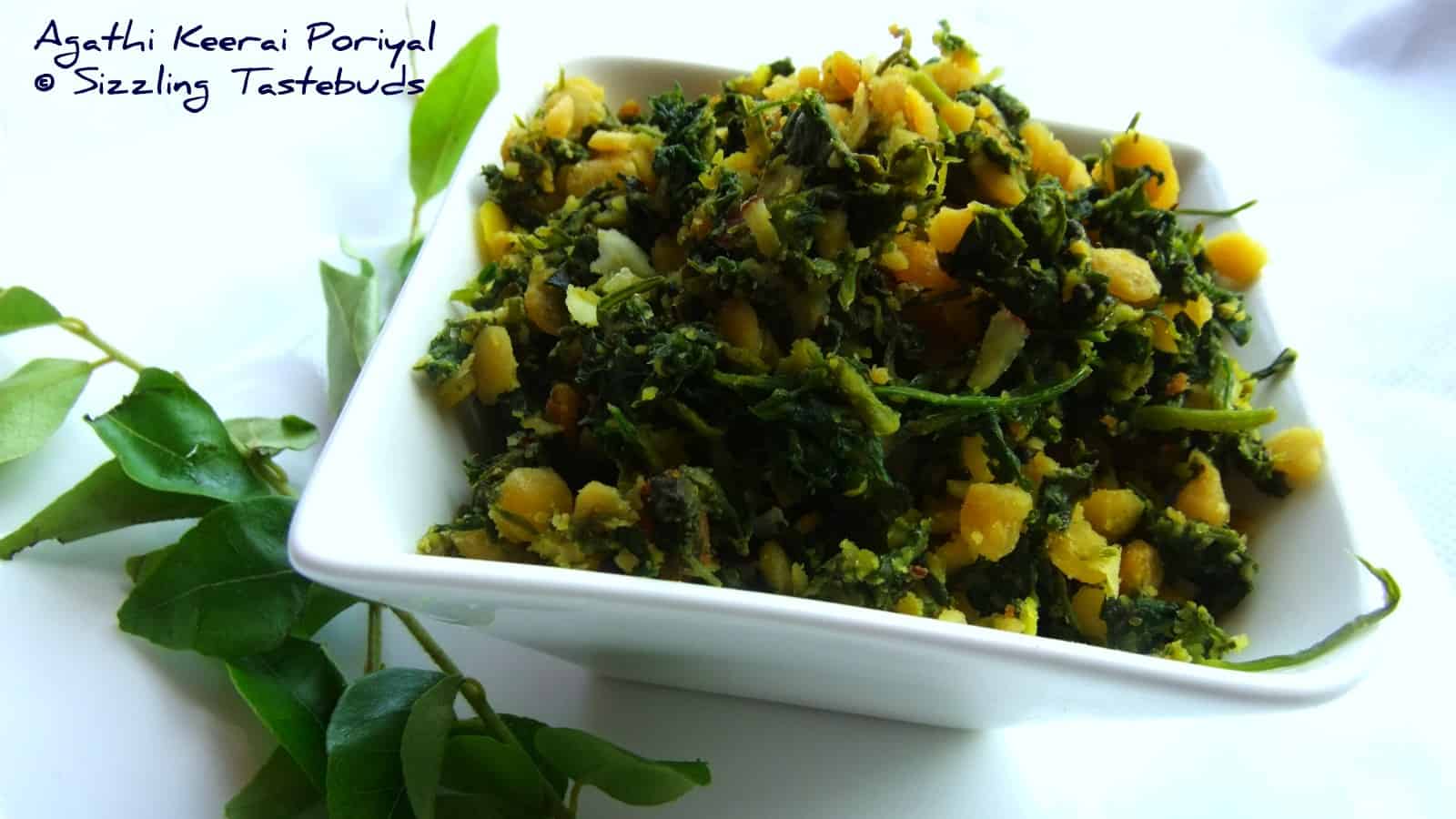 PinPin

This green is known as Agathi in Tamil, Agase Soppu in Kannada, Avisi in Telugu & Gaach Munga in Hindi. It has excellent medicinal properties, but consumption of these leaves more than twice or max thrice a month is not advisable. It also kills the toxins in the stomach.The following items are made for the Dwadasi meal – which in itself is medicinal in nature and levels the acidity content in the stomach. 

Agathi Keerai . Pic courtesy : indiagardening.blogspot.com

No wonder wholesome healthy food made in the olden times was an elixir for long healthy life for most elders in our family. Before I go to the recipe today, let me list down the menu for the Dwadasi Meal  (like I mentioned in my earlier posts, I am hoping my daughter and her generation will have e-records of our food and culture through this blog). 

Onions / garlic and even tomatoes are prohibited for every day meals in most traditional households even today, and therefore this curry also doesnt include them. Now off to the recipe..
Rice
Agathi Keerai Kariamudhu (Poriyal)
Nelli Pachadi (Gooseberry Raitha)
Poricha Sathamudhu (Poricha Rasam)
Neer Mor (frothy and light buttermilk)
Sending this to Blogging Marathon – Day 1 week 2 under Dals and also to Gayathri's Walk through Memory Lane. Also to MLLA # 43, hosted by Chez Cayenne, event by Susan & Cooking Challenge – Tamilnaduby Vidhya along with Vardhini'sNew U
Do check my fellow marathonershere. 
Prep time : 15 mins. Cook time : 15 mins
Serves : 2
Ingredients:
Agathi Keerai (greens) – 1 cup (tightly packed)

Toor Dal – 1/4 cup – soaked for 10 mins in warm water.

Turmeric – a dash

Oil – 1 TBSP

Grated coconut – garnish

Grated jaggery – 1 tsp

Salt – to taste

Tempering : Mustard seeds, Urad Dal, broken red chillies, hing (asafoetida)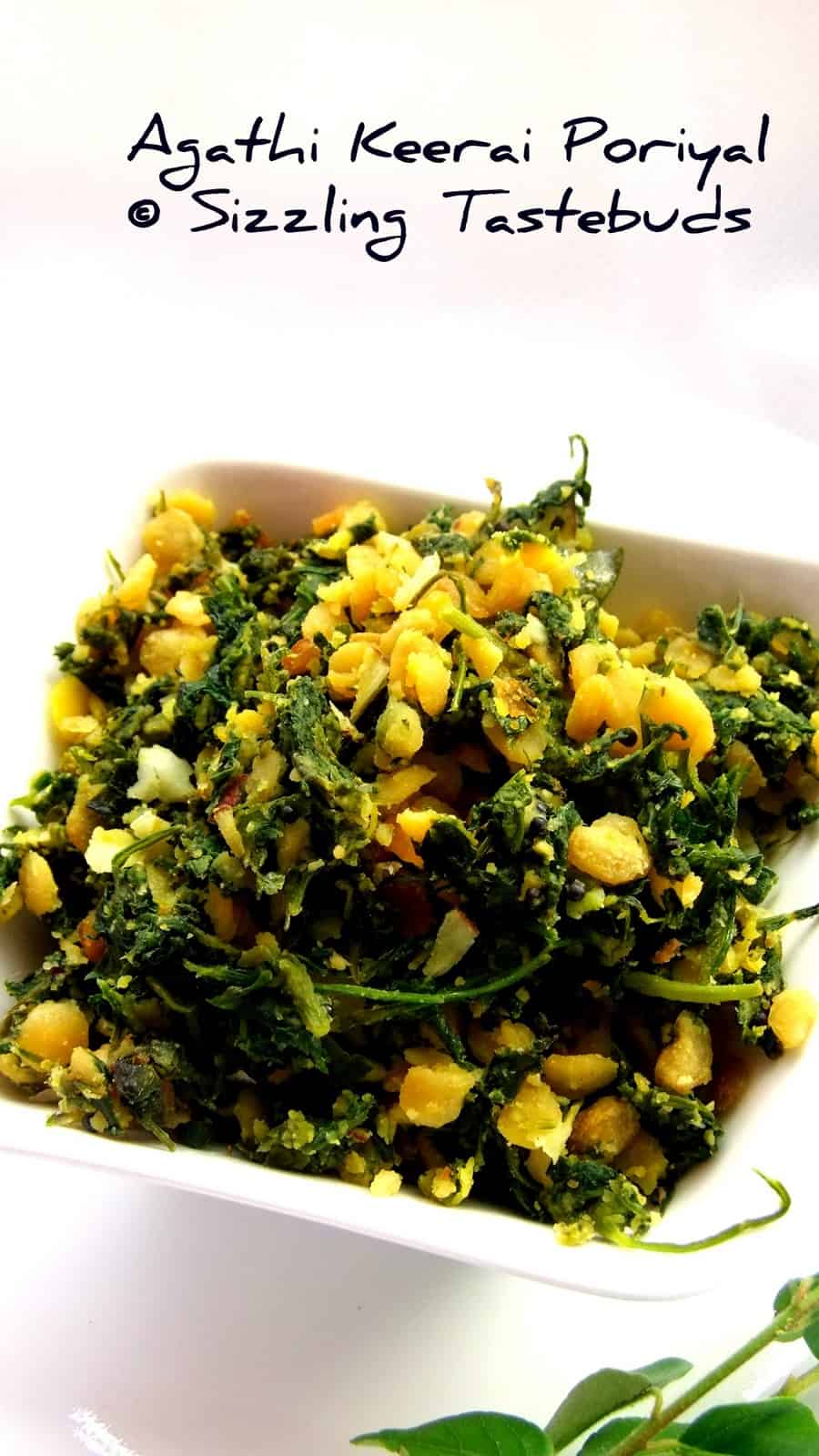 Pin
Method:
1) Trim the leaves off the stalk and wash well.
2) In a large pot, bring 6 cups of water to a rolling boil. Now add salt, turmeric, soaked dal and cook for 10 mins. After 10 mins, add the washed leaves and cook further for 8 mins. The leaves must remain green and the dal must be cooked, but not turn mushy.
3) Drain water completely and reserve.
4) In a pan, heat oil. Add tempering. Once mustard stops spluttering and urad dal turns brown, add the boiled  Toor-Dal mixture and saute lightly. Check for salt. Once the greens wilt a bit, add grated coconut and jaggery. Stir once more and serve with hot rice, Morkozhambu & ghee.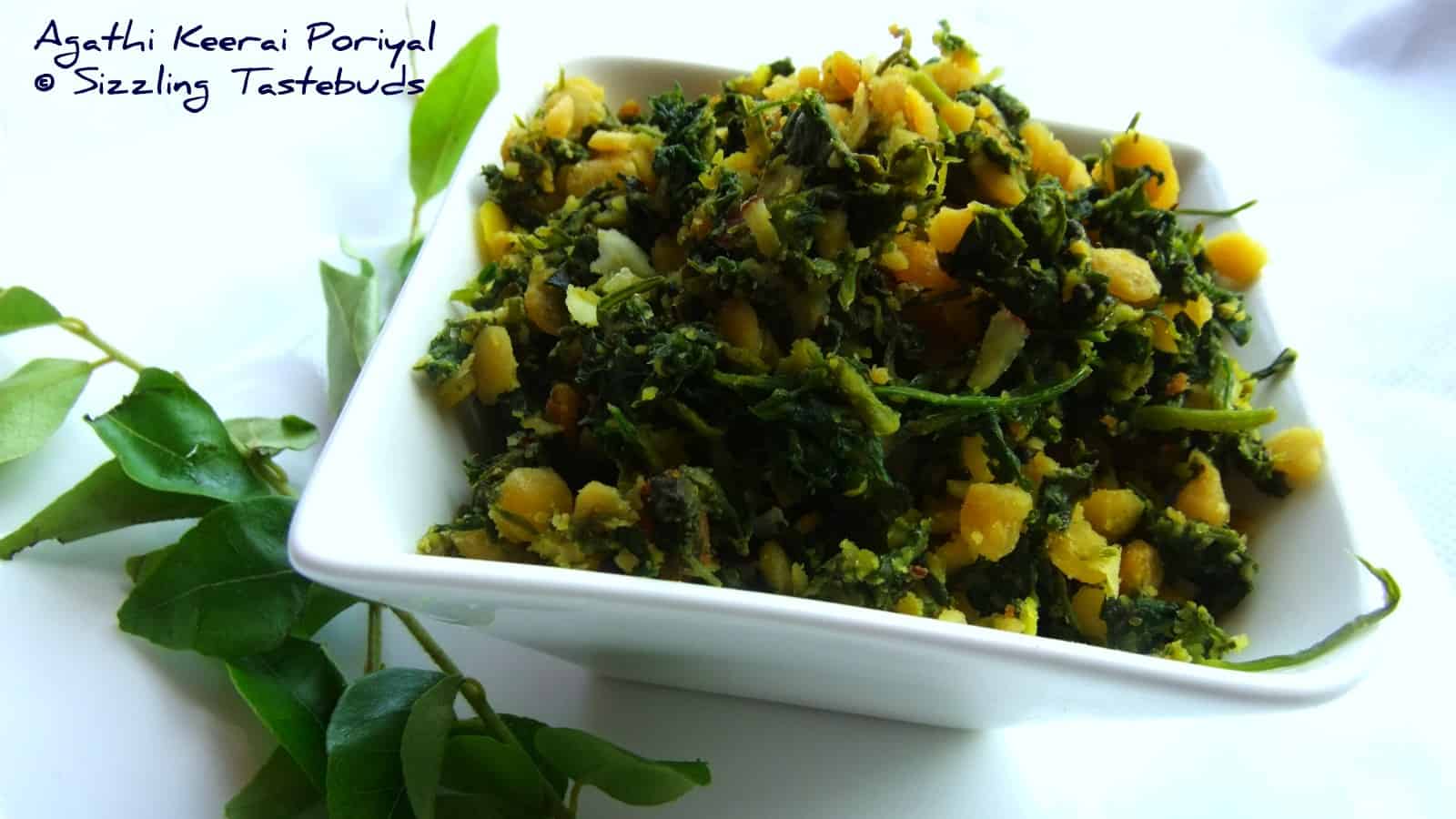 PinPin