Badanekaayi Palya (quite a tongue twister there, huh?) is a spicy
brinjal based stir fry that has its origins in  Karnataka. Thee is another
version of this called Ennegayi (stuffed brinjal) which is eaten with Jolada
rotti (Jowar flat bread) in most parts of Karnataka. Today's is the simplified
version with less spice and oil (as that's how) my family loves it. For the
ennegaayi, the round brinjals are usually stuffed with a masala paste and
sauteed in oil but for the Palya (sabji) we prefer to make it with longish
batons of chopped brinjal. I shall post the stuffed version soon .
However for both dishes,the
best quality dish can be had with the Mysore Badanekaayi (or the slender and
tender green ones) although the purple variety is also preferred. Either way,
make sure that the brinjals are slender and with very minimal seeds. Sending
this to BMunder "Accompaniments". Check the other marathoners here.
Also to Vardhini's Healthy Side Dishes.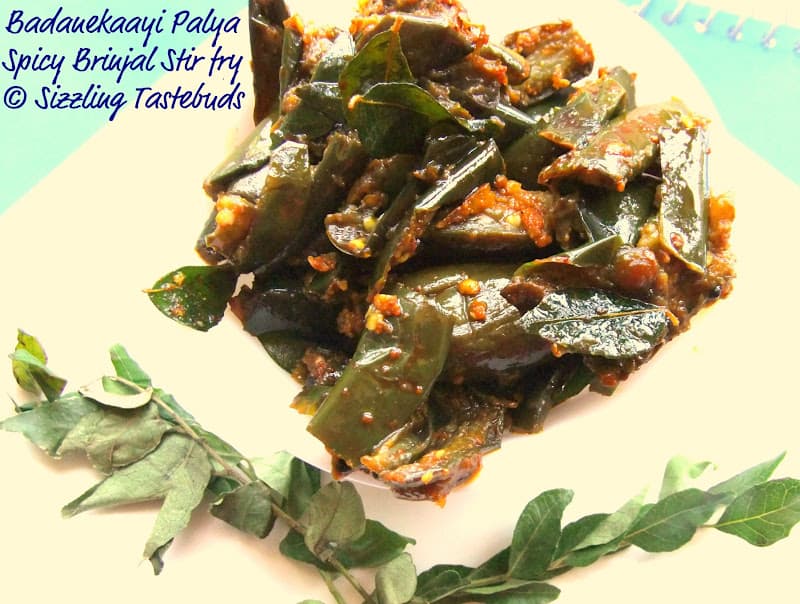 Pin

————————————————————————————-

Prep
time –
10 mins 

Cook
time –
15 mins 

Serves –
3

Difficulty
level –
Easy

Serving
suggestions –
Steamed rice + Rasam

————————————————————————————-

Ingredients:
Tender
brinjals – 150 gms
Oil
– 3 TBSP
Mustard
seeds – 1 tsp
Curry
leaves – few
Asafoetida
– a pinch
Turmeric – 1/4 tsp
Salt – to taste
Jaggery – 1 tsp (grated)
Tamarind extract  – 1/2 TBSP
Red Chilli powder- 1/2 tsp
For
the Spice powder:
Dry
coriander seeds – 1 TBSP
Channa
Dal – 1/2 TBSP
Dry
Red chillies – 3 or 4
Clove
– 1 or 2
Cinnamon
– 1/4 inch stick
Grated
Dry copra / dried coconut – 1/2 tsp
Oil
– 1 tsp
Method:
(A) To make the spice powder:
In
a pan, heat 1 tsp of oil. Fry the dry coriander seeds, dry red chillies and
channa dal. Keep aside. In the same oil, turn off the flame and roast the rest
of the ingredients for 1 min. Cool and grind the spice mixture.
(B) For the curry:
1) Wash and trim brinjals. Cut them into 2 inch
long batons. 
2) Heat oil in a deep bottomed non stick pan.
Splutter mustard, curry leaves and asafoetida. Add turmeric and the chopped
brinjals. Add salt and saute till the oil coats them well. Sprinkle a very
little quantity of water, cook and cover for 8-10 mins on medium flame. Do not
add more than maybe 3-4 TBSP of water.
3) Once done (ensure the brinjals dont turn mashed
up), add the tamarind extract, red chilli powder, jaggery and the ground spice
powder. Stir once but dont over do it. Check for spice, cook with pan uncoverd
for further 3-4 mins till the raw smell of the spice powder goes away.
4) Serve hot with Rasam / Sambhar or even chilled curd
rice (yoghurt rice)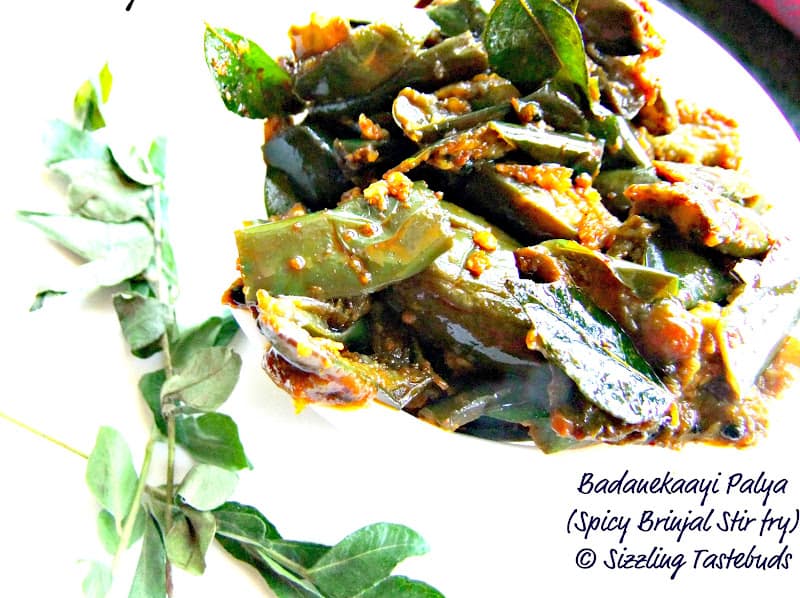 Pin