Adraki Rathaloo is a simple mildly flavoured stir
fry that is super easy to put together and goes very well with steamed rice,
curd rice or even Rasam-Rice. Once a fortnight, we have sweet potato in Tikki / Pattiesform , use it as a filling for Baked Samosasor even make a quick oil free Rathaloo Chaat. Compared to the potato, this tuber is known to be beneficial for
diabetics too with its low glycemic Index. Addition of onions is totally
optional and I havent added the same. The mild flavour of ginger in this stir
fry is a wonderful discovery I made this noon as we had this with Poricha
Rasam, steamed rice for Sunday Lunch.
Sending this to Blogging Marathon # 15 under "Accompaniments"
theme as a day 7 entry. In case you have missed any of the last 6 days under
this theme, here is a quick recap.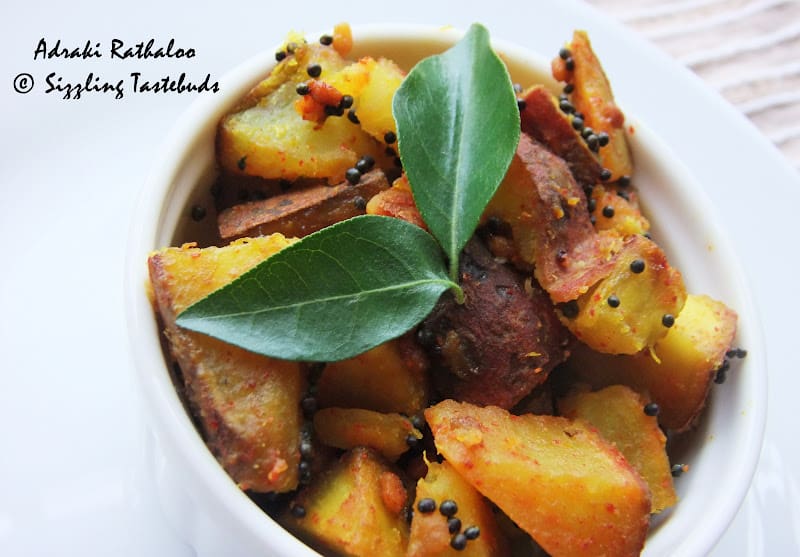 Pin
Now, over to the dish today.
————————————————————————————————–
Prep time – 10 mins
Cook time – 10 mins
Serves – 2
Difficulty level – Easy
Served with – Curd / yoghurt rice , Rasam+Rice
————————————————————————————————–
Ingredients:
Sweet potato – 200 gms (about 2 medium sized ones)
Grated Ginger – 1/2 tsp (or if you prefer juilienne
the Ginger)
Oil – 2 tsp
Salt – to taste
Turmeric – a pinch
Red Chilli powder – 1/2 tsp
Tempering : Mustard, curry leaves, Asafoetida, Urad
Dal (1/2 tsp)
Method:
1) Wash and scrub the vegetable. Cube it with the
skin on.
2) In a pan, add oil. Splutter mustard seeds, curry
leaves, urad dal and asafoetida. Once the dal turns slightly brown, add the
grated ginger or juilennes of ginger. Saute lightly.
3) Add the cubed sweet potato, salt, turmeric and
mix lightly.
4) Sprinkle 4 TBSP of water and cook covered on
very low-medium heat for 8 – 10 mins.
5) Once the veggies are cooked, add the red chilli
powder and saute once more with lid on for 2 more mins.
6) Serve hot with steamed rice or even lemon rice
etc.