One of the main sources of recipes till I married and moved cities was of course mom's recipes or some basic recipes cut out from magazines. Until I discovered there was a difference between sambhar and kozhambu (some terms that we used interchangeably back home, in a Mysore influenced Kannada-tamil cuisine at home, but not in my newly married home) !! It was harakiri to call Kozhambu as Sambhar or vice versa, I discovered in my Tamilnadu-palate seeking inlaws'. Mom was still 1200 kms away, and a long distance call wasn't always possible, so I looked around and by then Google was lifeline for me 🙂 But the net wasn't always on, especially while you cooked ! So, on a few friends' reco, hopped on to the nearest South Indian Store in Matunga and picked up Meenakshi Ammal'sSamaithu Par– a treasure trove of South Indian Cooking.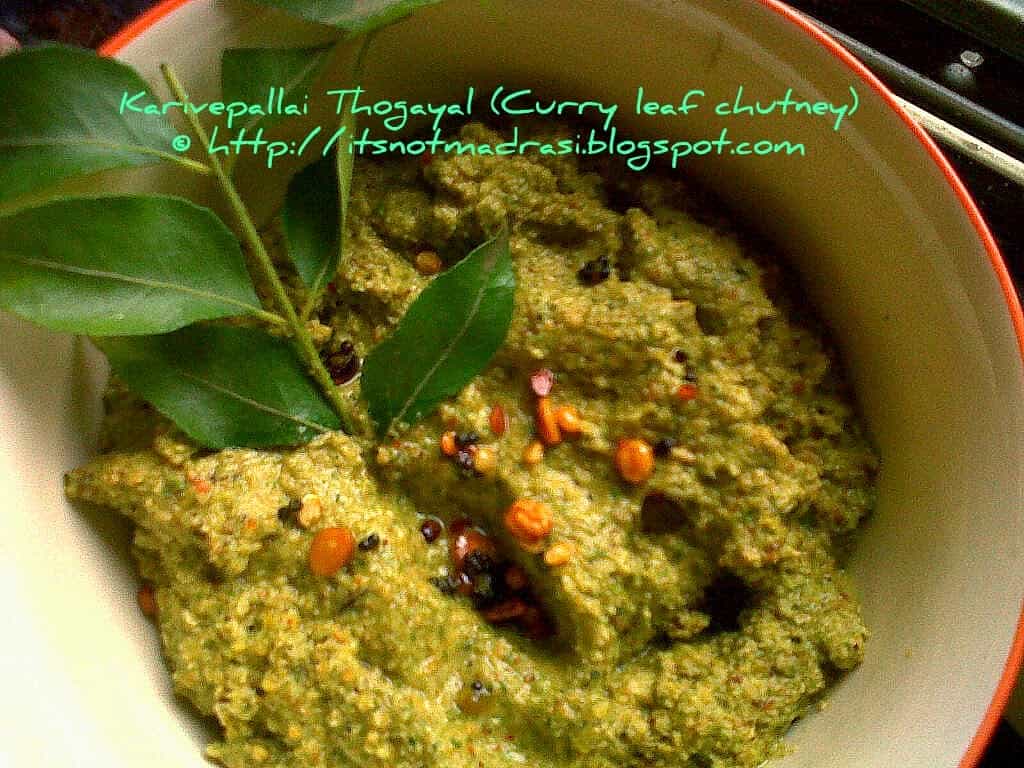 Pin

This book was published way back in 1951 when cookbooks or even sharing recipes was rare ! Like millions of homemakers across the world, I have picked up quite some recipes from this book and look up for guidance frequently, especially to make bhakshanams too.. It also includes simple home making tips, including grocery shopping tips – all of which are available in this cookbook which are published in 4 parts ! I shall be referring to this book next few days of the BM under "Cookbook specials" for week 2 ofBlogging Marathon. The first of this is a simple Karivepalai Thogayal (Tangy Curry leaf chutney) which goes amazingly well with steamed rice and ghee / sesame oil.. Look up the health benefits of curry leaf in  my previous post –Curry leaf Spice Powder.

That's quite a lengthy anecdote, so shall we quickly move to the recipe  🙂 ? Check out similar chutneys / condiments here

Update: Sending this to Priya Mahadevan's The Big Chutney Chowdown

Prep time : 10 minutes. Serves : 3

Ingredients:
Karivepalai / Curry leaf – packed 1/2 cup
Channa Dal / Bengal Gram – 2 TBSP
Urad Dal / Split Black gram – 3 TBSP
Tamarind – 1 small lemon sized
Red chillies – 2
Hing – 1/2 tsp
Jaggery – 1 tsp (opt)
Grated coconut OR dry copra – 2 TBSP
Salt – to taste
Sesame Oil – 1 TBSP
Method:
1) In a pan, heat 1/2 tsp oil. Fry the dals till golden brown. Transfer.
2) Add 2 more tsp of oil and fry the curry leaves, tamarind, red chilles one by one till the tamarind is half crisp and the chillies coat in oil.
3) In a spice grinder, add the above fried ingredients and salt and jaggery and pulse till finely powdered. Now add coconut and hing and pulse again. Then add little water and grind to a thickish consistency.
4) Transfer and serve as it is. Optionally, you may prepare tempering with mustard seeds and urad dal and pour over the thogayal and serve immediately.
Check out my fellow marathoners for this weekhere