Yes, I know what you are thinking. Hyderabadi biryani or Mirchi Salan is more famous. But for me, the experience of a popular street food like stuffed Hyderabadi Bajji is laden with many memories. Plus its a great street food, which goes with this month's theme. Mirchi Bajji is a great tea time snack if you don't mind the occasional deep frying. Whats not to like in this : Its spicy, its stuffed with a spicy mixture, deep fried – ticks all the boxes, right 🙂
Honestly, I don't know how this version is different is from the Chennai Molaga Bajji, but I know I have devoured this during my Hyderabad stint and loved it piping hot off the frying pan and wrapped in that newspaper lined leaf pan, it smelt and tasted delicious. 
Read on how to make this utterly delicious deep fried fritters.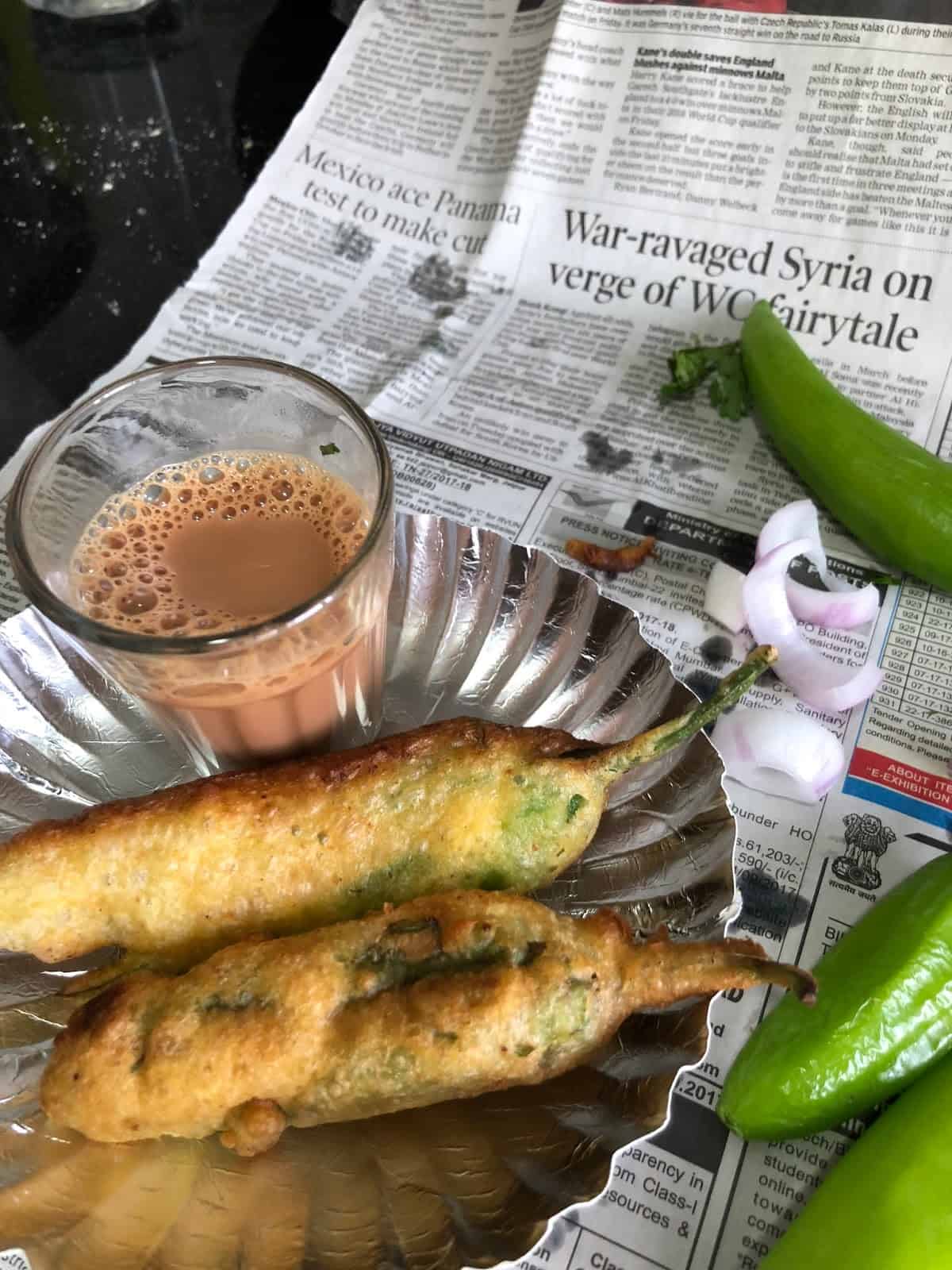 Pin

Hyderabadi Stuffed Mirchi Bajji | Vegan and Gluten Free snack

Prep time : 45 mins, Frying time : 20 mins, Makes : 12 pieces

Ingredients:

Mirchi (less spicy , long and fresh chillies) – any stuff-worthy peppers will do – 12 nos.

Besan / Gramflour – 1 cup

Rice Flour – 1 tsp

Baking soda – 1/8 tsp

Salt – to taste

Turmeric – 1/2 tsp

Oil – to fry – 1 cup (200 ml)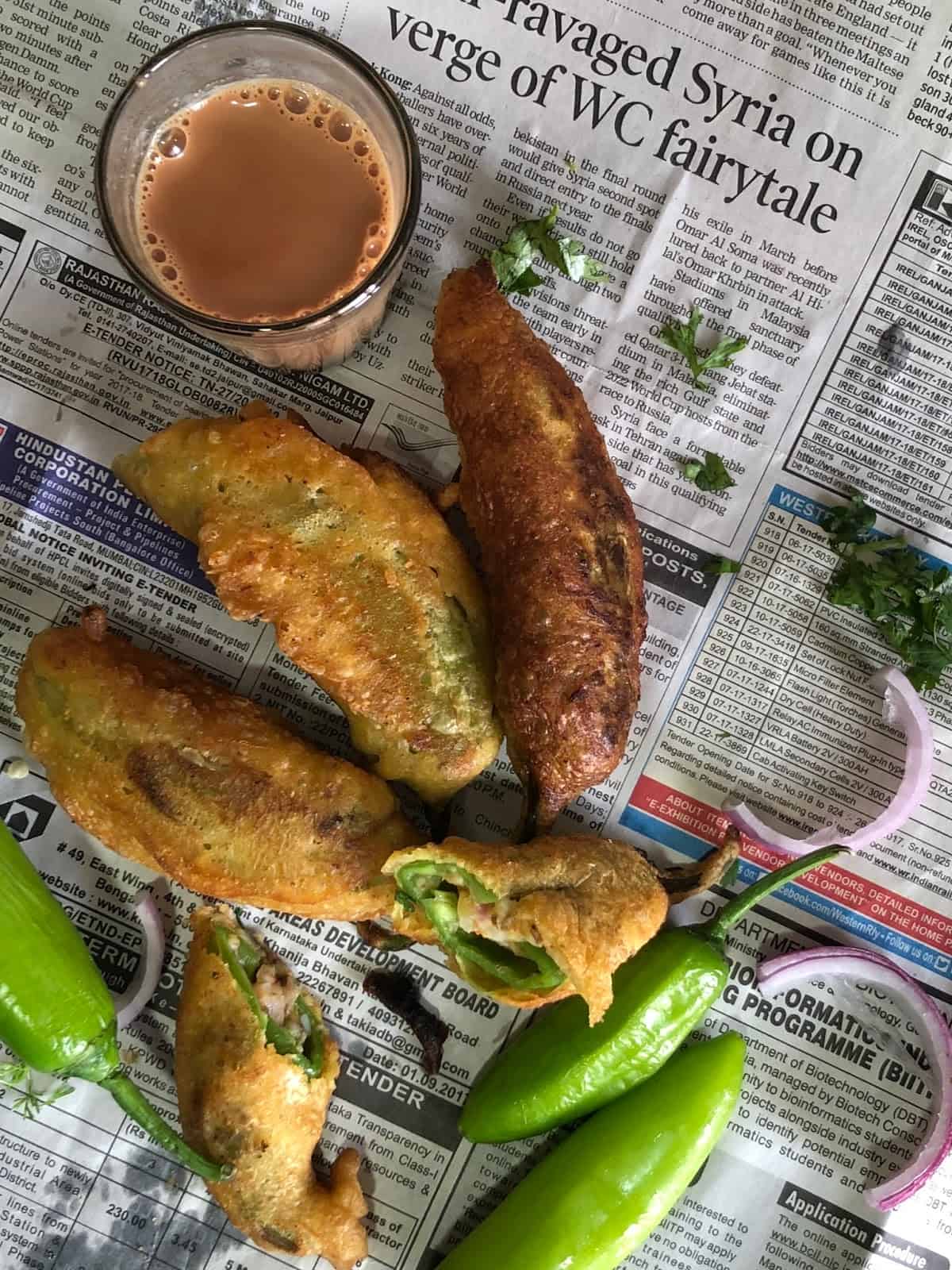 Pin
Stuffing:
Boiled Potatoes – 3 medium or 2 large – grated or crumbled fine
Salt – to taste
Green chillies – 2 minced fine
Ajwain / carrom seeds – 1/8 tsp (roasted and crushed)
Coriander leaves – 2 tsp
tamarind paste – 1/2 tsp (or substitute with Amchur / dry mango powder 1/2 tsp)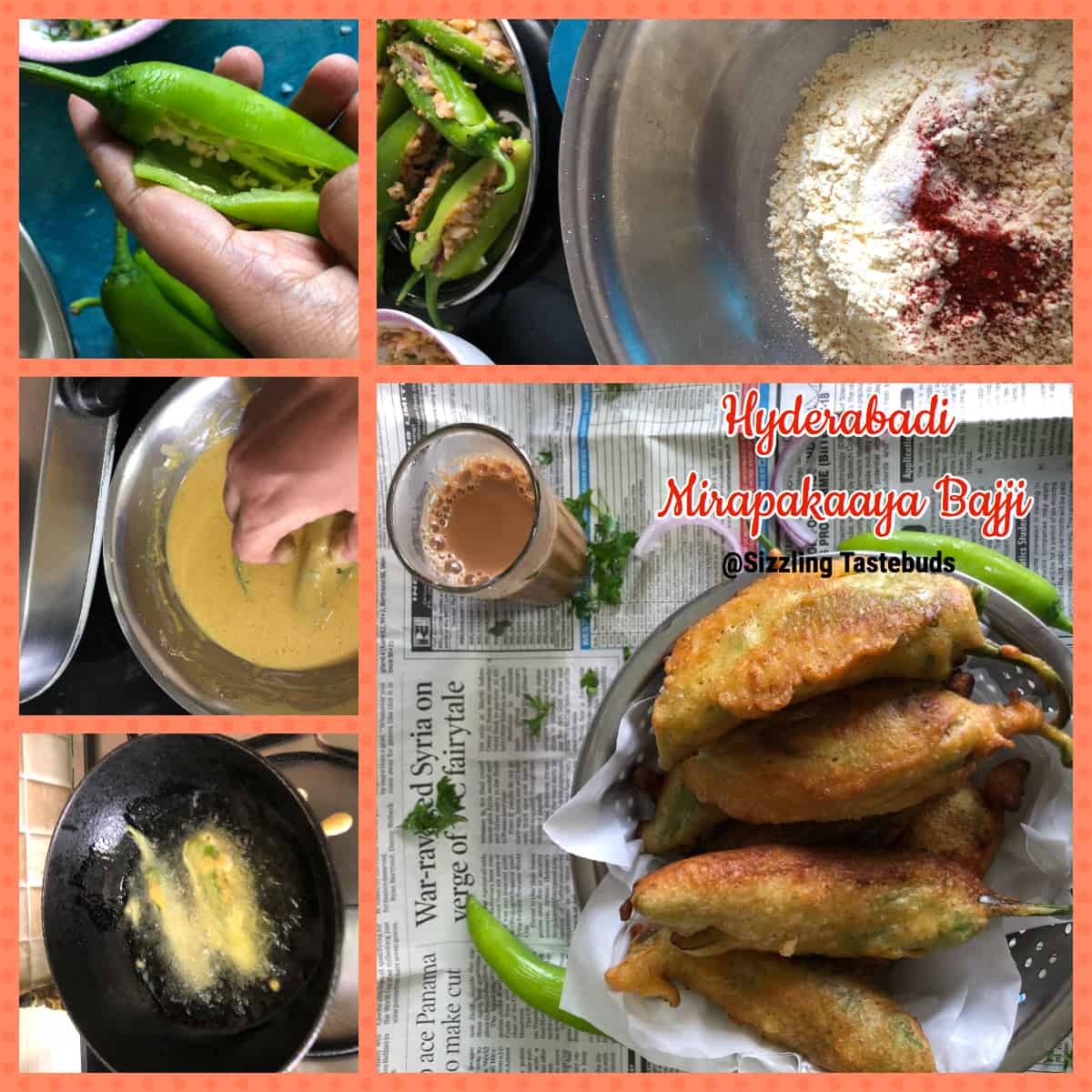 Pin
Covering :
Sieve the flours, turmeric, salt. Whisk them well, Add 2 TBSP of hot (and cooled) oil. Add requisite water to make a thickish flowing batter. Keep aside.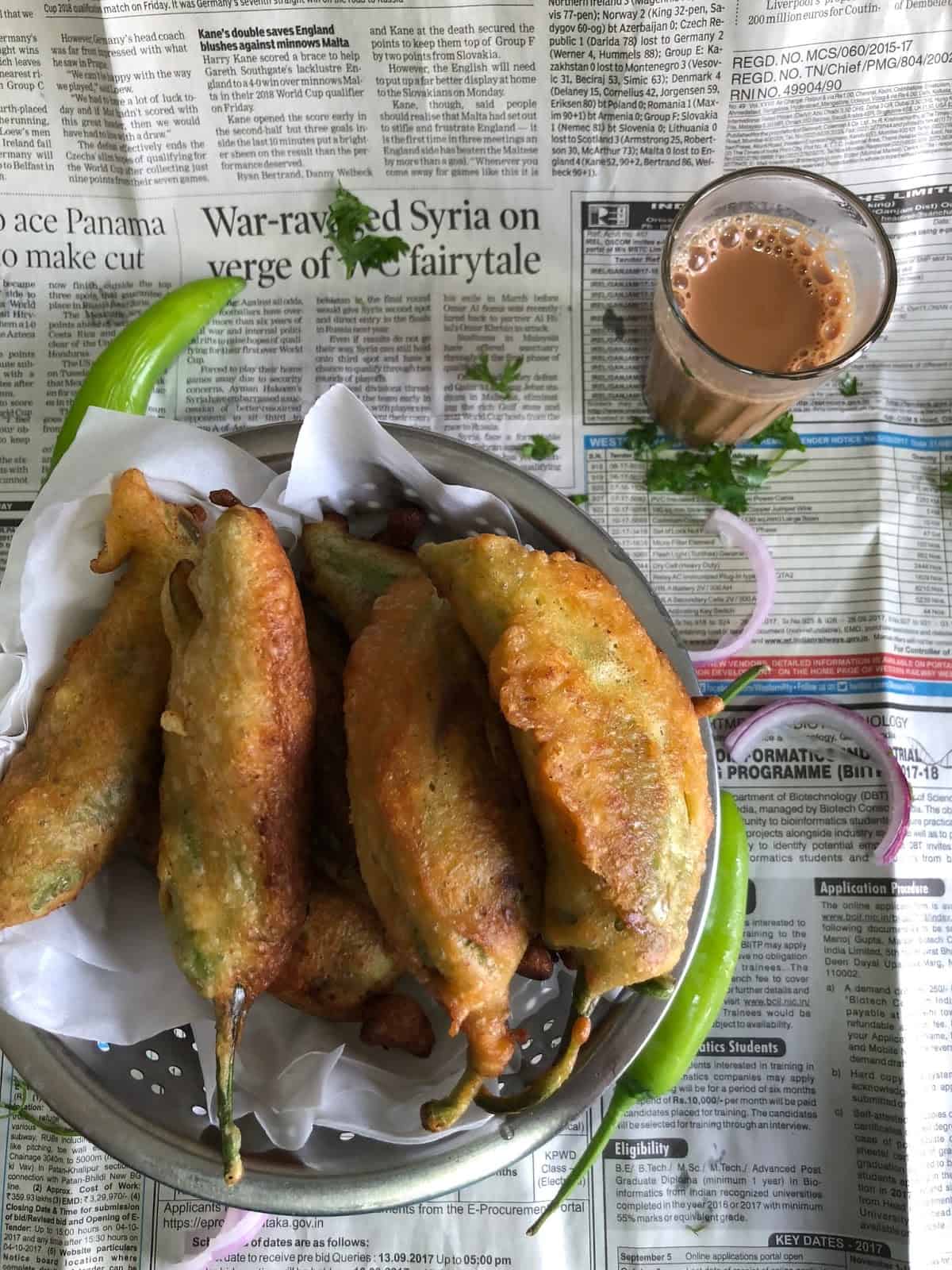 Pin
Stuffing:
In a bowl, add all the ingredients , mix well and keep aside.
To make the bajjis:
Heat oil in a deep bottomed frying pan. Deseed the peppers, and add a tsp or two of the stuffing making sure not to overstuff. Repeat to stuff all the peppers likewise. Now add the baking soda to the covering batter and whisk till slightly frothy.
When the oil is smoking hot, reduce to medium. Dip each stuffed bajji and lower gently to the hot oil. Fry on medium-high heat till its golden brown on all sides. 
Serve hot as is or with coconut chutney / Green Chaat chutney. 
Pin
 Check out the Blogging Marathon page for the other Blogging Marathoners doing BM# 87