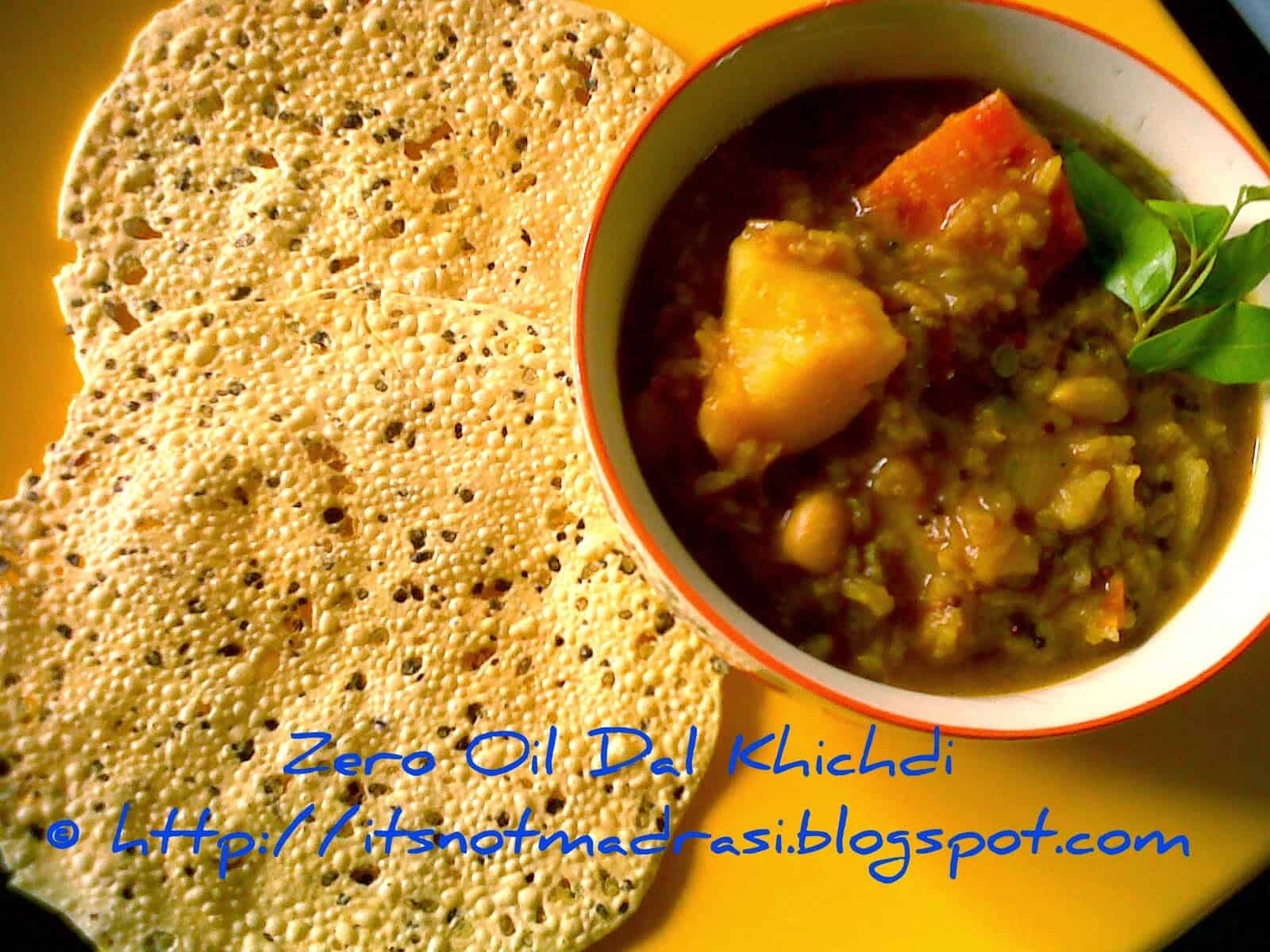 Pin

Mention khichdi and in most it cases results in noses wrinkled up and giving the "am-i-sick-to-eat-khichdi ?" look .. It has happened to me soo many times, but once you eat a spoonful of this Zero Oil Dal Khichdi, it appears as if the tantrums were baseless. This morning got me browsing throughSanjeev Kapoor's No Oil Cooking, and there it was : a light but healthy Dal Khichdi.

 Totally fat free, loaded with proteins and goodness of vegetables, this is a treat both to the senses as well as to the stomach. Just have it with plain curd / roasted papad, and you are good to go for hours ! I tweaked the recipe by adding some mixed vegetable sambhar from the previous night, and this is a super healthy way to clean your refrigerator with useable food as well as a quick meal to put together when you are pressed for time, not to mention a One Pot meal loaded with goodness.

Sending this to Day 7of Blogging Marathon – check out my friendshere.. Its been 14 days of non-stop blogging for me now, and its addictive 🙂 For those of you who are curious / interested on what I dished out the last 14 days on this Blogging Marathon # 7, here it goes:

Recipes under "Cooking from Cook book" theme:

Til ka Ladoo ~ Sesame Jaggery Roundels

Paneer Potato Curry ~ Cottage cheese and Potato curry

Eggless Butterless Chocolate Cake with Oats

Kariveppalai Thogayal ~ Tangy Curry leaf Chutney

Recipes under "Combo Meals" theme:

Baked Tacos with Minty Tomato Salsa Dip

Baked Stuffed Bellpepper ~ Bharwa Shimla Mirch

Masala Dosa with Spicy Tomato chutney

Garlic Fried rice with Paneer Manchurian

Sprouts Rava Idli with Ginger-Carrot Chutney

Low Fat Carrot-Feta Grill Sandwich with Mango-Pepper Salad

Let's get to today's recipe now – Zero Oil Dal Khichdi.

Prep time : 10 mins. Cooking time : 20 mins. Serves : 2

Ingredients:
Raw Rice – 1 cup
Mixed vegetable Sambhar – 3 cups (or use 1/2 cup of toor Dal or Masoor Dal)
A handful of raw peanuts – optional, but it gives a lovely crunch
Onions (large) – 2 nos
Shelled Sambhar Onions – 8 to 10
Red chilli powder – 1 tsp
Sambhar powder – 1/2 TBSP
Coriander pwd – 1 TBSP
Jeera pwd – 1/2 TBSP
Salt – to taste (adjust accordingly if you are using sambhar directly)
Large cubes of veggies – Potato, Carrots , French beans, Radish , Cabbage, Brinjals, Bell peppers – 1 1/2 cup  (in addition to the veggies from the sambhar)
Tomatoes – 1 large – cubed
Tempering : Mustard seeds, Curry leaves, Oil – 1/4 tsp (opt)
Method:
1) In a pressure cooker / pressure pan, add the rice, toor dal (or sambhar), onions, 3 cups of water, raw peanuts, chopped n cubed veggies + tomato and bring it to a boil.
2) Now add the salt, cumin and dhania powder, red chilli powder, Sambhar Powder and mix well.
3) Pressure cook for 3 – 4 whistles. Cool and transfer to a serving bowl.
4) In a pan, splutter mustard seeds and curry leaves without any oil. Add to the khichdi. Serve hot with roasted papad and / or curd. Yummy One Pot meal !