Chickpeas (aka Garbanzo Beans or
Kabuli Channa) is another great source of Iron. While I generally make PunjabiChole(Curry) or Sundal (steamed snack) or Potato Chickpea Soup with this, of late I have been cooking
this in bulk and freezing – it comes handy while adding it to a kootu (gravy)
or even making a quick snack or adding it to Tikki. Of course, the best way to
enjoy this is to make a batch of Hummus or Falafels and enjoy it with Pita or
Crackers. But that one – another day !
Till then enjoy this oven roasted
chickpeas – it's a great snack for kids, as well as to quell those 4 pm hunger
cravings. What's more – its homemade, so you get to choose the oil and spice
that go into this. It only requires you to keep watching the oven and
monitoring the beans a bit, but once its done, I bet you cant stop digging into
the snack box, hunger time  or no !  Hope you enjoyed the Iron Rich series
presented this week – Sugarfree Dates and Anjeer Halwa, Broccoli-Spinach Paratha
and now this Roasted Chickpeas.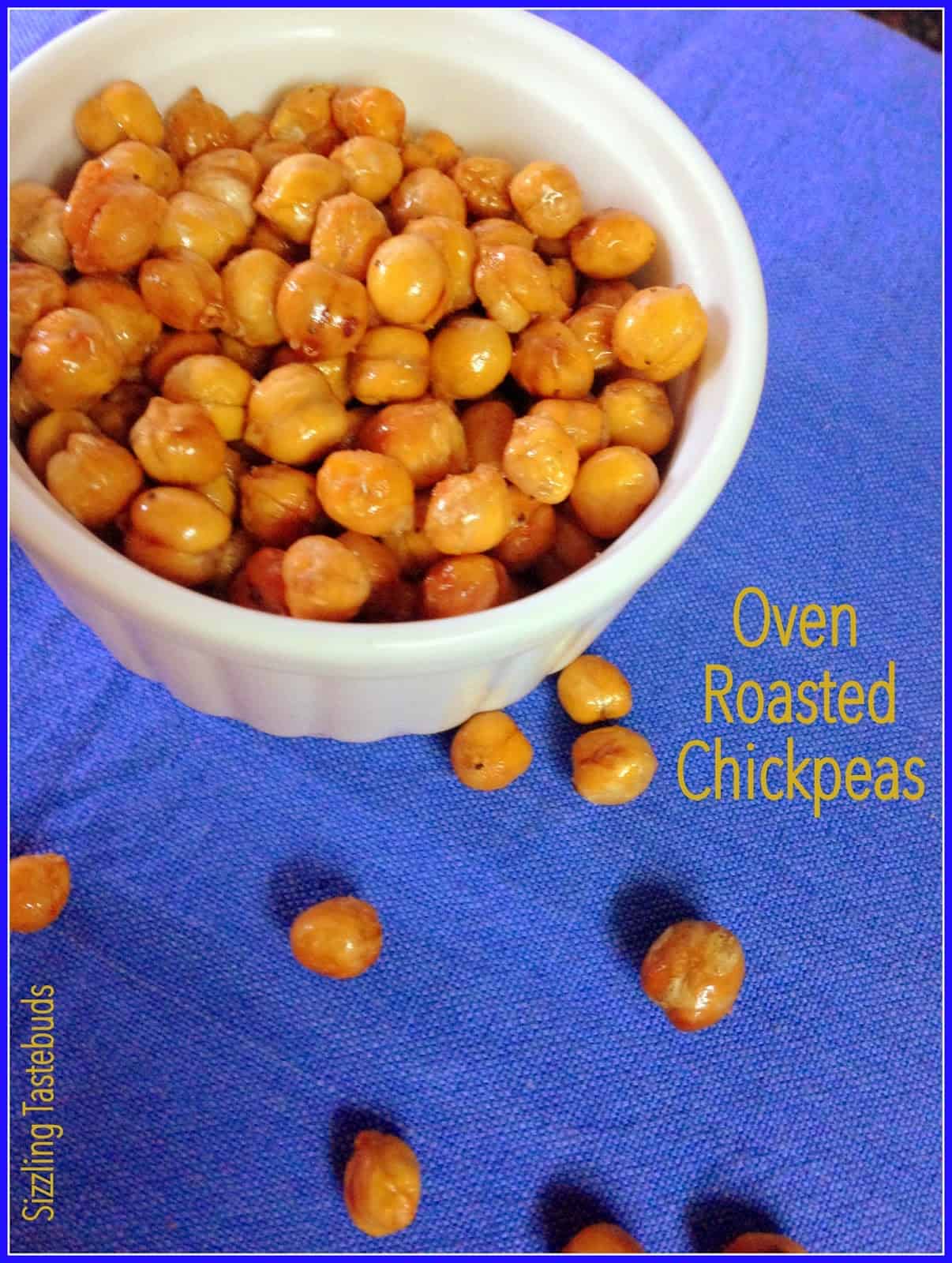 Pin

If you have any iron rich recipes (click here on what all contains iron) – both old and archived – do link it up at my event that's being hosted till July 15th (Pssst : Yes, there's a giveaway too – so hurry :))

Prep time : 15 mins | Soaking and
cooking time : 8-10 hours

Baking time : 45 mins (will vary
from oven to Oven)

Note : As I already had a batch of
cooked chickpeas, I followed this recipe, and it came out great. Else you may
need to soak overnight and cook the chickpeas (make sure you add a pinch of salt and also
ensure that they don't turn mushy). Alternately, if you are using canned chickpeas, kindly drain before using and add the seasonings directly.

Source : Vardhini

Ingredients:
Cooked Chickpeas – 1 cup
Oil – 4 to 5 TBSP (I used olive
oil)
Red chilli powder – 2 tsp (adjust
spice)
Salt – to taste (adjust as the
cooked chickpeas may also contain salt)
Cumin Powder – 1 tsp
Garam Masala – ½ TBSP
Chat Masala – ¼ tsp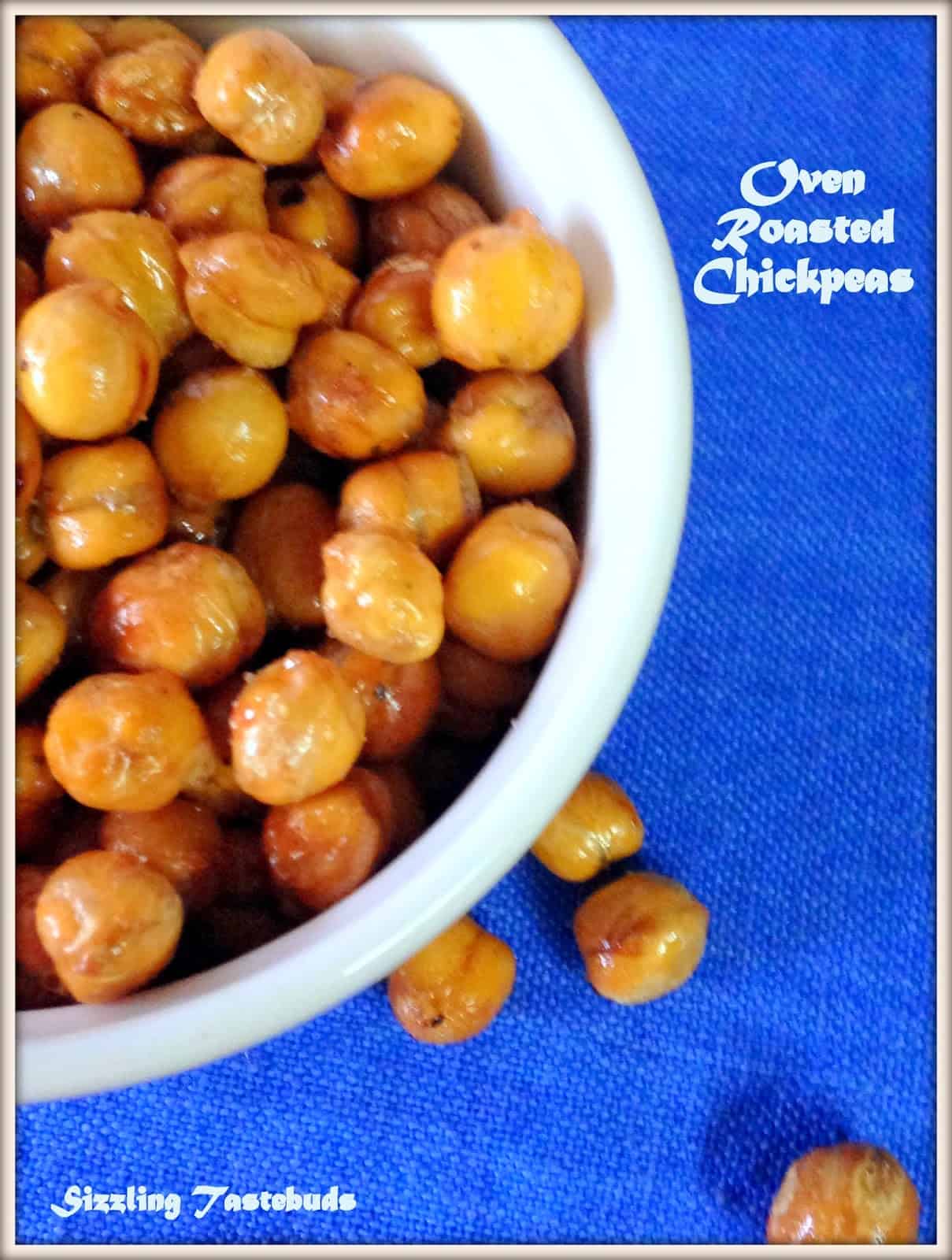 Pin

Method:
In a large bowl, add the chickpeas
and add all the masala (spice powders) incl salt. Mix well. Add 1 TBSP of oil
and toss again.
Layer the spiced beans on a foil
lined tray. Grease the foil with cooking spray or any oil that you are using. Preheat oven to 200C/400F
Bake for 35-40 mins (depending on
when they get crunchy – they harden a bit on cooling, so twice durig the bake,
I retossed the beans and put it back into the oven)
Let it cool a bit and store the
baked beans as an any-time snack !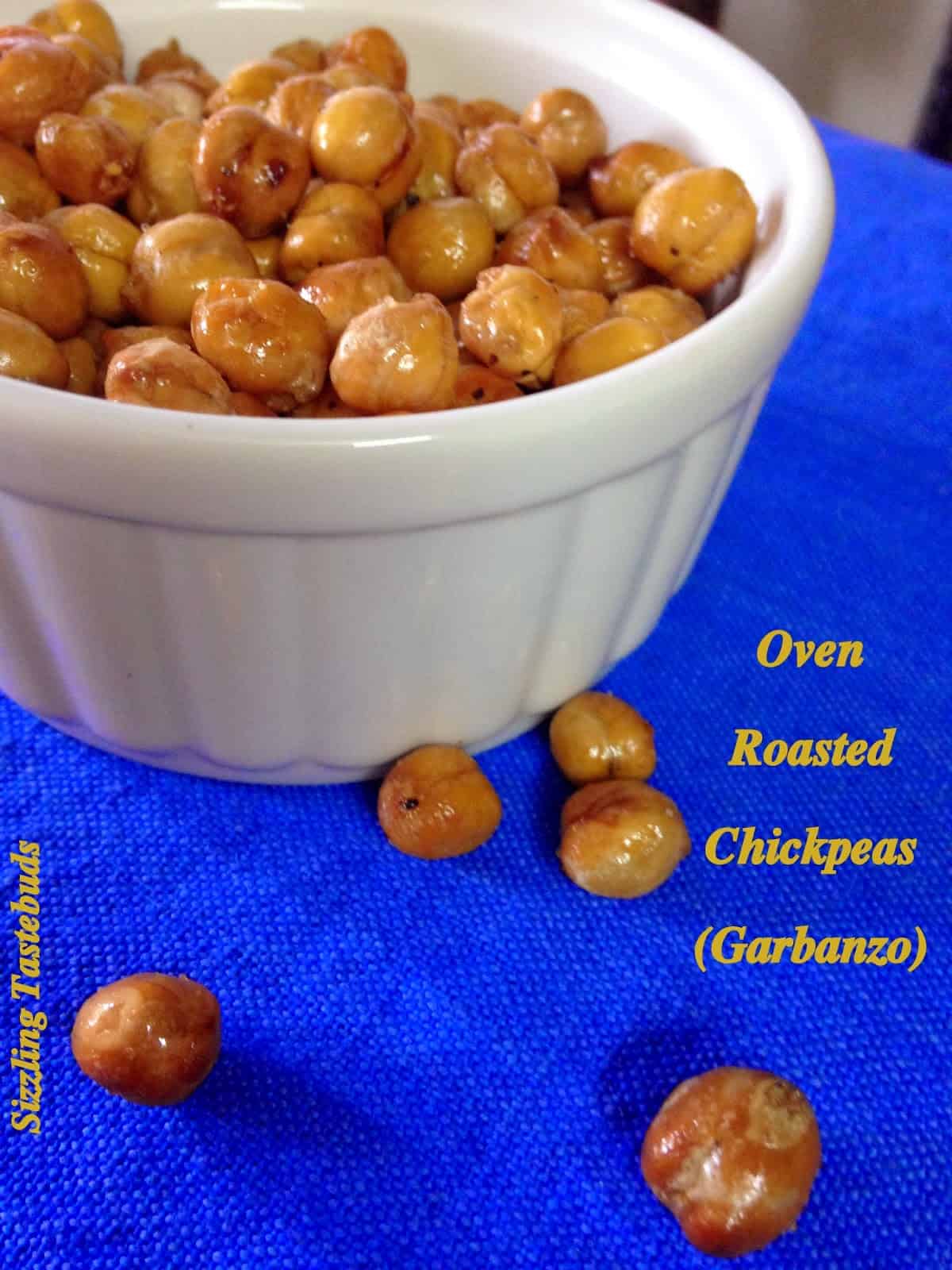 Pin