Alphabet W was probably one of the toughest alphabets to choose
for the A-Z marathon considering I was doing only Karnataka & Tamilnadu
recipes. Today's sweet is made generally for Diwali, and I have given it a mild
twist adding pistachio meal and glazing it with sugar syrup and pistachios like
the original Gulgula, which is the Indian equivalent of doughnuts. I made this for my lil one's first birthday this week and it tasted just perfect for a celebration…
Though not
from either states (karnataka or Tamilnadu), you could consider making this for
the festive season ahead with Navratri and Diwali barely a few weeks away. A
sweet treat to celebrate a nearly-month long Alphabet Marathon thats to end in
a few days..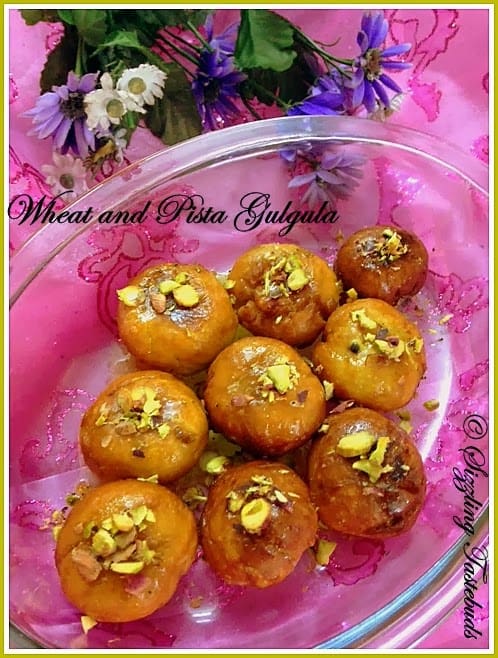 Pin




Prep time : 20 mins , Resting time : 10 mins + 2 hours

Frying time : 15
mins | Makes : Approx a dozen pieces

Ingredients:
Whole wheat flour – 1/2 cup
Fine sooji / Chiroti Rave – 2 TBSP
Salt – a pinch
Milk Powder – 4 TBSP
Pistachio meal – 1/4 cup
Warm water – 1/4 cup, or as needed
Oil – for frying (approx 1 cup)
Syrup:
Powdered sugar – 1/2 cup
Water – as required
Saffron strands – few
Garnish : Chopped pistachios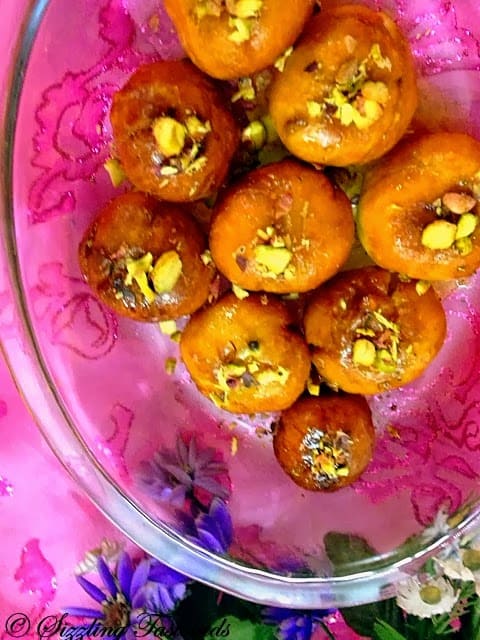 Pin
Method:
Sieve wholewheat flour along with salt. Add Fine Sooji and milk
powder and mix well. Now add pistachio meal (roasted and powdered pistachio)
and mix well. Add warm water little by little and make a semi soft dough. Cover
and rest for 10 mins
Make a syrup with sugar and water for 1 string consistency. Add
saffron strands and keep aside.
Make small roundels from the dough of equal sizes (makes approx
12-13 roundels). Heat oil to moderate heat and fry them on low flame till the
cover turns golden brown (like a gulab jamun). Drain on absorbent paper.
While still warm, drop them in the sugar solution and let them
stay there for 2-3 hours till they swell and absorb the syrup. 
Transfer to a serving dish, pour rest of the syrup if any and
garnish with chopped pistachios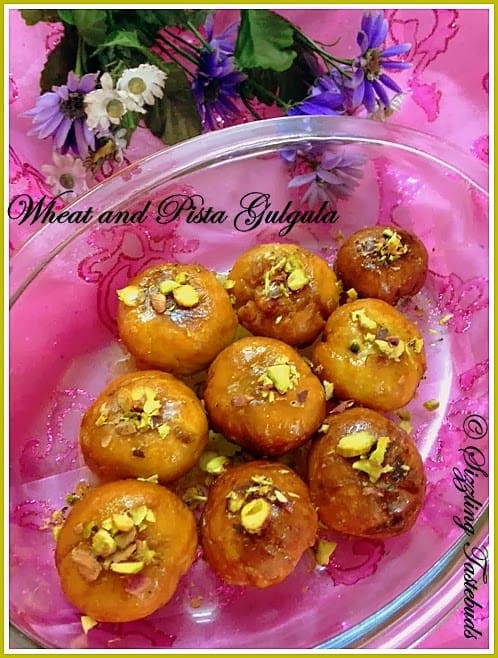 Pin