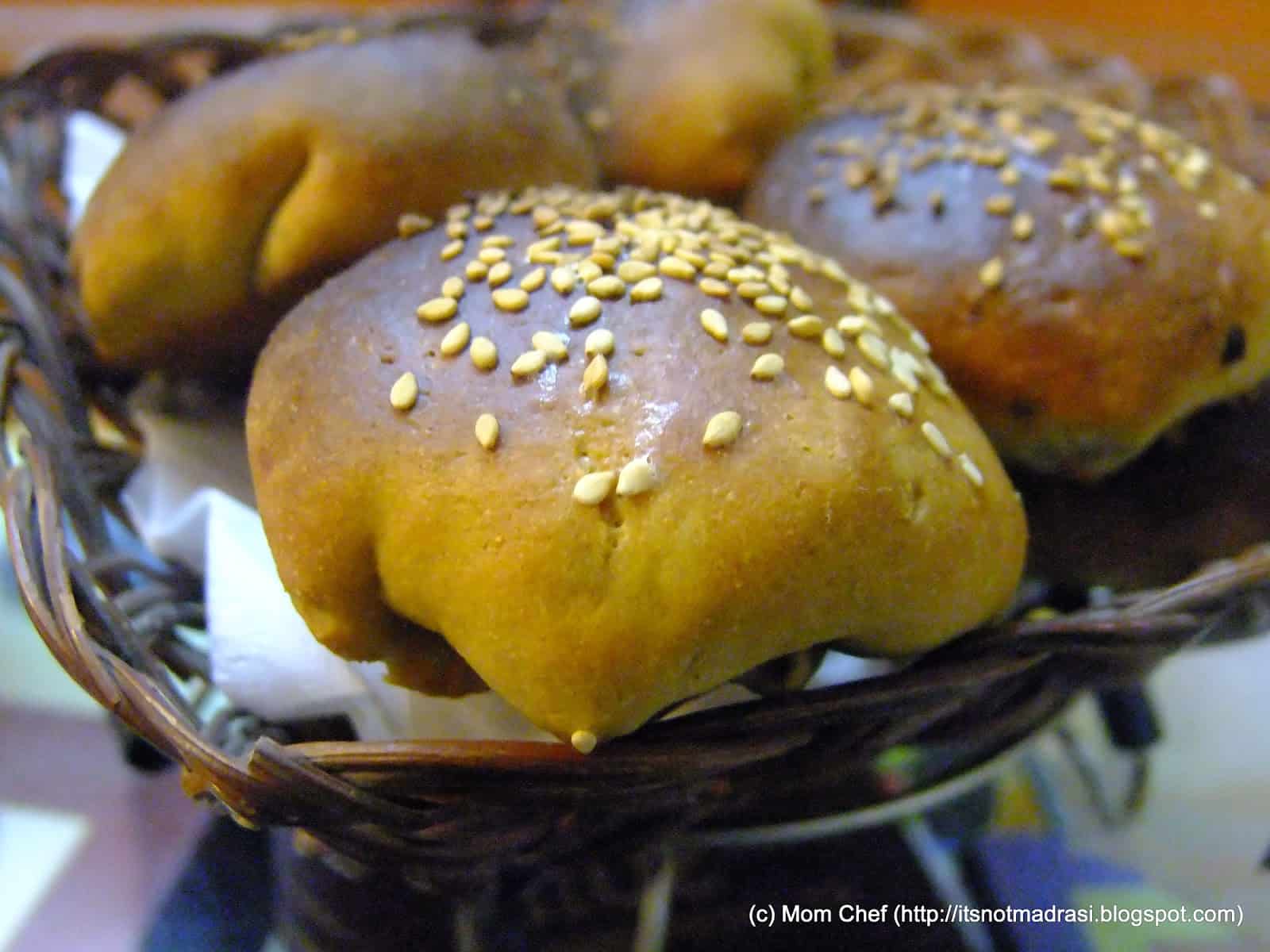 Pin

With all your good wishes, I have crossed my 50th post today ! And what better reason to celebrate this than with Wholewheat Herbed Masala Buns, adapted from Aipi's recipe.

This was my first tryst with Mr. Yeast ever, and baking with yeast is indeed addictive !  Thanks Aipi 🙂 The fact that it was eggless made my dinner too ! I should need a little more time and a tad or two degrees less in my oven next time around. S, who detests anything made of refined flour, appreciated it and had it for dinner along with Butternut Squash soup. My kid helped me get the veggies from the pantry and also helped me fill the stuffing into the buns, and boy ! Was she impatient to eat them or what ??!! 🙂 Makes a great option for school lunchboxes too..

Preparation time : 2 hours (incl rising time)

Cooking time : 15 mins (to prepare the stuffing) + 12 mins (for baking)

Makes : 7 buns

Ingredients:

(A) For the buns:
Wholewheat flour – 1.25 cups
Maida/ APF – 0.25 cup
Lukewarm Milk – 1/2 cup + 1/4 cup
Sugar – 1 tbsp
Yeast – 3/4 tbsp
Salt – 3/4 tsp
Oil – 3 tbsp + 1 tbsp
Sesame seeds(for topping) – 2 tbsp
Herbs : garlic (2 pods), Oregano + red chilli flakes+ Rosemary – 1/4 tsp each
(B) For the filling:
Oil – 2 tbsp
Shredded cauliflower – 3/4 cup
Peeled and finely shredded potato – 1/4 cup
Peas – 1/2 cup
Chopped Beans and Carrots – 1/2 cup
Capsicum chopped fine – 1/4 cup
Onions chopped – 1/2 cup
Ginger garlic paste – 1 tsp
Turmeric – 1 tsp
Salt – to taste
Garam Masala – 1 tsp
Red chilli powder – 1 tsp
Sugar – 1 tsp
Coriander and mint leaves – few
Lemon juice – 1 tsp
For tempering: Mustard seeds +Jeera / Cumin – 1/2 tsp each
Method:
1) In a bowl, mix the milk and yeast with sugar, and cover. Let the yeast prove (froth) in about 10-12 minutes
2) Crush the garlic pods along with the herbs and keep.
3) Mix the flours along with salt in another deep bowl.
4) Make a well -like and pour the yeast mixture little by little and add the crushed herb mixture.
5) Mix into a firm dough and cover with a wet kitchen napkin for about an hour.
6) Meanwhile wash and microwave all the veggies for the filling (except onions and capsicum) with a pinch of salt and turmeric for 10 mins. Drain.
7) In a non stick pan, heat oil and prepare the tempering.
8) Fry onions and capsicum till slightly soft.
9) Add the ginger garlic paste, turmeric, masala powders, microwaved veggies, salt, sugar and toss well. Do not add water at all.
10) Add coriander and mint and cook covered till all veggies turn soft but firm(not mushy).
11) Cool to room temperature and add lemon juice.
12) Give the dough a punch or two to deflate and knead for about 2 minutes.
13) Make equal balls of the dough (in my case, it made 7)
14) Roll out one ball to a 4 -5 cm in diameter on a floured surface (I used Maida to roll  out easily right on my clean kitchen platform)
15) Spoon 1 tbsp of the veggie masala mixture in the centre and fold the edges to seal.
16) Brush the tops with milk and sprinkle sesame seeds
17) Cover again for about 45 – 60 minutes
18) Preheat oven to 200 C / 400 F and bake for 12 – 15 minutes. I did for 14 minutes, but I think its the perfect colour within 10 – 11 minutes.
19) Cover with a thin strip of cheese (I did) and enjoy !
Tips:
1) Do not decrease the covering and rising time for the flour.
2) Use only lukewarm and not very hot milk with the yeast to prove.
3) As I was serving this to my kid, I have not added green chilles and fresh ginger. Please do add the same if you like them 🙂
4) The original recipe wasn't herbed (outer covering). But the baked smell of herbed buns was amazingly good 🙂
Sending this to Tasty Treats and Cooking with Sous Chef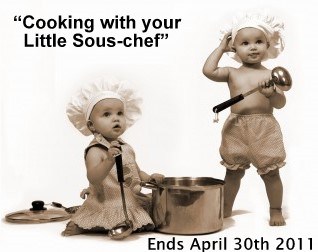 Pin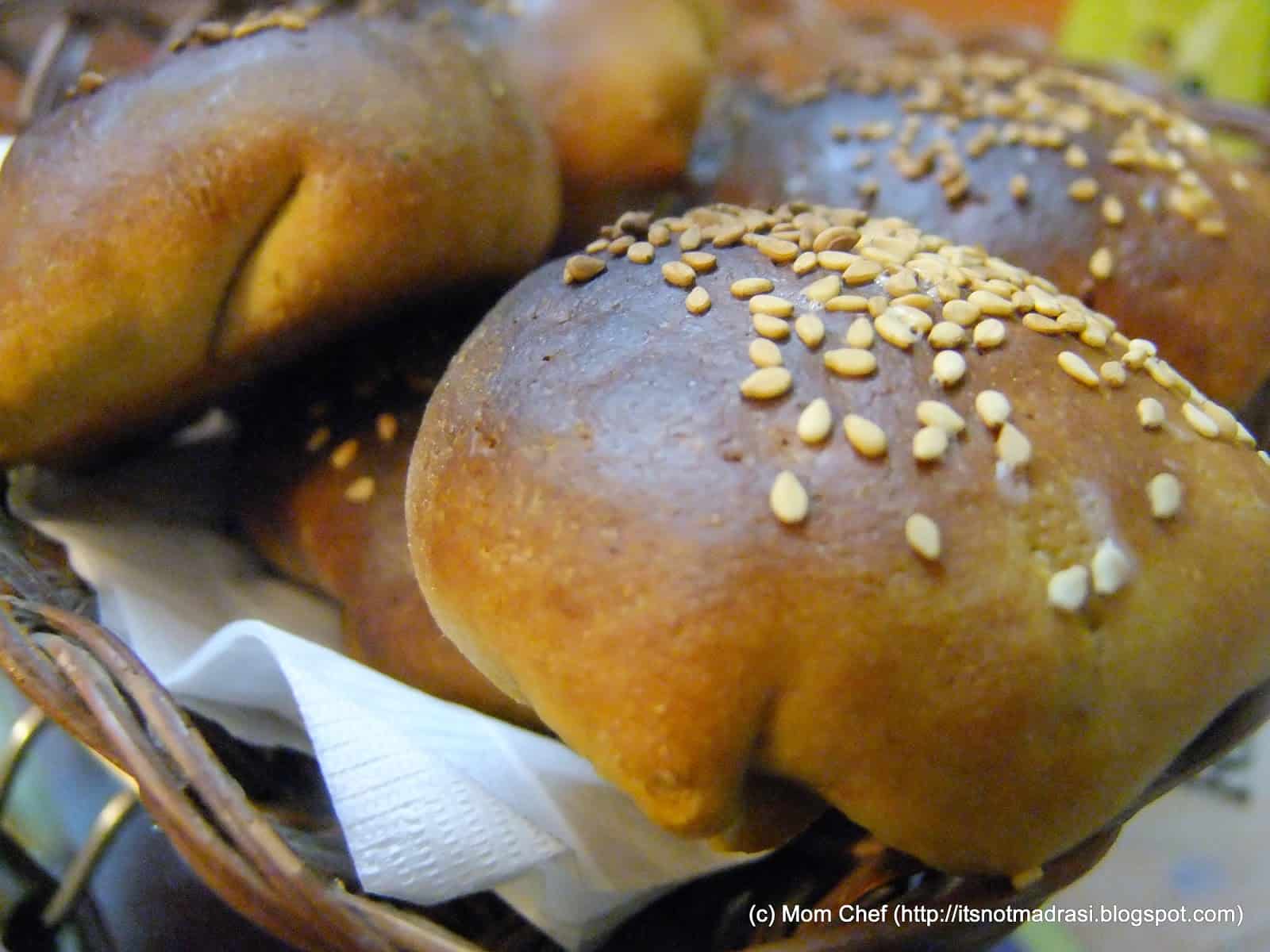 Pin