With the summer here, kiddo's school hours leaves her exhausted and tired, and she often craves for something cool at the end of the day. We all love our milkshakes dont we ? So, presented here is a quick snack in a different form – as a milkshake. This isnt too much of a recipe, per se. But for kids, you may add in any other fruits / ice creams as you wish. 
I am personally not in favour of mixing fruits with any dairy product (milk or curd) as Ayurveda prohibits mixing the two types of foods with Vata and Kapha . But with kids, you need a little leverage to make them eat healthy food, and  may be once in a while indulgence is ok 🙂 To make it more healthy for older kids, add a handful of Roasted Oats to make it a complete meal..
Sending this toBM # 14, my event Holi Fest Colourful Palette, Rasya'sI am the star, Shobha'sJust for Fun, Rujuta's Kids Delight & my eventKitchen Chronicles – Summer Splash hosted by Sangeetha. Check out my fellow marathoner'shere.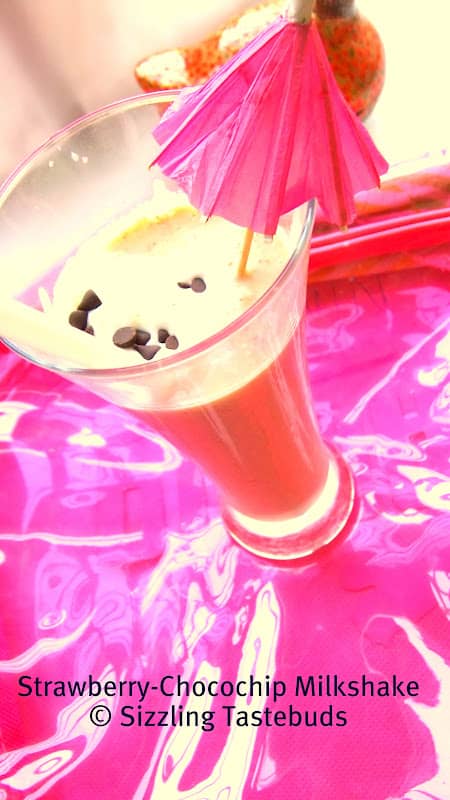 Pin

Prep time – 10 mins. No cook

Serves – 2

Ingredients:
Strawberry – pitted and cleaned – 1 cup
Sugar – 4 TBSP
Milk – 2 cups (I used low fat)
Cream – 1 TBSP
Choco chips – a handful
Ice cubes / Crushed ice – 1/4 cup
Almonds – few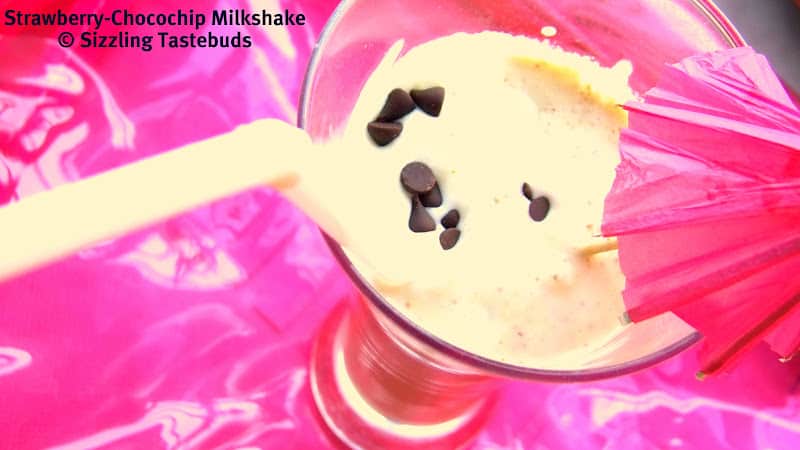 Pin
Method:
1) Clean and pit strawberries. Blend them with milk,sugar & almonds. Add more sugar if you feel the strawberries are sour. 
2) Strain the milkshake. Add in chocochips, cream and crushed ice.
3) Mix well and serve immediately topped with chocochips 🙂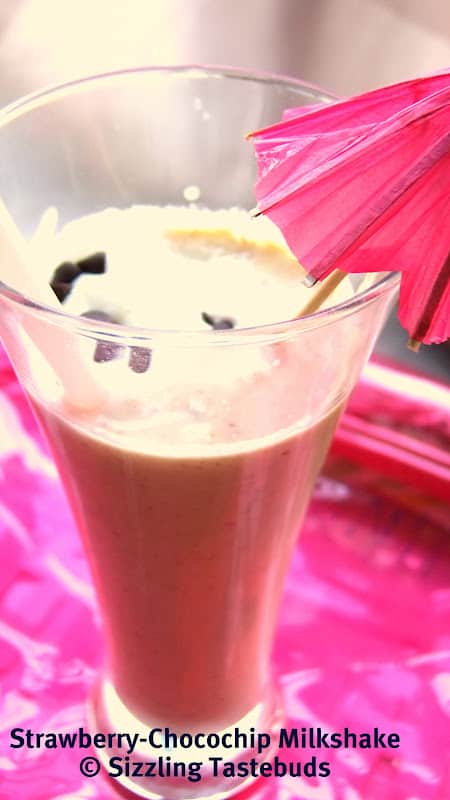 Pin