Its not
everyday that we make deep fried food, but the day we do, its a welcome
indulgence. Given that the mercury has dipped in the past couple of weeks, we
all enjoyed this rather scrumptious veg spring rolls filled with lots of
veggies. Both the kids enjoyed and we had just a few left for the snaps.
Highlight of this dish was the elder girl helped me in making these and she
rather enjoyed rolling the wraps.
This is a
popular appetizer, and the fillings are pretty much endless : Tofu, bean
sprouts, cabbage etc. Non vegetarians, I am told, enjoy theirs with shrimp,
chicken or even bacon. Enjoy these with a steaming cup of tea or as an
appetizer to add more zest to your party / get together.
Pin
Sending
this to BM#48 under Wraps and Rolls. Check out other marathoners here.
Prep time :
15 mins | Fry time : 10 mins | Makes : 1 dozen rolls (largish)
Ingredients:
Spring roll
sheets- 1 dozen sheets – slightly thawed.
Filling:
Shredded
veggies – 1 cup ( I used cabbage, onion, carrots, capsicum, french beans, scallions)
Onions – 1 medium – minced fine
Soya sauce
– to taste
Salt – to
taste
Tomato
ketchup – 1/2 tsp
Green chili
paste – 1/2 tsp (omit for kids, if required)
Ginger
garlic paste – 1/2 tsp
Oil – 2
TBSP + for frying (1 cup approx)
Cornflour +
water – 1 TBSP each – to be mixed into a paste (for sealing)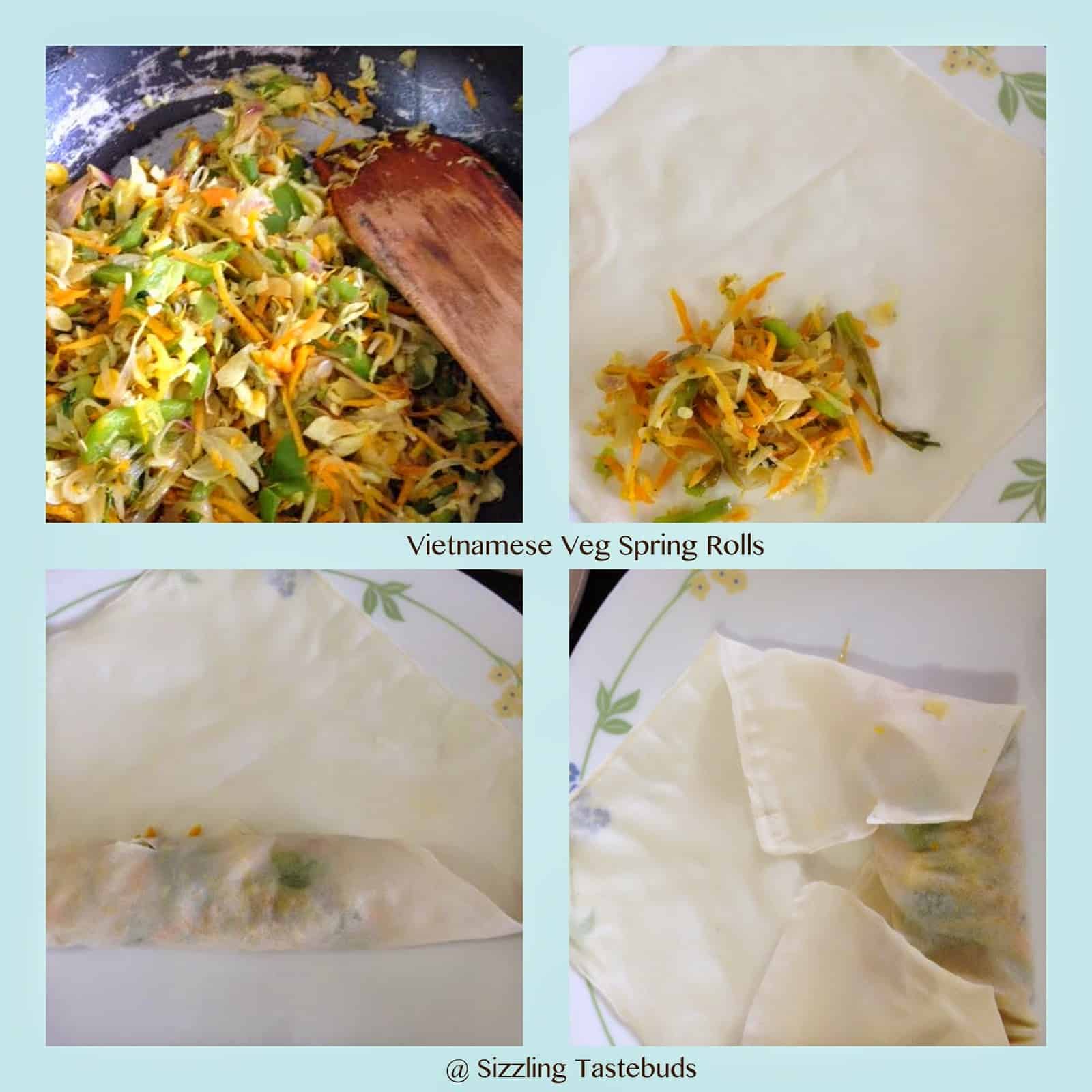 Pin
Method:
Peel out
the spring roll sheets carefully and press them between paper napkins to thaw
them completely. Keep them wrapped under moist kitchen towels to prevent them
from drying and prepare the filling first.
Filling:
In a wok,
heat oil. Saute onions, add ginger garlic paste, all shredded veggies and toss
a bit till they are still crunchy. Add the sauces and check for salt. Add
additional salt only if required. Let the mixture cool completely.

Spread out
one spring roll sheet. Add a tsp of the filling and gently roll diagonally till
you reach the end. Seal with the cornflour-water slurry. Make all the rolls
likewise.

Heat oil
for heating, When its medium hot, add the rolls and fry gently on both sides
till golden brown. Drain on paper towels.
Cut into
bite sized pieces if required.
Serve
immediately with tomato ketchup / any chilly sauce.
Pin