Summer meals are salads mostly for us. While its not exactly summer in my country, it is so for most of the northern hemisphere. So, here is a quick salad thats apt for those potlucks / parties . With no slaving at the stove, this is a great make-ahead dish too.
I adapted this from here, and substituted the protein (chicken) with moong sprouts (yes, I promise – next time it shall be a larger portion :)) We loved it a lot and sure to make it the next time we have ripe sweet pineapples which are a must for this salad.
Funnily enough, my elder one who doesn't like pineapples dug into this salad. Its quite catchy on the eye with its vibrant colours and I particularly liked this salad for the addition of scallions and some other flavouring.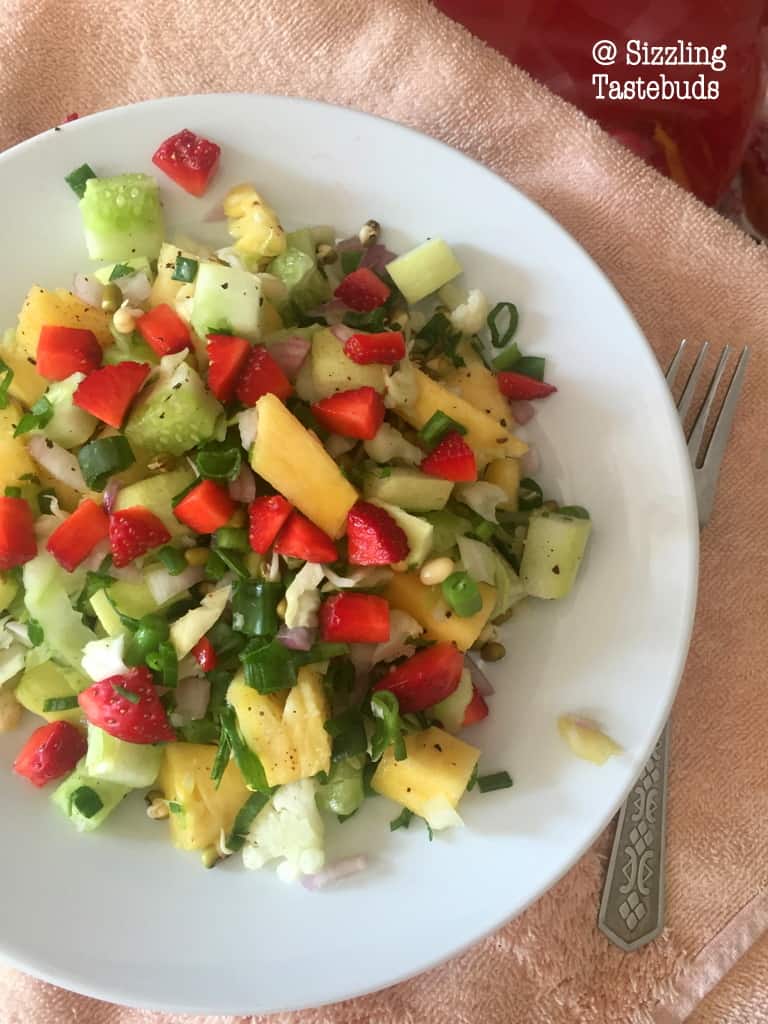 Prep time : 15 mins , serves : 2
What you need
Pineapple cubes – 3/4 cup
Cubed strawberry – 1/4 cup
Cucumbers (seedless) – cubed (1/4 cup)
Red peppers – 1/4 cup – I subbed with onions
Sprouts – 2 TBSP
chopped scallions – 1 TBSP
Chopped cilantro – 1 tsp
dressing : Lemon juice 3 tsp +2 TBSP warm olive oil + 1/2 tsp ground cumin+ 1/2 tsp salt
In a large bowl, stir together lime juice, oil, salt and cumin until blended.
Add pineapple chunks, cucumber, cilantro, onions, sprouts and scallions; toss to mix and coat.
Chill and serve.