Sometimes the
solution is right in front of our eyes, istn it ? have you ever faced a block
in your mind and yet fail to find the solution that is mockingly right there..
It happened to me last eve when I was racking
my brain as to what to make for the
last day of Kids Delight theme for Blogging Marathon 30 : Day 3, when my kid simply said 'Chocolate, of
course !Why even ask"
Well, I am not a heavy-whipped-cream-cake-and-frosting
kind of mom , so wanted to make something that was not only simple but also used
up the ingredients that were available at home, and so something that I read
recently popped into my brain – Dark Chocolate
Nutty Truffles … The photo below taken at 11:30 pm when both kids were asleep doesnt do justice, but it more than makes up for in its taste..
For any chocoholic (read, the husband and kiddo), this
was weekend coming over 2 days early ;-)) This ingredients make a batch of 12
melt-in-the mouth niblets, so you can simply halve or even double or triple the
recipe. What's more? Simply make ahead of any birthday party, and refrigerate
it, and you have a winner on hand.. So, let's go and make this yummy delight
which is surely a party pleaser – with kids and adults alike.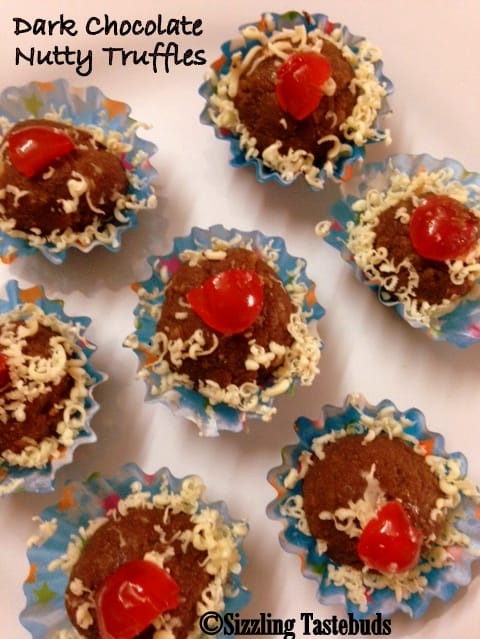 Pin

Prep time : 10 mins |
Cook time : 5 mins | Makes : a dozen medium sized Truffles

Ingredients:
Dark Chocolate – 50 gms
(I used Morde – you can use any cooking chocolate- avoid using Dairy Milk or
any prepared chocolate as it already contains caramel)
Marie Biscuits –
about 15 – 20 (approx 2 packets) : you may substitute with any plain mild
sweetened biscuits
Coarsely chopped nuts
– 3 tsp (I used Walnuts)
Condensed Milk –
approx 4 – 6 TBSP (adjust taste)
Butter – 25 gms
(approx 2 TBSP)
Garnish : White chocolate
– grated & glazed cherries
Method:
Powder the biscuits
in a mixer grinder or put in a Ziploc and crush it fine with a rolling pin.
Melt butter and dark chocolate
together in a double boiler.
In a large bowl, add butter,
chocolate, biscuits, condensed milk ,
nuts and make a slightly stiff dough.
Rest for 5 mins
Make equal portions
and roll into a small roundel. Top with grated white chocolate and cherries.
Refrigerate for min 1 hour. Serve
Note : You may use
any topping that you wish – powdered chocolate / dessicated coconut / candied
fruit. You may also wish to stuff the truffle with nuts / raisins or even
blanched almonds to make it richer , and sinful :-))