Rajasthan cuisine is evolved around locally available pulses, millets and a bit of dairy that comes from goats / camel milk primarily. The usage of dry spices, dried vegetables / plant parts is prevalent throughout the vegetarian menu canvas of this state. Besan or gramflour also forms a major part of sustainable food in place of veggies. 
So, Gatte ki Sabji, Gatte ka Pulao and today's dish – Marwari Pithor ke sabji are popular dishes of that cuisine. Today's no onion, no – garlic dish also comes handy when the refrigerator doesn't have enough veggies for a meal, and this can be rustled up pretty quickly. 
I was lucky to be given two popular ingredients by my paired blogger Shobha ji. Using gramflour and yoghurt, I made this lip smacking dish. The entire family enjoyed it and kids said it tasted soft and succulent like Paneer. I read on several recipes and youtube videos that the texture of the Pithor closely resembles Paneer. So, for those who don't like Paneer, this is a clever way to eat paneer.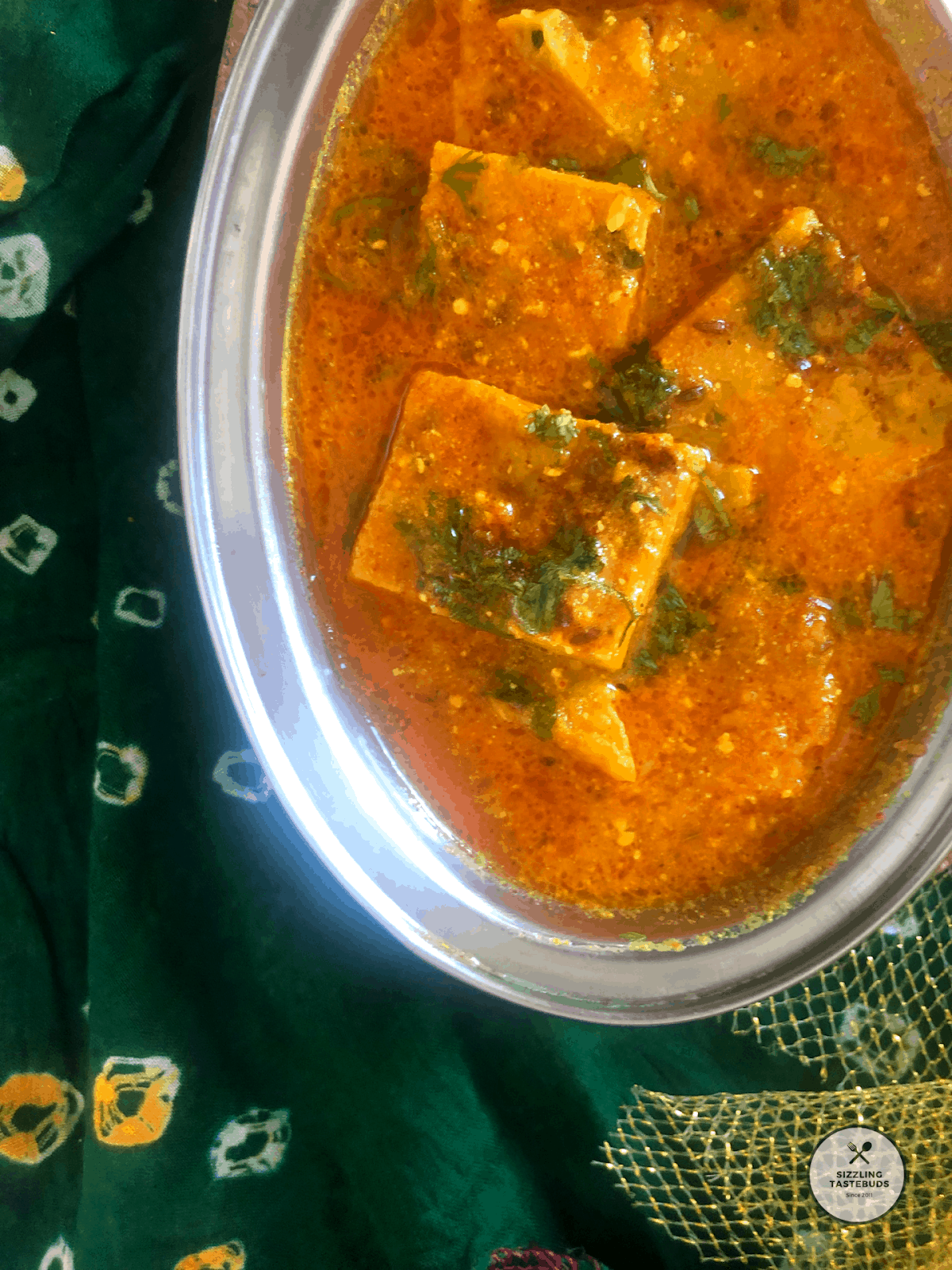 Pin

This is of course a GF dish, but can also be vegan if the yoghurt here used is a plant based one (rice curd/ cashew curd etc.) So, do make this quick-to-make dish and serve with hot rotis for a very fulfilling meal. 




Also, please do leave your valuable comments and suggestions on the youtube video embedded below too ! 

Marwari Pithor ki Sabji – No Onion-No garlic recipe (Gluten Free, Can be vegan)

Prep time – 10 mins, Cook time – 10 mins, Serves – 3~4

What you need:

For the Pithor:

Oil – 2 tsp

Gramflour – 1 cup (200 g)

Salt – to taste

Ajwain (crushed) – 1/4 tsp

Turmeric – 1/4 tsp

Kasuri Methi (crushed) – 1 generous tsp

Yoghurt (thick variety) – 2 heaped tablespoon (* Sub with plant based curd for vegan*)

Water – as required to make the batter.

+

1 FLAT heat-proof / stainless steel plate, greased well 

For the gravy:

1 tomato + 1/2 inch ginger – pureed

Yoghurt – 2 TBSP

Dry spice powders – Red chilli powder (I used Kashmiri) 1 tsp, Dhania power ( 1 TBSP), Jeera powder (1 tsp)

Oil – 3 tsp

Jeera / cumin seeds – 1/2 tsp

Garam masala – 1/2 tsp

Salt – to taste

Chopped coriander  – to garnish

How to:

View the youtube video for more detailed steps




(A) To make the Pithor : 

Whisk all the ingredients except water to a paste. Add adequate water to make a slightly thick flowing batter (batter should not be too thick or too thin). 

Heat oil in a non stick pan, add the batter and quickly cook the batter without any lumps on low flame. Once the batter starts leaving the sides, transfer the batter to a greased flat tray. Spread it evenly – not too thick or thin on the plate. Let it cool completely. Midway, using a sharp knife make markings of the size of the pithier (or lentil cakes) that you want. Remove the pieces and meanwhile begin the next stage. 

(B) To make the gravy:

Puree Ginger and 1 tomato without any additional water. Keep aside. Whisk all the dry spice powders (except garam masala) in the yoghurt and keep ready. Heat a non stick pan, add oil. Splutter cumin seeds and slowly add the tomato-ginger mix, saute for 1 min. Now add yoghurt mix and let it simmer on a low flame without the dahi curdling. Once oil starts leaving the sides, add 2 glasses of water, salt and let it simmer for 2-3 mins more, and let it again simmer on very low flame. Now slowly add the cut pithor pieces, salt and cook and cover for just under 1 min. Switch off flame (the pithor is not to be cooked for over 1 min). 

Garnish with chopped coriander and serve hot with roti / Pulav. 

Other Rajasthani dishes you might like on the blog: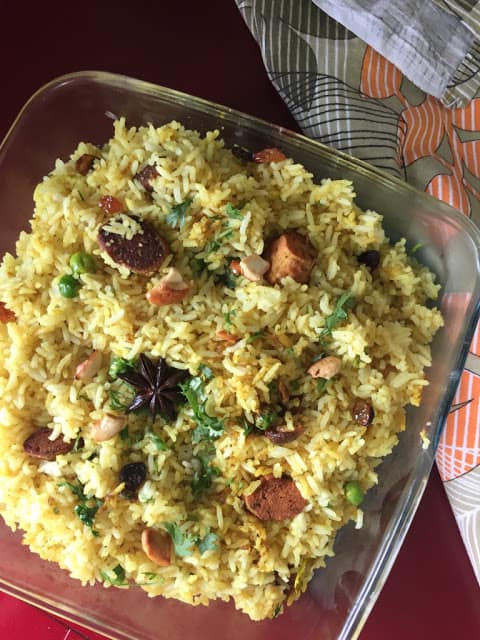 Pin

Panchkuti Dal Khichdi + Dahi Aloo Combo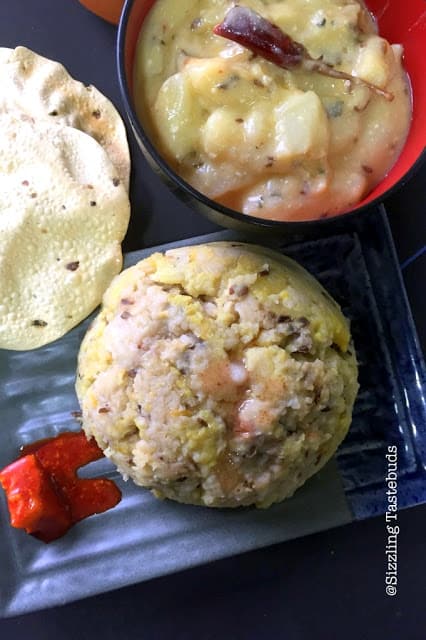 Pin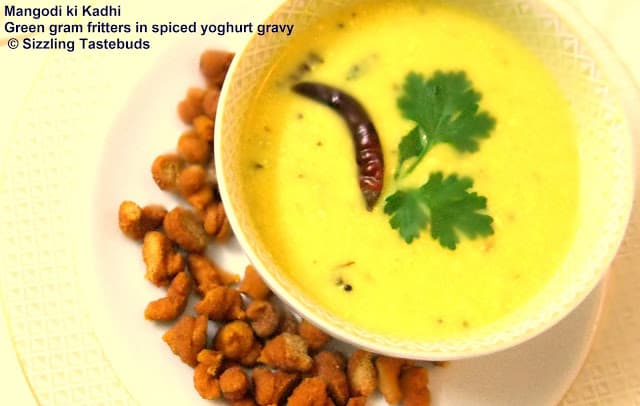 Pin
This goes to Shhh Secret Cooking Challenge for July 2019. 
Shhh Cooking Secretly a group started by Priya of Priya's Versatile Recipes, is where every month food bloggers are paired up and give each other 2 secret ingredients to cook with according to the theme chosen. If you're interested in joining this exciting group then please leave a message in the comment section. Thank you.
Here's a list of dishes that my fellow bloggers posted for this cuisine:
It was Rajasthani cuisine for the month of July and here is a virtual tour to the state by Shhhh h Cooking Secretly Challenge Group members.
Daal Baati Churma by Sharanya Palanisshamihttps://saraniyapt.blogspot.com/…/dal-baati-churma-rajastha…
Tikadia by  Swaty Malik https://foodtrails25.com/2019/07/31/tikadia/
Gatte Ki Sabji by Priya Iyer https://thephotowali.wordpress.com/…/rajasthani-gatte-ki-s…/
Dal Dhokli by Veena Krishna Kumar https://veenasvegnation.com/…/rajasthani-dal-dhokli-in-nut…/
Moong Dal Bada by Jayashree Trao https://www.evergreendishes.com/…/moong-dal-bada-rajasthan…/
Moong Dal Halwa by Vasusvegkitchenhttps://vasusvegkitchen.blogspot.com/…/rajasthani-moong-dal…
Sattu Ladoo by Seema Doraiswamy Sriramhttps://mildlyindian.com/gramflour-sattu-designer-teej-raj…/
Moong dal fritters by Renu Agrawal Dongre https://cookwithrenu.com/…/08/moong-dal-pakoda-fritters.html
Marwari Pithor by Kalyani Sri https://www.sizzlingtastebuds.com/…/video-recipe-how-to-mak…
Ker Sangri by Sujata Shukla https://www.pepperonpizza.com/ker-sangri-traditional-rajas…/
Moong dal Karara by Nams Corner https://www.namscorner.com/moong-dal-karara-recipe-rajasth…/
Gatte ki sabzi by Poonam Bachhav https://poonambachhav.blogspot.com/…/gatte-ki-sabji-gram-fl…
Dahi Kadhi by Pavani Gunikuntla https://www.pavaniskitchen.com/…/rajasthani-dahi-kadhi-reci…
Gatte ka Pulao by Shobha Keshwani https://www.shobhasfoodmazaa.com/…/rajasthani-gatte-ka-pula…
White Mutton Stew by Rafeeda ARhttps://www.thebigsweettooth.com/safed-maas-rajasthani-whi…/
Laal Maas by Sujata Roy https://batterupwithsujata.wordpress.com/…/07/31/laal-maans/
Vegetarian Lal Maas by Sasmita Sahoo Samantahttps://www.firsttimercook.com/…/…/vegetarian-laal-maas.html
Gatte ki Sabzi by Mayuri Patel https://mayuris-jikoni.com/2019/07/31/gatte-ki-sabji/
Dhoodiya Kheech by Priya Maheshhttps://www.at200deg.com/recipe/rajasthani-doodhiya-kheech/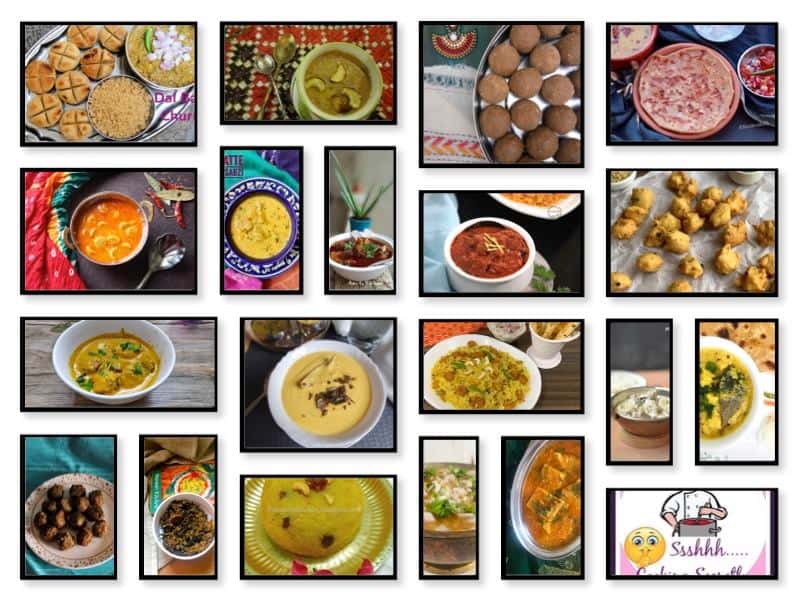 Pin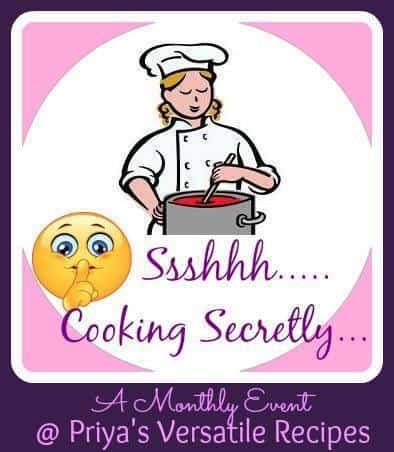 Pin