Gatte ka pulao for this BM got done mostly coz of my husband ! He's a great fan of Gatte ki sabji, and I made this when I had some latte left after making that sabji for a Sunday lunch when we had a Rajasthani Lunch (and my dear BMers will know what I am preserving that Thali pic for 🙂 lol !!) 
By the time you get the Gatte (gramflour dumplings) , the rice would be cooked, so its a matter of assembling it further. Ghee for this pulao gives a very aromatic flavour, but if you are vegan or don't eat ghee, you can skip it.
Let's get to the recipe then.
Gatte ka Pulao – GF Main course dish from Rajasthan
Spice level – medium. Prep time – 20 mins, cook time – 25 mins, serves – 2~3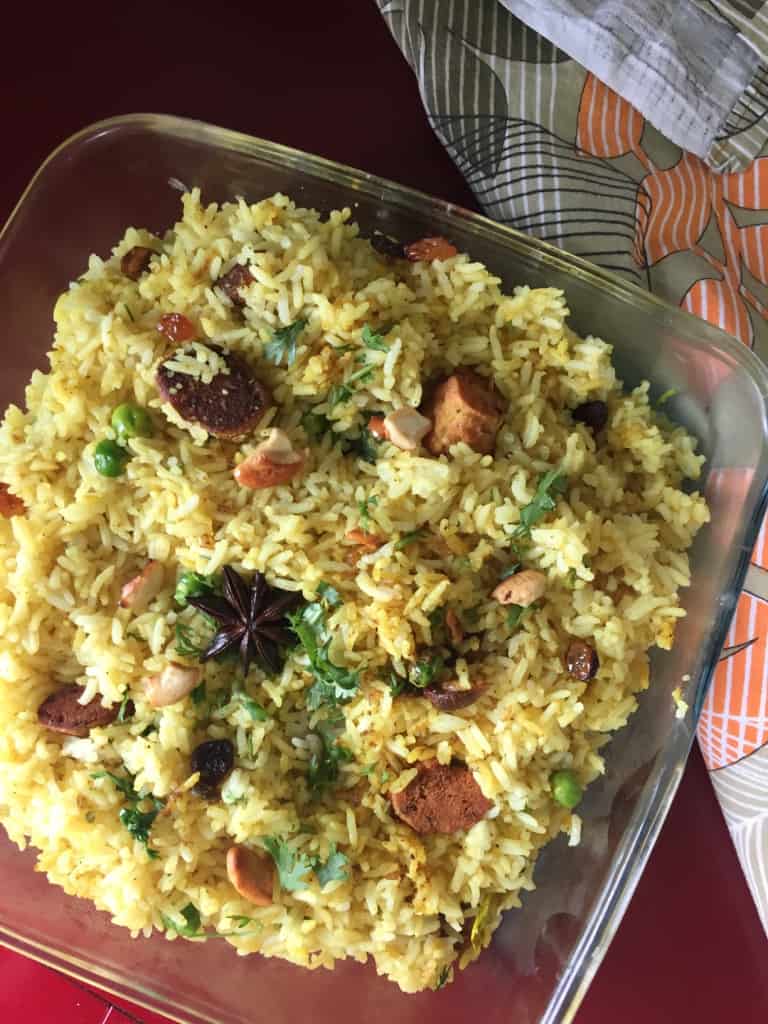 Pin

For the pulao:

Long grained rice – 1 cup

Cashews – 1 TBSP (opt.)

Oil – 2 tsp

Onions – 1 large (sliced thin) – optional – I didnt add

Ghee – 2 TBSP

Whole spices – 1/2 cinnamon, 2 cloves, 2 bayleaf, 2 cardamoms, 1 black elaichi + star Anise

Salt – to taste

Turmeric- 1/2 tsp

Garam masala – 1/2 tsp

Degi Mirch – 1 tsp (or to taste)

For the Gatte:

Gramflour / besan – 1 cup

Oil – 2 TBSP

Rice flour – 1 TBSP

Turmeric – 1 tsp

Crushed spices (all 1/2 tsp each) – ajwain, coriander seeds, jeera

Kasuri methi – 1 TBSP

Salt – to taste

water to mix the dough

Oil – to fry – 4 to 5 TBSP + 2 tsp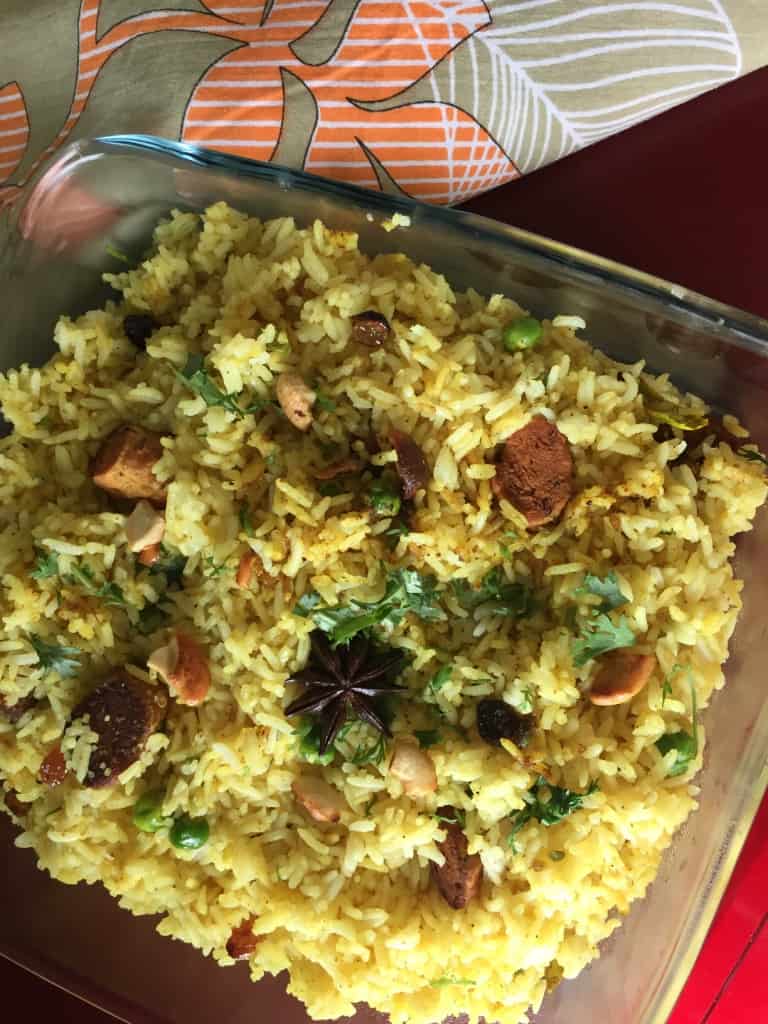 Pin

To make the Gatte:

In a large bowl, add the flours, salt, spices and start sprinkling water little by little till you get a sticky dough. Apply oil on your hands and make a smooth semi soft dough. Roll them into 4~5 inch cylinders and steam them for 10-12 mins or till they turn opaque. Cool them thoroughly and cut them into 1/2 inch thick discs. Heat oil in a pan, and fry the gate in batches on medium flame  (in batches) till they turn golden brown. Drain on absorbent paper and keep aside

TO make the pulao:

While you are making the gate, Wash and soak the rice. Rinse throughly and drain.

In a pressure cooker / open pan, add ghee, whole spices. Saute onions if using, add rice and saute for 2-3 mins on low flame so that the rice gets really aromatic. 

Add the other spices- turmeric, garam masala, deGi mirch and saute further. Add salt, required water and cook rice till 70% done. Fluff up the rice once done and keep aside.  

Assemble:

In another thick pan, add oil ,  the cooked rice and gatte, sprinkle little water, cover and cook for 6~7 mins till fully done but not mushy. garnish with coriander leaves and serve with any gravy or just boondi raita.
Pin
Check out the Blogging Marathon page for the other Blogging Marathoners doing BM#99