Sangee has been a good friend and I have been amazed by her repertoire of bakes recently 😉 I love browsing through her blog and was keen on having her to do a Guest post for me.. She not only agreed immediately, but also wrote me a thorough bio of herself along with a yummy Vermicilli Pal Payasam, that I wished to post this immediately.. Read on to know more about Sangee, how she got to blogging, and also savour her yummy recipe…. Thank you Sangee for your wonderful guest post and a lip smacking dish!
*************************************************************************************************************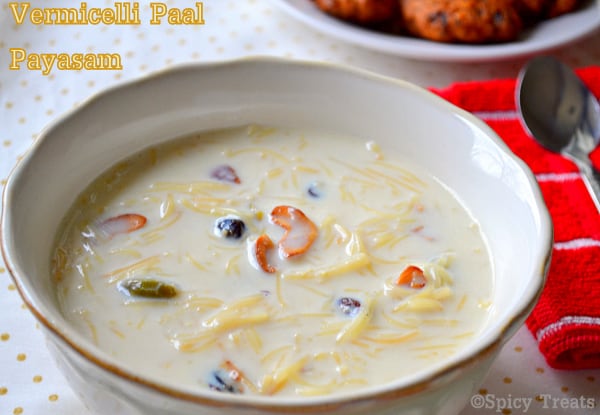 Pin

Hi friends, Hope you all doing great. I am also pretty good. I am so excited and happy to write my guest post for Kalyani of Sizzling Tastebuds. I am very thankful to Kalyani for giving me this wonderful opportunity. I came to know about Kalyani and her blog through her events only. I love her precised writings , healthy and delightful recipes and her photography too. But most of the time i am a slient reader 🙂

In this post i would like to share some more facts about me. I am a Homemaker and i did M.Sc.Botany(medicinal Plants) in Periyar University. I am a gold medalist, university first rank student. Interested in Drawing, Fabric Painting and of course cooking and now baking 🙂 I started cooking from my higher secondary, and now i am well versed at all kind of Indian cooking. But still learning and recreating more new recipes through blogging. I should say that blogging has brightened my life..Daily, I try and recreate new recipes for my kids/ family. I love participating in all events, that too i wish to share a new recipe. This keeps myself away from more tension and unnecessary thoughts.

As soon as i hear about an event, my mind start thinking about a new recipe for that event. And now started learning more about food photography too. Now i am keen on watching my blogger buddies' pictures, presentation and their writings too. I am developing myself to improvize my blog with new recipes, neat pictures etc. I try my best with my friends' and family's support. Blogging had also introduced me lots of friends and people. There are are some friends with whom i am so close and maintainging good relationship beyond blogging.

Whenever i share my happy moments or sick news , my blogger buddies are there for me to wish and support. Yes, your few words are lot me. I love and enjoyed reading your sweet comments. My, dear friends never forget to support and encourage me. So for all my lovely freinds and Kalyani n her readers, here i am going to share my family favorite sweet recipe, Vermicelli Paal Payasam. I make this paal paayasam for all festival and important days like birthdays, anniversary, some special happy moments :))and also like to offer this paal payasam to God as neivedyam too. As now the festive season, Christmas, New Year and Pongal are on its way and you all can enjoy your Festival with this Vermicelli Paal Payasam. I took this opportunity to wish you all a very Happy Christmas and New year ahead. Now to the recipe…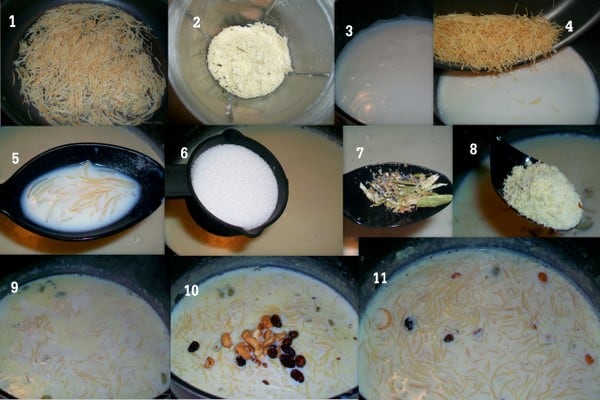 Pin

Ingredients
Milk 4 cups(i used low fat milk)
Vermicelli 1/2 cup
Sugar 1/2 cup
Cardamom 4 pods(crushed)
Saffron 2 strands or yellow color a small pinch
Raisins 2 tbsp or to taste
Cashewnuts 3 tbsp or to taste
Ghee/oil 2 tsp
To dry roast and grind
Cashew nuts 6 no.s
Pistachio/Almonds 4 no.s ( i used pistachios)
Method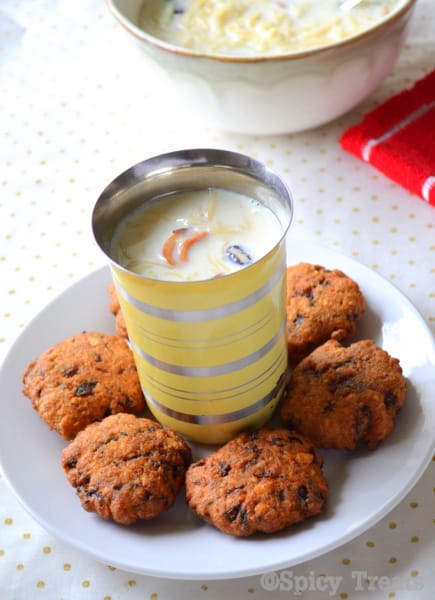 Pin
First dry roast cahsew and pista in a pan for a minute and then grind it to a fine coarse powder and keep aside.
Heat 1/2 tsp ghee/oil and roast 1/2 cup of vermicelli till golden brown and keep aside.
Add 4 cups of milk in a nonstick/heavy bottomed vessel, and bring to boil.
Once it starts boiling , add roasted vermicelli and stir well.Saffron or color powder can be added at this stage.
Allow to cook for 3-4 minutes, vermicelli should not get cooked completely 3/4th or little more is enough. If you cook vermicelli completely then your payasam will be sticky and turn to kanji.
After that add sugar and stir well , cook till sugar dissolves completely and raw smell leaves.
Then add cardamom powder mix and add ground nuts powder and stir well.
Again bring to boil in medium heat , once starts boiling then remove from the stove and keep aside.
Heat remaining tsp of ghee in a tempering pan and roast cashew nuts and raisins till golden brown and add it to the paal payasam.
That's it…Delicious and Yummy Vermicelli Paal Payasam is ready to serve.
Serve hot or chilled. Both taste awesome with some Hot vadas.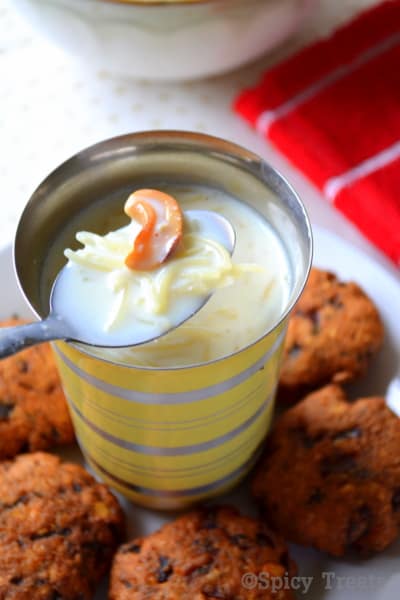 Pin
Notes:
Addition of this ground nuts mixture gives unique flavor and taste.
Can add desired nuts and dry fruits to this payasam.
Along with vermicelli you can also add sago.
If you are using whole milk, add 31/2 cup milk and 1/2 cup water.
After cooling,If you feel your payasam to be too thick, add some more milk, lightly reheat(microwave for 2 minutes) and enjoy.
Hope you like my paal payasam and enjoy your festive day with this delicious recipe :))