They say you eat with your eyes
first more than your tongue🙂How true
that ! Ever since I feasted upon Soma's Onion Crackers, I dreamt of making it.
Her tantalizing pictures were so captivating, day and night it appeared like an
obsession. And once they were made, we gobbled it up, then made another batch and another..and thankfully could reserve some crackers for the pics / blog from the 3rd batch.
Pin
Unlike most crackers / cookies,
this is a good addiction with very little butter and full of goodness. One could
vary the ingredients according to taste, and end up with a totally different
recipe altogether. Most of us at home(read all) prefer savoury bakes to sweet , so we enjoyed making this often.
Baking Marathon Day 3 : Baked Onion Crackers
Recipe type :Crackers / Cookies
Adapted from : Here
Course: Tea time snacks
Cuisine : Indian
Spice level : Medium. Makes : about a dozen
Prep time: 15 mins | Bake time : 15 mins (varies from oven to oven)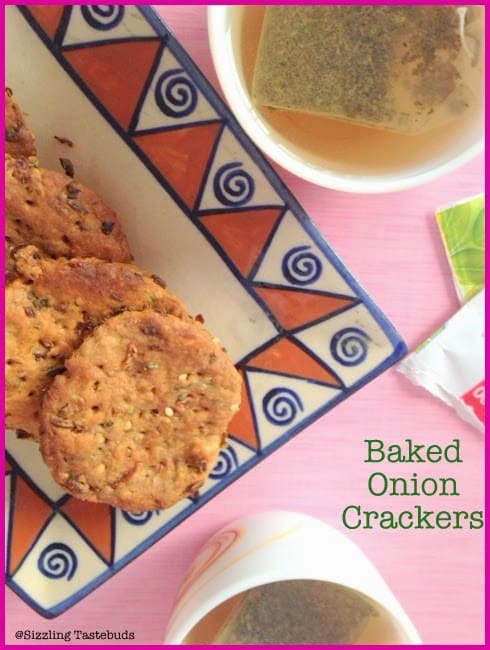 Pin
What you need:
Wholewheat flour – ½ cup
Maida (or APF) – ½ cup
Red onions – finely chopped (1/2 cup)
Melted ghee – 2 TBSP
Red chilli powder -1/2 tsp
(optional)
Olive oil – 2 TBSP
Salt – to taste
Coriander leaves – a handful
Baking Soda – ½ tsp
Sesame seeds – a handful
Warm water – to bind
Minced Green chillies – 2 to 3
(adjust taste)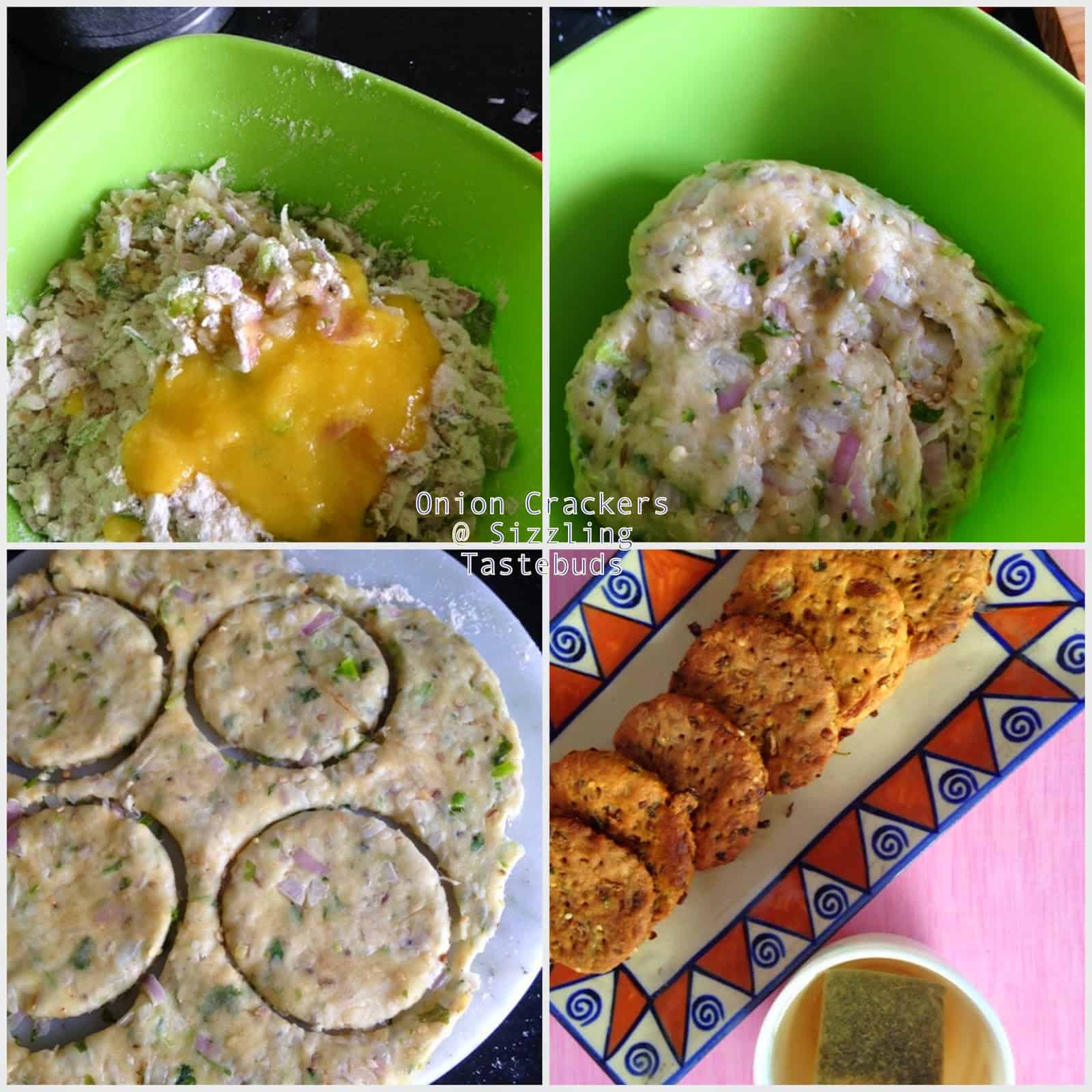 Pin
Method:
Sieve both flours with soda and
salt.

Rub in the ghee into the flour till resembles bread crumbs.

Add onions, coriander leaves, chillies, sesame seeds, oil and mix
together.Use minimal water to bring it to a
dough.
Rest the dough for 15-20 mins or
refrigerate it. Pinch out a big roundel, and roll it with the help of flour
like a chapatti.
Preheat oven to 165 deg C, and
line a baking tray with parchment or grease it.
Using cookie cutters, cut out cookies,
place in the baking tray. Poke with a fork to prevent them from fluffing up. Finish with all the dough, scraping out extras to
make smaller cookies if remaining.
Bake for 10-15 mins, keep an eye
after 12 mins, to prevent burnt cookies. When they are almost hard, take them
off and cool them, they will slightly harden on cooling and get crispier.
Enjoy with a cup of hot tea.
Notes
1. As I had used a dash of red chilli powder, they look a little dark, the second time I skipped the chilli powder, and got slightly buff – coloured cookies
2. If you cant roll out roundels smoothly, pinch put a smaller portion of your dough, place between two greased sheets and flatten lightly with your palms to get a smooth, flat disc. Peel out carefully and place on the baking tray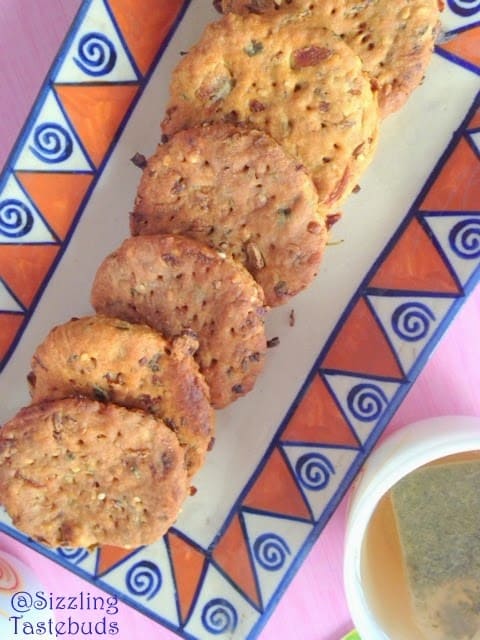 Pin
Bakes so far:
Day 1 – Wholewheat Orange – Almond
Cake
Day 2 – Veg Au Gratin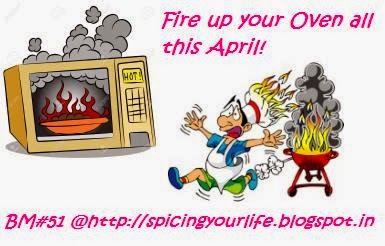 Pin
Check out the Blogging Marathon page for the other Blogging Marathoners doing BM# 51