Vattalkozhambu or a tangy gravy made sans vegetables (or using just a few or dried condiments) is a lip smacking dish that is a hallmark of Tambrahm households. Continuing our guest post series here on Sizzling Tastebuds , our guestblogger Priya Iyer shares her heirloom recipe that she learnt from her mom & grandma with us. Priya who blogs at The Photowali is an excellent travel+ food blogger and is a cooking enthusiast too ! I haven't met her yet but we hit it off majorly as we blog in a few common online blogging groups. Her no-nonsense approach to life, and her vibrant pictures across various cuisines is something that appeals to me. 
Let's move over to Priya in her own words. Thank you Priya, for doing this yummilicous guest post for me. I sure would like to taste this when we catch at your hometown soon ! 
And dear readers, do make sure to read all her tips and tricks in the detailed Notes section at the end of the post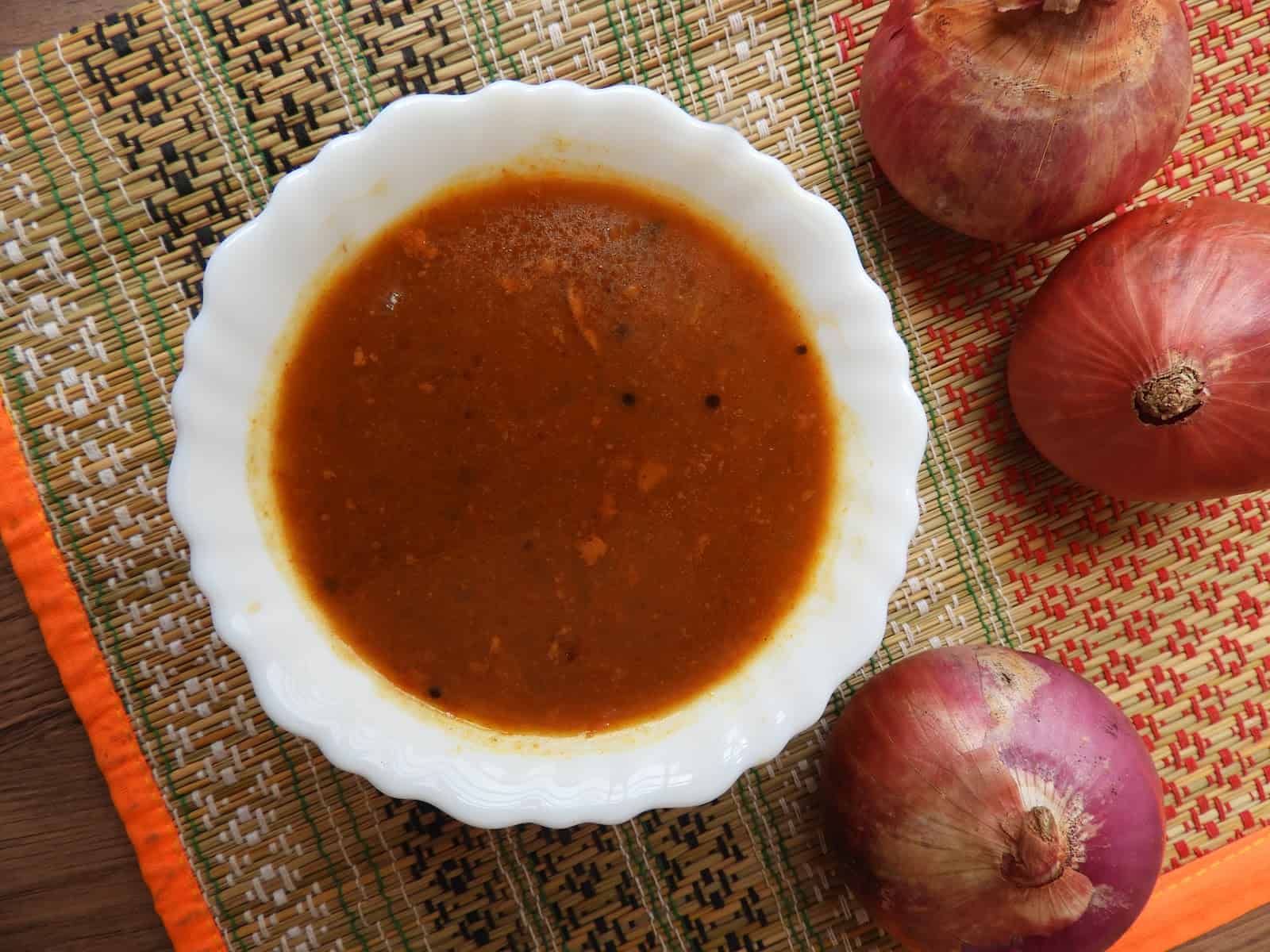 Pin

******************

Vengaya Vattalkozhambu | Onions cooked in tangy tamarind gravy

When Kalyani got in touch with me regarding a guest post on her blog, she told me to write about a family recipe that has always been comforting to me, and which I hold close to my heart. After a bit of thinking, I decided to share this Vengaya Vattalkozhambu recipe, the way my mom makes it.  

I have to thank Kalyani from the bottom of my heart for allowing me to share this recipe that is so close to my heart, allowing me to experience once again all those fond memories that are associated with it. I haven't had a chance to meet Kalyani yet, but we have interacted more than a few times, being a part of the same foodie groups on Facebook. She comes across as a warm, humble and jovial person, someone who loves cooking – her passion for cooking clearly evident on her blog. Sizzling Tastebuds  is a treasure trove of recipes, including some age-old Tam-Brahm ones and several world foods, and I am glad to have a chance for one of my recipes to be published therein. 

Vengaya Vattalkozhambu, for the uninitiated, refers to onions cooked in a flavourful, tangy tamarind gravy. The Tam-Brahm way of making it is very simple, needing just a few ingredients. In fact, Amma tells me that, in the olden days, women would make vattalkozhambu in times when funds were low or when the house pantry didn't have much to offer for any reason. It is a versatile dish that can be made using quite a few vegetables, and onion is one of those.  

Vattalkozhambu takes bare minutes to prepare, but is a finger-licking delicious confection that has the power to soothe your soul. At least, it does for me. This dish spells out 'home' to me. I remember Grandma – and my mother after her – preparing onion vattalkozhambu on good and bad days, as it was so much loved by everyone in the family. The mere smell of the gravy cooking was enough to bring a smile on my face, and that remains the same till date. No wonder this is the dish I resort to making when I am down or on days when I want to eat something hearty, but am clueless about what to make. 

Onion Vattalkozhambu, in my opinion, is best had with hot, steamed rice with cooked toor daal mixed in, with a little salt and ghee. Best combination ever! Appa loves having it with plain parathas and potato roast. For the purpose of this guest post, I served it with toor daal rice and potato roast, making a veritable feast out of it.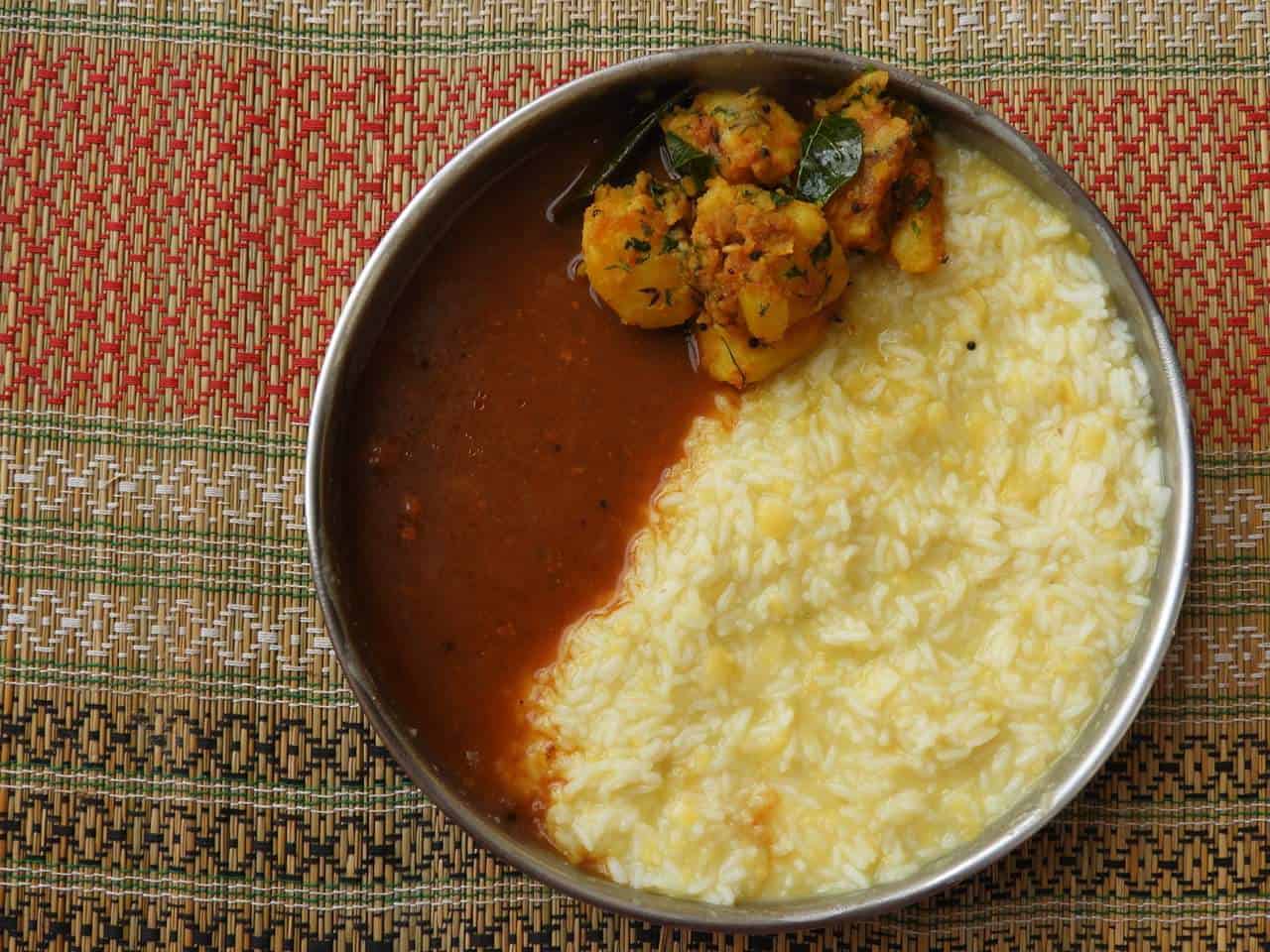 Pin

So, without further ado, here's presenting the recipe for Vengaya Vattalkozhambu a la Amma. Do try it out and let me know how you like it, will you? 

Ingredients (serves 4):
2 medium-sized onions 
A gooseberry-sized ball of tamarind
1 tablespoon sesame oil 
teaspoon mustard seeds 
a generous pinches of asafoetida 
A pinch of fenugreek seeds
2 sprigs of fresh curry leaves
2-3 dry red chillies 
Salt to taste
½ teaspoon turmeric powder 
Red chilli powder to taste 
1-1/2 tablespoon sambar powder 
1-1/2 tablespoon jaggery powder or to taste
1 tablespoon rice flour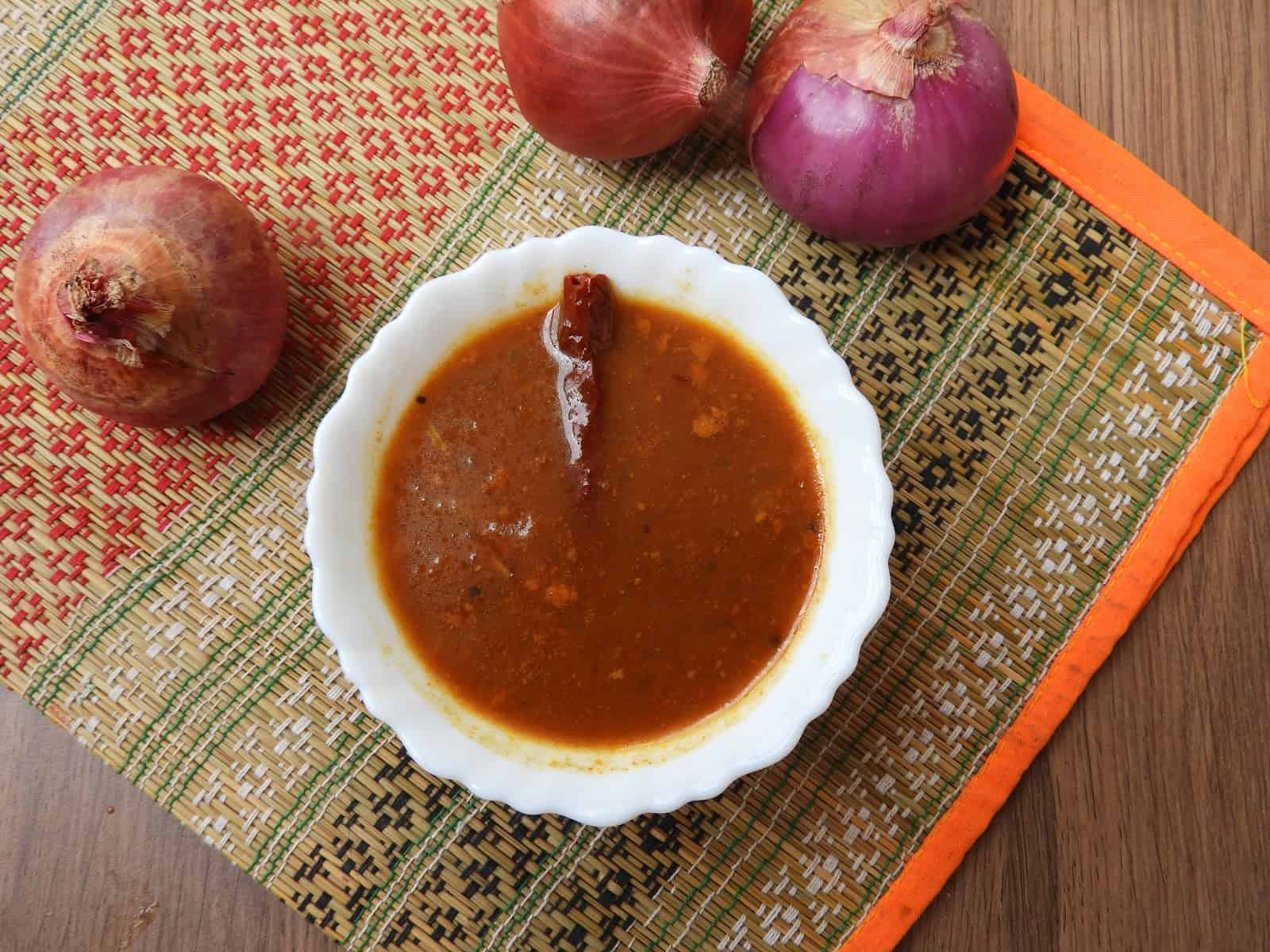 Pin
Method:
Soak the tamarind in a little warm water for at least 10 minutes. When it has turned soft, extract all the juice from it adding about a cupful of water, a little at a time. Keep aside. 
Meanwhile, peel the onions and chop them finely. Keep aside. 
Heat the oil in a pan. Add the mustard seeds and allow them to sputter. Add in the fenugreek seeds, curry leaves, dry red chillies (each broken into two) and asafoetida. Let them stay in for a couple of seconds. 
Now, add the chopped onions to the pan. Saute on medium flame till they begin to turn brown. 
Add the tamarind extract to the pan. Cook on medium heat for 2-3 minutes, or till the raw smell of the tamarind goes away. Stir intermittently. 
Keeping the flame on medium, add about 1-1/2 cups of fresh water to the pan, along with salt to taste, sambar powder, turmeric powder, red chilli powder and jaggery powder. Mix well. 
In a small bowl, make a slurry of the rice flour with a little water. Make sure there are no lumps. Add this slurry to the pan. Mix well. 
Cook on medium flame for 3-4 minutes more, or till the gravy thickens slightly. Stir intermittently. Switch off gas. Serve hot or at room temperature with plain rice or rice with toor dal mixed in it. 
Notes:
Shallots or small sambar onions can be used in place of the red onions I have used here. 
For best results, use good-quality tamarind. 
If the tamarind you are using has impurities, do strain the extract before using it in making the vattalkozhambu. 
Adjust the quantity of water you use, depending upon the consistency of the vattalkozhambu you require. 
I use home-made sambar powder in the vattalkozhambu, which isn't very spicy. So, I add a bit of red chilli powder for spiciness. You may skip the red chilli powder altogether if the sambar powder you are using is spicy enough. 
Adjust the quantity of jaggery powder you use, depending upon personal taste preferences. I would not suggest skipping it, because it adds a lovely flavour to the vattalkozhambu. 
Sesame oil aka gingelly oil or nalla ennai works best in the making of vattalkozhambu. You can even use more oil if you so prefer. 
You can use wheat flour to make the slurry too, in place of the rice flour. Make sure there are no lumps in the slurry, before adding it to the pan.