To
me, personally, India came alive via a different kind of geography class this
Blogging Marathon. The North Eastern (NE) States of India (aka the 7 sisters)
posed such a googly to us marathoners that we were constantly in a
state of confusion, clarifications and even recipe sharing when it came to
authentic recipes from these Northern States. Assam, Arunachal Pradesh,
Tripura, Miozram, Meghalaya, Manipur & Nagaland comprise the 7
sisters. 
Never
in the history of BM, have we all been so frenetic in planning for the dishes !
What seemed to belong to one NE State also seem to be made in another.
Vegetarian dishes were rare to source out, and what seemed ok had either
unviable ingredients or strange sounding masalas. Amongst these NE states, we were so desperate at one point that we  decided that whoever makes one veg recipe should simply share and
others would make the same. In the end, I guess it all went well, and each of
us present these NE states from our own kitchens with our little own
substitutes or personal interpretations. However, it must be said that most of
the main course consists of beef and pork and dried fish, and is consumed with
very little oil and in a semi broth form. Some chutneys and pickle forms do
exist, but we definitely need to have an evolved palate to appreciate this
cuisine.
The 7 sisters – map courtesy : google images
When India became independent from the United Kingdom in 1947, only three states covered the
area. Manipur and Tripura were princely
states, while a much larger Assam Province was under direct British rule. Its capital
was Shillong (present
day Meghalaya's
capital). Four new states were carved out of the original territory of Assam in
the decades following independence, in line with the policy of the Indian
government of reorganizing the states along ethnic and linguistic lines. Accordingly, Nagaland became a separate
state in 1963, followed by Meghalaya in 1972. Mizoram became a Union
Territory in 1972, and achieved statehood – along with Arunachal Pradesh – in
1987. (Source – wikipedia.org)
Today's recipe is a Vegetarian Thukpa (pronounced as 'Thuppa' with a
silent K), and is essentially a broth with veggies and noodles. Its
predominantly made with Chicken, but as I said, we have made our slight
modifications with NE recipes to suit our palate and vegetarianise or veganise
them.
The ethnic cuisine of Arunachal Pradesh with great nutrients
value is simple to cook and scrumptious to consume. The incredible feature of tribal gastronomy is that
they avoid using any kind of oil or other dry or packed Indian spices. Rice
is the staple food of all the tribe's of Arunachal Pradesh. Dung Po (Steam
Rice) is the most popular version of cooking rice. Kholam is
also another popular and unique process of cooking rice. In this method a bamboo
tube is used instead of metal utensils. The rice is filled with water
in a custom made bamboo tube measuring 21/2 feet in height than it is left
beside the traditional heath with enough heat to cook it. Before eating the
rice the outer layer of the bamboo tube is delicately incised.


Source : http://www.amazingarunachal.com/cuisine.html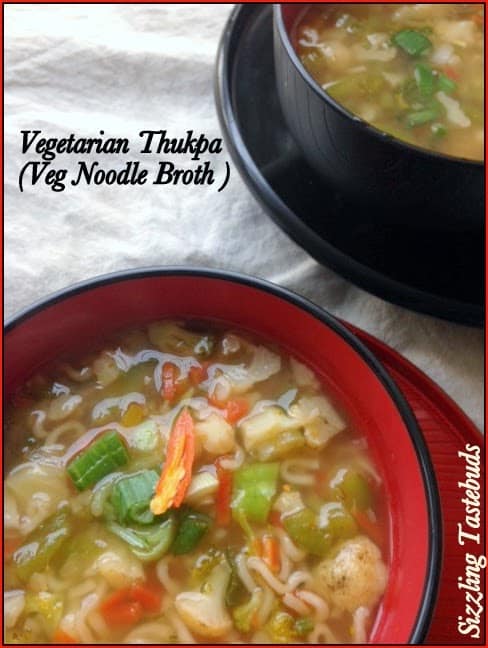 Pin

Coming back to today's recipe, It's a quick to make, hearty
broth – which is sipped as a soup / appetizer or even had as a main course.
Lets get to the recipe. Add chicken if you planning to make this
non-vegetarian. Tofu is also added, but as I have no takers for that at home, I
simply went ahead with the available ingredients.

—————————————————————————–

BM : 39 ~ Indian State : Arunachal Pradesh

Recipe : Veg Thukpa

Dish type : Main Course / Soup as Appetiser

Spice Level : Medium

Accompaniment : None or with bread

Prep Time : 15 mins, Cooking time : 10 mins ;
Serves : 2

————————————————————————–

Ingredients:
Veg Noodles – I used hakka – 50 gms
Veg Stock – 2 cups
Diced veggies (each about 25 gms) : Cabbage,
Carrots, French Beans, Cauliflower, Broccoli
Salt – to taste
Green chillies – slit (1- 2)
Spring Onions – to garnish (optional)
Oil – 1 tsp
Method:
Boil the noodles as per packet instructions.
Drain and reserve.
In a large pan, heat oil, and sauté the veggies.
Add the vegetable stock, salt and green chillies and bring to a simmer.
Once the veggies are ¾ done, add the boiled
noodles and turn off the stove.
Ladle it out into a soup bowl. Garnish with
spring onion and serve immediately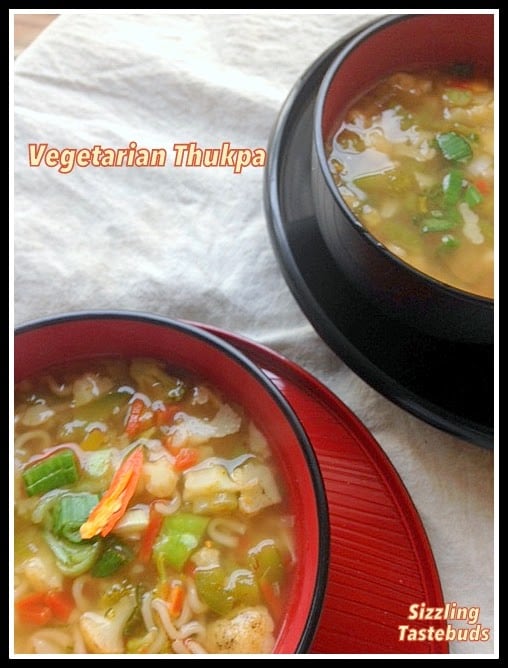 Pin
Notes:
 

Mushrooms
can also be added to the veg Thukpa
If
too bland, recommend adding a dash of soya sauce or sweet chilli sauce to liven up.
Any
veggies can be added – it's totally a personal choice.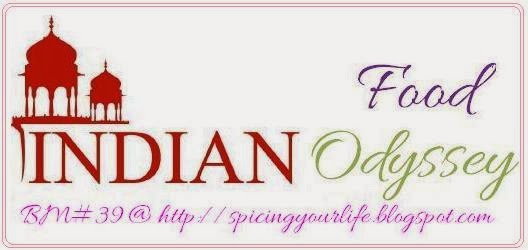 Pin
Check out the Blogging Marathon page for the other Blogging Marathoners doing BM# 39