This month of Guestbloggers, I am thrilled to have Sandhya of My Cooking Journey to do a guest post. I have met her through a common blogging group, and although I am yet to meet her in person (fingers crossed, we will, soon :)), I absolutely admire her zest for life and she's a very warm person to know.
Her traditional Tamizh cooking (with special tips and tricks that she passes from her mom or aunt's recipes) has been a hit everytime I try it at home – be it Kanjeevaram Idli, Special Oothapam, Aruchivitta Vathal Kuzhambu or even today's guest post for me – Mor Koozh (a.k.a Mor Kazhi at my place). She's a very sincere blogger and has a plethora of International and Indian food including amazing bakes too ! I am eyeing her Soft Pretzel bites recipe to bake soon 🙂
It's indeed a pleasure to host Sandhya for this month's edition of Guest blogging and let's hear from Sandhya in her own words… Thank you, once again for doing this guestpost… 🙂
***************************************
I have to thank Kalyani from the bottom of my heart to give me this opportunity to write a guest post on her blog. I am yet to see Kalyani in person, but we have become very close to each other through a mutual blogging group through which we were introduced. I am looking forward to this summer to meet her in person. If I have to talk about Kalyani, I have to say she is such a great cook. When she creates any of her traditional recipes, it makes me want to visit her soon to taste her cooking.
Kalyani always talks about my traditional recipes and that is the reason I chose an age old recipe that has been in my family for her. Even before this post is published, she has made the recipe and shared her delicious Mor kali recipe with me. I am so glad to have friends like you in the blogging world!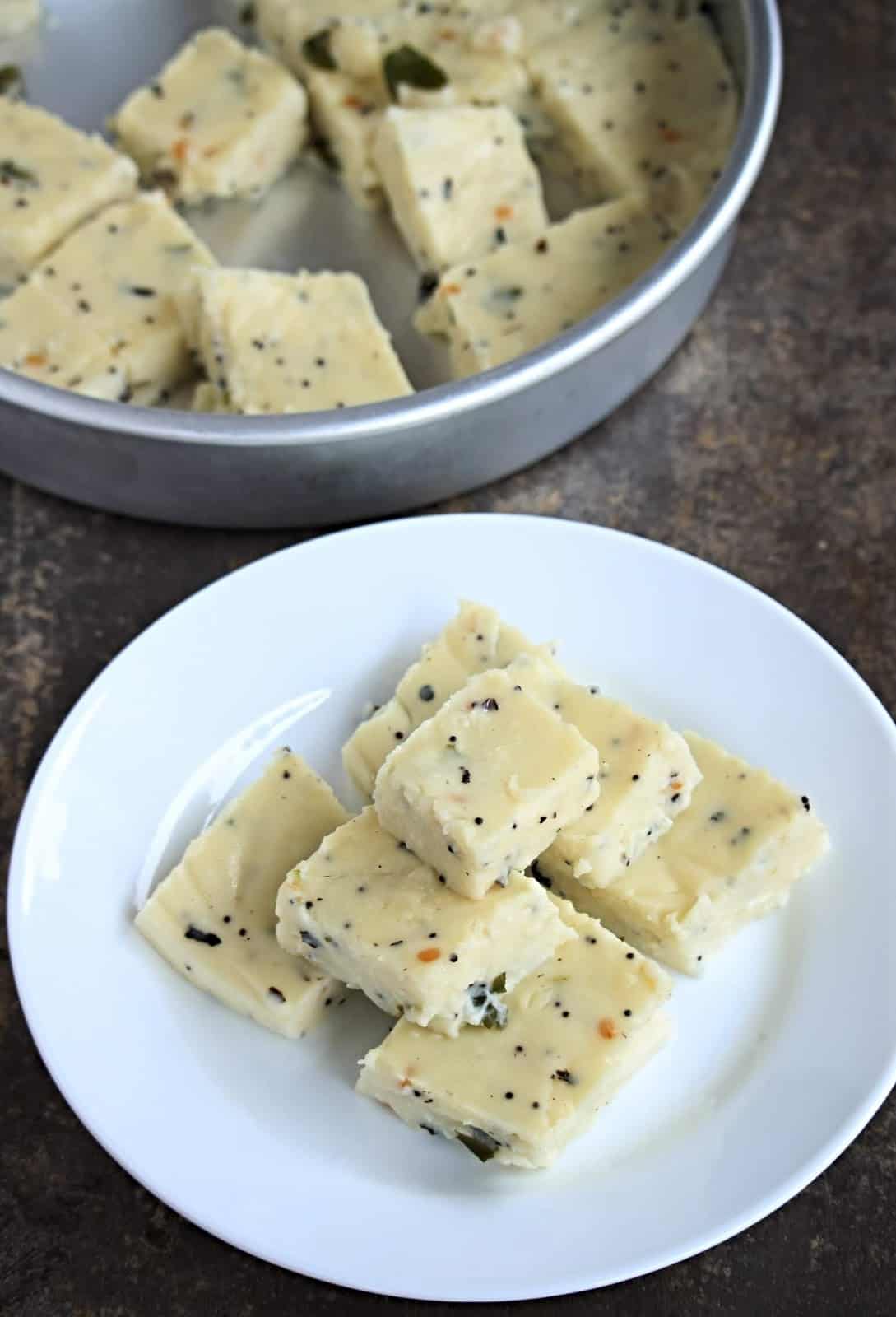 Pin
I grew up eating Mor koozh / Mor kali at my paati's house at least once a week. This was one of the best things that I loved. I used to look forward to eating this at my grandmother's place when we visited them for summer vacation. After few years we moved to Chennai and I was lucky to stay close to my grandparent's house. Now I got to eat it whenever my paati made it and even when I am not visiting her, she would pack and send a box for me.
Usually the mor koozh is served as upma but my paati made it interesting for us and made the mor koozh as a burfi or a cake. This made eating the mor koozh very easy and less messy. There are many memories that revolve around this mor koozh and anytime I make it or eat it, my thoughts go back to my days of growing up.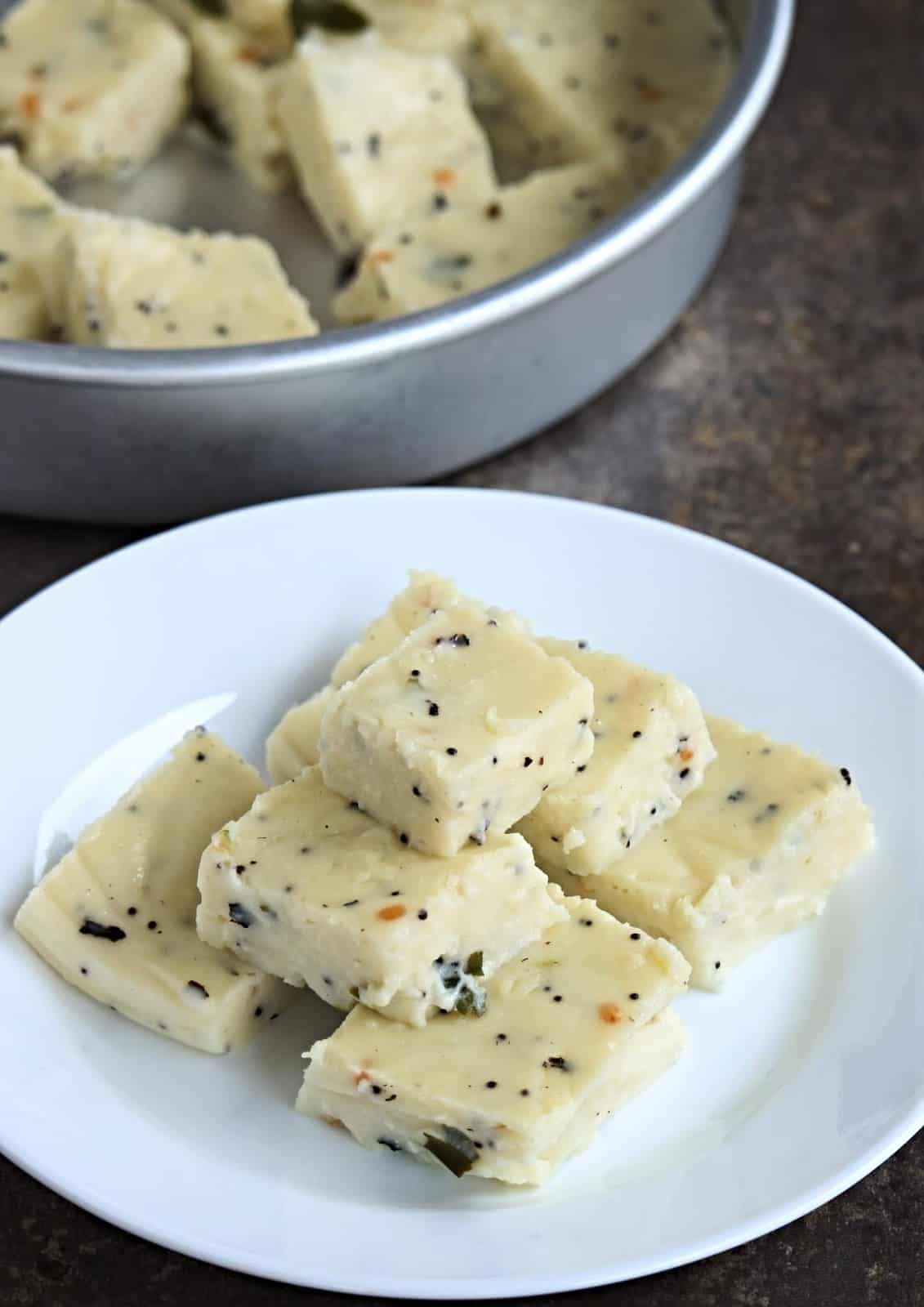 Pin
This is a gluten free (skip the asafetida) and completely vegan recipe. Texture happens to be a big issue for many since it is very smooth and gooey. My father is not a big fan of it for this reason. And for this reason, it is very easy for older people to eat it as they don't have to bite through hard pieces.
I have used mor milagai (sun dried green chilies) in the recipe as it adds a very different layer of flavor. If you don't have mor milagai in hand, skip it and use more green and red chilies for the heat. Make sure you make it a little spicy as it makes it even more delicious.
Preparation time – 5 minutes
Cooking time – 20 minutes
Difficulty level – easy
Ingredients – Serves 4 to 6
Rice flour – 1 cup
Sour buttermilk – 1 ½ cups
Water – 2 to 3 cups (or as needed)
Mustard seeds – 1 tsp
Urad dal / Ullutham paruppu – 2 tsp
Mor milagai – 3 (optional)
Green chilies – 2 to 3
Red chilies – 2
Curry leaves – few
Asafetida – 1/8th tsp
Salt – to taste
Nallennai / Gingelly oil – 3 TBSP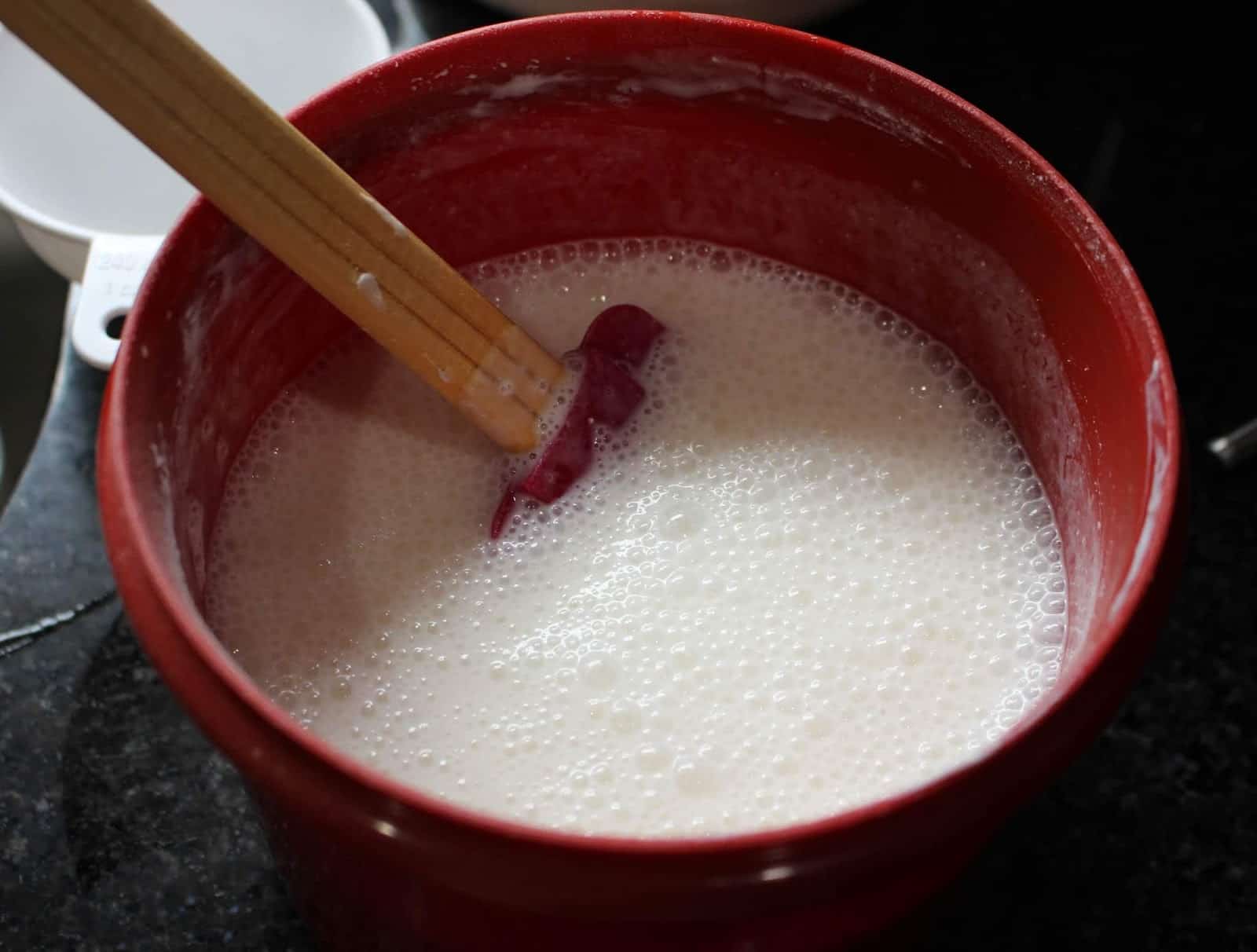 Pin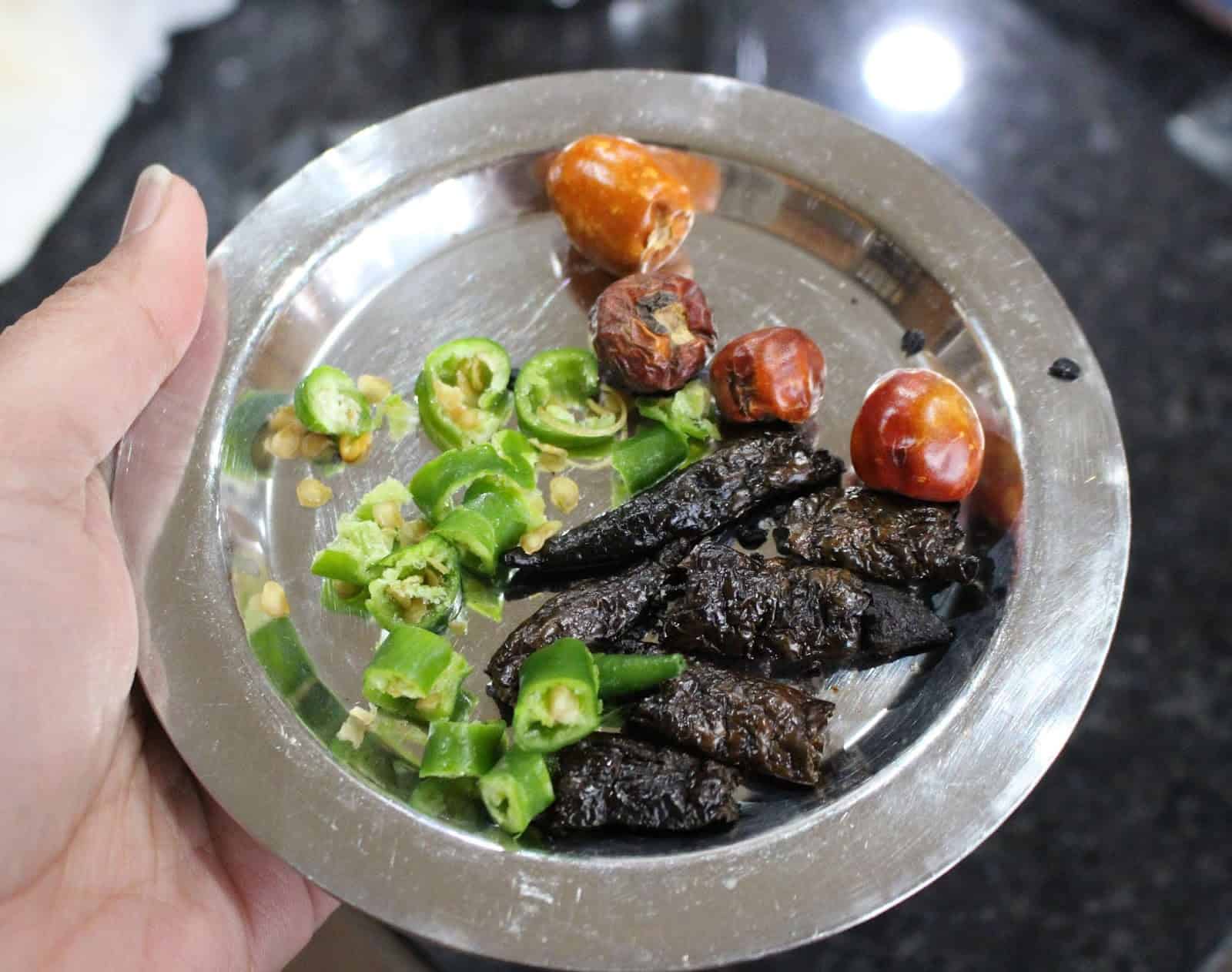 Pin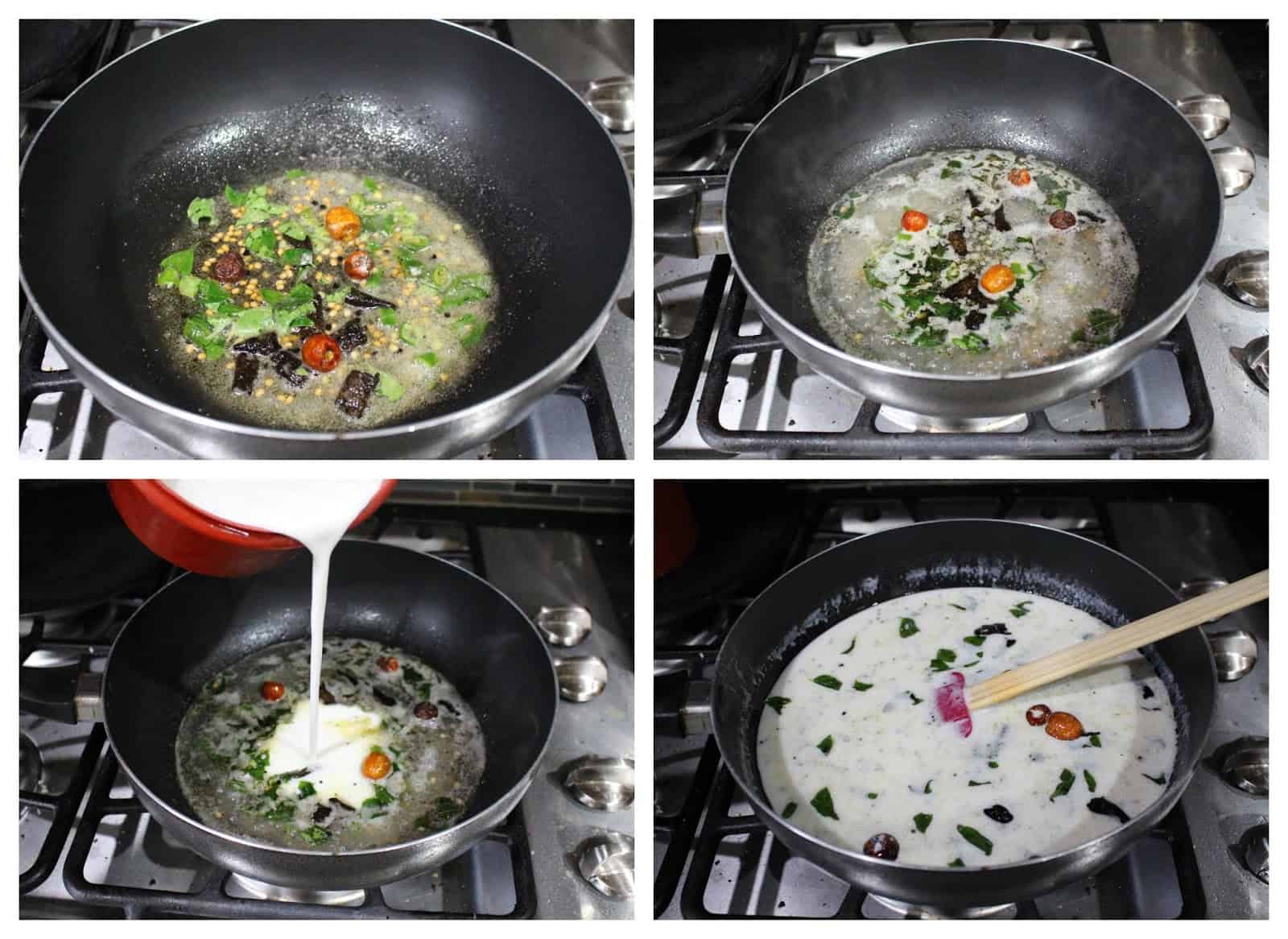 Pin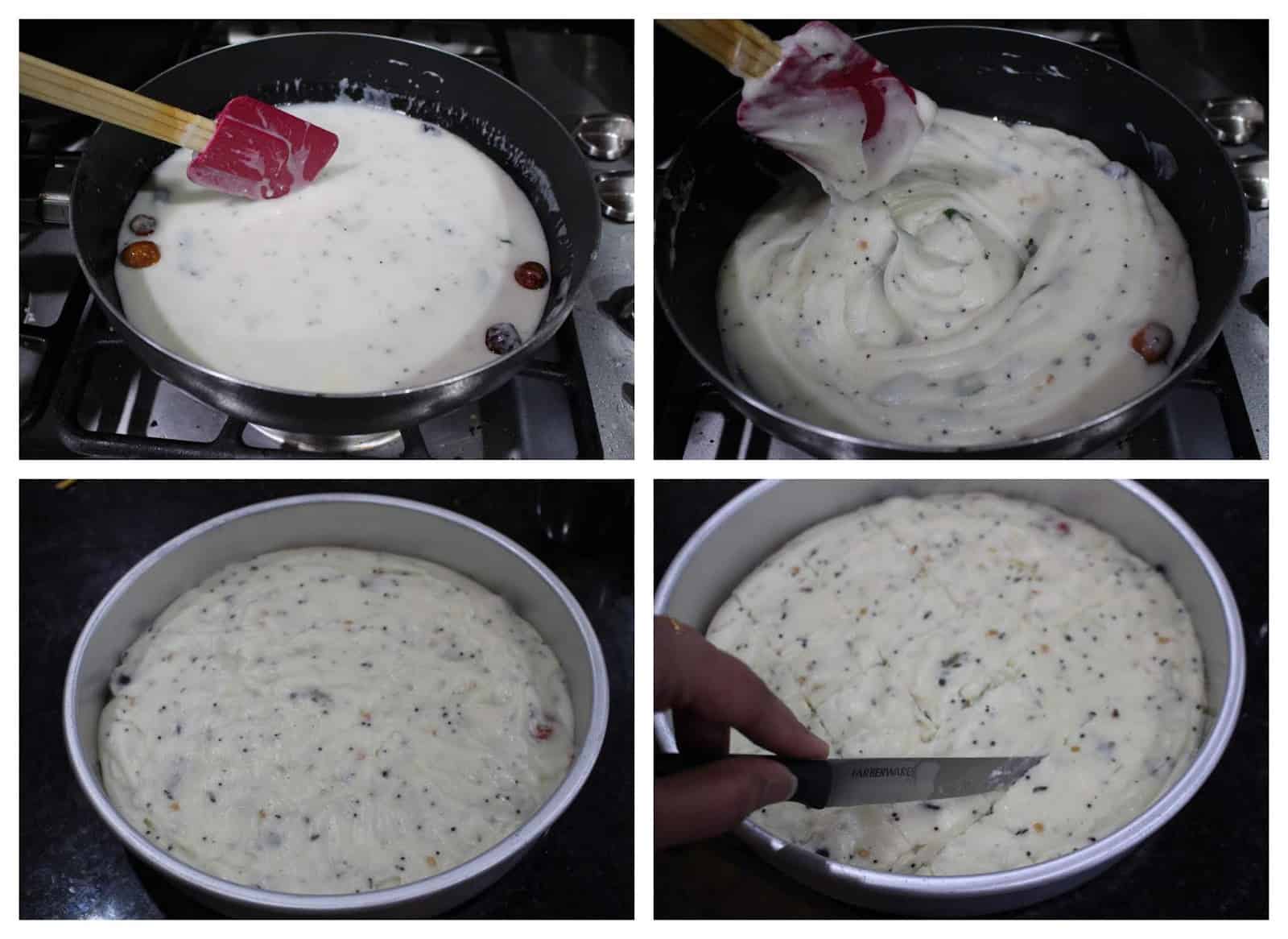 Pin
Procedure –
Whisk the buttermilk and add about a cup more of water to it.
In a bowl, measure the rice flour and add the buttermilk mixture to it. Using a whisk combine the mixture well without any lumps. Add the salt needed and mix well.
In a heavy bottom pan, heat the oil. Add the mustard seeds, urad dal and asafetida along with the different kinds of chilies and curry leaves.
Fry them until they are aromatic and then add a cup of water. Let the water come to a boil.
Now add the rice flour mixture to the pan and mix well to avoid any lumps. Cook the mixture in low to medium heat until it starts to thicken.
Keep mixing until the mixture starts to leave the sides of the pan.
Meanwhile, grease a pan to pour the mor koozh mixture.
Once the mor koozh is completely cooked, it will appear glossy and shiny.
At this stage pour the mor koozh into the greased pan and flatten it. Once it cools down a little, cut into squares using a greased knife.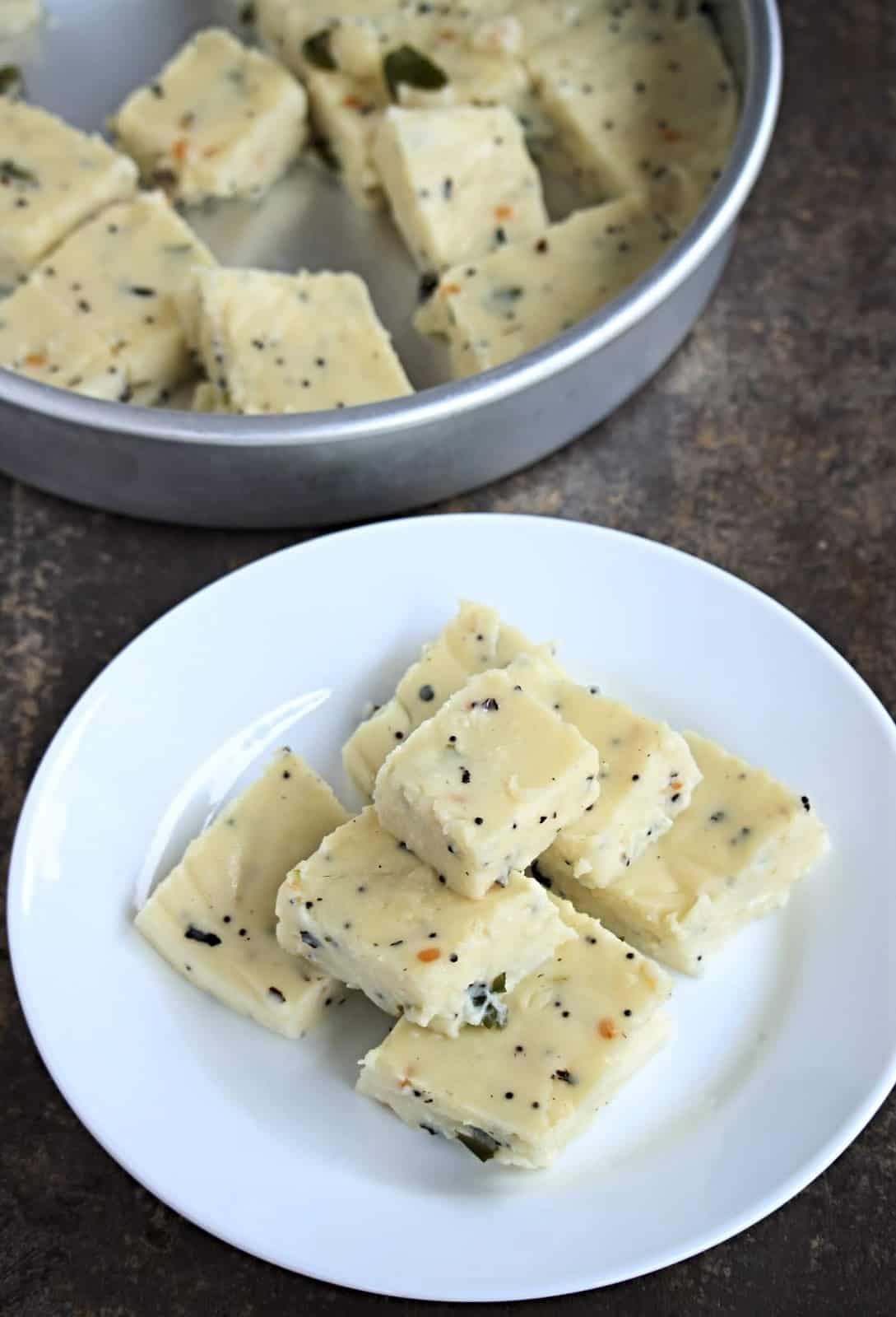 Pin