Magic Mingle – a name that conjures up a concoction of two ingredients that come together in an array of magical dishes, dished out from the members every month. It all started when S (as my husband is fondly referred to in this blog) & my elder daughter asked me why I always cook traditional stuff, and kiddo especially asked me to cook something 'different yet tasty' one day.
So, while Couscous Cutlets and Panner Tikka Frankies were accepted at the dinner table, my culinary adventures of mixing two totally different ingredients began. And why not make an adventure of it too, I thought .. And hence began the MM (Magic Mingle) journey, and happy to say we successfully complete 12 editions of the same. Thank you, dear members for making this a success. I do hope you have enjoyed the journey as much as I have done. This event is open only for MM Members. If you want to join this culinary bandwagon, drop me a line at [email protected] Meanwhile, thanks to Pradnya and Vaishali for hosting the Oct & Nov editions of Magic Mingle.
We have a new V 2.0 of MM beginning next month where we experiment further, but moving slightly out of the comfort zone. The MM members had voted in a survey last year that we are all ready to move into the next level of experimenting. That story can wait, for it unfolds in the Jan edition.
But till then, the ingredients for the 12th edition of Magic Mingle is very Christmassy (oh,with the year coming to a close, why dont we pick the choicest ingredients)….
Chocolates & Fresh Fruit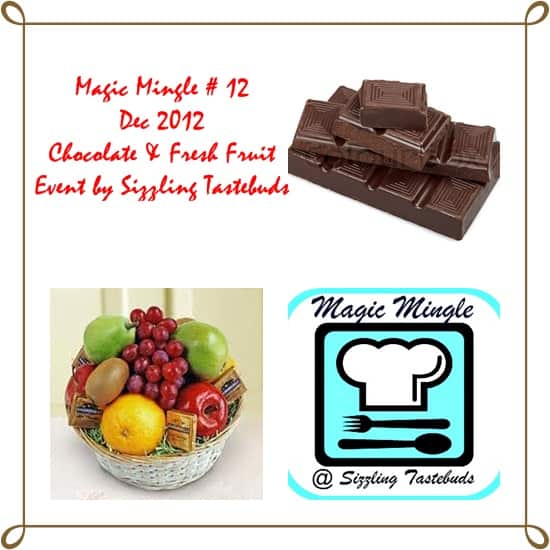 Pin

Simple rules for MM linking and ingredients:
Chocolate can be used in solid or liquid form. You may use white / dark / bitter / milk chocolates. However, only fresh fruit to be used (no candied peels or dried fruit as the main ingredients). Which means you can use fruit in puree or whole form only. But please remember these two are the star ingredients, so your dishes must showcase the same.
Event runs from 1st – 15th Dec 2012. Members' entries MUST have the logo and the link to this event announcement. All MM members are highly encouraged to visit the entries and leave a comment or two.
Once the entry is up, please link to the following Linky tool and mail the link to [email protected] with the subject "MM – Dec 2012".
Here's wishing you all a very merry X Mas in advance , and look forward to your entries
Cheers,
Kalyani