Chocochips are a recent addition to my kitchen – after I started baking seriously that is. Till then probably they were seen. I do make Banana Chocochip Yeasted no-knead bread, Classic Dark Chocolate Brownies, Multigrain Brownies, Coconut Vegan Chocochip Bread and probably 3-4 varieties of Cupcakes / Muffins with Chocochips. 


So, why a new bread with choco chips, you may ask. Well, I found this Vegan Bread recipe which I wanted to convert into Gluten Free too for a friend who had ordered this from me. When it came out rather well, I added a few more elements and personalised it to our palate.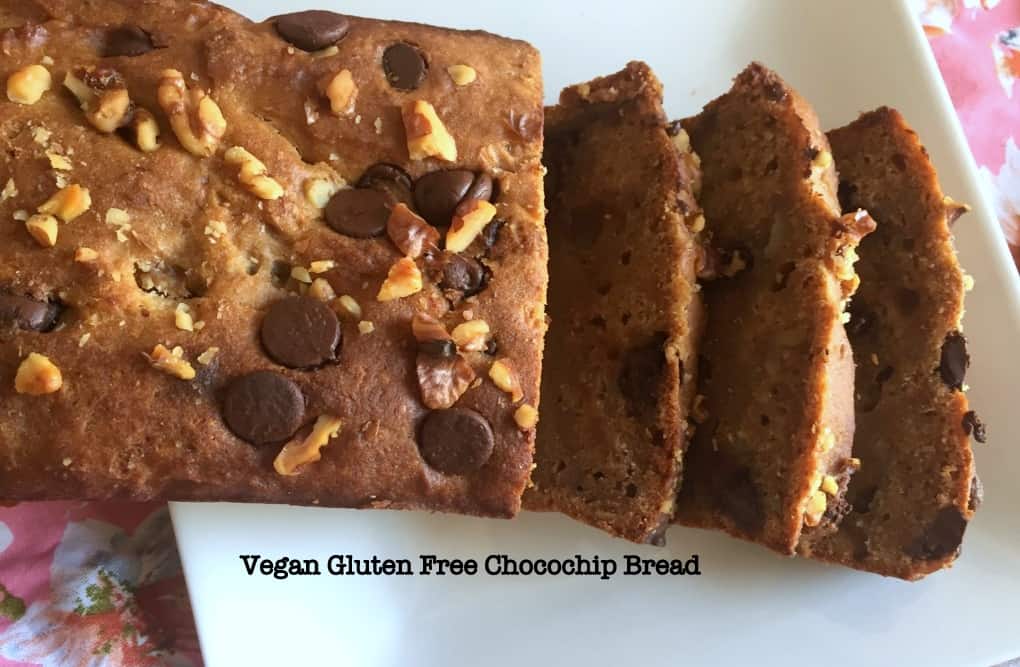 Pin



So there you have : a Vegan, Gluten Free (GF), Eggless, Choco chip Bread (which is more like a Tea cake) which we all rather liked. Once cooled, it slices beautifully. And is a perfect snack for tea time or to pack in kid's snack boxes. 

This too is going to my event –  Kids Delight event hosting + GIVEAWAY 

Make sure all your entries have a #KidsDelightChocoGiveaway hashtag embedded somewhere in the post to qualify as an entry !



Prep time : 15 mins , Bake time : 30-35 mins

Makes one 9*5 loaf or 2 mini loaves 

(actually a 8 1/2 * 4 1/2 loaf pan works best as the 9*5 kind of flattened out the bread)  



Dry Ingredients:
Rajgira flour (Amaranth Flour) – 1 cup
GF Oats Flour – 1/2 cup
Almond Flour – 1/2 cup
Baking powder – 1/2 tsp
Baking Soda – 1/2 tsp
Salt – 1/8 tsp
Wet Ingredients:
Sugar (Brown sugar / Coconut Sugar) – slightly less than 1/3 cup (or to taste)
Ripe Bananas – 3 nos (or 1 cup of mashed pulp)
Olive oil – 1/4 cup
Coconut Oil – 1/4 cup
Warm water – 1/4 cup (or as required)
Lemon Juice – 1 TBSP
Vegan Choco chips – 1/2 cup
Roasted Walnuts – for topping – 2 TBSP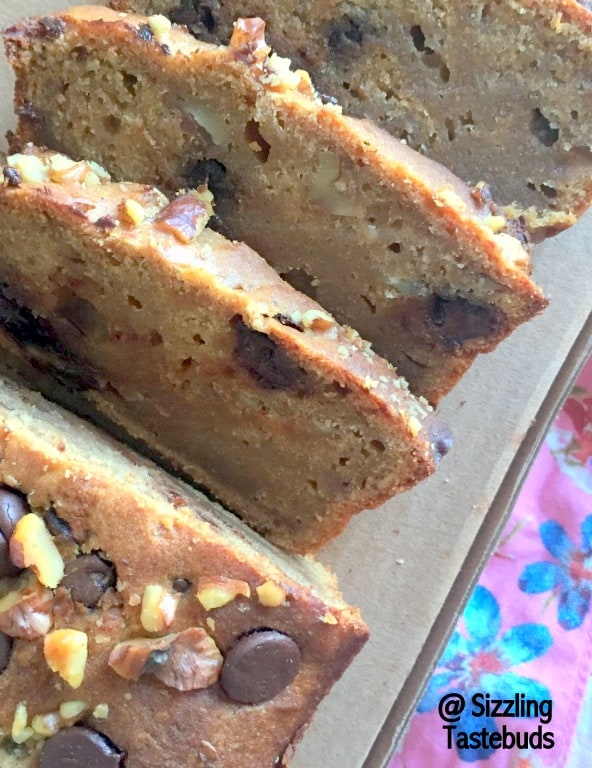 Pin
Method:
Preheat oven to 180 C / 375 F. Line a baking pan
Sift the dry ingredients thrice over. If you are not keen on it being GF, you can use wholewheat flour in place or Amaranth flour and normal Quick cooking Oats (roasted and powdered) in place of GF Oats. 
Except choco chips, mix all wet ingredients, Fold in half the choco chips and mix well. Now add the dry ingredients little by little and fold till there are no streaks of dry flour. Transfer the batter to a lined pan (I used a non stick so didnt line).
Top with remaining chocochips and roasted walnuts and bake for 20 mins at 180, then turn down to 175/170 and bake for another 10-15 mins till a skewer comes clean (oven temp may vary so do keep any eye after 18-20 mins).
Cool completely, remove to a cooling rack. Let it come to room temperature and then cut thickish slices with a serrated knife.
Serve warm or at room temperature. Keeps for 1-2 days on the countertop unless the temperature outside is very humid / hot.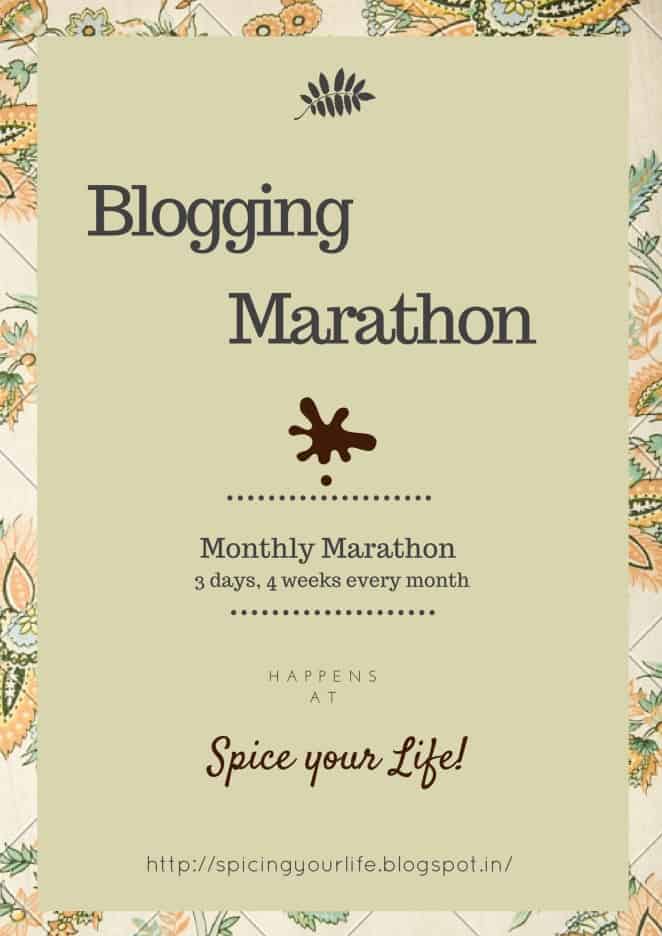 Pin
Check out the Blogging Marathon page for the other Blogging Marathoners doing this BM#61