A little bit of this, a dash of that, a hand ful of spice, and everything's nice 🙂 (hey! that rhymed) !! 🙂 This was the experience as I set out with my ingredients for the first Magic Mingle that me and some like minded bloggers are up this month with – Cinnamon and Chillies. Apparently they are very two different ingredients, but as you would see here, my versatile friends put up some amazing dishes using these ingredients.Today's dish –Spicy Cinnamon and Pepper Muffins– was my first savoury muffin ever, and a sellout success too.. As kiddo rushed up the stairs from school last evening, the first thing her nose told her was "" …mmmmm.. Cinnamon" .. Mission accomplished for ingredient one 🙂
Magic Minglebrings together two magic ingredients revealed every month and the members are to put together any dish that contains BOTH these ingredients. 
So, while we had these muffins with tea, kiddo lapped it up with her favourite side dish – tomato ketchup- and pronounced it yummm !! We all loved the peppery, spicy Indian-version of muffins (replete with coriander leaves & curry leaves too) and this is definitely going to be my to-go muffins for snack boxes and weekend baking. Am sooo happy to have discovered a non-sugary/ non-chocolate based muffin. You can play around the ingredients a bit to suit your palate. 
Let's get to the dish now.. Along with Magic Mingle, this dish also goes toPriya Sreeram hostingFast Food not Fat Food, event byPriya's Now serving, Vardhini'sBake Fest, hosted byPradnya & Vardhini'sNew U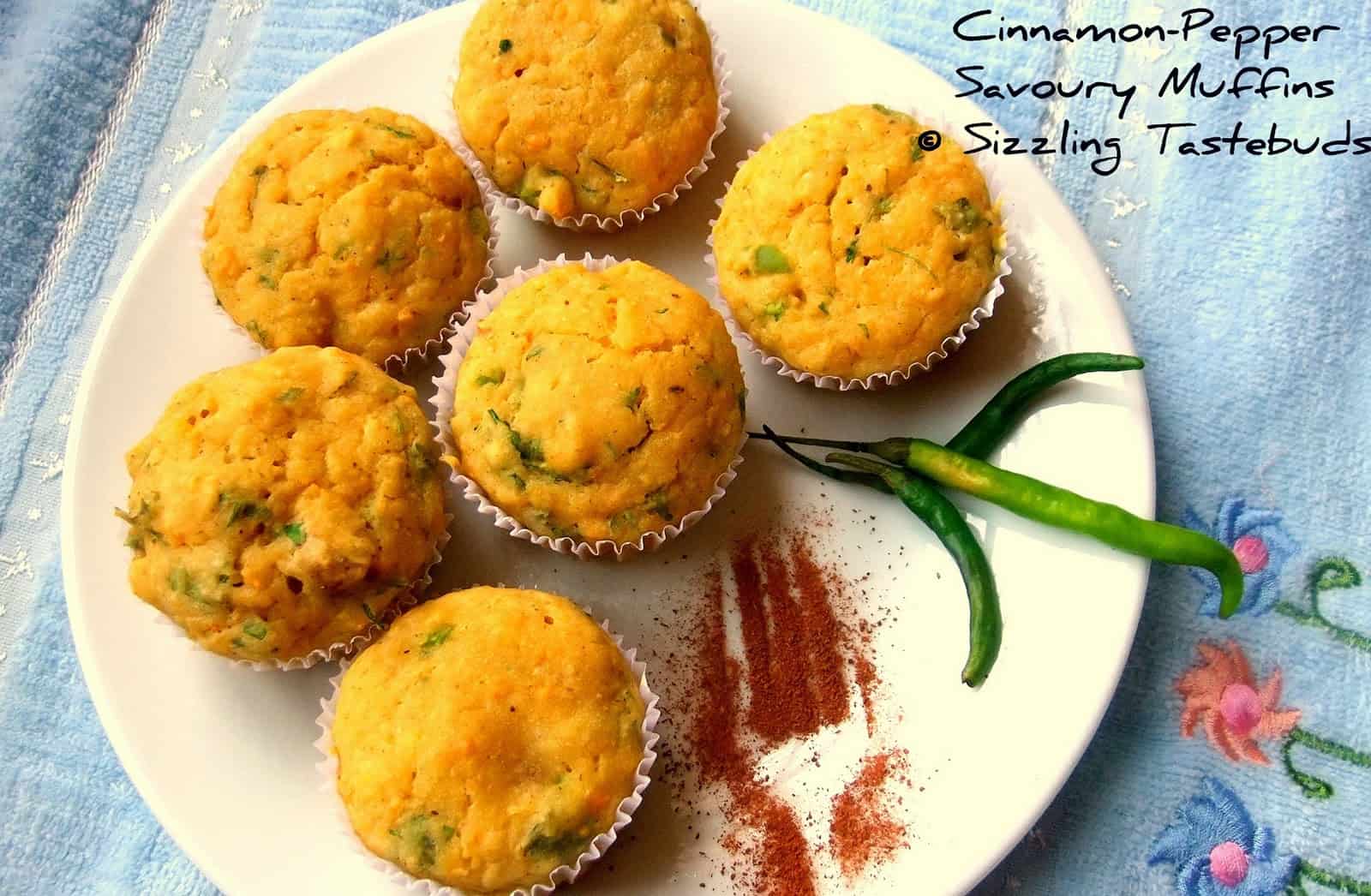 Pin

Prep time: 15 mins. Bake time : 18 – 20 mins (depends on the oven)

Makes: 6 muffins + 4 mini muffins

Ingredients:

Dry ingredients:
Wholewheat flour – 2/3 cup
Maida (APF) – 1/3 cup
Salt – ½ TBSP
Baking powder – ½ tsp
Baking soda – a pinch
Cinnamon powder – 1 tsp (and a pinch more)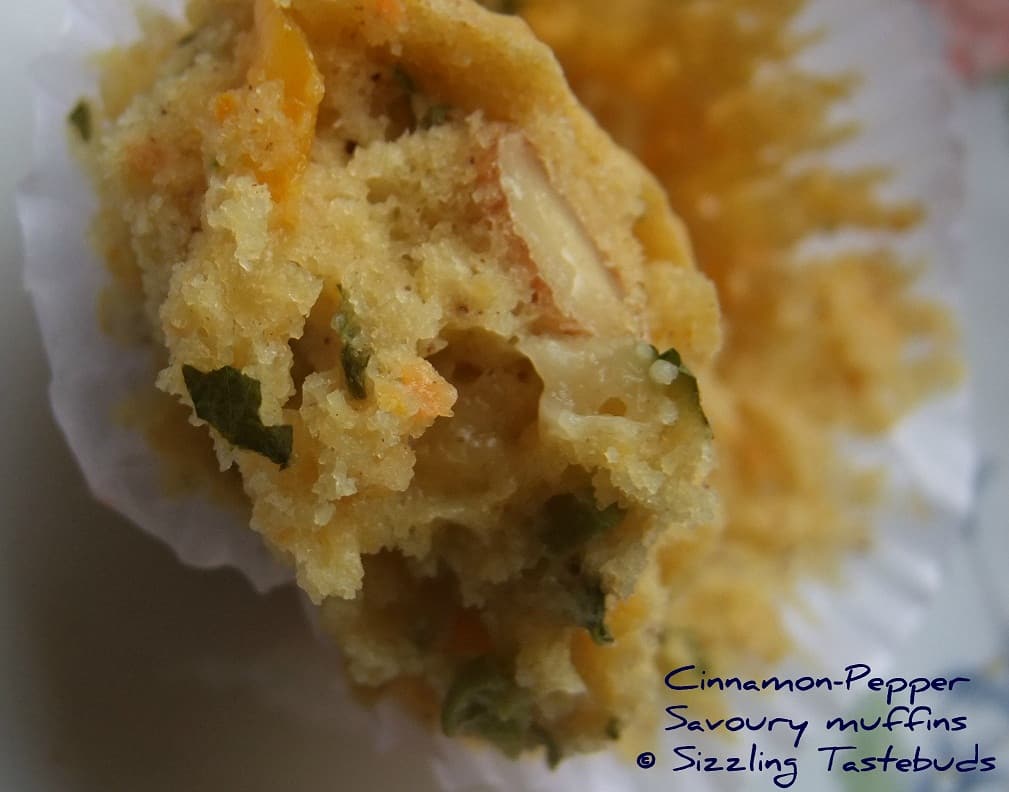 Pin

Wet ingredients
Curd / yoghurt – 1/3 cup (+ 2 TBSP more)
Olive oil – 3 TBSP (+ 1 tsp)
Veggies & Spices:
Sugar – 3 TBSP (opt.)
Capsicum / Bell peppers – ¾ cup chopped fine (I used yellow & green ones)
Carrots – finely grated – 4 TBSP
Green chillies chopped – ½ tsp
Chopped coriander and curry leaves chopped– 2 TBS P (opt but highly recommended)
Dried Chilli flakes – ¾ tsp
Chopped almonds – a handful (opt. But gives a nice crunch)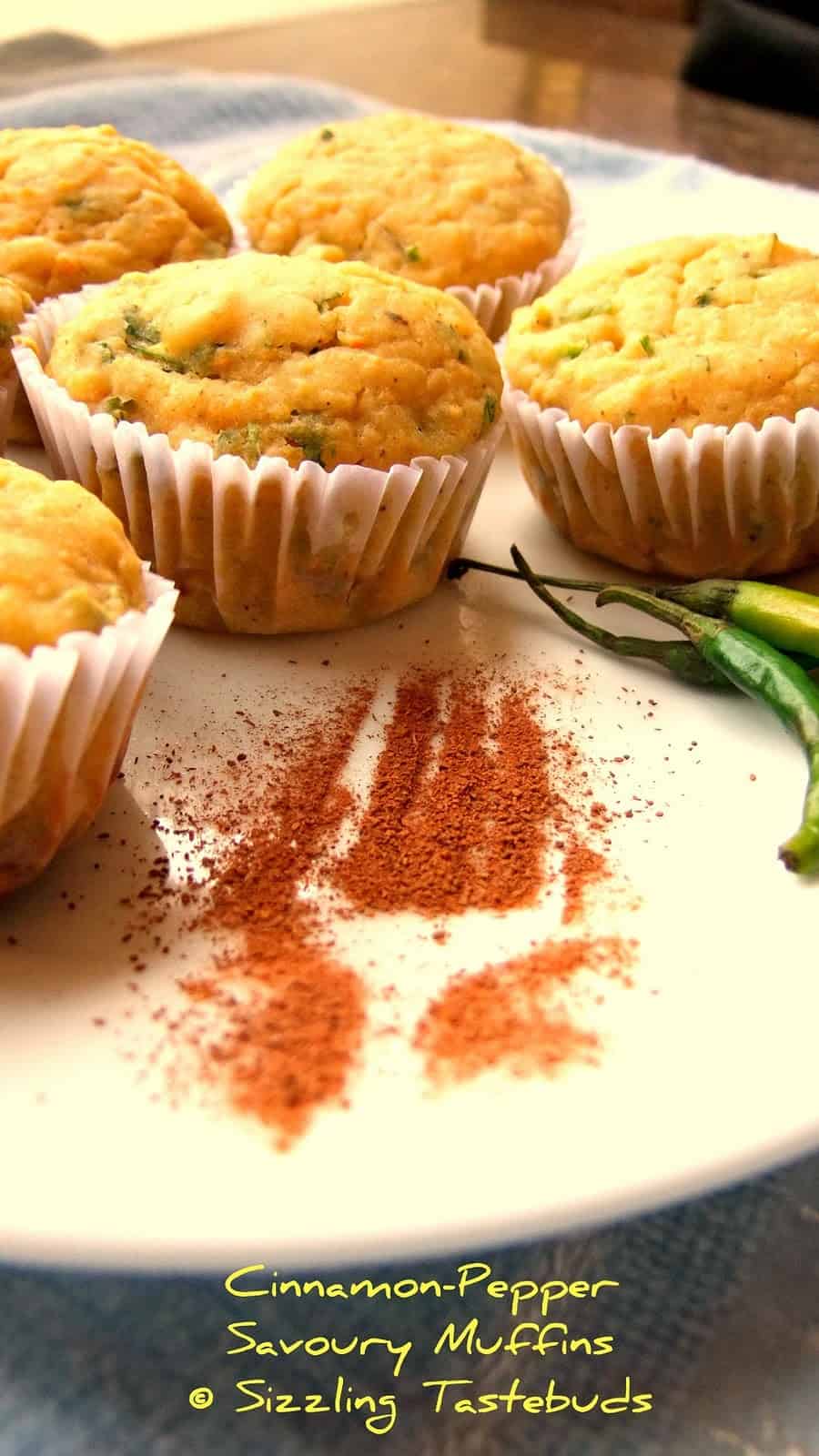 Pin
Method:
In a large bowl, sift both the flours along with all dry ingredients thrice over. Add the chopped almonds and mix once more.
Puree grated carrot, sugar, half of the minced chilles, bell peppers with curd to a semi coarse consistency. You need to get teeny weeny crunchy bites from the veggies
In another large bowl, whisk together the oil, curd-carrot puree, remaining chillies, chilli flakes, coriander and curry leaves. Mix well.
Preheat the oven at 180 deg C for 8-10 mins
Mix the dry mixture with the wet and with a spatula slowly fold in to a thick mixture. Add additional curd / oil if required to get a wet texture.
Line the muffin trays and spoon in ¾ of the cups. I had a little mixture left over, so spooned them into slightly greased small tart cups.
Bake at 180 deg C for 15 mins and then turn down to 150 and bake for next 4-5 mins. Check at the 18th minute – you don't want them overdone or browned
Remove from oven, cool a bit (my daughter cudnt wait any longer – she reached for a mini-muffin baked on a tart) and enjoy with tea or tomato ketchup (for kids).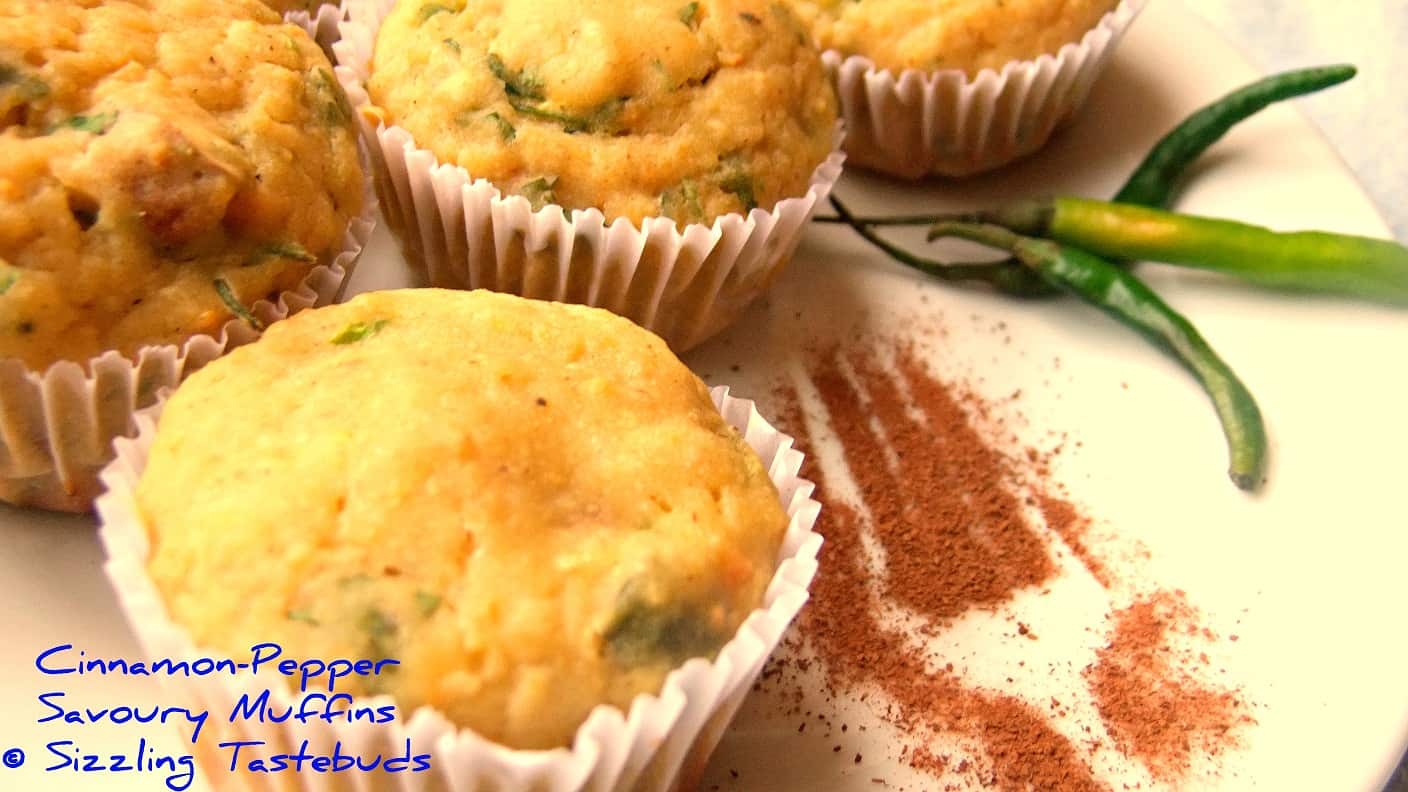 Pin
 Sending this to :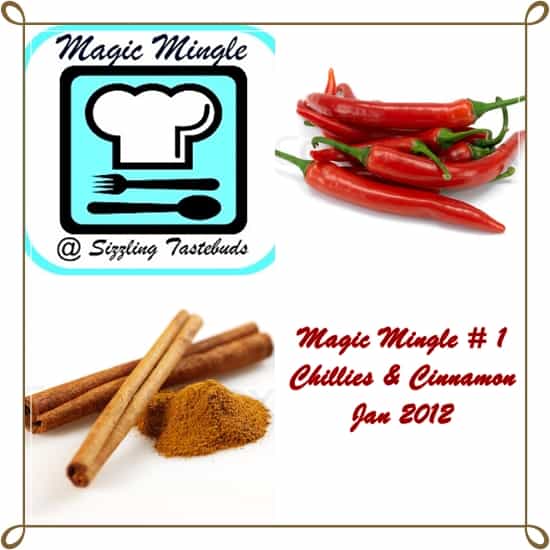 Pin
Pin

Pin