When there's chocolate, the chocolate lovers go absolutely overboard. But for a person like me, any excess chocolate (or even a tiny bit, unless its Lindt) puts me off. The kids had been asking for a decadent chocolate cupcake – bakery style, especially after the elder one saw I was making a post on hosting chocolate delights ! 
So, adapted Gayatri's recipe with some changes, halved it (or should I say made 1/4 of the recipe), made exactly 4 cupcakes, and voila, kids were super happy. The only other grumpy person was the husband who asked why I couldn't have made just ONE more for him ! ha ha 🙂
so, here they are " Triple Chocolate Cupcakes" – I think I used every form of chocolate I had at home that day and the kids had no qualms about gobbling it down – the mom in me was super happy and for once I relaxed although it was a chocolate overload ! 
Happy faces, happy mom :))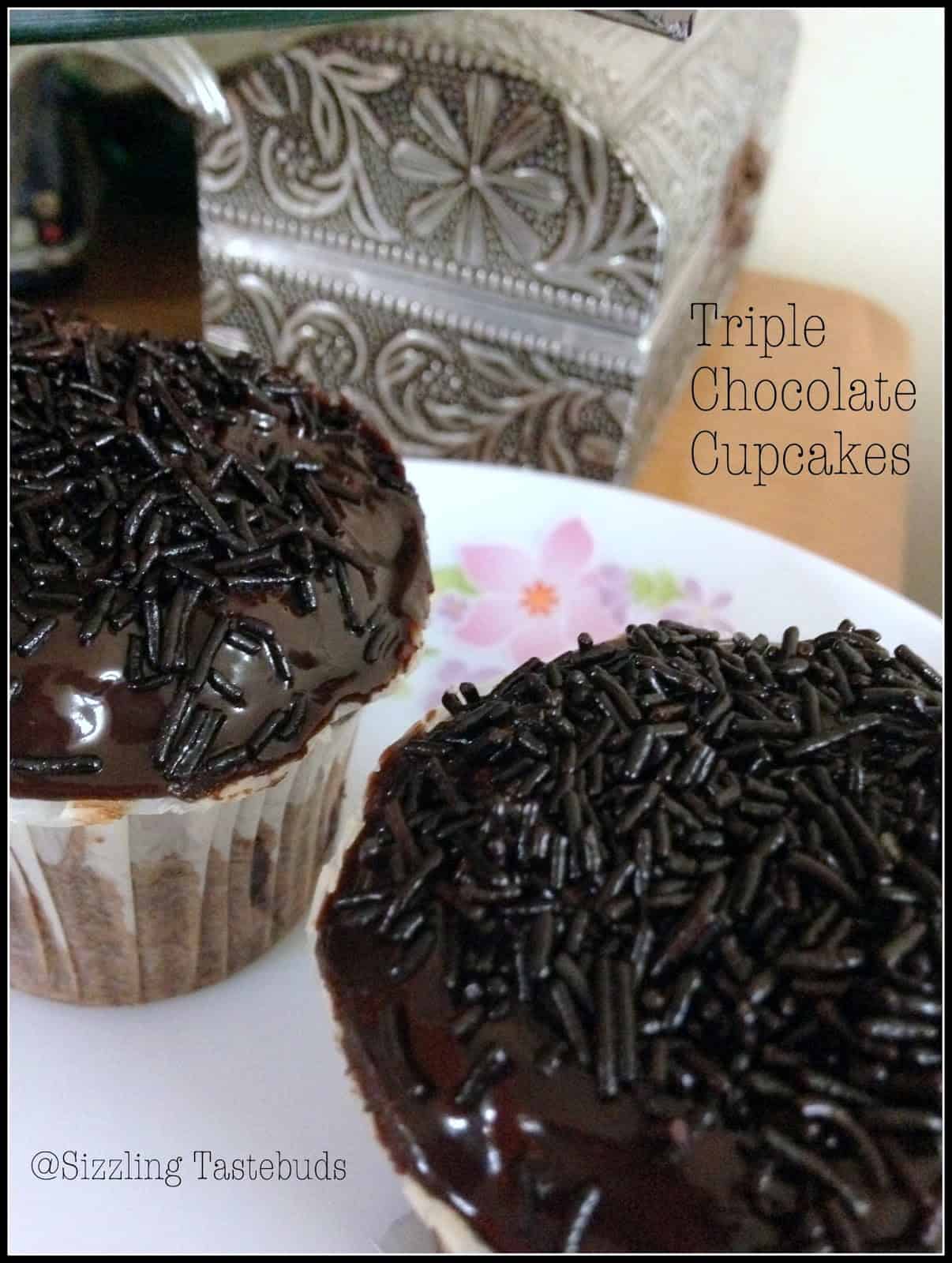 Pin

To make 4 cupcakes , you would need:
Whole wheat flour – 1/4 cup
APF / Maida – 2 TBSP
Oil – 1/4 cup (original recipe used butter)
Brown sugar – 1/3 cup
Baking soda – 1/2 tsp
hung Yoghurt – 1/3 cup
Dark Cocoa powder – 2 tsp
Vanilla Essence – few drops
Hot water – 3 TBSP (use as needed)
Frosting:
Real dark chocolate – 2 TBSP
Milk – 1/4 cup
Chocochips – 2tsp
Icing sugar – 1 tsp
Topping:
Glazed Chocolate sprinkles a.k.a Chocolate Vermicelli
Method:
For the Cupcakes–
Sieve the flours with baking soda and cocoa powder. whisk the yoghurt & sugar well. Add oil, vanilla essence and 1 TBSP of hot water. Now add the dry mix and fold in gently. If there are any dry streaks of flour, add 1 tsp of how water at a time and get a flowing batter (it would be slightly thick)
Pour into prepared muffin moulds with liners and bake at 180 C for 15-20 mins (mine were done at 18 mins). Cool a bit. 
Frosting–
While the cupcakes bake, prepare the frosting. Melt the chocochips and chocolate over a double boiler or in a microwave. Once slightly melted, add in the milk and icing sugar, take off heat and mix gently to a thick ganache / frosting (spoonable) consistency
Spoon the ganache while still warm over the slightly cooled cupcakes over a wire rack (lick the rest of the ganache / frosting that drips down :p), top with chocolate sprinkles.
Set for 5 mins in the fridge and see them disappear 🙂
Sending to my own event Kids Delight – Chocolate Dishes and BM 74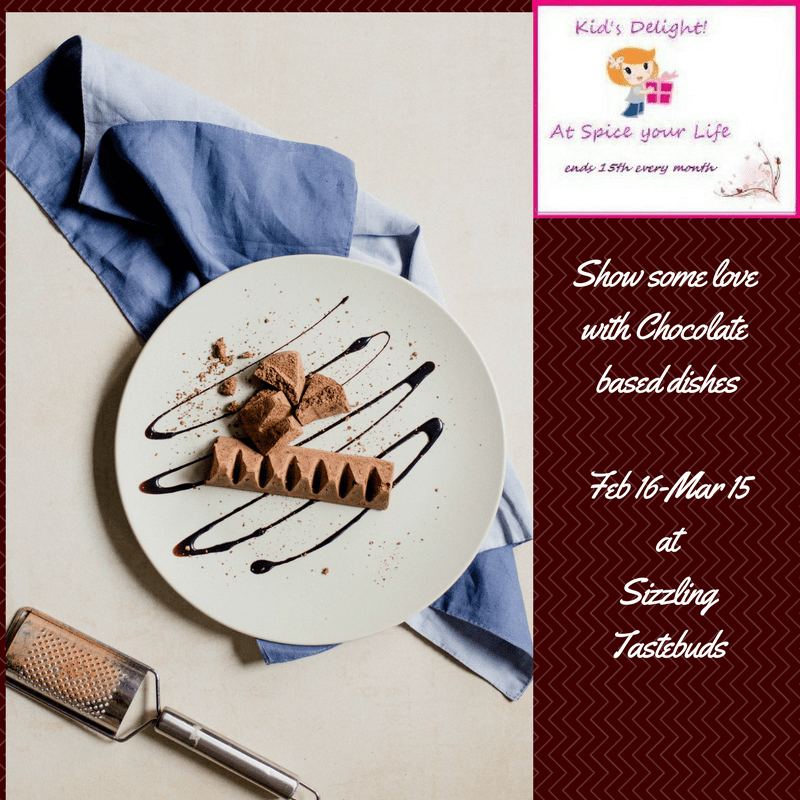 Pin
Pin