Thengaai barfi (or coconut fudge) brings forth so many
childhood memories. Of grandmom picking the coconut from our own backyard and
lovingly grating mounds of coconut and stirring it over a low flame wit sugar and
adding the ghee roasted raisins and cashew, cooling and cutting into pieces –
the wait would kill us, and we would grab each other's portion and try to
relish the delicacy for a long time – It might be a simple dish, but sometimes,
the memories associated with it is too profound to put in words…. Oh !! Can't
believe she is gone for over a year now.. I miss her terribly more so when I
(try to) recreate those memories through food.. Today's post is for u, my dear
grandmom J
I had already tried an earlier version
with jaggery , coconut and cashew here, and when mom took this quick-to-make sweet to another level with
the addition of a teeny weeny drop of Vanilla, I thought it was heaven come to
earth. I love both Cinnamon and Vanilla flavours a lot, and try to use them prudently
in most bakes and Indian sweets. Given that Elaichi is not so liked at home by
S, vanilla infused barfi is something you must try at home the next time you
make this at home, Am sure your family would love this.
Sending this over to BM # 29Day 3 under
colour White and events running at my blog "Healthy Me, Healthy Us" and "Kids Delight – Finger food". Also to Soumya's Authentic Indian sweetsevent
Prep time : 15 mins | Cook time : 15 mins
| Makes : 15 medium sized Barfis
Notes:
Only freshly grated coconut works best for this.
Sugar that I used gave mildly sweet fudge, adjust sugar to
taste. Do not add more sugar than the coconut measured (I measured by cup,
rather than weight) – you would end up with a crystalline fudge that hardens quite
a bit later.
No ghee or milk is required for this barfi, except to grease
the plate, and if preferred 1 tsp to fry the raisins and cashews (I didn't add
it this time)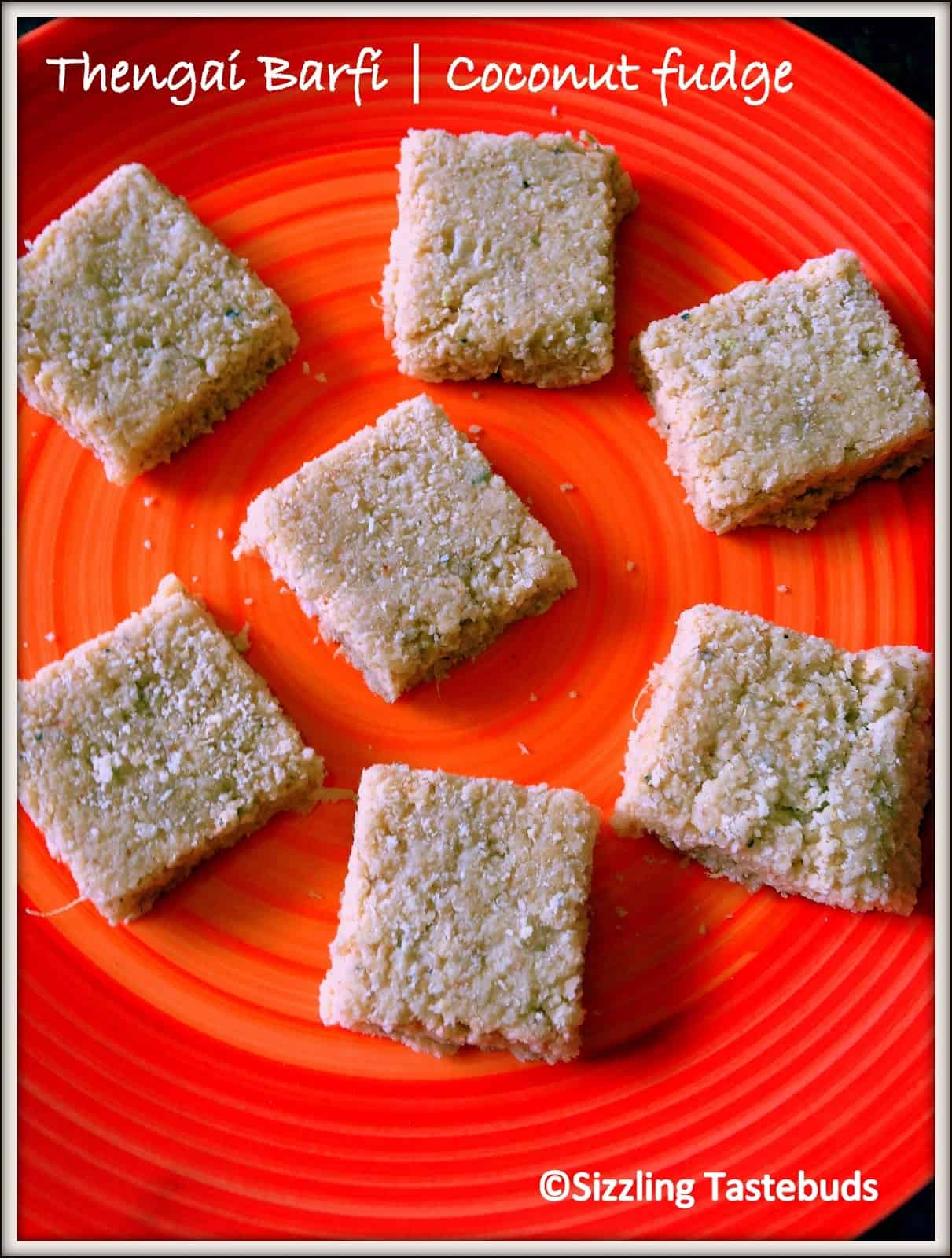 Pin
Ingredients:
Freshly grated coconut – 1.5 cups
Sugar – 1 cup
Vanilla essence – 1 drop
Green Cardamom powder, if adding– ½ tsp
Ghee / clarified butter – to grease the
plate
Method:
1) Powder sugar with green cardamom. In
another blender, coarsely make a paste of the coconut without any water.
Grinding coconut is optional, but it gives an even texture to the barfi and doesn't
come apart
2) Grease a plate with little ghee. Keep
aside
3) In a non stick pan, add the sugar. Once
it starts melting (abt 1 mins), turn flame to medium high and add the ground
coconut and stir continuously till the coconut is mildly roasted and mixes well
with the powdered sugar
4) Keep stirring now on low flame, till it
starts leaving the pan , and comes together as a lumpy mass (and is semi dry) –
should take about 8 – 12 mins. Now add vanilla and give it a quick stir.
5) Once the semi dry texture is obtained,
transfer immediately to the greased plate, and with the help of an oiled
spatula or rolling pin, roll it into a ½ inch thick square.
6) Cool for 10 – 15 mins and mark out
squares and once completely cool, cut out the pieces.Store in air tight container (or in a refrigerator).
Keeps well for a week.