Think Summer, think Smoothies, Coolers, Saladsand other quick Summer Meals without hovering over the stove for long time . Also, as kids are at home during the summer vacation, we
also need to give them healthy bites that fill their little tummies as well as providing them with energy. As with most smoothiesmade at home,
this too was an sugarfreeinnovation by hubby dearest. Well, he made the drink recently
and we all enjoyed it a lot… Needless to say, he never adds refined sugar to
any smoothie, but still manages to make it really yummy :-)) Do try this at home
and let me know how you enjoyed it… Off this goes to Day 1 of Week 4 of BM #30 under Summer Specials, Valli's Summer
Special Mela, Mir who is hosting Kids Delight – Summer Meals &
Saju who is hosting Ramzan
Fest.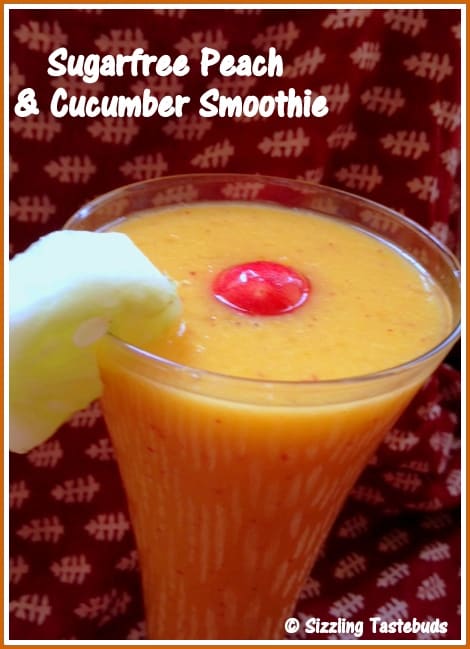 Pin
Prep time : 15 mins , No cook | Serves : 2
Ingredients:
Peaches – 3 medium
Honey -2 TBSP
Cucumber – 1/2 medium sized (diced fine)
Yoghurt – 2 TBSP (optional – I didnt add)
Almond Meal – 2 TBSP (Roast, deskin and pulse almonds to a fine
powder)
Ice cubes – as desired
Cherries – for topping
Optional addons – basil , Mint Sprig, Sugar, Plums, Cherries or
even Papaya !
Method:
Deseed cucumber and dice fine. Wash and quarter peaches. Pulse all
ingredients except ice into a thick smoothie. Strain partially. Add ice cubes,
top with cherries and serve chilled immediately :-))