Its time forBlog Hop Wednesdays! Paired withVidhya's blog (sugar n spice),I found her blog very interesting with a lot of baking stuff : My monthly baking schedule had taken quite a backseat, and I was craving to make something. Along with eggs (which I dont use), herrecipe contained strawberry (which is quite out of season now) and banana (already beaten to death earlier with my recipes –Eggless wholewheat Walnut banana Muffinsand  Eggless Oats Banana Muffins). So banana also was out of question !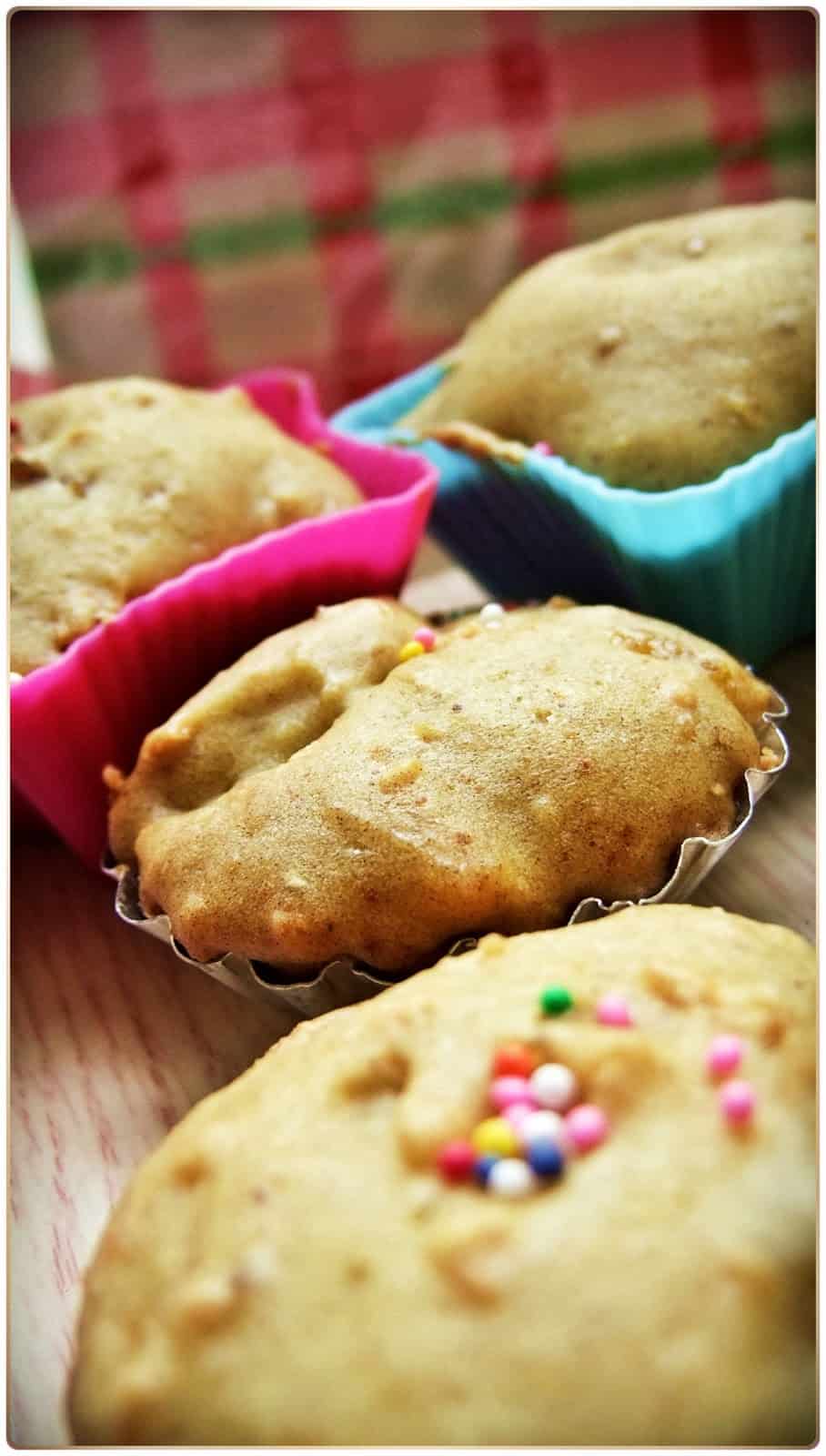 Pin

In keeping with my recent health spree, I was also determined to make this fat free and sugar free.. Then chanced to see a packet of dates lying in the pantry. I used dates as a sugar substitute , and used olive oil instead of butter or any fat . the nutty flavour of the olive oil combined with the coarse almonds and date puree worked like magic 🙂

I kept my fingers crossed till it came out of the oven , as I hadnt used any egg substitute either (like flax seed / condensed milk) . But this dessert – Eggless Dates and Almond Muffins- was wonderfully flaky on the top, and soft and moist at the bottom and everyone at home gave a thumbs up to this recipe.  The aroma of cardamom-cinnamon flavoured cupcakes wafted through my entire house , and kiddo smelt it up with a wide grin as she rushed back from school 🙂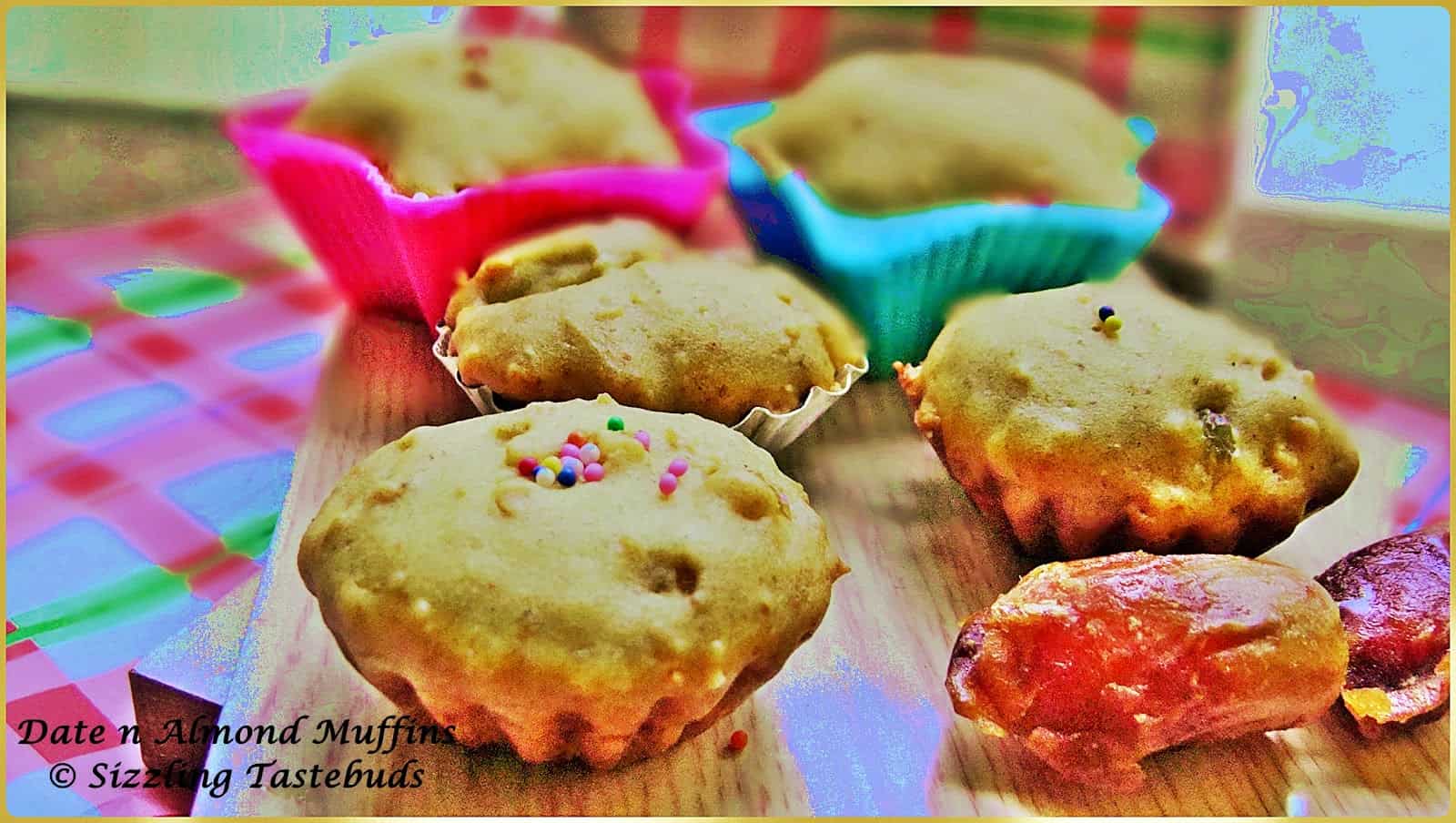 Pin

Now, off to the recipe, shall we ?

Do check out other eggless baking treatshere

 Wikipedia tells me
A muffin is an American English name for a type of bread that is baked in small portions. Many forms are somewhat like small cakes or cupcakes in shape, although they usually are not as sweet as cupcakes and generally lack frosting. Savory varieties, such as cornbread muffins, also exist. They generally fit in the palm of an adult hand, and are intended to be consumed by an individual in a single sitting.
Sending this to :
Prep time : 20 mins. Baking time : 15 mins. Makes : a dozen medium sized cupcakes.
Ingredients:
APF / Maida – 1 1/4 cup
Dates (pitted) – 15 – 20 (adjust suiting your palate)
Milk – 1/3 cup (needed more)
Baking Soda – 1/4 tsp
baking powder – 1 tsp
Salt – 1/2 tsp
Almonds – 50 gms
Meal maker / Soya granules (opt.) – a handful
Olive oil (EVOO) – 1/3 cup
Cinnamon powder – a dash
Almond essence – a dash
Elaichi (cardamom) – 1 no
Raisins – a handful (opt. but recommended)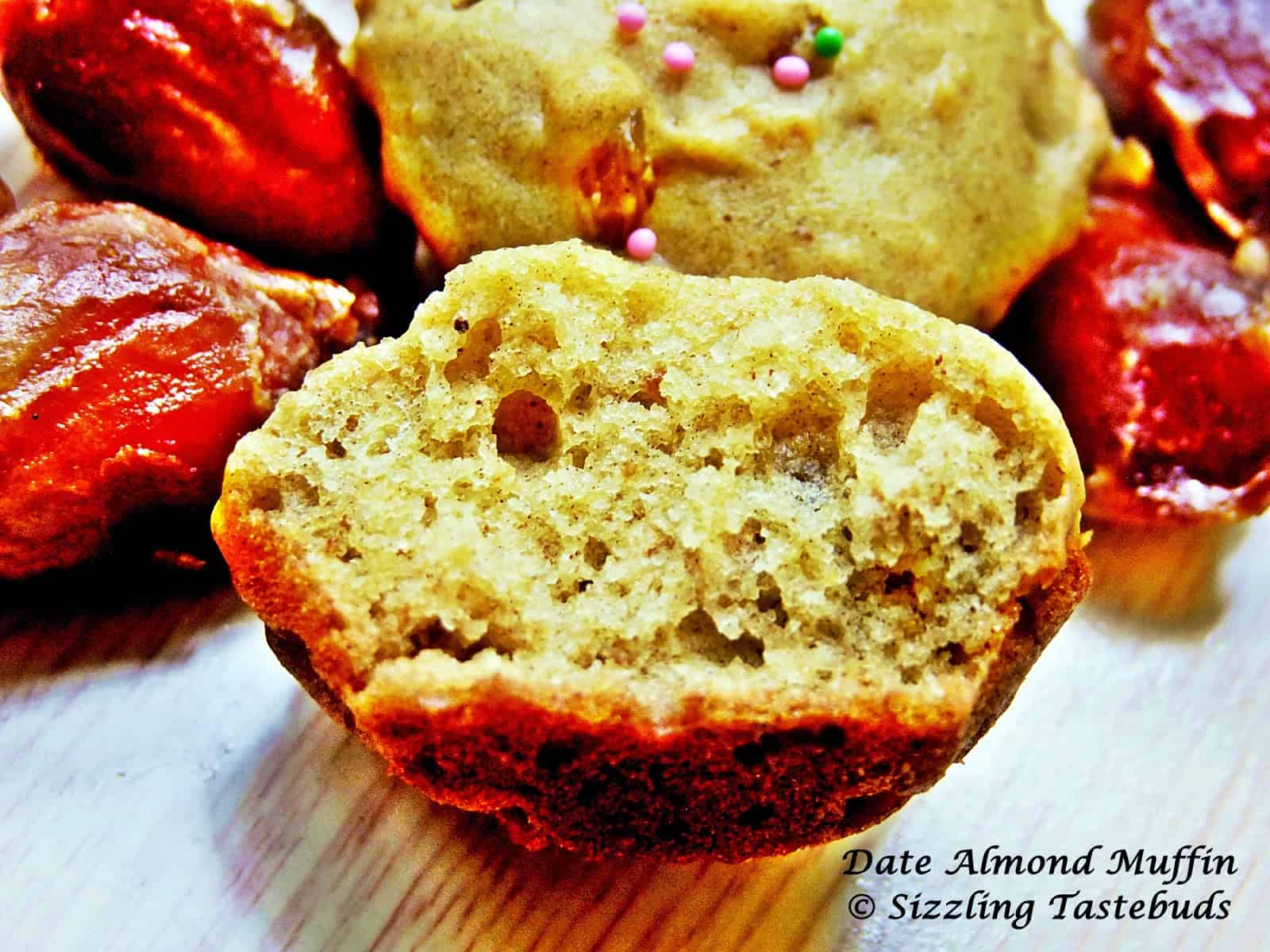 Pin
Method:
1) Sieve the flour, salt, baking soda, baking powder, cinnamon powder thrice over in a large bowl.
2) Meanwhile preheat the oven to 175 deg C and warm the milk. Soak the dates for 10 mins till extra soft.
3) Grind the soaked dates, milk, cardamom to a smooth paste without any additional water.
4) In another pan, dry roast the almonds and powder coarsely.  mix this almond meal thoroughly with the flour mixture.
5) Add the ground dates paste to the flour – almond mix. Add olive oil, essence, raisins and mix with a spatula till the mixture coagulates to a semi runny texture (do not beat with electric beater).
6) Grease tart cups lightly (I used tart cups – 9 nos + 3 large muffin moulds) and spoon in this mixture.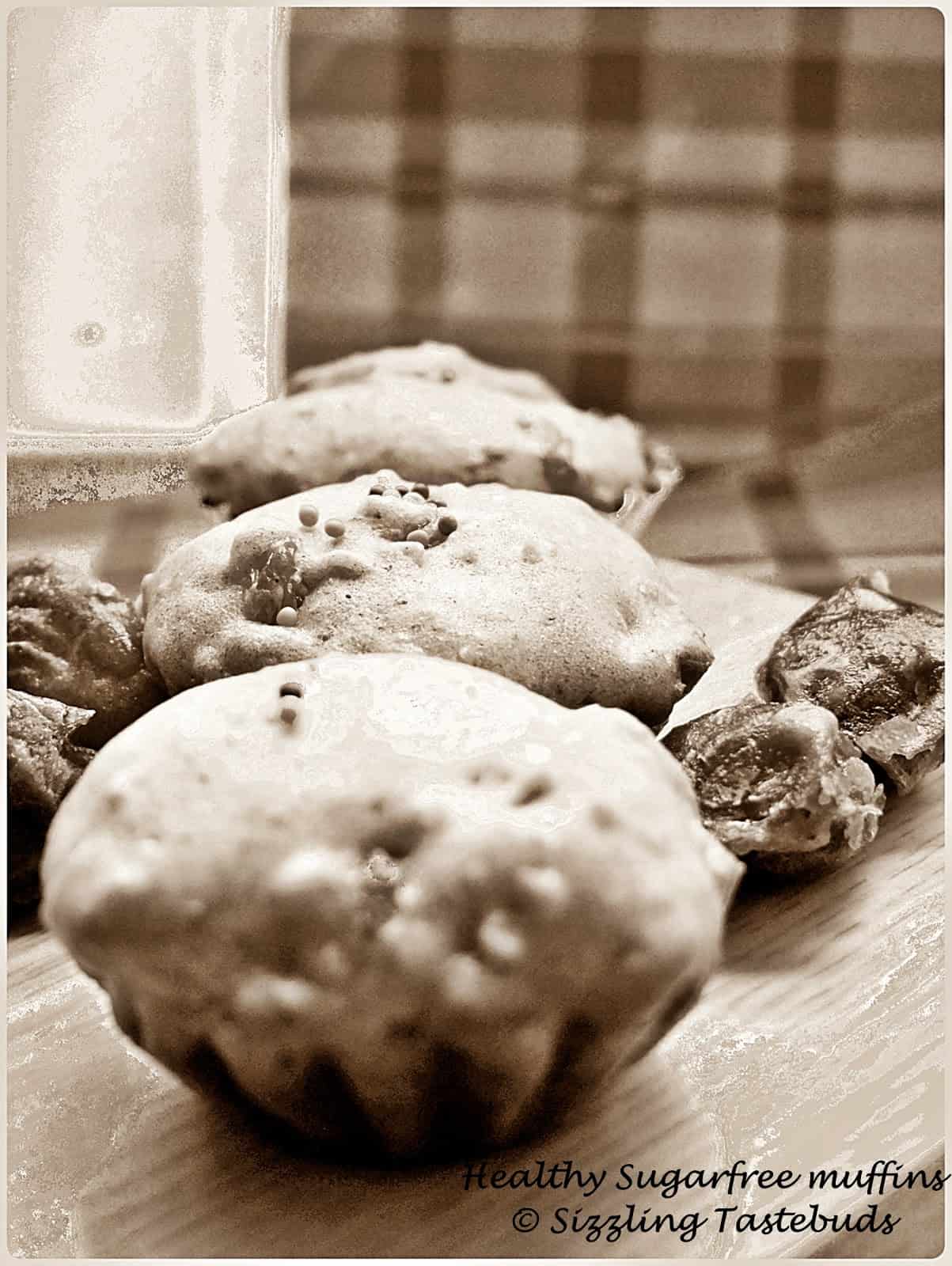 Pin7) Bake @ 175 deg C for 12 mins. Then reduce and bake for 4 – 6 mins more @ 155 Deg C till they are done and a toothpick comes out clean
8) Cool on a wire rack. Frost with whipped cream if required ( I didnt as I was cutting down sugar and fat) .
9) Serve as finger food / school break snacks or even as a kiddo's party snack !