Baked potato wedges. Potato dry Curry with Black Pepper. Spinach and Veggie Hashbrowns. Potato-Chickpeas Soup. Potato with Aubergines. Potato Saute with Sesame……The list goes on for potato lovers.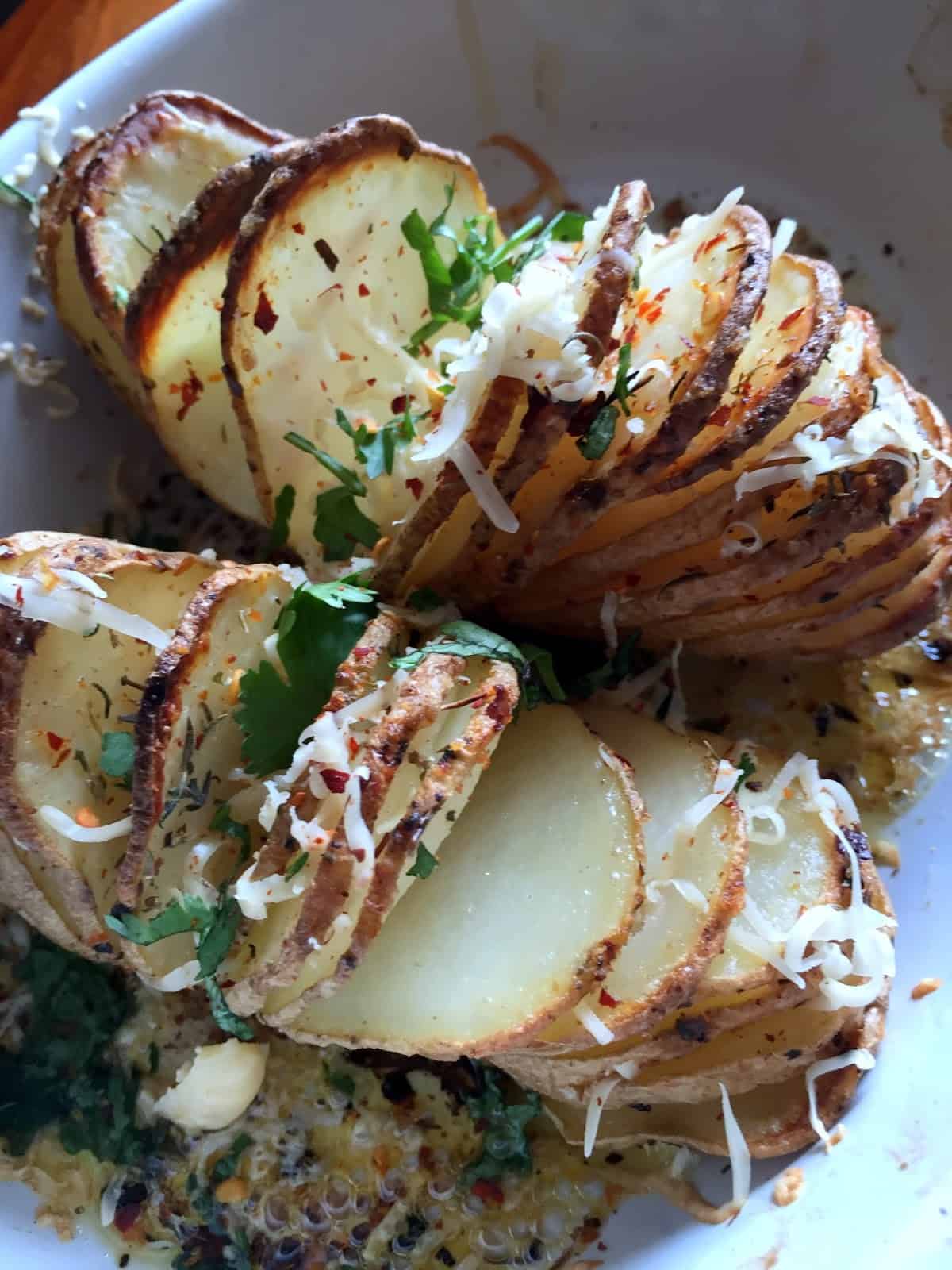 PinPin

Today's dish features Potato as the star of the dish, can be had as a Main Course too. Hasselback potatoes are so famous, I wonder why I didnt try this earlier when the entire blogosphere / Pinterest was full of these. Nevertheless, we made it, loved it. Made it several times over – all with minor but interesting variations.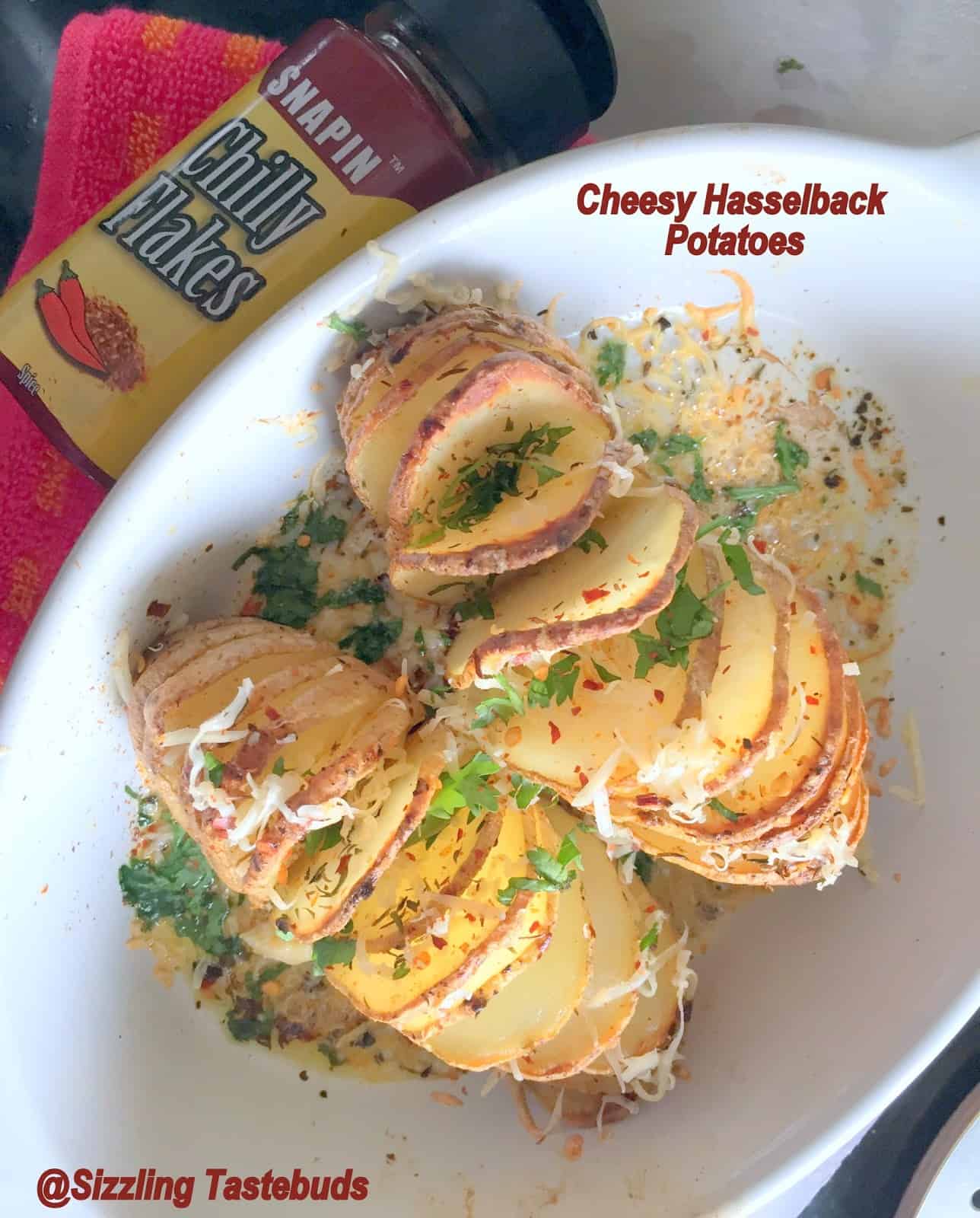 Pin


Hasselback potatoes needs no introduction, yet for my readers …
"A variation is Hasselback potatoes, where the potato is cut into very thin slices almost down the bottom, so that the potato still holds together, and is then baked in the oven, occasionally scalloped with cheese.The proper noun "Hasselback" refers to the fancy Hasselbacken hotel and restaurant in Stockholm which originated this dish." (Source : Wiki)
So, do make it for X, as / New year Party. I assure you it would be the star of the party. No matter how many variations, one cant really go wrong with this.  used very little cheese to top / partially stuff it and liked it that way. But you can go liberal with the cheese and still like it. Older kids living in dormitories with an oven or even bachelors/bachelorettes can make this quick n easy recipe 🙂
So, lets take a look at my variation. While this goes to Bakeathon under the theme "Flourless Baking"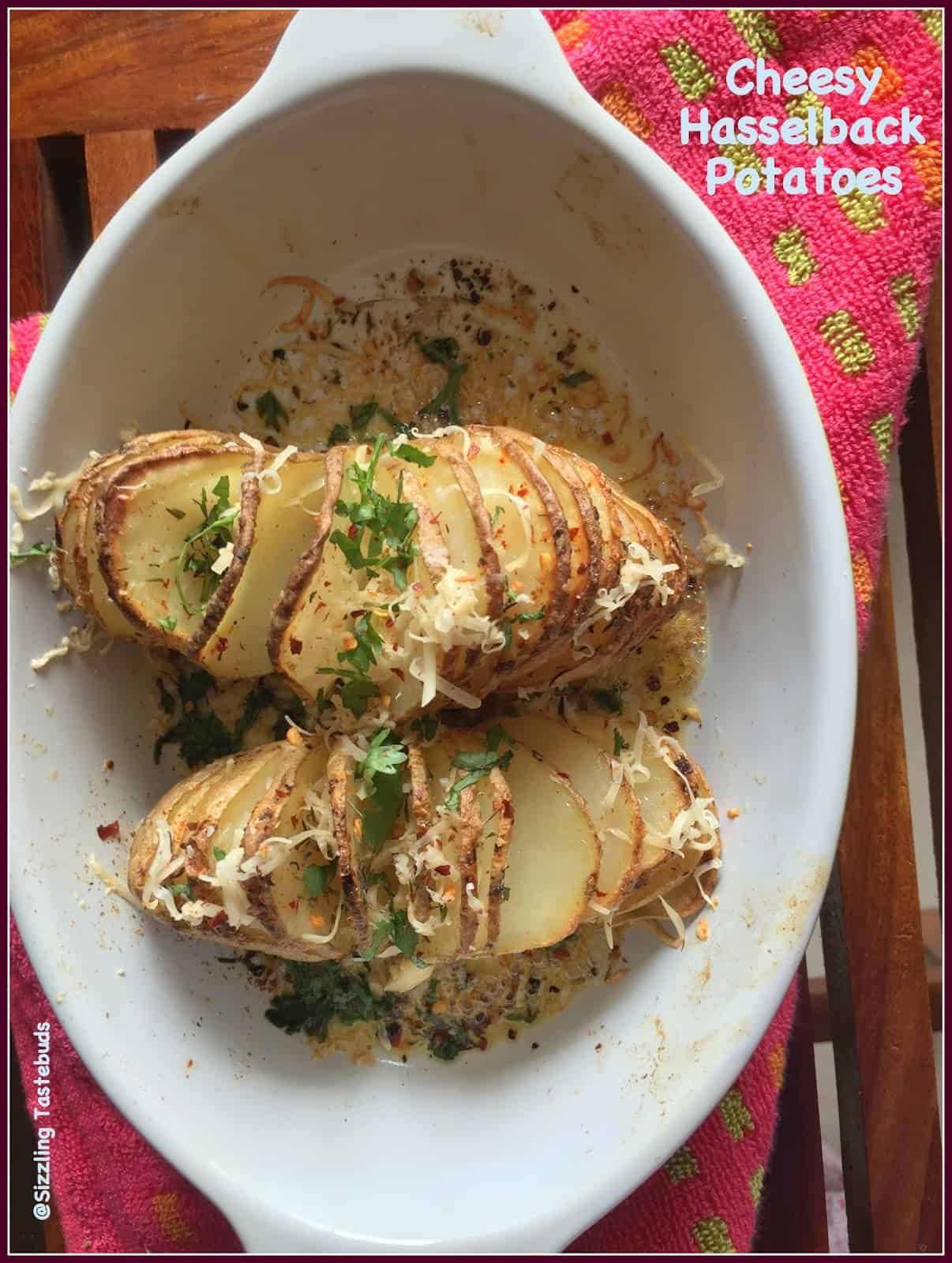 Pin


Prep time : 10 mins, Bake time : 35-40 mins (depends on Potato quality), Makes : 4 portions ; Spice level: Medium, 


Can be made totally vegan by dropping the cheese and butter off the list :-))


Adapted from here. 


You would need:
Longish Fairly big Golden Potatoes – 4 nos
Butter / Oil – 4 TBSP (I used a mix of both)
Grated Cheese – 4 TBSP
Salt and Pepper – to taste
Red Chilli Flakes – 1 tsp
Oregano and dried herbs – 1/2 tsp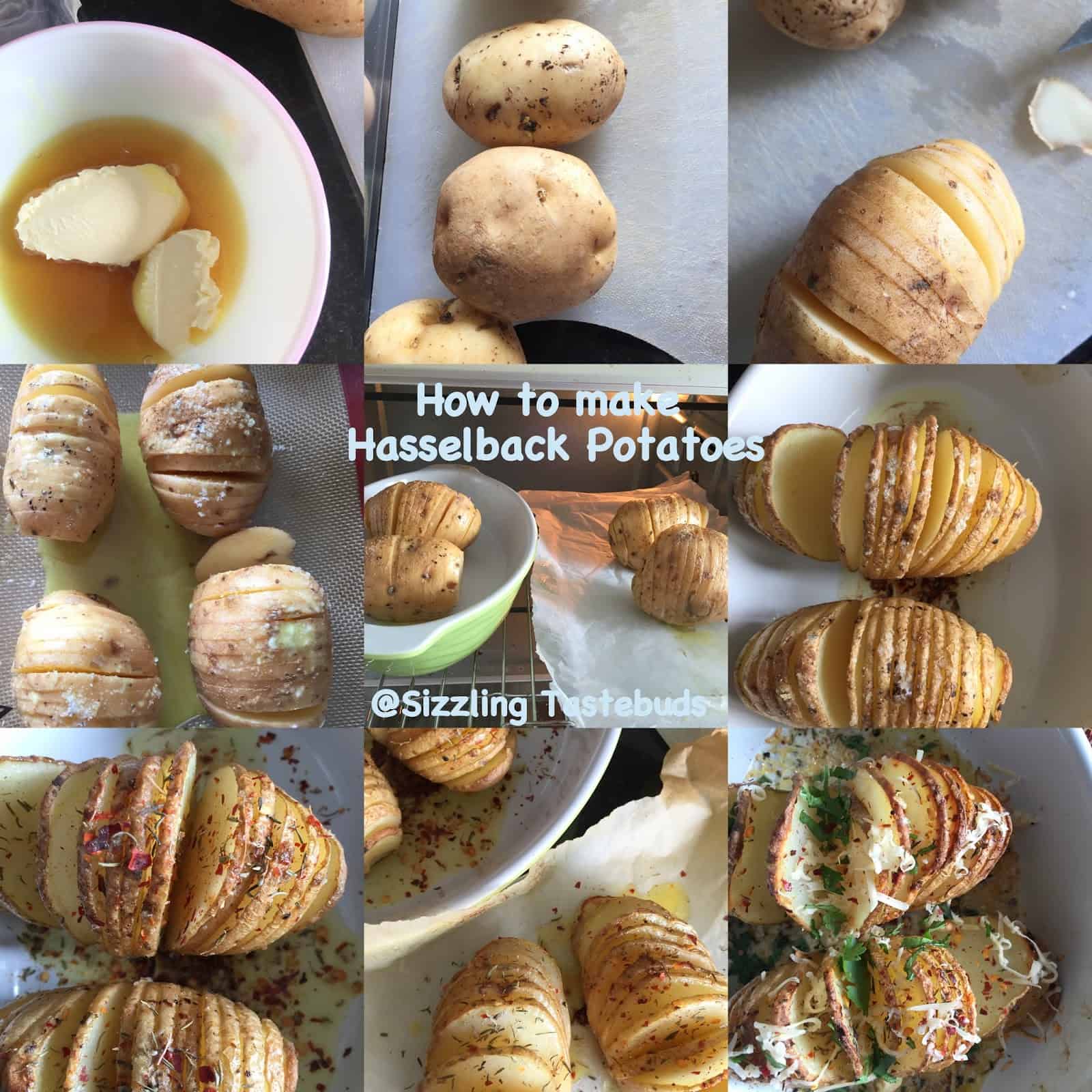 Pin


Method:
Wash, scrub the potatoes clean. As shown in the pictures above, first make a small cut at the base of the potato, big enough to keep it stable (from toppling over). 
Now make a thinnish slit along the width of the potato but not through the base. Apply butter / oil liberally all over, and sprinkle adequate salt and pepper. 
In a preheated oven at 210 C / 400F, bake for 30-35 mins till the slits separate a bit and they are almost baked but not mushy . Now apply some more butter / oil and bake for 5-10 mins but watch them turn crisp and golden brown, but not burnt. 
You can serve directly at this stage, but as I added some cheese and chilli flakes, I topped the potatoes with the same and baked for extra 5-7 mins.
Top with any dried herbs or serve as is. Its best enjoyed warm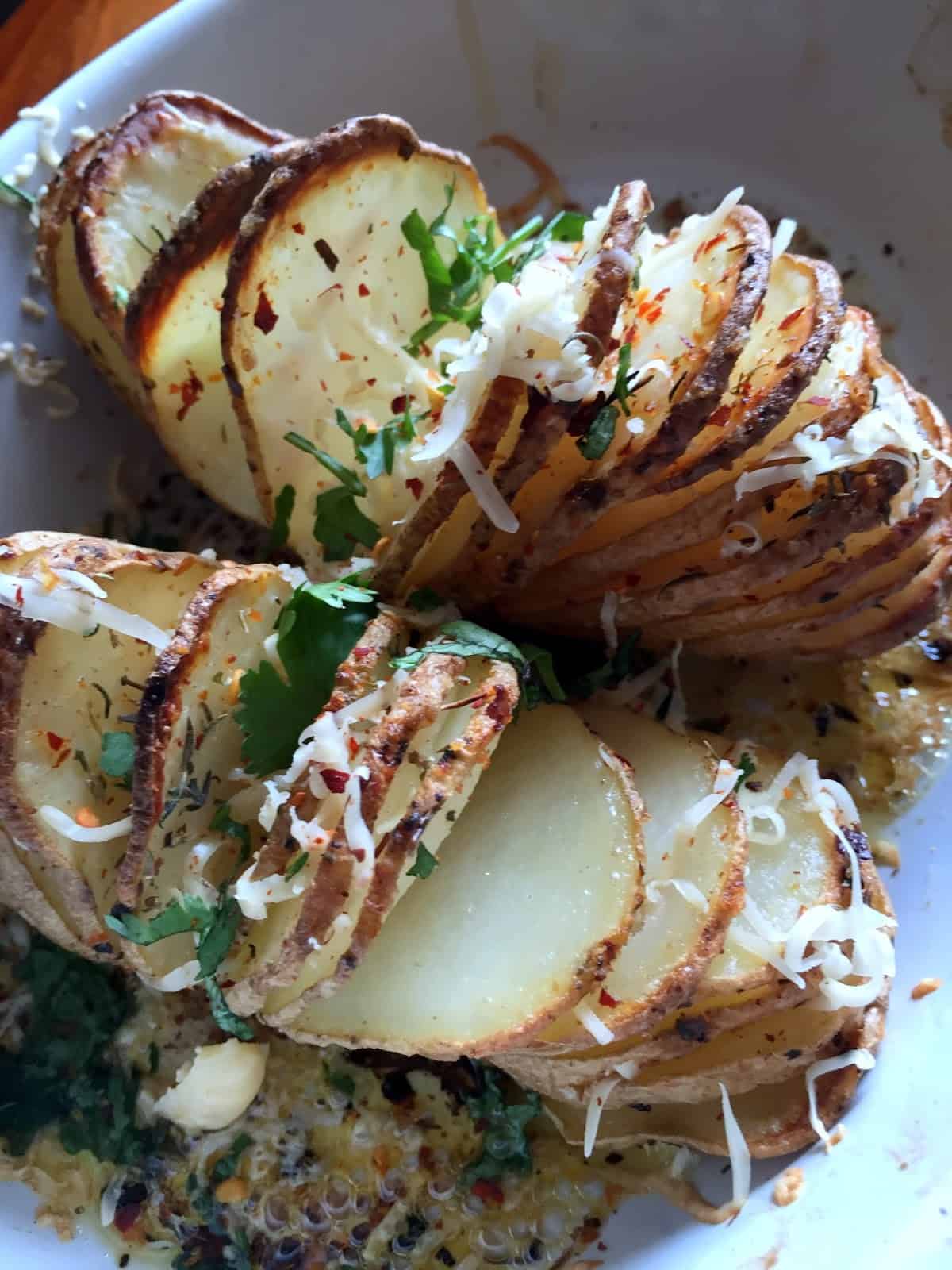 PinPin
This is part of the
Bake-a-thon 2015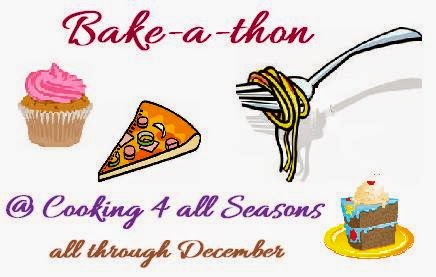 Pin