As someone said, when life hands you a lemon, make a lemonade. Not quite applicable when you have a year's supply of Couscous, and nobody (read me) is interested to eat Couscous Salad ! So, while adding to the health quotient, I planned to use them (Inspired by Harini's recipe) in a Cutlet / Tikki (or a shallow fried Savoury snack) thats so much a favourite of kiddo and all of us at home. Kiddo did indulge in this, and as long she didnt ask what the major ingredient was, I wasnt going to tell her about it…Some secrets are best kept secrets, isnt it?
As this is a kid-specific recipe, I kept the spice content low. But do feel free to add more in case you are serving for a party. Couscous as an ingredient tends to be quite bland, and lends itself quite well to more spice. I added cooked peas and potatoes & blanched carrots to give this more volume, so let your creativity flow while adding any other ingredients you might prefer. Made under 30 minutes, this is a quick snack you can serve at parties or potlucks too. Now, off to the recipe. Sending this to day 2 of BM # 17 under "Quick evening Snacks for Kids".
 Check out the fellow marathoners 
here
.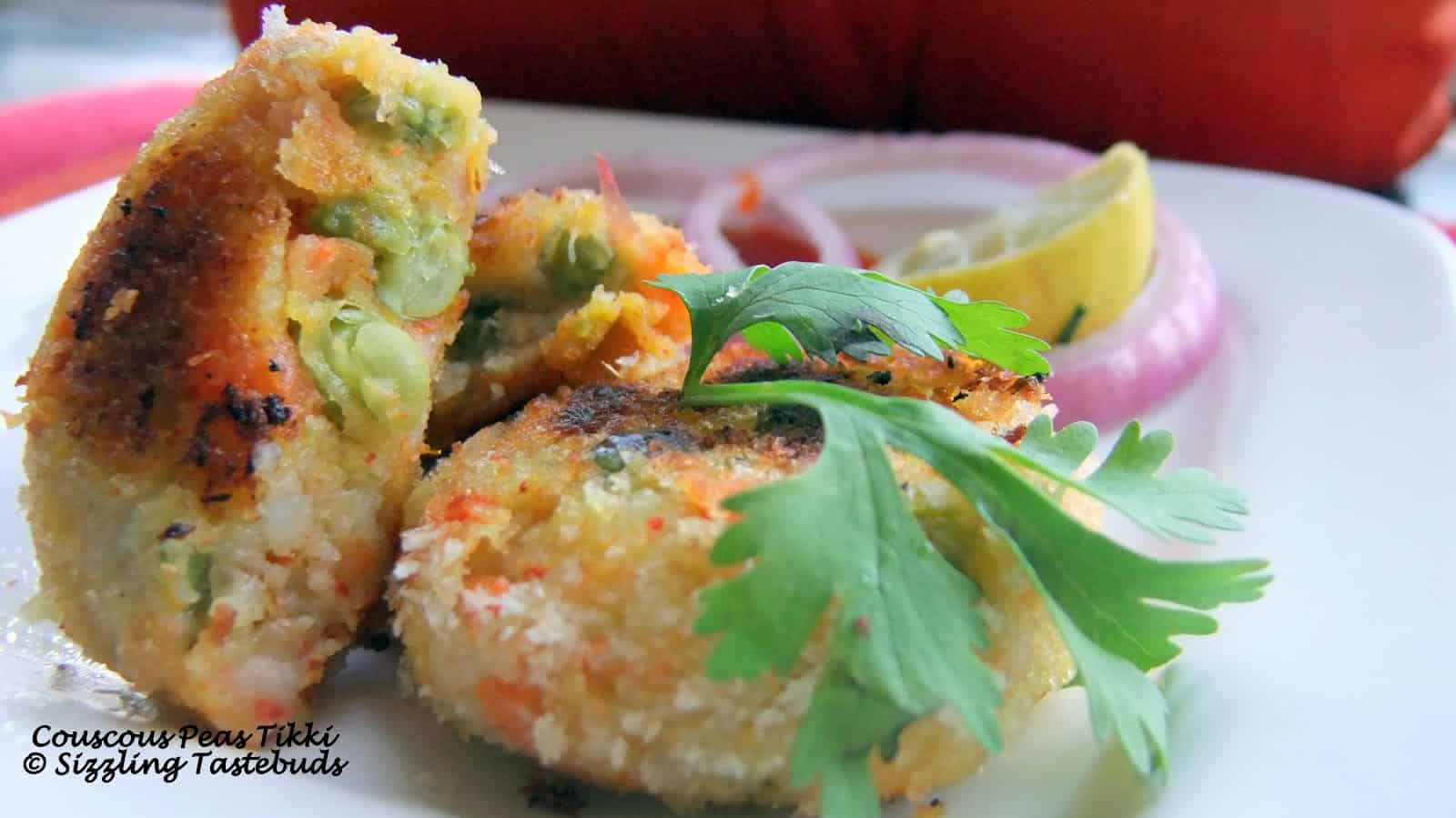 Pin

___________________________________________________________

Prep time : 15 mins

Cook time : 15 mins

Serves – 3

Difficulty level – Easy

___________________________________________________________

Ingredients:
Couscous – 1 cup
Blanched peas and carrots – 1/2 cup combined
Boiled potato – 1 no
Bread crumbs – 1/4 cup
Salt – to taste
Chaat Masala – 1/2 tsp
Ginger garlic paste – 1/2 tsp
Garam Masala – 1/2 tsp
Turmeric – a dash
Coriander & mint leaves – a handful each.
Chopped green chillies – 1 or 2
Red chilli powder – 1/2 tsp
Oil – to shallow fry
Coating:
Maida / APF – 2 TBSP
Warm water – 4- 8 TBSP
Salt – just a pinch
Roasted Sooji / semolina – a handful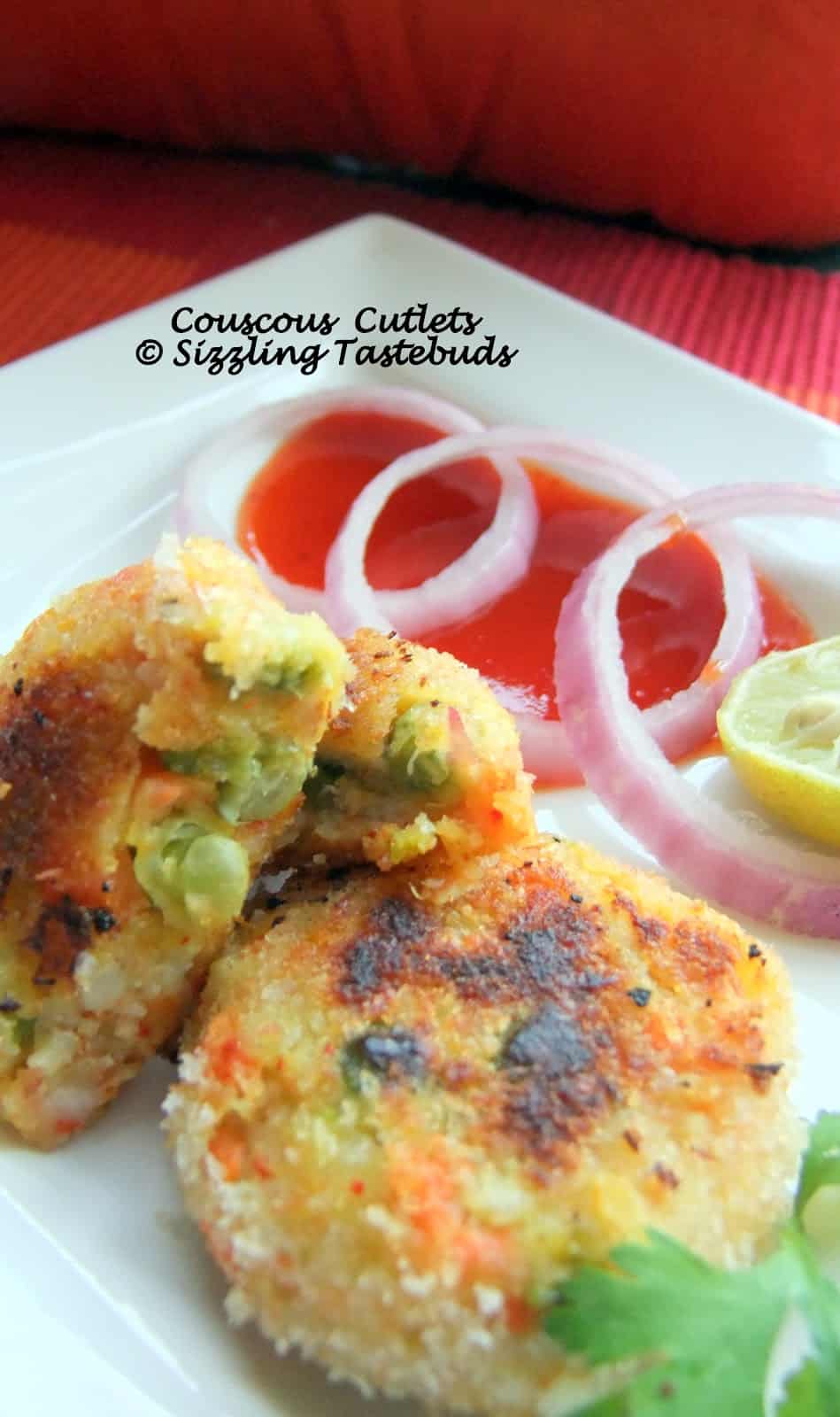 Pin

Method:

1) Take couscous in a large bowl and pour about 2 cups of warm water on it. Soak for 5-10 mins and drain thoroughly.

2) To the soaked couscous, add the blanched peas, carrots, mashed potato and rest of the ingredients (except oil) and make into patties.

3) Refrigerate for 5 mins in a cling wrap.

4) For the coating, mix maida / APF with warm water and salt to a thick slurry in a shallow bowl.

5) Heat a shallow pan with 4 – 5 TBSP cooking oil (I used olive oil). 

6) Dip each of the patties into the slurry and coat with the roasted sooji. Fry in the pan on medium heat till both sides turn crispy and golden brown.

7) Remove on absorbent paper and serve with tomato ketchup or Jain Green Chutney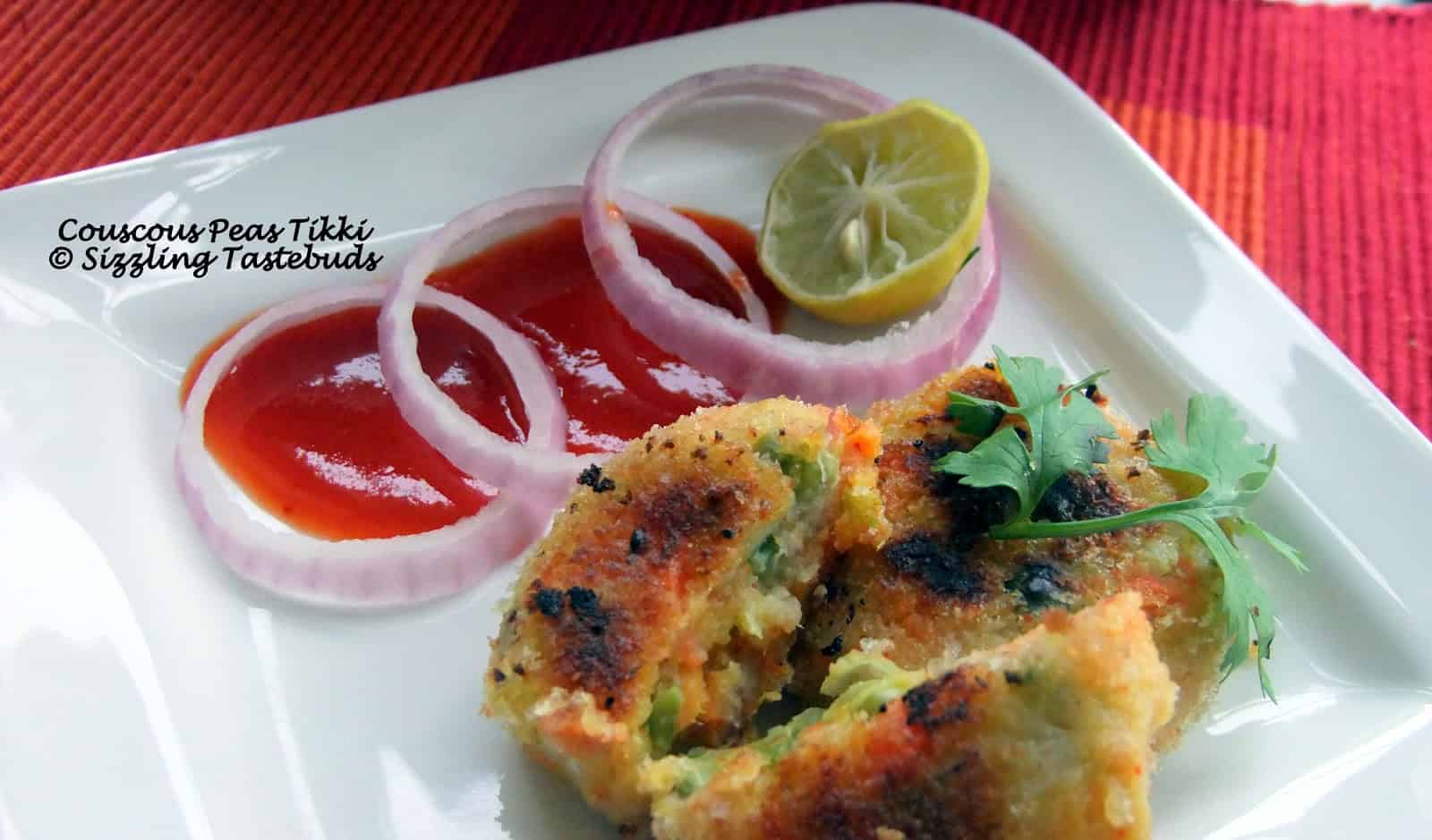 Pin
Linking it to :