Ever since I announced the Magic Mingle Challenge # 13 (MM # 13)with Cucumber + Walnuts, my mind was filled with all sorts of ideas but most
sizzled out due to a very challenging newborn at home. I didnt want to make the
usual salad, and baking was out of the question due to paucity of time although
most of us Magic Minglers did bake beautiful stuff, and one of us even made
Sheera (sweet pudding with semolina and Cucumber). 
The humble cucumber has surely climbed
dizzying heights, thanks to the indigenous efforts of MMers .. Coming to
today's dish, its got one of my favourite ingredients – hung Curd. How I could
go any wrong it seemed ? Lets get to this fuss free no-cook salad that has more
time required as prep time than assembling the salad itself. I have cut the
cucumbers into roundels, but the hung curd dip (as you would read below) can be
served with crudites of any veggie – cucumber / carrots / tomatoes /
beets. 
Lets get cracking then, shall we 🙂 Linking it to MM # 13 along with Vardhini'sNew Uand Sumee's Healthy Appetite. Catch the rest of the magic minglers here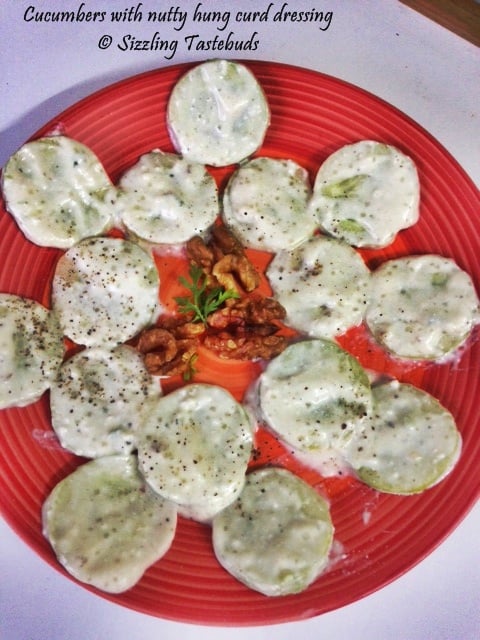 Pin

Prep time – 5 mins + 1 hour standing
time. No cook. Serves : 2

Difficulty level : Easy

Spice level : medium

Ingredients:

Cucumbers (green) – 1 medium

Hung Curd – 1/2 cup

Salt – to taste

Walnuts – 1/4 cup – chopped fine

Honey – 1/2 TBSP

Olive oil – 2 TBSP

Lemon juice – 2 tsp

Red chilli flakes – 1/4 tsp

dried Oregano and basil – 1/2 tsp each

White pepper powder – 1/2 TBSP

Green chillies – 1 or 2 – minced fine

Method:

Tie 1 to 1.5 cups of yoghurt (greek /
fat free) in a muslin cloth for an hour or two, till you get 1/2 cup of thick
hung curd. Refrigerate till use.

Wash, peel and cut the cucumbers into
batons or roundels (thin discs work well).

For the dip, mince together the
walnuts, olive oil, chillies. Add to the hung curd and add salt and the rest of
the ingredients till you get a thickish dip consistency. 

To serve:

Smear the dip over the sliced
ciucumbers and drizzle more lemon juice and pepper powder if required. Serve immediately.

Alternate serving suggestion: Cut any
raw veggies into inch long batons or make a batch of french fries and serve
with the creamy no-fat dip 🙂 The latter option surely sounds lipsmacking,
doesnt it ? 🙂