Set Dosa is my all time favourite. The erstwhile 'Pavithra' restaurant in Bangalore's Jayanagar 4th block served, to my knowledge, the best ever Set Dosa. Almost bereft of oil, this silky soft Dosa was a constant treat option for the college goers around that area, and we were willing participants, come day or night ! 
Set Dosa generally refers to a set of two soft round dosas served with coconutchutney andMixed Vegetable Sagu (veggies in spicy gravy). I don't know if they still do, but the memories of this Set Dosa is what I tried to create today.  In fact, at another restaurant called "Chutneys" in Hyderabad, a similar dosa called "Chiranjeevi Dosa" (named after the Telugu superhero) is also brilliant !
I looked around many blogs, and found onethat had a resemblance to what I would like to make and eat. I have slightly modified the ingredients and made this Set Dosa today. I made this dosa today with chutney. Recipe for Vegetable sagu (that's served in Bangalore with Puri / Chapati / Dosa) is here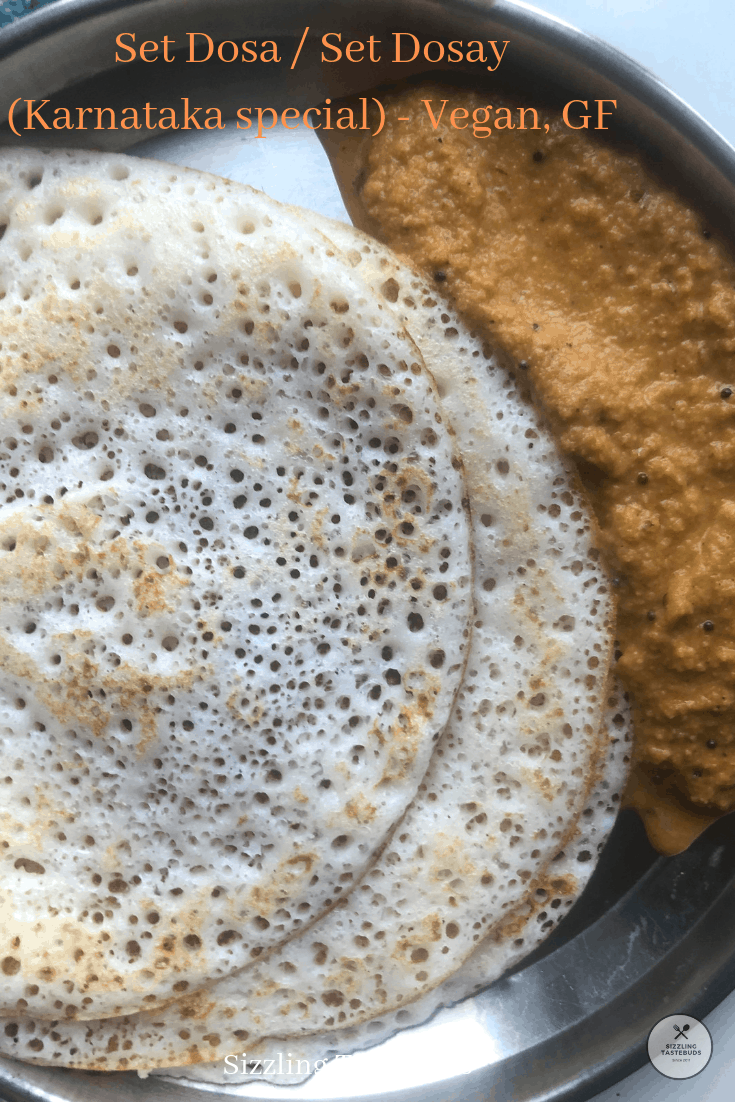 Pin

Preparation : 3 hours (soaking), 12 – 14 hours (fermentation)

Makes ~30 dosas (for a family of 4)

Ingredients:
Idli Rice – 2 cups
Urad Dal – 1 cup
Poha / Aval / Beaten Rice – 1/4 cup
Sago – 1/4 cup
Methi / fenugreek seeds – 1 tsp
Channa Dal – 2 tsp
Salt to taste
PIN FOR LATER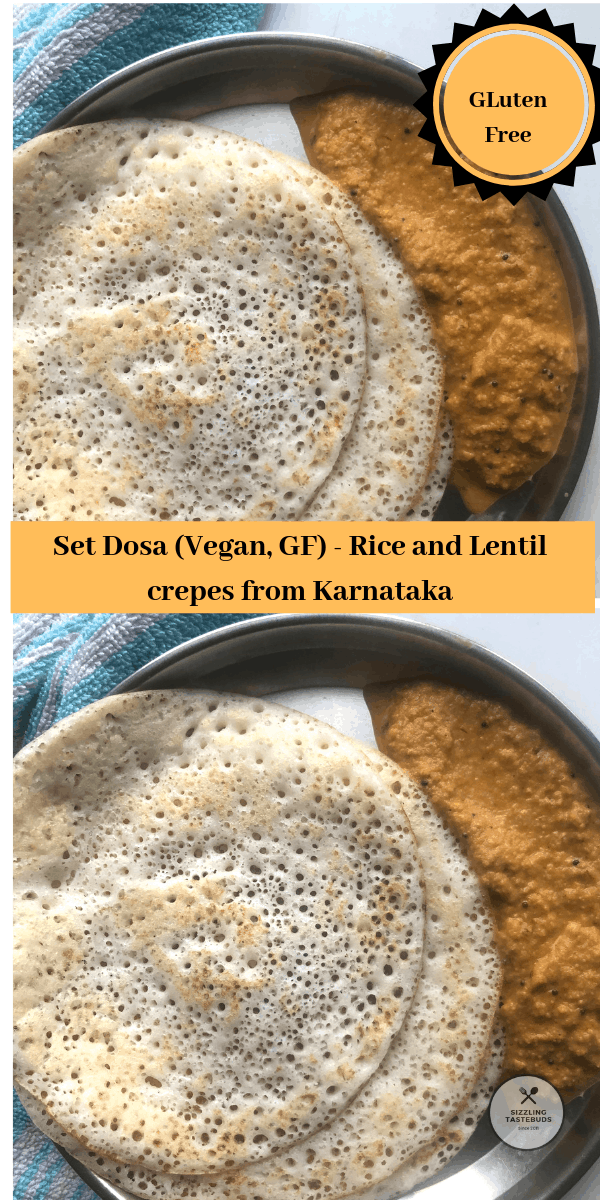 Pin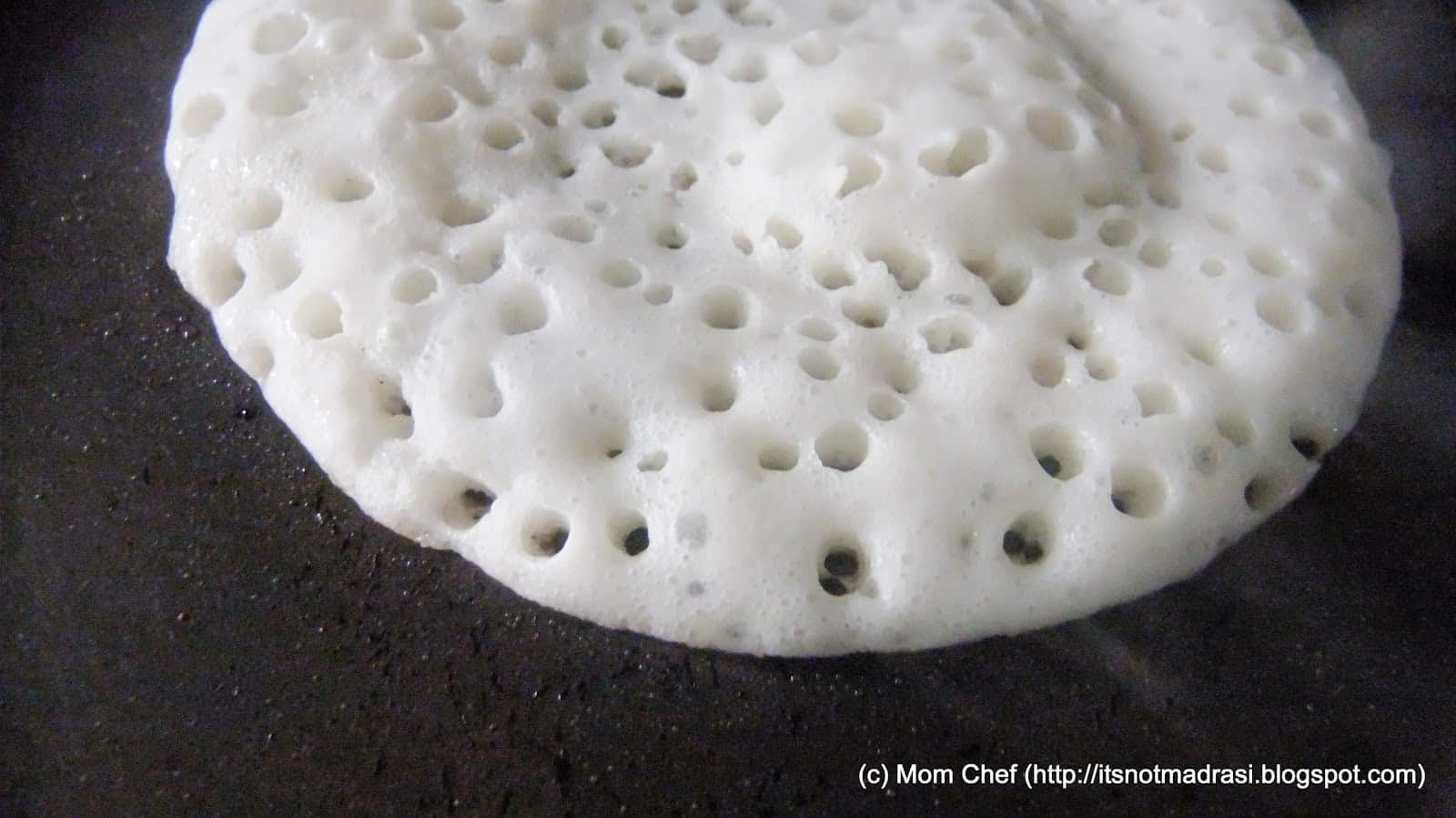 Pin
Method:
1) Soak rice + methi in one vessel. Soak Urad dal + sago + poha + channa dal in another vessel for 3 – 4 hours.
2) Grind well and add salt to taste. Let the batter ferment for atleast 12 – 14 hours, preferably overnight.
3) Heat a tava / skillet. When hot. drizzle 1 tsp of oil and rub with half an onion (this prevents the batter from sticking to the tava) and pour one ladle of batter. Do not spread like the normal dosa.  Put 1/4 teaspoon oil around the dosa.
4) Cover and cook on one side. Once done, flip to the other side and cook.
5) Serve hot with chutney and / or kurma.
Tips:
1) You may skip adding sago / sabudana and increase the poha quantity by 1/4 cup.
2) If the batter is well fermented, you may make this completely oilfree.
3) Before you flip the dosa on to the other side, see the slightly big holes (in the pic) that the dosa will have to ensure thorough cooking.
This is an updated post for #Foodies_RedoingOldPost_7 series where we rehash and / or update old posts with edited pics / new pics or new text.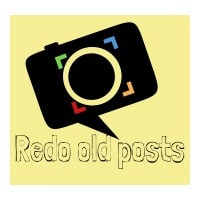 Pin