Set Dosa is a soft, airy and porous Dosa (savoury V + GF Crepe) made with Rice, lentils. It is served in a set of 2 or 3 along with any curry or chutney.
Set Dosa is my all time favourite. The erstwhile 'Pavithra' restaurant in Bangalore's Jayanagar 4th block served, to my knowledge, the best ever Set Dosa. Almost bereft of oil, this silky soft Dosa was a constant treat option for the college and office goers around that area, and we were willing participants, come day or night !
What is Set Dosa
Set Dosa generally refers to a set of two or three soft round dosas served with coconut chutney and Mixed Vegetable Sagu (veggies in spicy gravy). I don't know if they still do, but the memories of this Set Dosa is what I tried to create today. In fact, at another restaurant called "Chutneys" in Hyderabad, a similar dosa called "Chiranjeevi Dosa" (named after the Telugu superhero) is also brilliant !
I served this dosa today with chutney. Recipe for Vegetable sagu (that's served in Bangalore with Puri / Chapati / Dosa) is here
Other healthy and trending Dosa options you may like on the blog
Millet Set Dosa | Barnyard Millet Set Dosa
A spongy, airy millet based savoury South Indian pancake. Served with Chutney or Sambar for a Vegan, Gluten Free meal  
Check out this recipe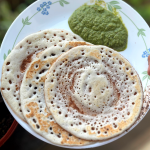 Varagu Arisi Dosai | Kodo Millet Crepes
Varagu Arisi Dosai | Kodo Millet Crepes are delicious Vegan and Gluten Free Crepes (Dosa) made with millets and lentils. Served for breakfast or sometimes dinner with chutney / sambar on the side.  
Check out this recipe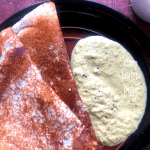 Kempakki Dosa~Rajamudi Dosa~Red Rice Dosa
A crispy lentil crepe made with a special variety of Red rice, native to Karnataka (India)
Check out this recipe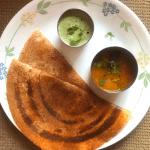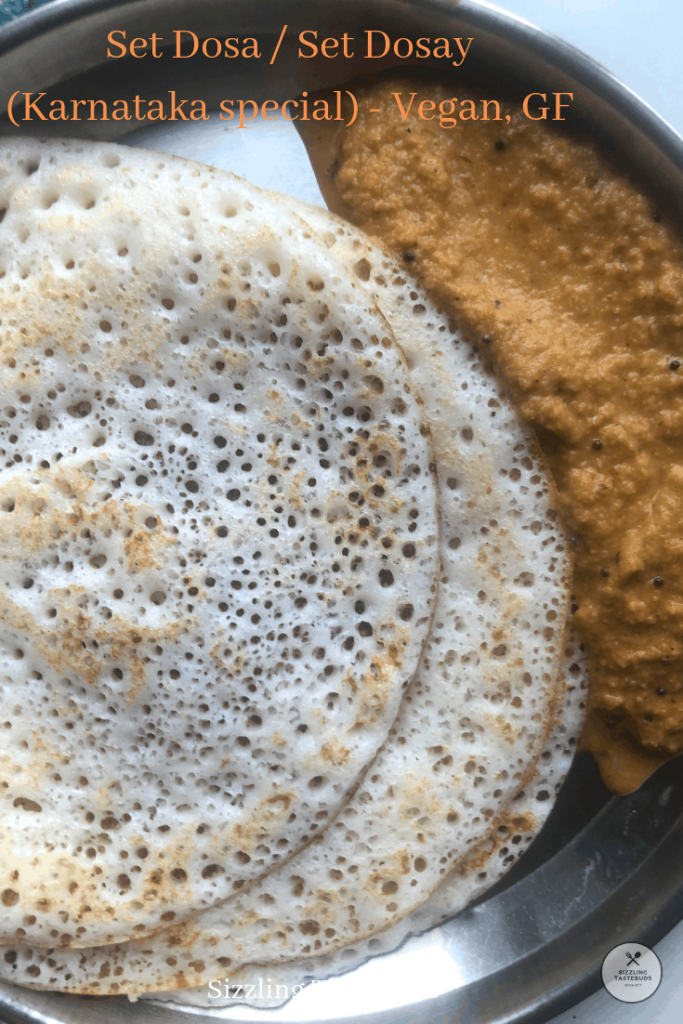 Preparation : 3 hours (soaking), 12 – 14 hours (fermentation)
Makes ~25 – 26 dosas
Ingredients

to make Set Dosa
2 cups Idli Rice (or parboiled rice, which yields slightly different texture)
1 cup Split black gram (whole Urad Dal)
1/4 cup Beaten Rice (Poha/aval)
1/4 cup Sago (Sabudana / Tapioca pearls)
1 tsp fenugreek seeds (methi)
2 tsp Bengal Gram (Channa Dal)
1 tsp salt (or to taste)
Tips and Tricks to make the best Set Dosa
Use Urad dal Gota (whole white urad dal) for best results
DO not add too much water while grinding the batter. Use the soaked water for grinding
You may skip adding sago / sabudana and increase the poha quantity by 1/4 cup.
If the batter is well fermented, you may make this completely oil free.
Before you flip the dosa on to the other side, see the slightly big holes (in the pic) that the dosa will have to ensure thorough cooking.
Once you flip, cook for just 10-12 seconds, the dosa needs to be spongy
PIN FOR LATER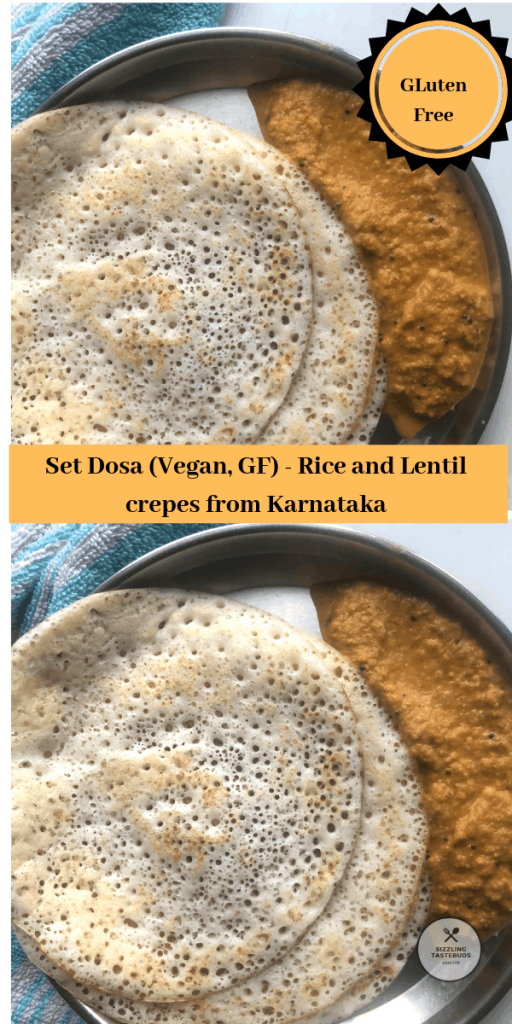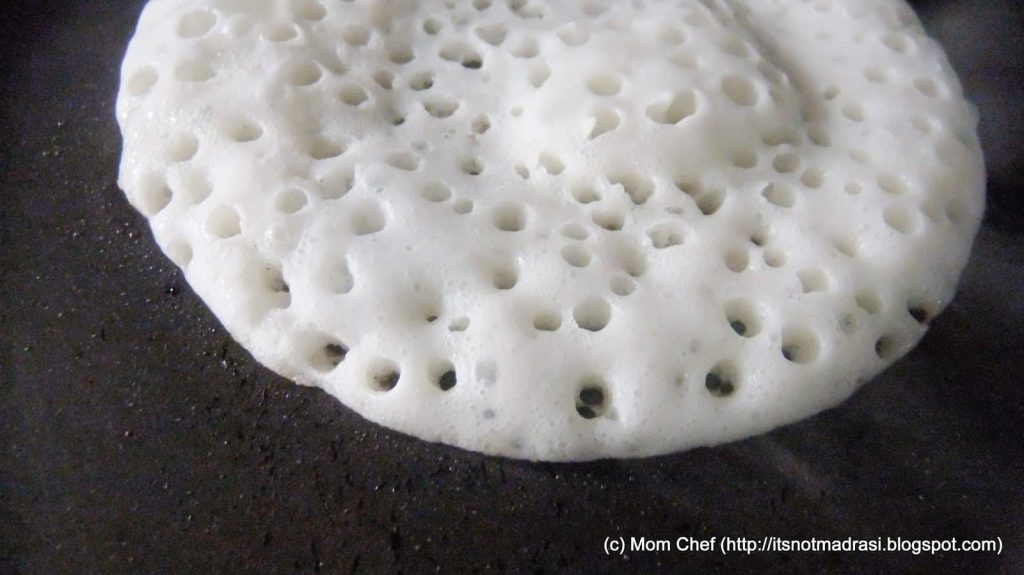 How to make Set Dosa
Soak rice + methi in one vessel. Soak Urad dal + sago + poha + channa dal in another vessel for 3 – 4 hours minimum. You can also soak for 4-6 hours
Drain and grind the rice + lentil mixtures separately, sprinkling the soaked water intermittently to get a smooth flowing yet nicely ground batter.
Pour the individual batters to a large bowl and add salt to taste.
Mix well with clean hands for 1-2 minutes
Let the batter ferment for at least 12 – 14 hours, preferably overnight.
Next morning, gently mix the fermented batter lightly just 1-2 times, so as to keep the fermentation intact.
Heat a tava / skillet.
When hot. drizzle 1 tsp of oil and rub with half an onion (this prevents the batter from sticking to the tava) and pour one ladle of batter.
Do not spread like the normal dosa. Put 1/4 teaspoon oil around the dosa.
If the batter is ground well you can make this Set dosa without any oil too
Cover and cook on one side.
Once done, flip to the other side and cook.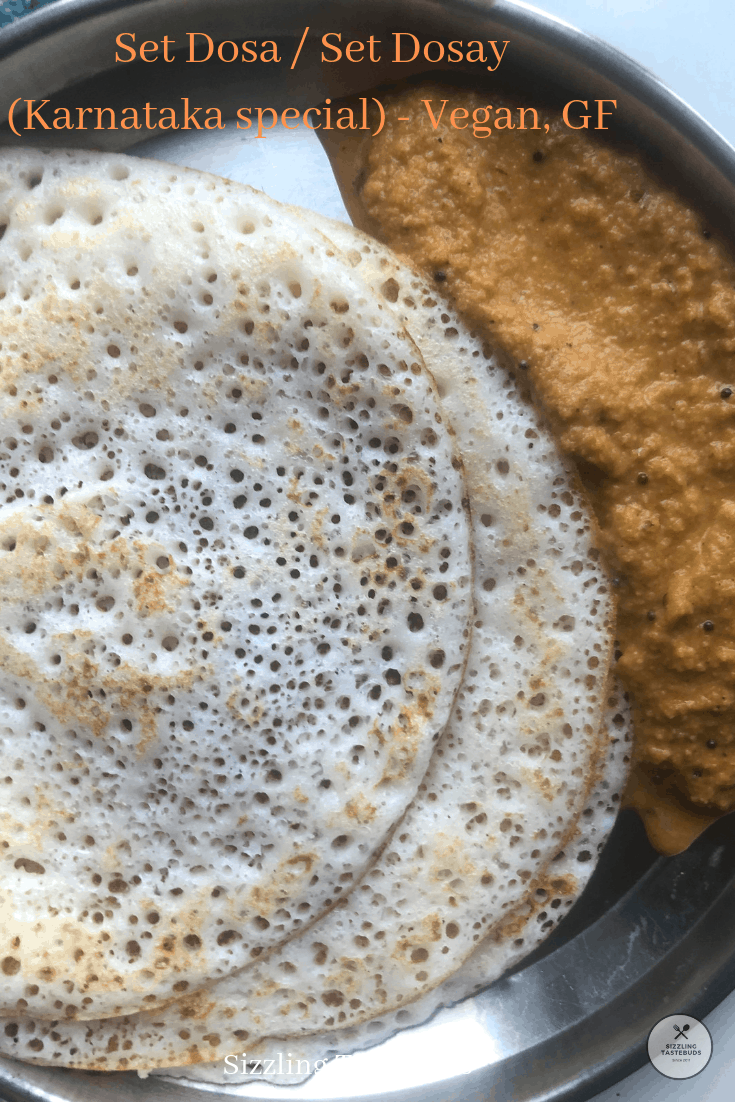 Set Dosa | How to make Spongy Set Dosa
Set Dosa is a soft, airy and porous Dosa (savoury V + GF Crepe) made with Rice, lentils. It is served in a set of 2 or 3 along with any curry or chutney.
Equipment
Wet Grinder

2 Bowl

Cast Iron Skillet

Ladle

Pancake Turner
Ingredients
2

cups

Idli Rice

or parboiled rice, which yields slightly different texture

1

cup

Split black gram

whole Urad Dal

1/4

cup

Beaten Rice

Poha/aval

1/4

cup

Sago

Sabudana / Tapioca pearls

1

tsp

fenugreek seeds

methi

2

tsp

Bengal Gram

Channa Dal

1

tsp

salt

or to taste
Instructions
Soak rice + methi in one vessel. Soak Urad dal + sago + poha + channa dal in another vessel for 3 – 4 hours minimum. You can also soak for 4-6 hours

Drain and grind the rice + lentil mixtures separately, sprinkling the soaked water intermittently to get a smooth flowing yet nicely ground batter.

Pour the individual batters to a large bowl and add salt to taste.

Mix well with clean hands for 1-2 minutes

Let the batter ferment for at least 12 – 14 hours, preferably overnight.

Next morning, gently mix the fermented batter lightly just 1-2 times, so as to keep the fermentation intact.

Heat a tava / skillet.

When hot. drizzle 1 tsp of oil and rub with half an onion (this prevents the batter from sticking to the tava) and pour one ladle of batter.

Do not spread like the normal dosa.  Put 1/4 teaspoon oil around the dosa.

If the batter is ground well you can make this Set dosa without any oil too

Cover and cook on one side.

Once done, flip to the other side and cook.

Serve hot with any Chutney or veg kurma or Vegetable Sagu (Karnataka style veg curry)
Notes
Tips and Tricks to make the best Set Dosa
Use Urad dal Gota (whole white urad dal) for best results
Do not add too much water while grinding the batter. Use the soaked water for grinding sprinkling a little at a time as needed.
You may skip adding sago / sabudana and increase the poha quantity by 1/4 cup.
If the batter is well fermented, you may make this completely oil free.
Before you flip the dosa on to the other side, see the slightly big holes (in the pic) that the dosa will have to ensure thorough cooking.
Once you flip, cook for just 10-12 seconds, the dosa needs to be spongy
Nutrition
Calories:
107
kcal
Carbohydrates:
22
g
Protein:
4
g
Fat:
0.2
g
Saturated Fat:
0.02
g
Polyunsaturated Fat:
0.04
g
Monounsaturated Fat:
0.04
g
Sodium:
121
mg
Potassium:
20
mg
Fiber:
3
g
Vitamin A:
2
IU
Vitamin C:
1
mg
Calcium:
9
mg
Iron:
1
mg