Samba wheat or cracked wheat is more nutritious than ordinary
wheat or even wheat flour. Its high fibre content makes it an ideal option for
diabetics. Samba Wheat is alternatively called Lapsi in some recipes , but I
personally feel samba wheat is harder and more coarse and gritty. You can make
Upma, payasam or bisibelebhath too out of this. But ideally, I would clear out
of the payasam option for diabetics. (As a diabetic if you are to avoid sweets,
whats the point of adding external sweet and trying to call it healthy
!!).
Anyway, this Idli makes for a filling and healthy breakfast or
supper option. I saw this recipe on television and tweaked the recipe according
to family preferences. The taste takes getting used to, but we enjoyed it a lot
even on the first try and it features regularly on the breakfast menu. Do try
it out and let me know how you and your family liked it.
Other Idli varieties include Toor Dal Idly, Mini Carrot Idly, Pepper Idli, Poha Idli
Check out other Diabetic friendly recipes here
Sending this to BM #50 under 'bookmarked recipes' theme. Stay
tuned…
Prep time : 15 mins. cook time : 20 mins | Makes : 6 idlis
Samba Wheat Idli – Cracked wheat idli
Serving Suggestions : any chutney ( I served it with Tangy Coriander Chutney)
Cuisine : South Indian | Course: Breakfast (or even supper) |
Spice level : Medium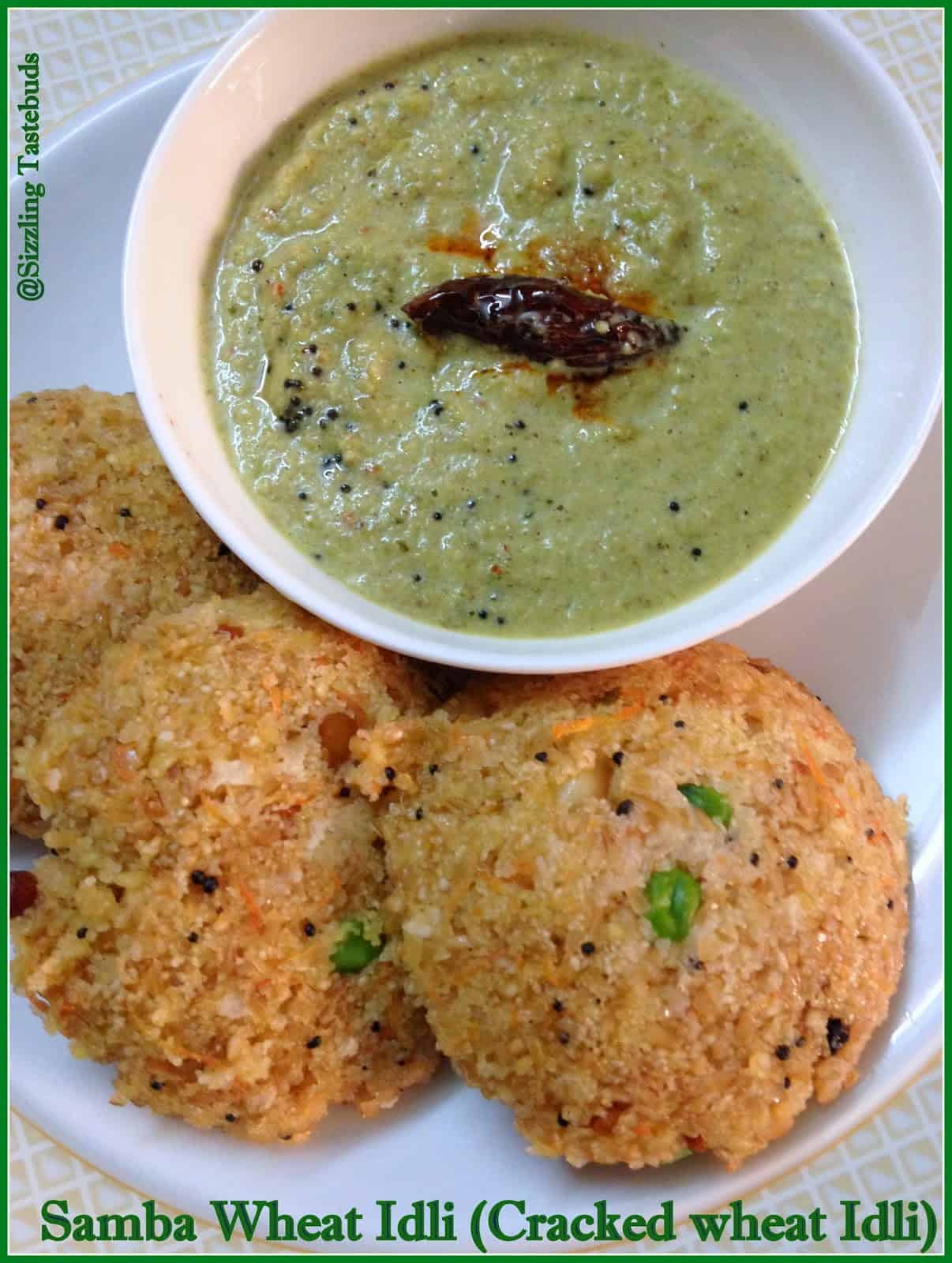 Pin

Ingredients:
Samba wheat – 1 cup

Curd / yoghurt – 1/2 cup (may require a little more or less
depending on wheat quality)

Salt – to taste

Cooking Soda – a pinch (optional)

oil – 2 tsp (divided use)

Tempering : Mustard seeds, urad dal, grated carrots, grated ginger
(to taste), coriander leaves, curry leaves, chopped green chillies (1 tsp)

Additional addons to the mix : roasted cashewnuts, shredded cabbage, green peas
Method:
In a pan, dry roast the wheat for 1-2 mins till it gets a nutty
aroma , transfer to plate. when cool, add whisked yoghurt, salt. keep aside.
In the same pan, heat 1 tsp of oil. splutter mustard and urad dal,
saute carrots for 3-4 mins till soft, add the grated ginger and the rest of the
tempering ingredients. When slightly cool, add to the yoghurt-wheat mixture and
whisk well. Check for salt and spice and leave aside for 5 mins
Just before cooking, add a pinch of cooking soda and ladle out
this mixture onto greased idli plates. Steam for 15 mins (this takes slightly
longer than the usual Idli or Rava Idli). Serve with any chutney or sambhar.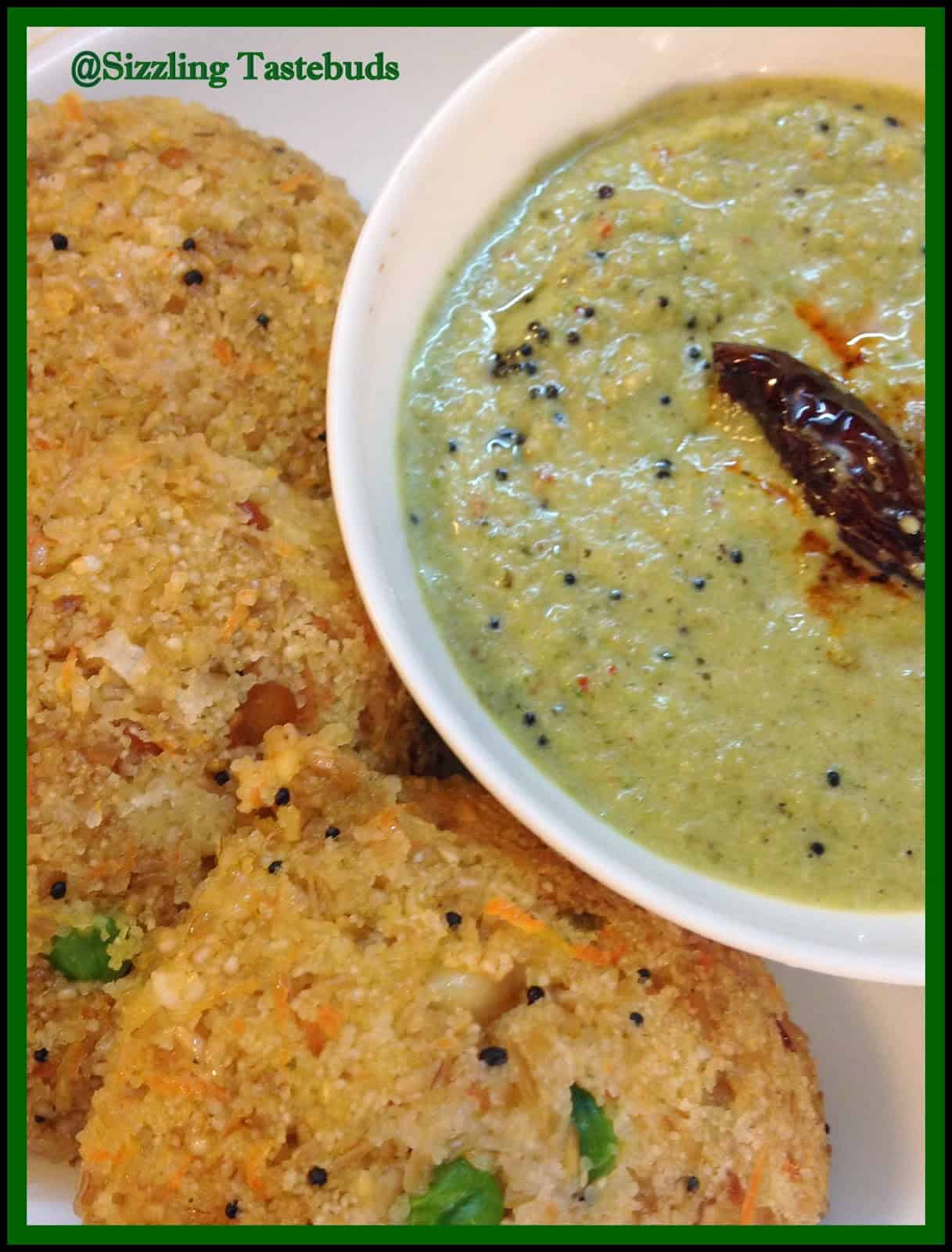 Pin