As we step into the new year a few hours from now, looking back its been a great year on the healthy eating front. Although I didn't blog as much as I thought I would, its been a satisfying year on all counts. This month, for the Sshh Secret Cooking Challenge, I was paired with Priya Iyer who gave me Wholwheat and Besan as the secret ingredients. I had an inkling I would make either Litti or Paratha. Having used Sattu earlier in the Sattu ka Sharbat (two ways), I was excited to use this ingredient again and so this Sattu Paratha or Makuni (as its called locally) came about.
Sattu is basically processed Channa Dal roasted over coal and hot sand, sieved & powdered (for simple purposes, its roasted gram powder). The recipe is a proteinicious, filling meal that we had for our dinner. I served it with some salad, pickle and yellow dal. We were full till the next day's lunch (yes, skipped breakfast too). It tastes reasonably good when cold too, so the next batch went into kiddo's lunchbox which she enjoyed again with pickle. Nupur's recipe had a detailed description of how this is made. As I had store bought sattu, I used the same.
Before we move on, here's wishing all my readers and blogger friends a very successful 2018 ahead !!
Similar parathas on this blog: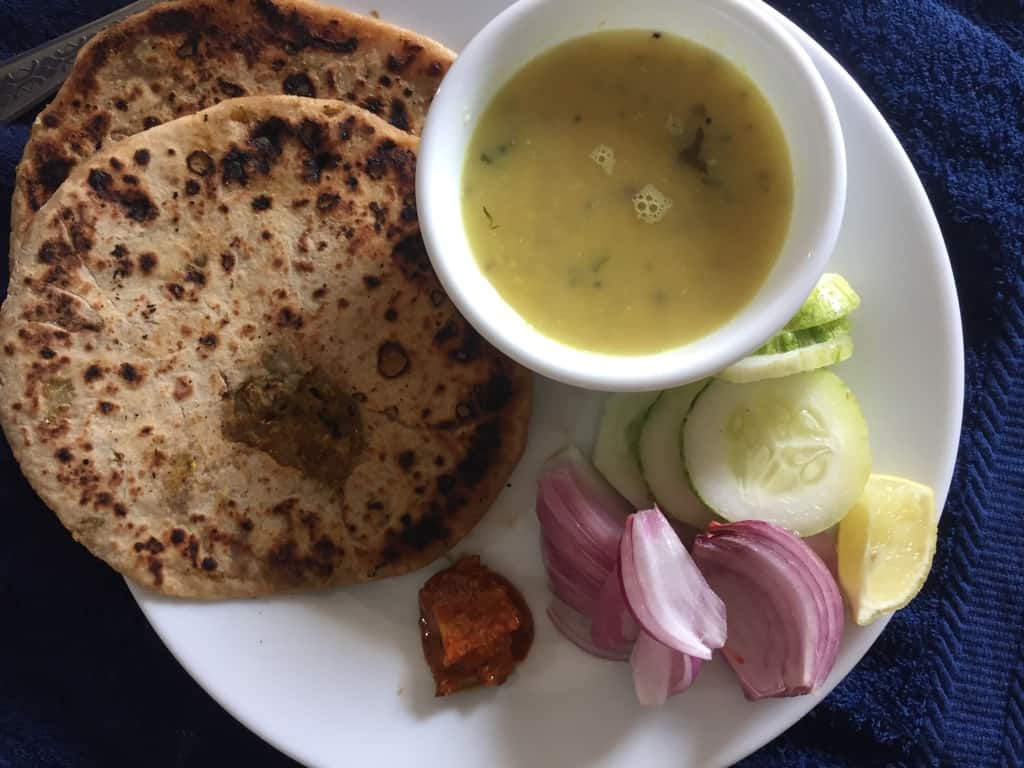 Pin

Few ingredients that can transform an everyday meal into a delicious one. Let's see how to make it.

Sattu ka paratha | Flattened Indian bread stuffed with roasted gram powder and spices

Vegan ; makes : 4 ; adapted from : Nupur's recipe

Course : Snack / breakfast / Dinner

Ingredients :



Covering –
Wholewheat flour / Atta – 2 cups
Salt – 1/2 tsp
Oil – 1 TBSP
Warm water – as required to knead
Filling:
Sattu ka atta – 1/2 cup
Onions finely chopped – 1/2 cup
Salt – to taste
Oil – 1 TBSP
Turmeric – 1/2 tsp
ginger grated – 1/2 tsp
Kalonji (nigella) seeds – 1/2 tsp
Mango pickle with the pickle oil – 2 tsp (homemade or storebought)
Coriander seeds – crushed (opt.) – 1/2 tsp
Cumin powder – 1/2 tsp
Red chilli powder / green chillies crushed – to taste
Coriander leaves / cilantro – 2 tsp (finely chopped)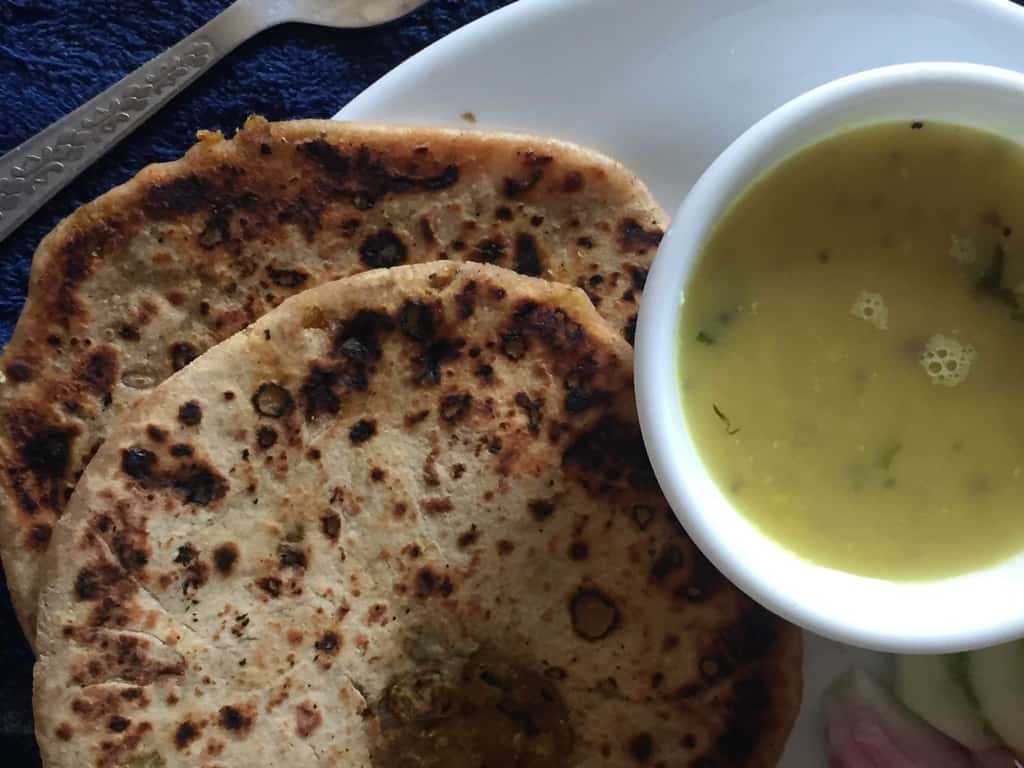 Pin

How to make:
Knead the outer covering to a smooth, semi soft dough (keep covered for 30 mins)
In a bowl, mix all ingredients except oil. Now add the oil and bring it all together to a semi dry stuffing consistency
Heat tawa (griddle). Pinch out small portions of the dough, flatten into a disc of 4-5 inches diameter, put in a tsp or two of the stuffing, close carefully and roll out carefully like other parathas.
Place on a medium hot tava, Drizzle oil all around and cook till its nice and golden on both sides.
Serve hot (it tastes best that way !! ) with salad, pickle and yoghurt. Just this paratha and chilled yoghurt also tastes yum 🙂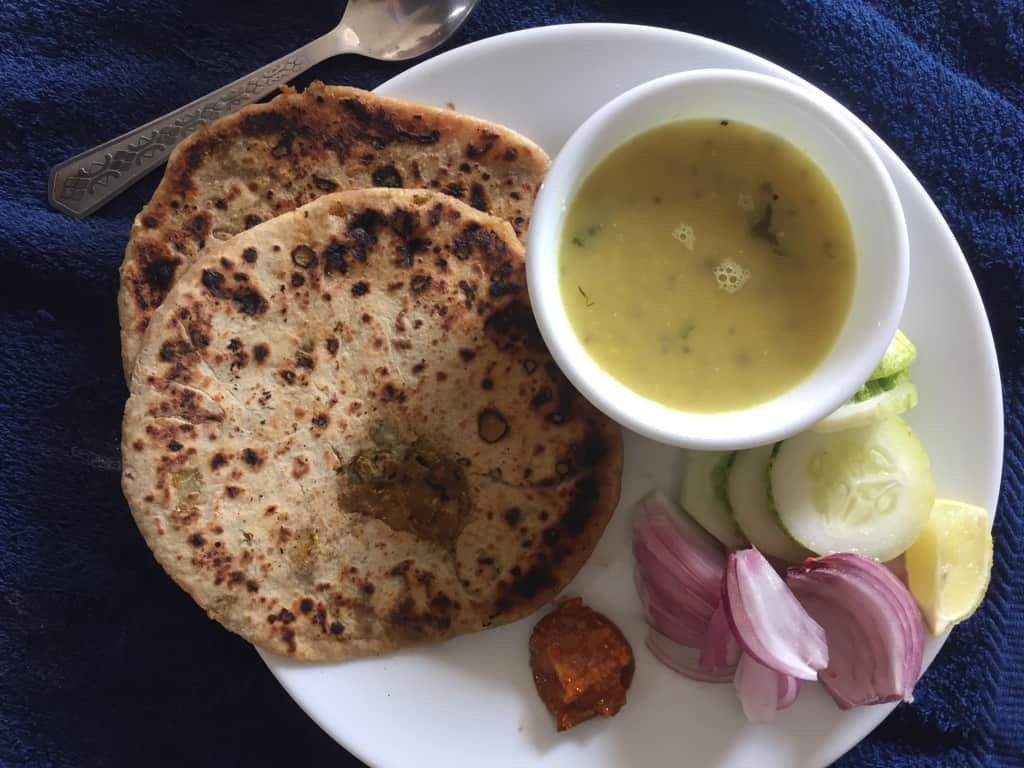 Pin