As a family, we are very fond of parathas for breakfast or dinner. Given a choice, I think the elder kid would have it for every meal. Parathas (or stuffed Indian flatbreads) are a great way to sneak in veggies that the kids would otherwise turn their nose at.
It's also a great way to use up leftover sabji (sauteed veggie stir fries) or excess dal (cooked lentils) as a stuffing. Whatever maybe the reason, Parathas are usually made with whole-wheat flour a.k.a Atta / Gehun ki atta in local parlance.
Presented today for #Breadbakers is a yummy and nutritious multigrain Aloo-Methi Paratha which is perfect as a heavy breakfast. In most homes, this is served with Masala Chai (spiced Indian milky tea), yoghurt (dahi) and achaar (pickle).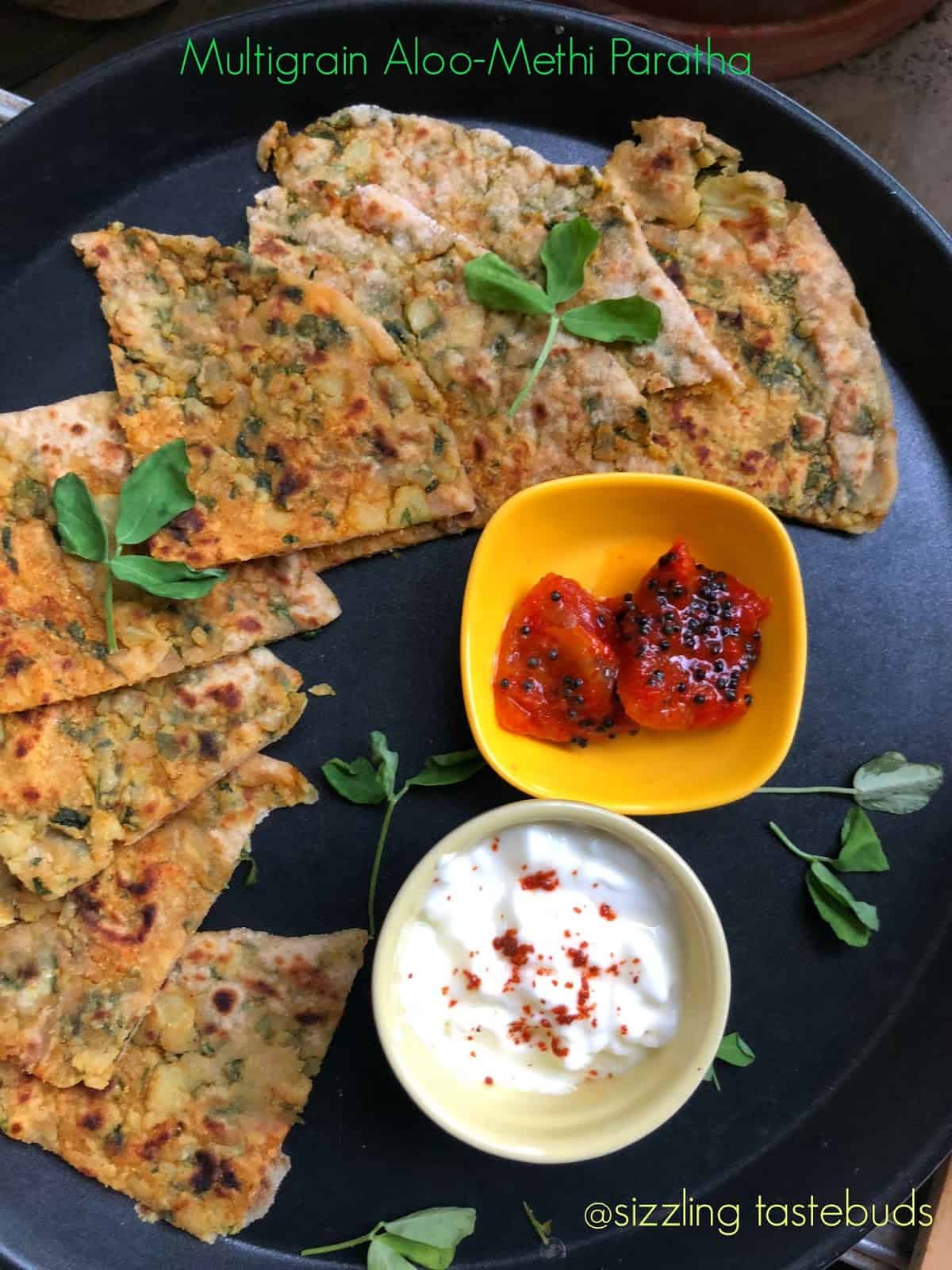 Pin

Depending on the stuffing and family eating preferences, these are also sometimes deep fried (like the Old-Delhi based Parathewaale Galli varieties which has even sweet stuffed parathas). But it can easily be made healthy by smearing a few drops of oil and eaten guilt free.

This edition of #Breadbakers with sub theme of Breakfast breads has been kindly hosted by Felice. Thank you for a wonderful choice, Felice. We surely enjoyed this variety of paratha.

Some more paratha varieties that may interest you on this blog:

and many more…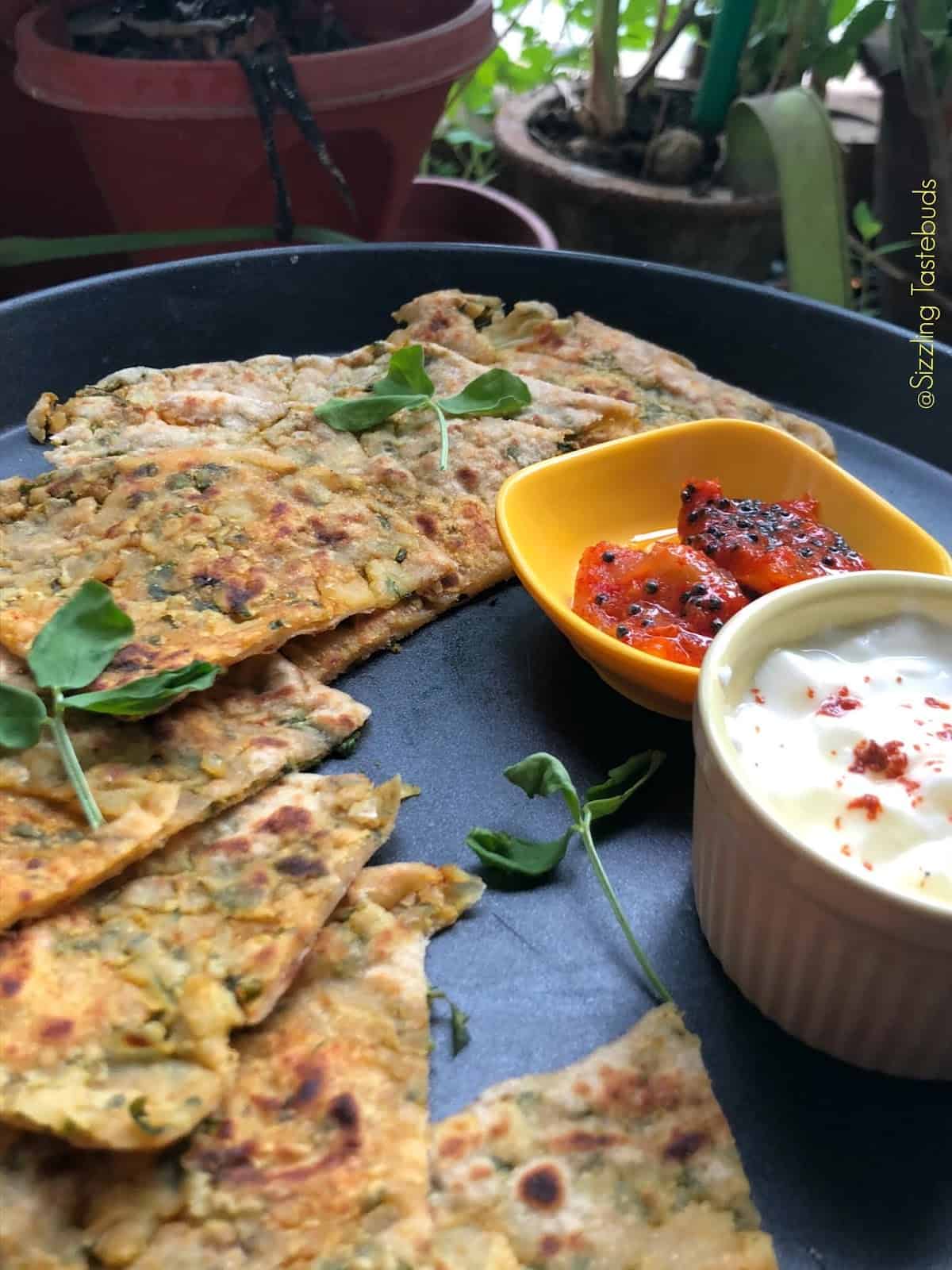 Pin

 

#BreadBakers is a group of bread loving bakers who get together once a month to bake bread with a common ingredient or theme. Follow our Pinterest board right here. Links are also updated each month on this home page.

We take turns hosting each month and choosing the theme/ingredient. Our theme this month is Breakfast Breads. If you are a food blogger and would like to join us, just send Stacy an email with your blog URL to foodlustpeoplelove at gmail.com.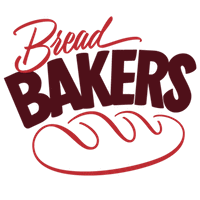 Pin
Let's get to make this Multigrain Paratha.
Prep time – 30 mins | Cook time – 15 mins | Makes – 6 Parathas
Cuisine : Indian , Course : Breakfast / Brunch / Supper; Spice level _ medium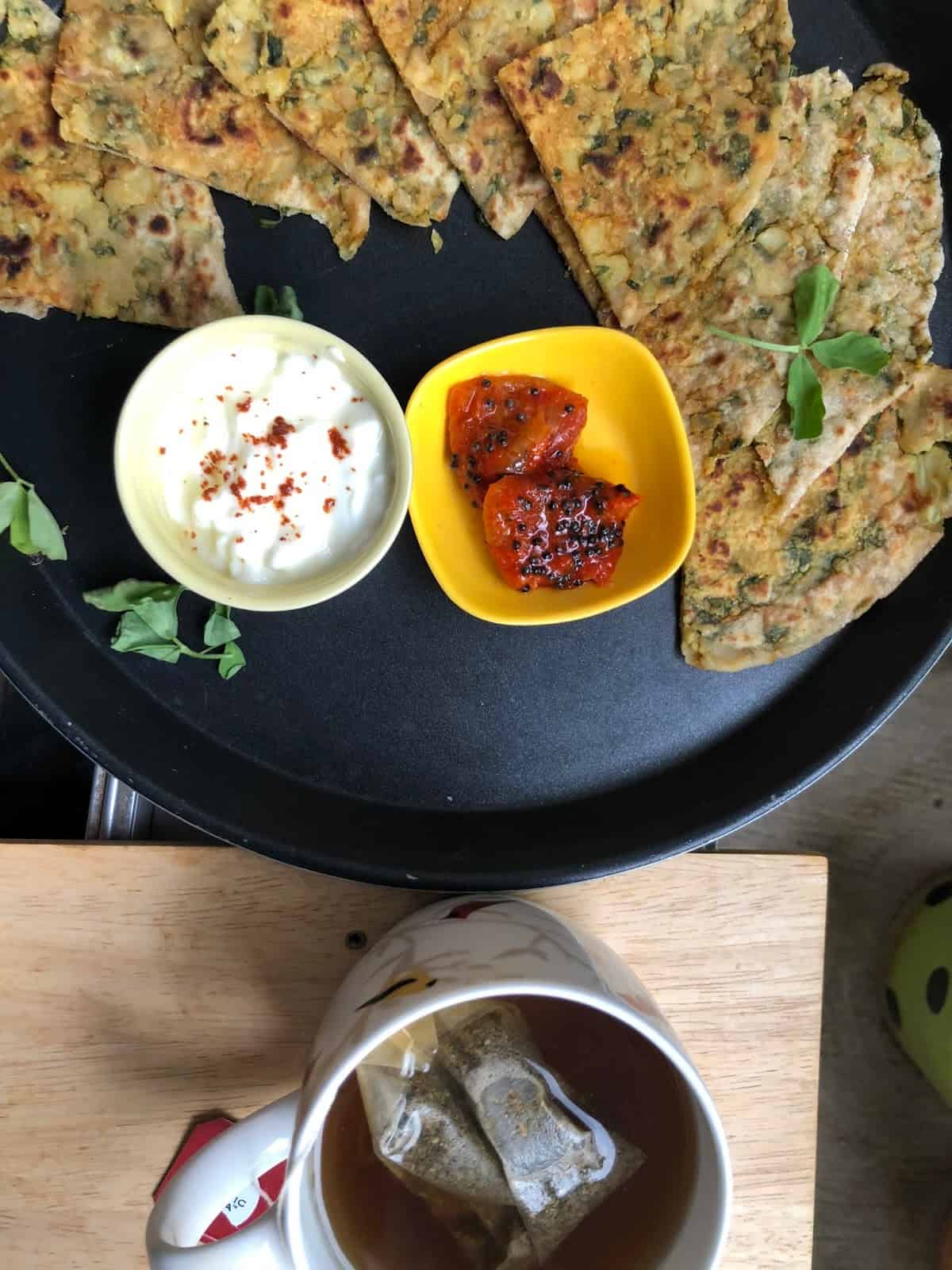 Pin
For the outer covering :
Wholewheat flour – 1.5 cups (1 cup = 200 ml)
Jowar / sourgum flour – 2 heaped tablespoons
Bajra / Pearl Millet flour – 1 tbsp
Rice flour – 2 tbsp
Ragi atta / Finger millet – 1 tablespoon
Besan / gramflour – 1 heaped tablespoon
Salt – to taste
Ajwain / crushed carrom seeds – 1/8 tsp
Oil – 2 tsp + more required to cook the paratha (approx 1 tsp/ paratha)
Warm water – to knead the dough
Extra wholewheat flour – for dusting the parathas
Filling:
Potatoes – 2 large (peeled and boiled fork tender)
Onions – 1 medium
Oil – 1 TBSP
Chopped fresh methi leaves (fenugreek leaves) – 1/2 cup (you may replace this with 2 tsp of kasuri methi – crushed dry fenugreek leaves for a varied taste)
Chopped ginger, green chillies – to taste
Chopped fresh mint and coriander leaves – 2 tsp
turmeric – 1/2 tsp
Red chilli powder- 1/3 tsp (or to taste)
Garam Masala – 1/2 tsp
jeera / roasted cumin powder-  1/2 tsp
Dry coriander powder / Dhania powder – 1/2 tsp
Crushed coriander seeds – 1/4 tsp (optional but highly recommended)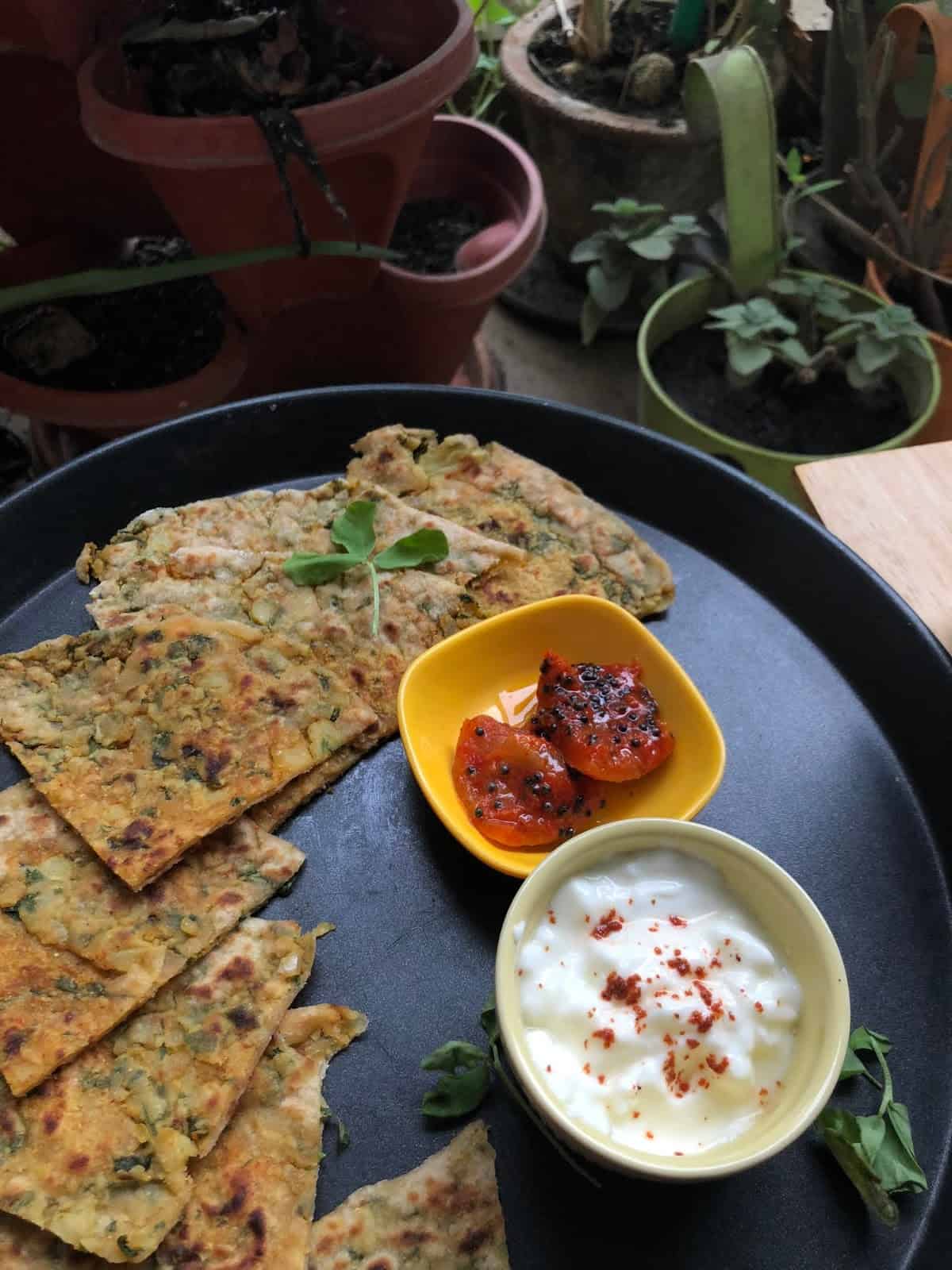 Pin
How to:
Outer covering:
Sieve the flours, salt in a large bowl, add the crushed ajwain, mix and slowly add warm water to knead to a semi soft dough. I required approximately 2/3 cup water (this may vary quite a bit depending on your flour mix). add 2 tsp of oil, and knead again for 5-7 mins to make a very pliable dough. Cover with a damp kitchen towel till use.
Filling:
In a non stick pan, add oil. add chopped chillies, ginger, onions, methi leaves and saute till onions translucent . Now add turmeric, boiled and crumbled potatoes, crushed coriander seeds, salt, rest of the spices and mix well till the mixture .
If using kasuri methi instead of fresh methi, add it at the end of the above step, and not with the onions.
Finish with mint and coriander leaves. mix well, let this mixture cool fully (You may make this ahead and refrigerate it to use it the next day for breakfast like I did)
To make the parathas :
Knead dough again for 2 mins (if using refrigerated dough, bring to room temperate an hour before making parathas)
Take a large lemon sized dough. roll it into a a 3 inch dish, apply a film of oil, place 1 tablespoon of filling, and bring on the edges to the top like we would stuff a bun.
Flatten it slightly with fingers and roll very gently with a generous dusting of flour.
Roll to a medium sized paratha of 2-3 mm thickness (depending on how thick or thin you like your paratha).
Place on hot tava, cook on both sides, drizzlign a tsp of oil around the edges and the face of the paratha.
Repeat for rest of the parathas.
Serve hot with yoghurt and / or pickle. It tastes good when packed for lunch too.