HLI (Healthy Lunchbox Ideas) is a series which has seen grow from strength to strength. Each month we experiment with dishes using one central ingredient that kids are not fond of, and try to make them more attractive, palatable & healthy. Hosted by my dearest blogger friends, we have had in the past 3 editions HLI Brocolli, HLI Paneer and the present round up of HLI Carrots. This month edition – HLI Dates – is now being hosted @ Aarthi's space – check it out.
I am also on the look out for future hosts for this event post May 2012 as slots till then are booked out.
Today, I present the round up of HLI Carrots that was hosted at my space – Sizzling Tastebuds. Carrot rice seems to be a popular dish using carrots, with more than 5 – 6 varieties of Carrot Rice sent to this event. Enjoy these 20 healthy treats with Carrots.
Thanks to all blogger friends for sending their entries. In order of reciept, the entries are…
1. Meena's Quick Carrot Rice2. Carrot Basil Bruschettafrom Krithi3. Shilpa's yummy Carrot n Capsicum Idli
4. Pradnya's Oats n Carrot Cake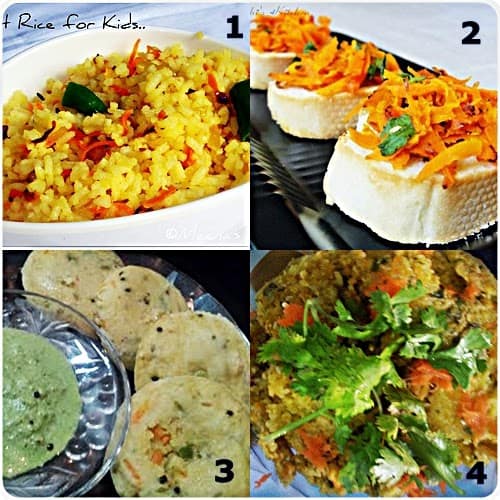 Pin

5. Shireen is celebrating I-Day with Tri colour rice

6. Aarthi's Carrot Almond Kheeris tasty and healthy

7. My all favourite aloo tikki has an unusual with Khushi's Carrot n Aloo Tikki8. Health meter is ringing high with Nirmala's Pomogranate n Carrot Salad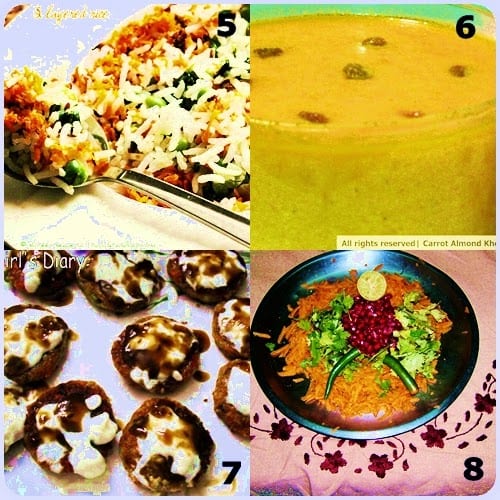 Pin

9. Priya's Carrot – Basil fried ricemakes a quick lunchbox idea

10. Go for the twist with Priya's unique Yellow peas & Carrot Sundal11. A healthy One Pot meal is presented with Sangee's Carrot Khichdi12. Picnics made more fun with Sangee's Carrot Kati Roll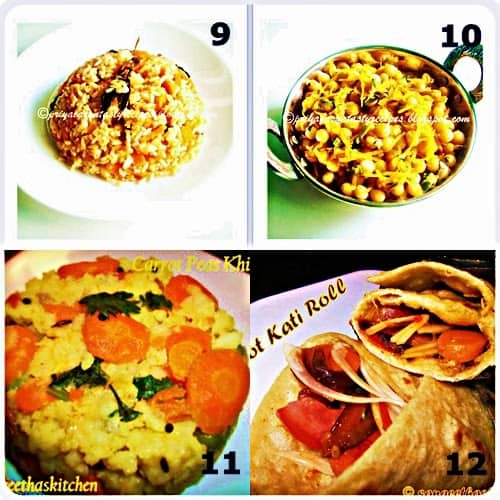 Pin
13. Amy's Quick Carrot Riceis easy on the tummy !
14. Krithika's Carrot Ricemakes for a healthy meal
15. Archana's super quick and healthy Carrot Salad is my favourite too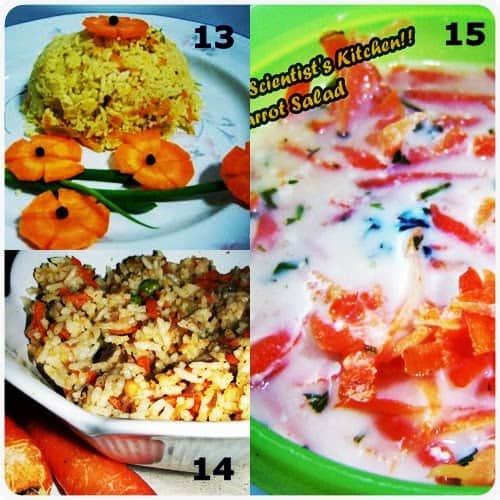 Pin
From my own kitchen @ Sizzling Tastebuds, come these delights:
16. Healthy Carrot n Panner Bondaand whats more , its no fry too !
18. Low Fat Carrot n Feta Sandwichesmakes for a quick n healthy protein – carb combo
19. Eggless Carrot n Raisin Muffins – now could muffins get any better ??
20. Carrot Kosambari (Raw Carrot salad)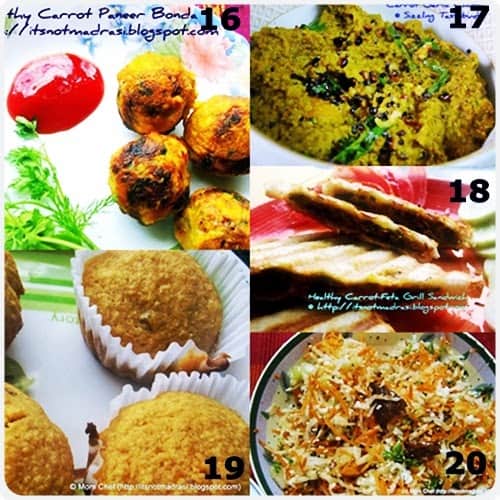 Pin