Like I mentioned in my post of Arunachal
Pradesh, researching for the North Eastern (NE) states of India during the BM was a crash course and today's post is from Assam.
Recently I discovered I had a childhood friend
who was posted in Shillong. We had lost touch after our primary school, and he
called me after about 20 years upon obtaining my number from a mutual friend.
After the initial shock-melts-down-to-surprise greetings, he told me he was in
the Airforce posted at Shillong. So I said "Ok, Shillong ! That's in Assam."
Silence from the other end. I knew I was wrong, but didn't know how to salvage
the situation. So he said "No, it's the wrong state." I said "Nagaland", and
then bit my tongue !! He must have guessed by then that my geography was pretty
rusty. And mentioned Shilong was the capital of Meghalaya ! Wow, I thought –
that's a new lesson for me.
So, thanks to Valli's Indian Odyssey (States Blogging Marathon) ,
I now know that Assam's
capital is Dispur.
And the word
"Assam" very much resembles the Sanskrit word 'Asam' meaning unequal
or undulating. It characterizes the undulating topography of Assam consisting
of the Brahmaputra Valley, the Barak Valley, Cachar Hills, world's largest
river island -Majuli, Dibrugarh plains with a very wide (i.e., 10+ km)
Brahmaputra River flowing through it, Kaziranga National Park [known worldwide
for the one-horned rhinos] etc. In the classical period and up to the 12th
century the region east of the Karatoya river, largely congruent to present-day Assam,
was called Kamarupa, and alternatively, Pragjyotisha 

 

Furthermore,Typically, an Assamese plate would
contain

 

bhaat

 

(rice)
with

 

dal

 

(lentils),

 

masor jool

 

(fish curry), with

 

mangso

 

(meat curry) or

 

xaak

 

and

 

bhaji

 

(herbs and vegetables).
Rice is one of the
main dish in Assam, and variety of different rice are grown and eaten in
different ways, roasted, grounded, boiled or just soaked.Fish curries made of

 

rou,

 

illish, or

 

chitol

 

are the most favorite. If not a curry,
simply fried fish. Birds like ducks and pigeon are also used in dishes. Pork
and Mutton dishes are mainly popular among the younger generation.Another favourite
combination can be

 

looci

 

(puffed bread), a curry which can be
vegetarian or non-vegetarian, and

 

asar

 

(pickle).Two main
characteristic of a traditional meal in Assam are

 

Khar

 

and

 

Tenga.
A class of dishes named after the main ingredient

 

Khar

 

and a sour dish is a

 

Tenga.Khorisa

 

(bamboo
shoot) are used at times for flavours in curries. They also can be preserved
and made into pickles.

 

Koldil

 

(Banana Flower) and Squash are also
cooked into delicious

 

sabji's.
The food is usually
served in bell metal utensils. (Source : Wiki)
Now when I have such wonderful info assimilated, next came the
search for Vegetarian Assamese Cuisine, which led to Sunita's space and her recipe with Bhindi /
Okra (lady's finger) was truly delicious. It also helped that my family loves
Bhindi. So presenting an authentic Assamese dish with Okra – Bhendir Sorsori (or Okra with mustard
paste).
Team it up with any roti (flatbread) and dal and you have a
sumptuous meal on hand.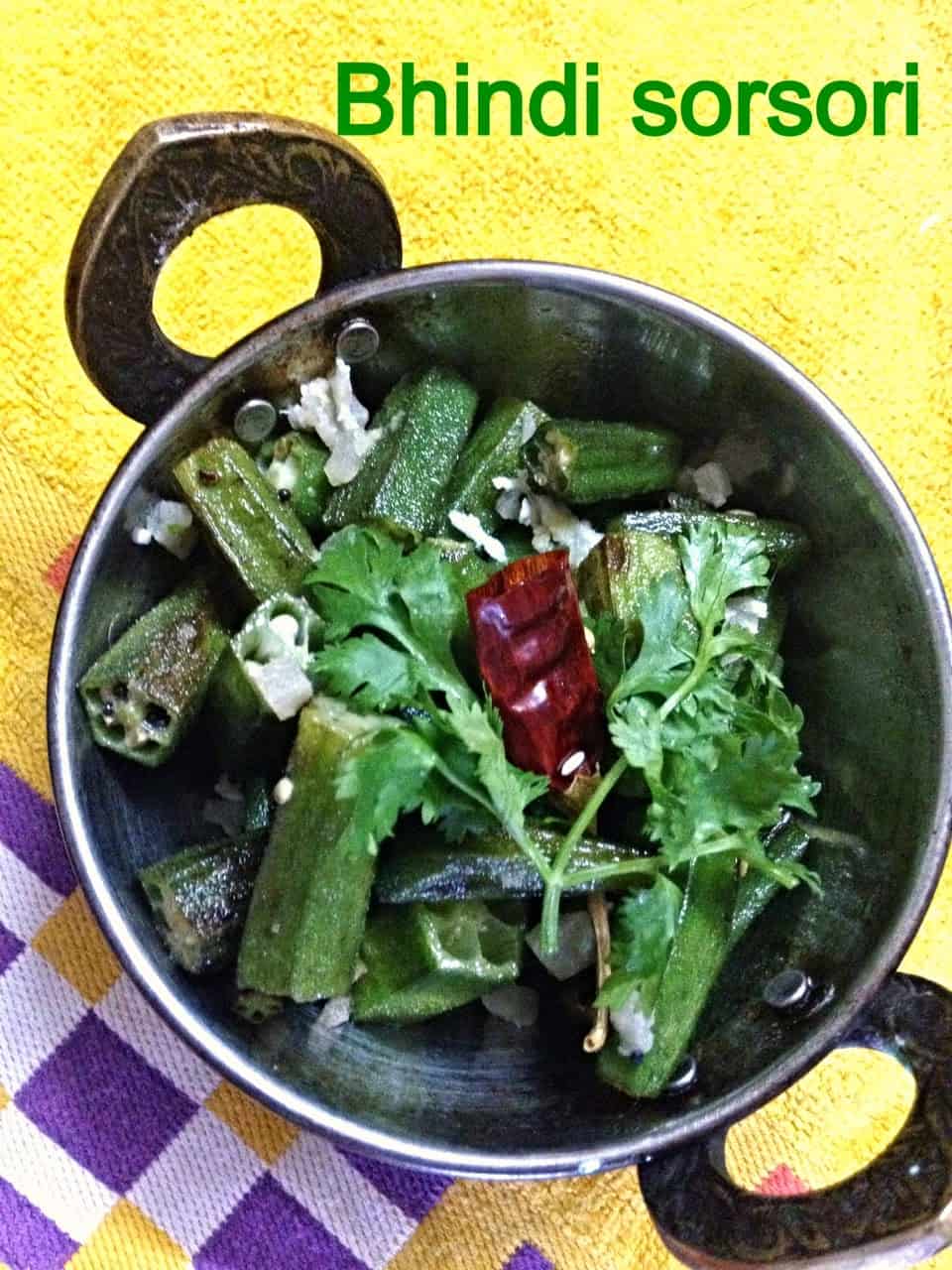 Pin
————————————————————————————–
BM : 39 ~ Indian State : Assam
Recipe : Bhendir Sorsori
Dish type : Side dish / Accompaniment
Spice Level : Medium
Accompaniment : Flat bread (Roti /
Nan) and Dal (spiced lentils) or just steamed rice
Prep Time :15-20 mins, Cooking time
: 20 ; Serves : 2
Source : Sunita's recipe
Ingredients:
Tender Okra – 10 to 12 (approx. 150 gms) – washed, wiped and cut
into ½ or 1/3
Oil – 3 TBSP
Paanch Phoron (Bengali Masala) – ½ tsp
Turmeric Powder – 1/3 tsp
Whole red chilli – halved
Bay leaf – 1 no.
Salt to taste
Green chillies – 2 nos (I skipped this)
To make a paste:
Mustard seeds (you may used black or yellow) – 2 tsp
Ginger paste – ½ tsp (I used 1 inch fresh ginger)
Tumeric Powder- a pinch
(When I made this the first time, my family didnt like the taste of the mustard paste, so the 2nd time I made a powder of roasted mustard and added diced ginger. Also substituted green with red chillies – thats the dish you see in the picture).
Method:
For the paste, soak the mustard seeds in warm water for 20 mins,
and grind to a thick paste with other ingredients. Dilute with one cup water
and keep aside.
Heat the oil, add the bay leaf, red chilli and panch poron (pronounced
in assamese as "Paas Puron")
Once the chilli sizzles a bit, add the okra and turmeric powder.
Saute well to coat the veggies with oil. Ensure Okra is not slimy at all. Cover
and cook for 6 mins.
When the Okra is about 2/3 done, tip in the mustard- spice paste.
Cook over low-medium heat and now add salt once the gravy begins to thicken and
coats the okra with the masala paste.
Cover for further 2 mins without cover.
Serve hot with dal and rice / Roti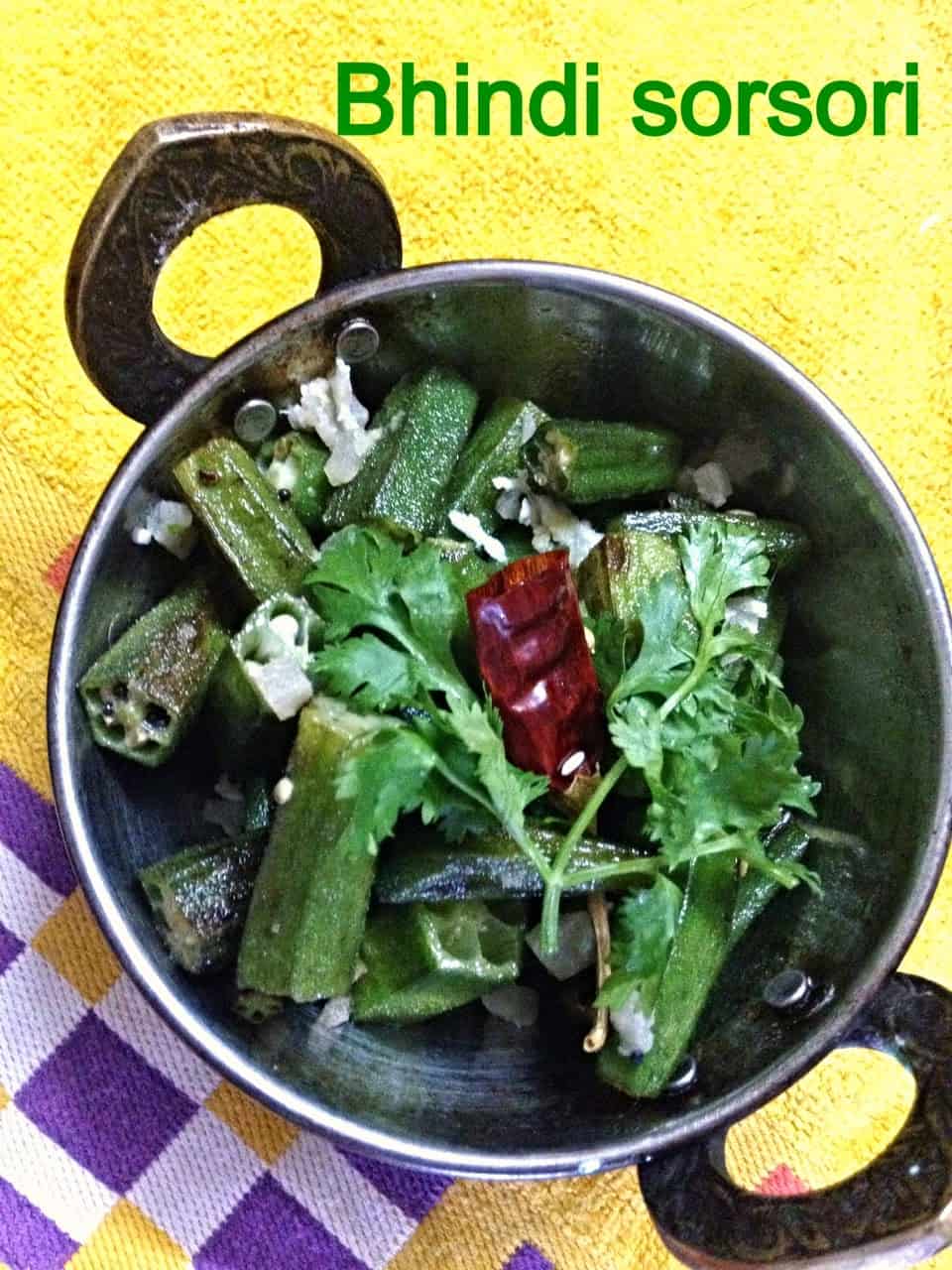 Pin

Notes:
Use
the freshest and tender okra you can lay your hands on. I used baby Okra so
just cut it into half.
Unlike
most other Okra curries, the colour of the Okra must be retained as it is. If
you want an authentic taste, use Mustard oil. I used sunflower oil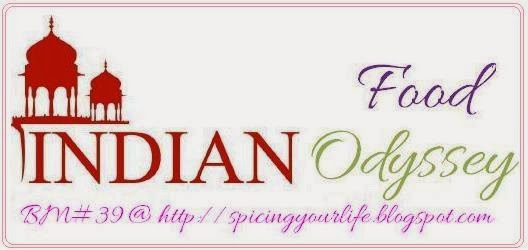 Pin
Check out the Blogging Marathon page for the other Blogging Marathoners doing BM# 39