Thank you for a very enthusiastic participation to the first edition of Magic Mingle1. Am sure the combo for Jan -Chillies & Cinnamom – surely tickled your culinary thoughts…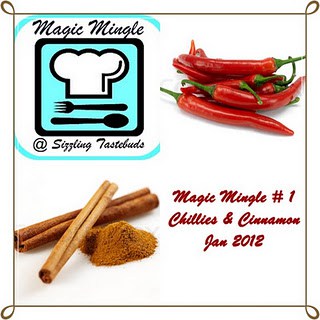 Pin

24 yummy entries linked here.Thanks to all the participants and look forward to more enthusiastic participation for Feb 2012 by all members. If you want to join this exciting series, drop me a line on momchef77@gmail.com or fill a formhere. Magic Mingle unveils two ingredients per month and the members need to create one or more dishes between the 5th & 15th of the month using both these ingredients.

The magic ingredients for Feb 2012 shall be unveiled on Feb 5th 2012. Stay tuned. Till then enjoy this amazing spread using Chilles & Cinnamon..