This is a dish that's very close to my heart as this is the first dish that my elder one cooked this all on her own. I helped her a bit guiding her on few proportions, but otherwise she made it from A-Z. I had a non-soya version earlier, but this was made restaurant style, with all frills intact. We were too excited to plate this in a propah-blogger style , but the taste was top notch, if I may say so 🙂


I am very proud that my kids are taking their baby steps to cooking as I believe that every child irrespective of gender needs to know at least 10-15 basic dishes (not including how to make Maggi or coffee/tea :p) before they head out to college not only as a means of survival but also appreciate the considerable savings they can make with homemade food.


That was every reason I have posted it today. I have made a different variation of this fried rice with millets, but that post is for another day 🙂


We are on a A-Z grains Mega Marathon this April, and do catch up on what we have so far on the blog:
C – Cabbage Khichdi
E – Elakkai Paal Rava Kesari
F – Fried Rice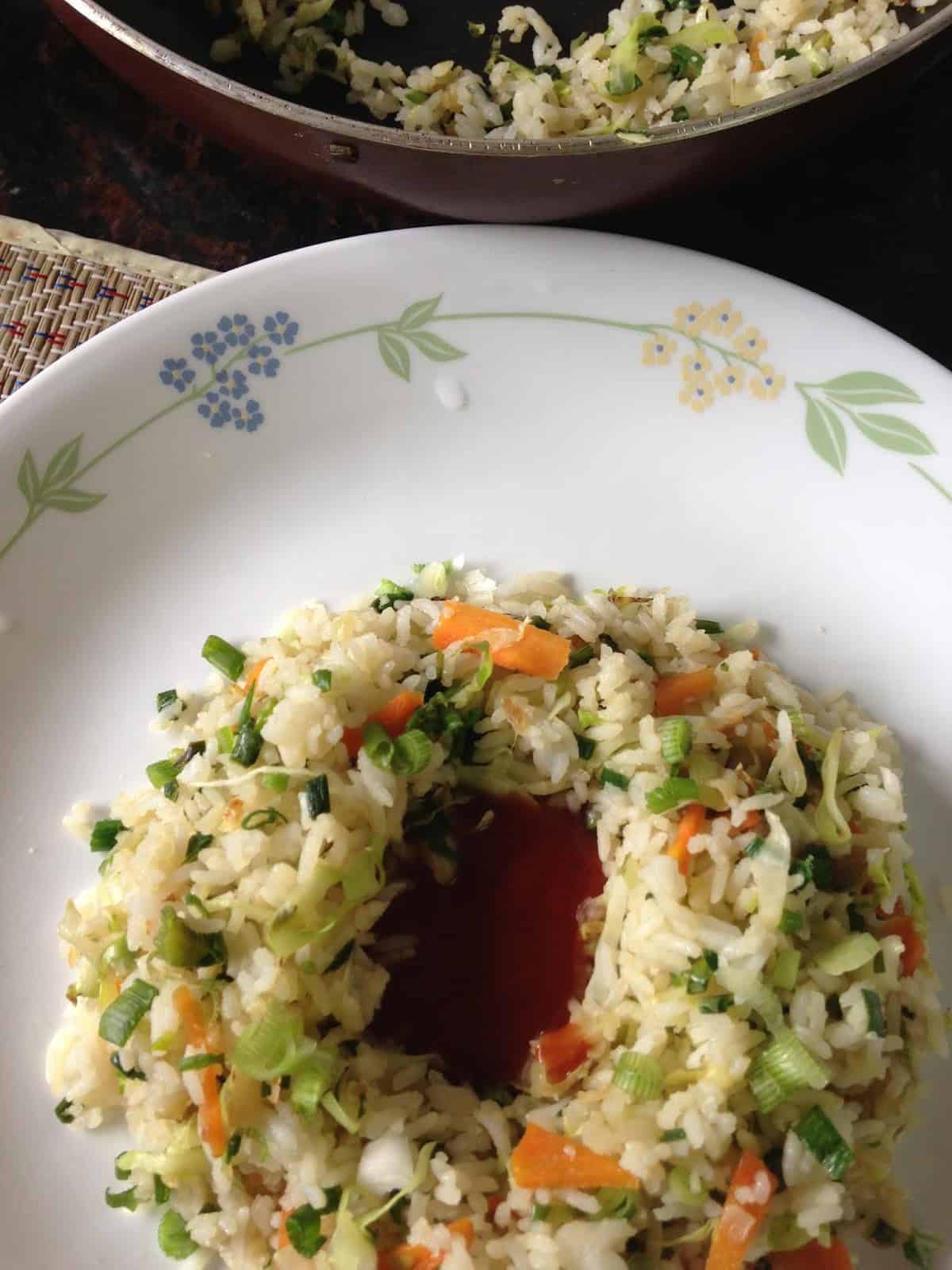 Pin


Prep time – 15 mins, Cook time – 20 mins, Serves – 2


What you need: (1 cup = 200 ml)


Rice – 1 cup ( I used regular rice)
Ginger garlic paste – 1 tsp
Soya sauce – 1 tsp
Green chilli vinegar – 1/2 tsp
Chilly sauce – 1/2 tsp
Sugar – 1/2 tsp
White pepper powder – 1 tsp (adjust spice)
White onions – 1/2 – finely minced
Sesame oil – 1 TBSP
Chopped Veggies : Shredded cabbage, Bell pepper, Grated carrots, chopped white scallions – 1 cup in all
Finely minced spring onion – 2 TBSP (for garnish)
Pin


How to:


Wash and soak rice, cook till fluffy and keep aside. Let it cool completely. My kid simply pressure cooked the rice with some salt the previous night, cooled it a bit after fluffing it. and left it in the refrigerator.
Next day : Bring the rice to room temperature.
In a pan, heat sesame oil to smoking point, turn down and add the chopped onions, veggies and ginger garlic paste. Turn the heat up and quickly toss the veggies so they acquire a bit of burnt flavour as they crisp up a little. Add salt, soya sauce, pepper powder, sugar and toss again.
Now add the rice and toss the pan up and down, so as to not break the grains and now add in the Green chilli vinegar, Chilli sauce and toss again.
Adjust salt and spices and garnish with chopped spring onion greens.
Serve immediately or cool a bit and pack in the lunch box.
PinCheck out the Blogging Marathon page for the other Blogging Marathoners doing BM#99