My Mother's Kitchenis a series of food festivals held at this space which hadOne Pot Meals,Indian Mithai Mela ,Fasting Foodsin the last 3 editions. It now opens up its 4th edition with a 100-day Global Food Festival. Starting Sep 20th (tomorrow) , this runs through the remaining days of the year, all through Dec 31st 2011.  So, read on for more details…
Also, starting Jan 2012 , this series (MMK) is also open to hosting from other bloggers – do check out more details at the end of this post. The slots shall be alloted on a first come first serve basis to those bloggers fulfilling some criterion.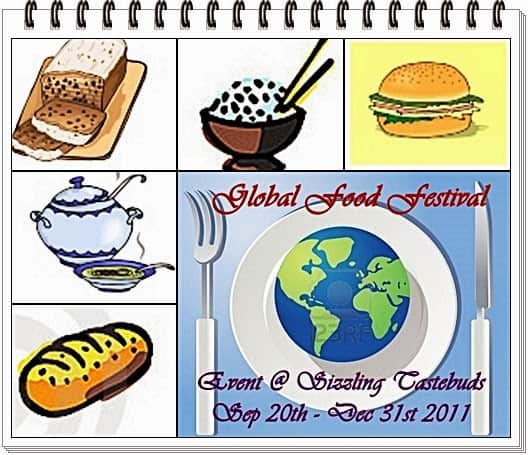 Pin

Firstly, why the Global Food Festival ??

American playwright and humourist Mark Twain said :
India is the cradle of the human race, the birthplace of human speech, the mother of history, the grandmother of legend and the great grand mother of tradition,
From the land of snake charmers and the great Indian Rope Trick, today the Global Indian is a name to reckon with – we carry our rich Indian heritage everywhere we go, but we also enjoy the local culture and celebrate with local food !!
So, here's inviting all you foodies to a 3 month long Global Food Festival right here at this space – Sizzling Tastebuds . In Sanskrit, there is a term – "Vasudhaiva Kutumbakam" – the world is your family. So, the entire world is your family , and this is one HUGE, 100 day event to eat, celebrate food from around the world. As you dish out these delicacies / glocal (global+local) food in your kitchens, do send them across to this event – truly a global village for a virtual potluck 🙂
What comprises Global Food ??
Speciality Coffees, Pestos and Dips, English teas ,Simple & Grilled Sandwiches, Wraps  & Rolls, Burgers, Mocktails, French breads, Hummus and Pita, Cheese Fondue, Pan fried Noodles, Egyptian Falafel, Vegetarian Sushi, Mexican Enchiladas, Indianised Chowmein, Basil Bruschetta, Thai Green Curry, Steamed Momos, Orange Creme Brulee, Tiramisu, Chocolate Cheese Cake, Hot and sour Black bean soup . Whew !!  The options are endless, even for a vegetarian. So, get out your woks, bamboo steamers, cake pans, dessert menus for a truly International food festival . In other words, simply think global – all food outside India 🙂
How do I send my entries ??
As always, a short reminder of the rules on how you can send your entries:
1) Link your dish (vegetarian only, eggs may be used for baking) to this event announcement along with the LOGO above to the link at the end of this post OR send me an email titled Global Food Festival to momchef77(at)gmail(dot)com
2) Categorise your entry as Appetiser / Main Course / Side Dishes / Desserts and include the details in your post.
3) Please attach a picture (max 400 pixel) to the entry if mailing me the entries.
4) Entries are to be sent between 20th Sep & 31st Dec 2011 (closing – Pacific time)
5) Usage of the logo would be highly appreciated to spread the word.
6) Fresh entries are highly appreciated while you may re-post and link a max of 2 archived entries.
7) In case the linky tool does not work for some reason, be sure you pass me your recipe via email.
Let's celebrate this festival with much fervour and look forward to your participation over the next 100 days !!
How do I host further editions of MMK at my blog ??
Mail me your interest at

momchef77@gmail.com

and we shall discuss a couple of themes which you can pick and choose on a first-come basis.

The basic criterion to guest host is that your blog be atleast 9 – 12 months old and that you have atleast 50 listed followers as on Sep 20th (the event launch date) : This is to ensure that the event garners maximum mileage for your blog 🙂
Looking forward to hearing from you all,
Cheers
Kalyani Momchef